General Behaviour at Cultural Foundation, Abu Dhabi employs a highly ornamented aesthetic to assess constructed environments that distort perception
Modular corniced walls stand in the atrium of Abu Dhabi's Cultural Foundation. Some are painted pale pink, blue, yellow or green; others are covered in vinyl wallpaper depicting flashy commercial spaces, ornate home interiors or paradisiacal landscapes. These are the backdrops to a series of photographs, including: a well-known fastfood chain's golden arches appears like a tanline against splotchy beige tiles; sweet sentiments intricately carved, in English, into the rind of a watermelon, exposing its pink flesh; and henna-covered hands holding a smartphone that shows a WhatsApp greeting blending in harmony with the colours and motifs of fleece blankets in the background.
Contrast and harmony are what this show – a chronological, four-chapter presentation of works made by US-based Emirati artist Farah Al Qasimi between 2012 and 2021 – is all about. Within that, multiculturalism, consumerism and gender are explored by navigating public and private spaces between Al Qasimi's two homes. In her photo installations, the artist uses a layering method to simulate the permeation of different cultures; here, the kaleidoscopic images leak into the grand and formal environment of the atrium to jarring effect.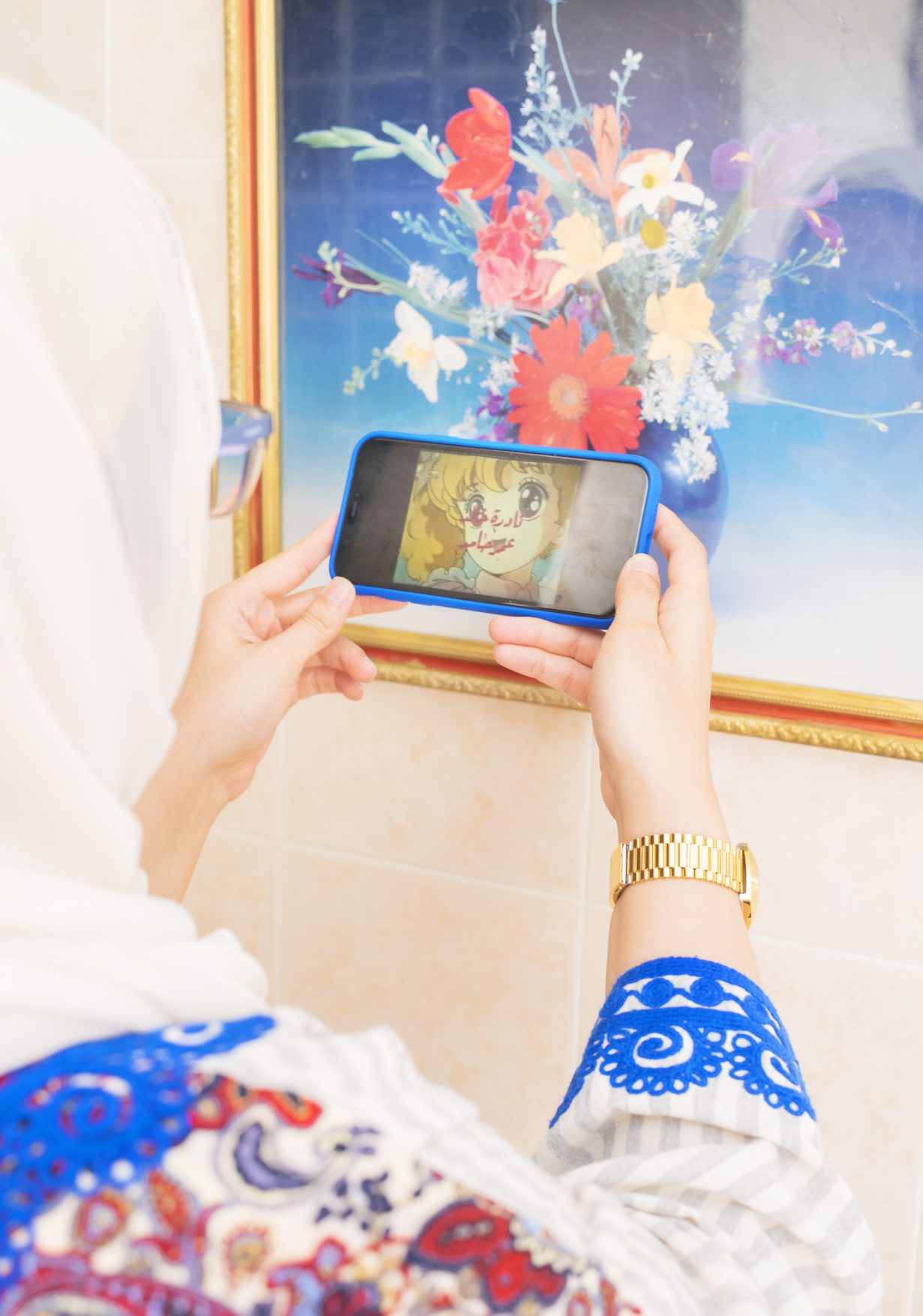 The lush beach in Sunset Wallpaper (2012) pulls you into the exhibition and acts as a backdrop for variously sized photographs of surfaces and facades representing idealistic ambition, such as Sandcastles (2014), in which a crowd of skyscrapers made of sand foreground real high-rises. As a comedown from the whirlwind of Al Qasimi's maximalist aesthetic, the reverse of that same wall is used to present photographs of men who subvert stereotypes of ​​aggressive masculinity in the region by revealing a sense of vulnerability. In Ghaith at Home (2016), for example, a man wearing a matching white kandura and ghotra reclines, eyes closed, into a soft, white-sheeted bed; the shadow of a rose just out of view on the bedside table appears so vividly against the white wall I can almost smell it.
The next section of photographs highlights Al Qasimi's interest in what occupies a space, and what doesn't. In Orange Soap in Orange Bathroom (2018), a used peach-coloured soap-bar on a bathtub ledge stands in for the absent human body. Meanwhile, Dragon Mart LED Display (2018) captures a shop window at night filled with fake flowers and glowing multicoloured string lights, situated at Dragon Mart – the largest marketplace for Chinese products outside China and the centre for kitsch commodities in the Emirates. The third section features photographs that echo Al Qasimi's experience of cultural in-betweenness. Lady Lady (2019) shows a pair of hands holding a smartphone displaying an anime of the same title that was released in the Gulf during the 1980s, and in which a young Japanese girl, upon discovering her father is a British viscount, goes to live with him in his palace with hopes of becoming a real 'Lady'. Wallpapered behind that photograph is Hall of Mirrors (2020), which shows a neon maze with blurry bodies moving through confusing passages, as if a metaphor for navigating multiple cultures.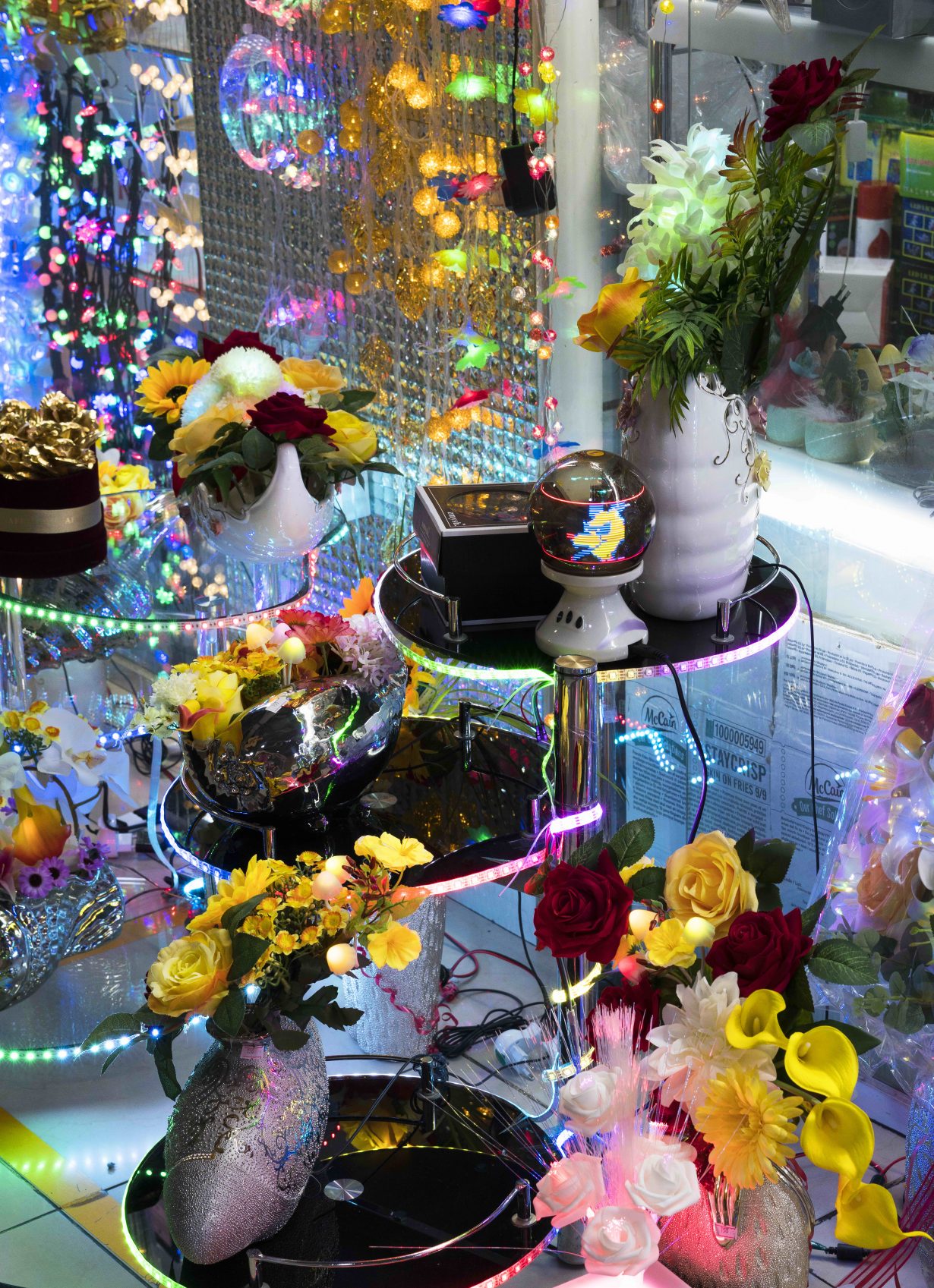 Al Qasimi's interest in constructed surroundings and compositions that distort perception is most evident in the final collection of photographs. Many of the radiant and colourful spaces depicted here communicate a commercialised notion of being 'out in public' that is so prevalent in the Emirates, where the sweltering climate drives you, more often than not, to seek cool shelter in shops and restaurants. Plastered on one wall, Furniture Store (2020) depicts a shop selling furniture in the baroque aesthetic that has become a staple of domestic decor in the Gulf. Once a marker of wealth and social status in eighteenth-century Europe, here in the UAE the style is made accessible to a wider range of economic groups.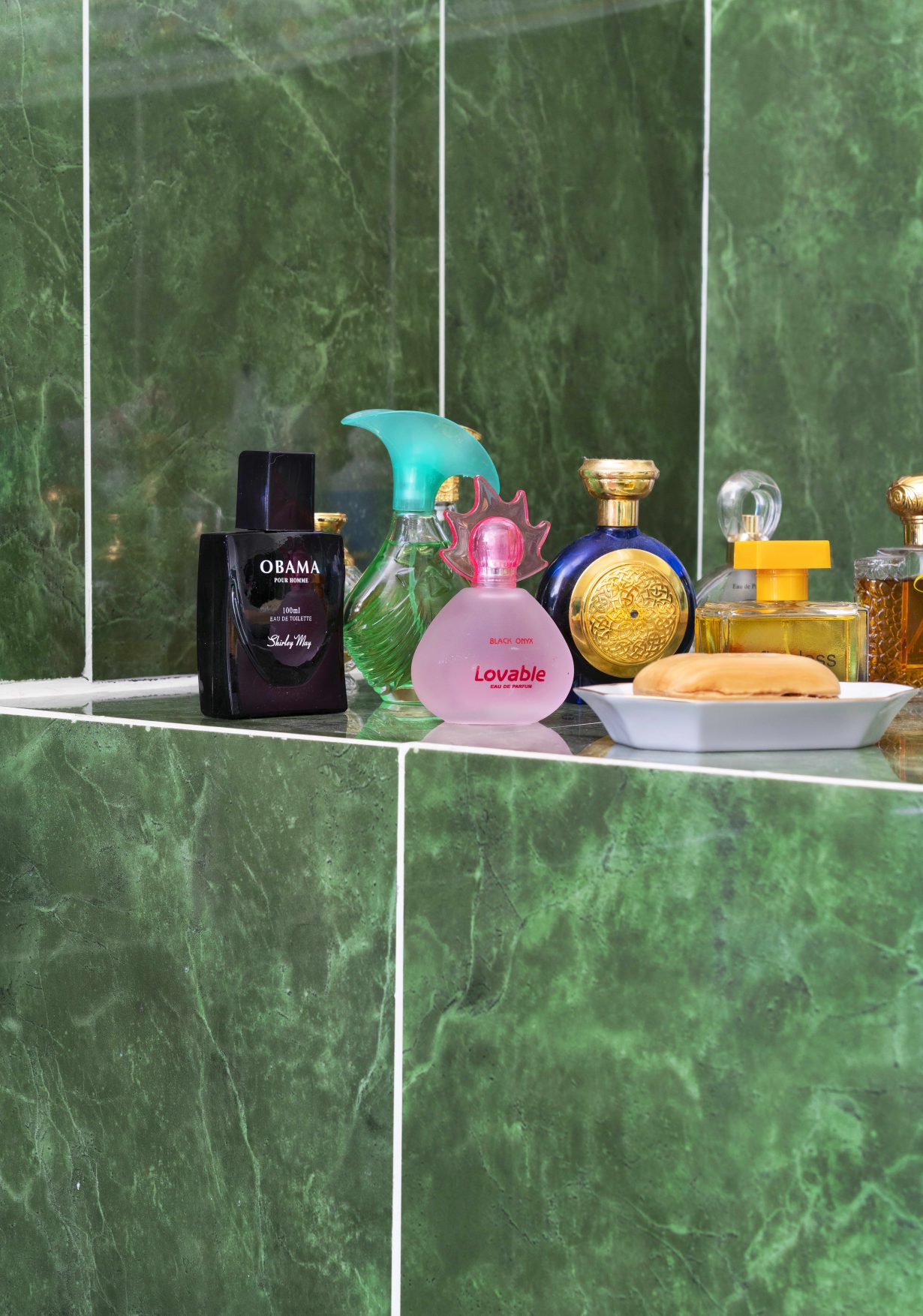 This highly ornamented aesthetic forms much of the exhibition scenography and carries on into the screening rooms. You can take a seat on lavish sofa chairs to watch Dream Soup (2019), a short video documenting the UAE's perfume industry (which was valued at $914 million in 2021). While being a signifier of cleanliness, scents can also be a mode of self-expression. Among flashing shots of rippling hot-pink silk fabric, claustrophobic perfume stores and shoppers testing scents, labels like 'Feminism', 'Extreme Happiness' and 'Macho Man' appear on bottles as well as on the screen, signalling the wearer's often gendered aspirations within a society in which traditional roles are reinforced. There is humour, too, in the cliché upon which Dream Soup riffs: perfume is so much a part of the Emirates that at times it seems impossible to make art drawn from the place without referring to it.
To date, Al Qasimi's depictions of the UAE have largely been shown in the West. And in some ways her work seems more attuned to audiences from there. To a lifelong resident of the Emirates like myself, many of the images, like those bright and varicoloured commercial spaces, feel less seductive than they seem to be to those who are unfamiliar with the place. Indeed, they seem banal. Some of the works, however, contain snapshots that are very particular to the Emirati experience – like the depiction of sacred household interiors – rare portrayals in a culture that values the boundaries of privacy. Returning these moments to their original context allows the work to escape the problematic position it finds itself in when presented in the West. And while the works are not uncritical, for local audiences not used to seeing themselves or their surroundings being reflected in contemporary art in this way, it might also be familiar and validating.
General Behaviour at Cultural Foundation, Abu Dhabi, through 20 September