The artistic director of MAXXI, Rome, looks back on the life of the influential Chinese video and installation artist, who passed away this week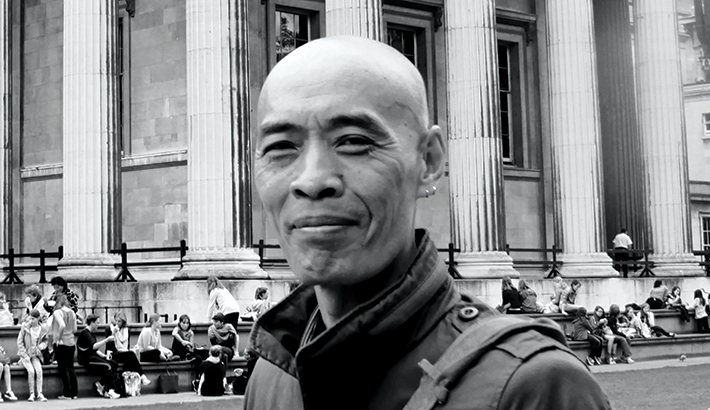 Last night [6 October], unexpectedly, Xiaopeng – as the title of one of his works, K.O.H.D. reads – knocked on Heaven's door and left us without saying goodbye. Words like 'shock' and 'grief' are not enough to describe our feelings at this moment. We are simply speechless.
Xiaopeng wandered about in the world throughout his entire life, and made himself at home wherever he was, despite all odds. From Shantou to Guangzhou, from Hong Kong to London, he eventually almost settled down in Berlin. He had formed a family, but then had to restart from zero. Wherever he was, he was always trying to make a living in a sort of transitional state, to deal with different languages and all sorts of cultural differences, working hard to find a place where he could settle down, while at the same time being in the process of constant translations.
It was this eternal seeking that gave him the exciting and elusive inspiration to tackle the most important problem in life, and this problem was art. His favourite line was "Art is a problem". He concluded that the best way to solve the problem was to translate back and forth between languages, until the original meaning was completely lost, thus allowing the possibility of "fresh new meanings" to emerge. Rock n' roll music video tapes and Google Translate's "ability to create" provided him with the best materials and tools. Ultimately, through a post-Duchampian trick, he could "deconstruct these texts, and re-encode the time and space, resulting in mutual redefinition, constant accumulation and extension, so that these different contexts under the independent and unrelated elements collide with each other, and finally expand into the fragments of a whole, ending up being trapped in a language gap and lost in the infinite transmission of meanings. When translations all become political statements, Chinese and Western love songs will completely lose their original meanings in the new context, just like poetry in our age of absurdity."[1]
All of Xiaopeng's works consisted of transforming "Far East" to "法·伊斯特" (Fa-Yi-Si-Te, the phonetic translation in Chinese and "Far West" to "法·威斯特" (Fa-Wei-Si-Te). In a post-colonial, global and AI-dominated "age of absurdity" that only generates more absurdities, we are eternally doomed in this "contemporary utopia" and are falling into an ever-deeper abyss. And in this abyss, fear of fear has lost its meaning, we can only "climb the mountain together, with each doing his or her best."[2] Thus, when he was looking for the Chinese title for the exhibition he was curating in Berlin, he came up with "畏無所畏" (Fear, No Fear)[3]. I believe that he feared no fear when he unintentionally knocked on Heaven's door last night. 
Rome, 7 October, 2020, 4 pm
---
[1] Huang Xiaopeng, K.O.H.D. (From Far East to Far West), in Hou Hanru and Xi Bei eds., The D-Tale, Video Art from the Pearl River Delta, Times Art Center Berlin, Sternberg Press, 2018, p. 244.
[2] Xiaopeng's renowned and innovative teaching not only encouraged young artists to practice bravely, but also enabled them to face up to this absurd world freely and to fight to make a living through imagination and creativity.
[3] In my last conversation with Xiaopeng on Wechat (on 2 October), he wrote, "The Chinese title of this project, '問你驚未' doesn't seem to convey the meaning of 'Fear, No Fear', isn't '畏無所畏' better?"

Translation: Yu Hsiaohwei