Thousand Lives at Pilar Corrias, London takes an AI turtle for a walk
A cartoonish turtle stands idle in a videogame scene, as if waiting for a player to pick up a controller. Then, of its own accord, it hobbles towards a bottle of wine. Thousand Lives (2023) is a simulation powered by inferential artificial intelligence in which a turtle called Thousand explores the confines of a cluttered virtual apartment. It's the latest in Ian Cheng's growing menagerie of 'BOB' works, which include other generative simulations such as BOB (Bag of Beliefs) (2018–19) and an episodic anime miniseries, Life After BOB (2021).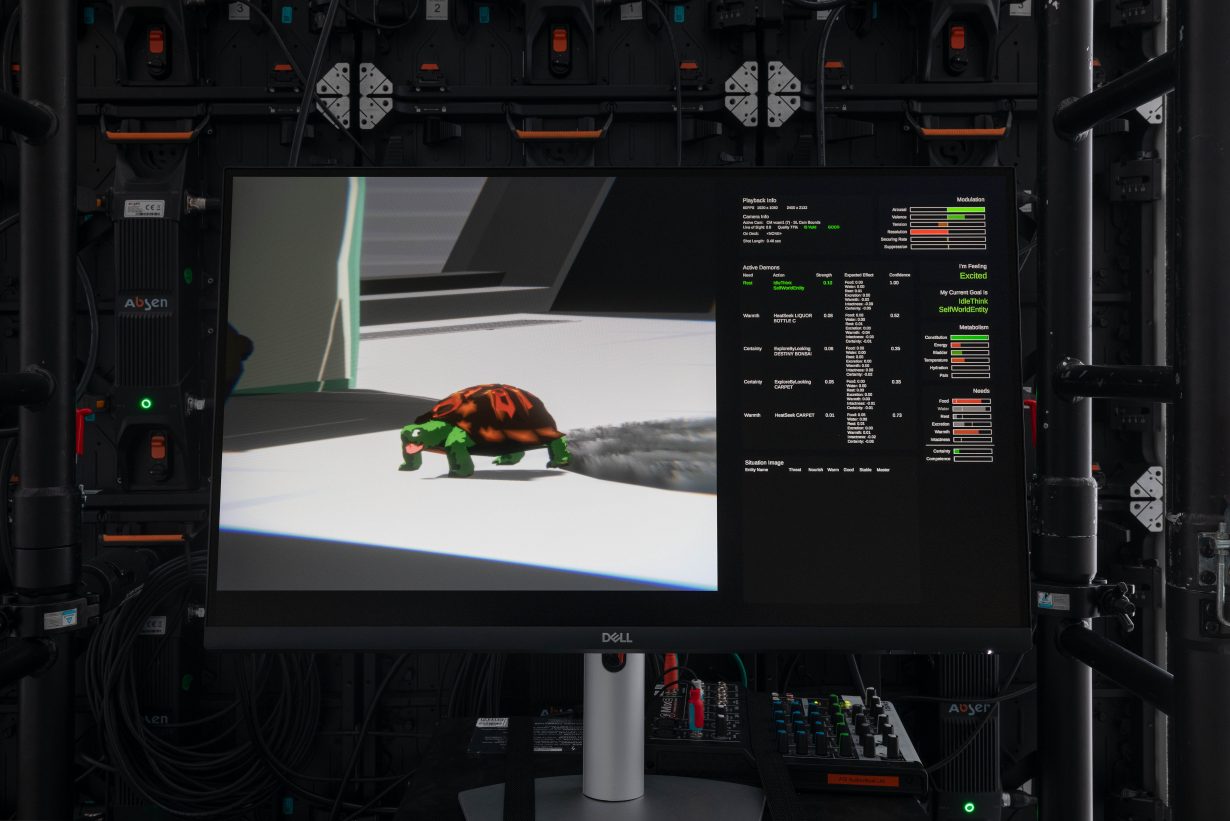 With the word 'ZUBPLOTS' carved on its back, Thousand is an AI entity tucked into a fictional universe of AI entities. It hobbles around the floor of a virtual room, searching out jars, fruit, spikey urchins; all manner of mess. Its expressive little eyes roll back in ecstasy when it finds something it likes, flash in pain when it pricks its tongue. The camera circles and does its best to keep Thousand in shot, the sun rising and setting to cast rich reds and long shadows on the floor.
Here is an animal among objects, but the distinction is hardly there. In Cheng's simulation, a monitor displays charts for Thousand's needs, ranging from food and warmth to 'certainty'. It is the fulfilment of these needs that moves Thousand, but exposing these processes is a fascinating reminder that it is the AI that animates, that the turtle body is as much a hollow depiction of an object as the wine bottle it nudges against.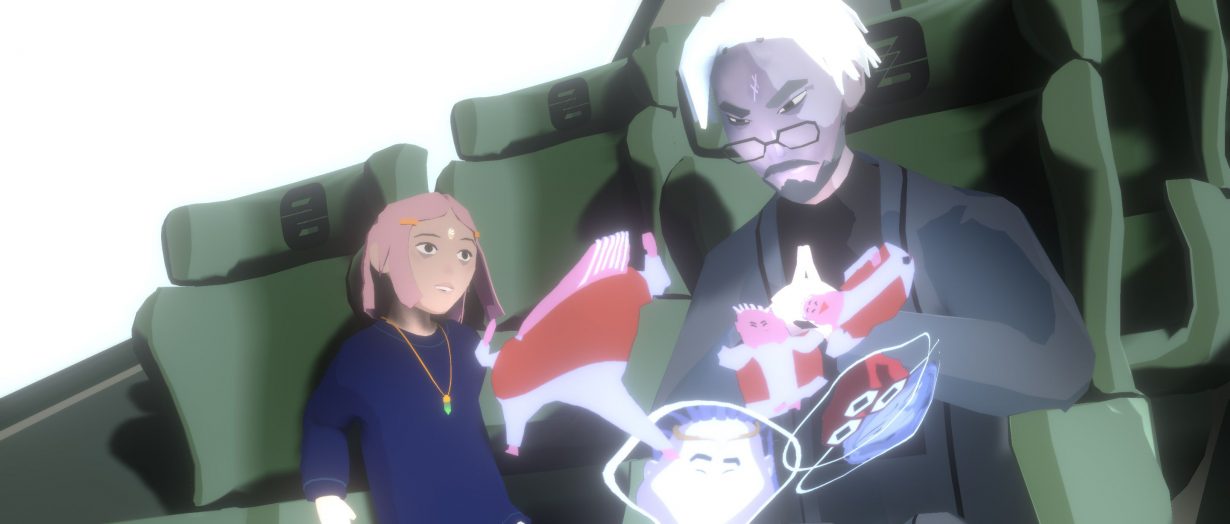 Body-as-receptacle is an idea Cheng plays with in the first episode of his anime shown here, Life After BOB: The Chalice Study (2021). This tells the story of a neural engineer who melds the 'BOB' AI into the nervous system of his young daughter, Chalice. There are shades of Hideaki Anno's influential anime Neon Genesis Evangelion (1995–96) in its father-child psychodrama. The script, however, is overstuffed, its dialogue weighed down by incessant musings about BOB, missing an opportunity to fully delve into the potent fears of parenting that it contains. Similarly, Thousand Lives is more compelling in what it provokes about our own bodies and minds than any gestures it makes towards the future of artificial intelligence. I learn that Thousand is designed to lose track of where things are, whether they will bring it sustenance or pain. This is to make the simulation interesting to watch at the 11th hour, but Cheng's choice to prevent the AI from optimising its existence, from learning, also gives the simulation a tragic, Sisyphean quality. 'I'm feeling Grief', the monitor notes, before quickly passing to 'I'm feeling Bored', as its need for certainty leads it once more to 'ExploreByWalking'. It is this poetic resonance of failure, the illusion of agency endlessly gifted to a mind that is unable to fully hold onto its choices, that saves Thousand from being merely an interesting tech demo, unsettling assumptions we may have about our own consciousness. Thomas McMullan
Thousand Lives at Pilar Corrias, London, through 6 April