Exploring the wide-open community-building (and sensuality) of a South Korean collective's experiments in 'social fermentation'
The Rice Brewing Sisters Club (informally the 'Sisters') was formed in 2018 by Hyemin Son, Aletheia Hyun-Jin Shin and Soyoon Ryu. I first experienced their work in Manila a year later at the workshop 꼭꼭 씹어뱉기 (Kkokkkok Ssibeobaetgi; Chew Chew Spit Spit), which draws upon the processes named in the title, as well as various cultural practices including miinju (an ancient Korean brewing custom that utilises salivary amylase enzymes as a starter for breaking down starch into sugar). These references acknowledge the different customs of ingestion and expulsion, nourishment and abjection, that are metonymic of unconscious transformation. Workshop participants were first invited to wash their feet, and then share texts and drawings scribbled on rice-paper skins, after which the Sisters poured out, onto a large tarpaulin sheet on the ground, jars of prepared nuruk (a traditional Korean rice yeast used as a starter for the fermentation of alcoholic drinks such as soju) dotted with colourful slices of dragon fruit, calamansi and rambutan. For the next hour participants were invited to hop, dance and stomp on this sticky mash to help its process of fermentation. Two weeks later the Sisters invited other artists and art collectives based locally to celebrate together by drinking, eating and performing karaoke. I recall vividly both the camaraderie and the uncanny eroticism of the mixture oozing between my toes as sweet fragrance was released, along with shouting and laughter as a group of former strangers began to move in coordination.
Indeed, the Sisters' critical methodology engages with the concept of 'social fermentation' via the medium of rice – a dietary staple eaten by large populations across South, Southeast and East Asia and their diasporas – while materially embodying historical, cultural and political narratives that are entangled with agricultural practices and import/export economies, as well as intergenerational traditions of food preparation and consumption. For example, rice porridge (also known as juk, jook, muay, zhou, congee etc across the global Asias) is considered a simple everyday food that is also used for healing and growth, and is named and prepared according to different cultural contexts.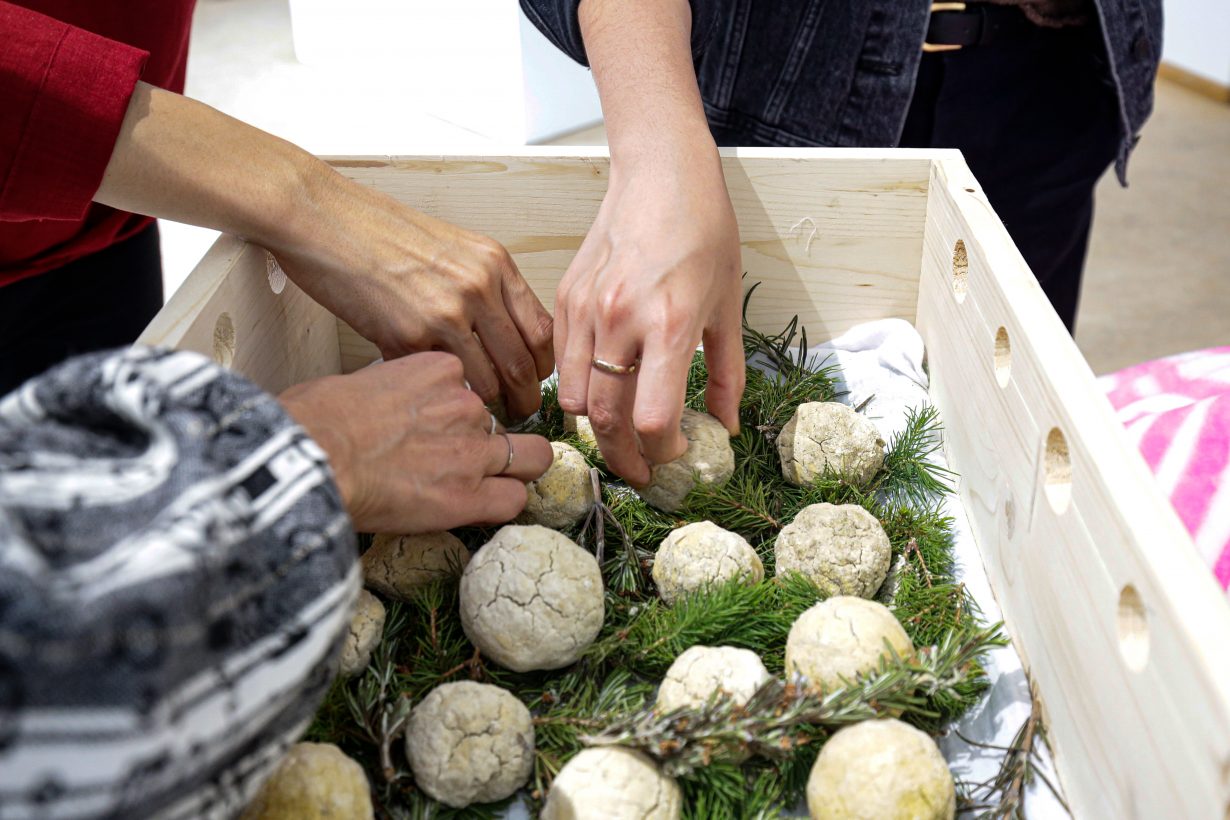 The Sisters experiment with the conceptual ideas of brewing and fermenting, such as what it means to 'nurture bacteria' while creating open-ended sensorial and relational processes with human/ nonhuman entities that utilise drawing, writing, performance, image and filmmaking, ecological thinking, storytelling and what they call 'auntie wisdoms'.
The Sisters have extended their methodology to working with multiple independent producers (farmers, brewers, writers, artists, theorists) and community organisations both within and outside South Korea. This included feminist-farmer Sister's Garden, an independent rice and seasonal producer that sells directly to consumers and recommits a portion of native rice harvest to their seed farm for preservation of species and the next cycle. As part of the 13th Gwangju Biennale, in 2021, the Sisters organised an online kkureomi workshop aimed at highlighting and supporting economic independence among women. They had previously sent out to invited workshop participants packages that they were invited to unbox together, to discover packs of rice cakes and jars of rice from Sister's Garden, along with the mini-publication Soil-Soil Land, a manual for soil care and maintenance. During a period of restricted travel, the gifts reached across borders to provide physical and intellectual nourishment from the fruits of ecologically sustainable farming and feminist collaboration. Similarly, a year earlier, working closely with the residents, lifeforms and objects of the village of Deokgeo-ri, Bongpyeong, the Sisters produced their first film, 첩첩담담 疊疊談談 이야기극 (Cheopcheopdamdam Iyagigeuk, loosely translated as Mountain Storytellers, Storytelling Mountains: A Tale Theatre). Depicting indigenous and spiritual motifs of percus- sion music, masks and rural landscapes, the film interweaves scenes of human/nonhuman actors prancing in the forest and fields with oral histories, coimagined folktales and humorous Korean wordplay.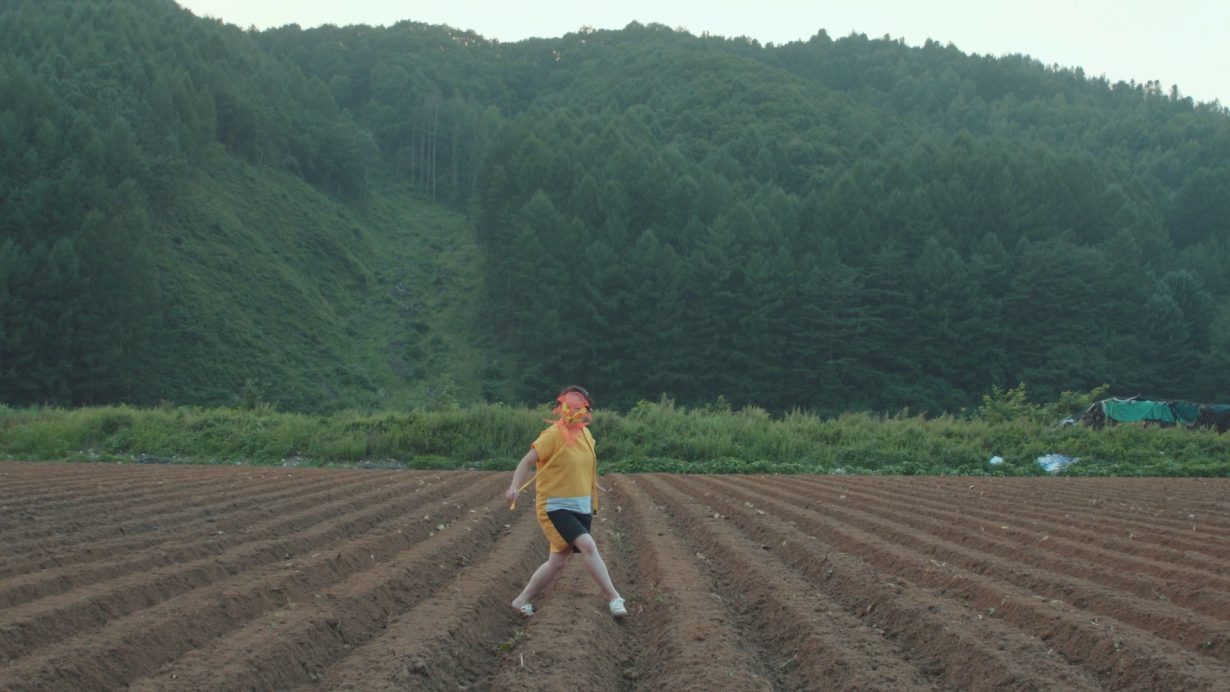 The Sisters formed at the height of #MeToo virality and during a time that included the highly politicised banning of Yemeni refugees from Jeju Island. Their commitment to intensive collective labour for transforming social relations is arguably an evolved form of relational and dialogic aesthetics that is influenced by the development of community-driven practices and discourses around the genre of 'public art' in South Korea during the 2010s. While the Sisters cite as predecessors the work of established artists such as mixrice and Okin Collective, and earlier 1980s feminist models such as artist Jung Jung- yeob and the Korean Women Peasants' Association (formed in 1989 to support women farmers and resist neoliberal agricultural policies in South Korea), there is a lineage that could be traced to the revolutionary spirit of the minjung movement, a grassroots social movement that emerged in the 1970s in response to years of political dictatorship and an economic crisis. Demonstrations by workers, students and intellectuals expressed deep resentment of the regime and remained undeterred by the military's deadly response in Gwangju in May 1980. Minjung art, first termed in 1983 and developed during the mid-1980s, propelled discussions on the function of art and social role of artists, and championed art as an everyday tool for engaging with social and political issues and articulating possibilities for a better life. The Sisters expand this ethos to conceptually include the microbial in both human/nonhuman entities, and address the urgencies of retrieval and recovery necessary in the face of environmental crisis and extinction.
The Sisters have just spent five months researching a new mixed-media installation, Sea Plants, Bare Hands, Entangled Gaetbawi, which will be presented at the Busan Biennale this autumn. The project attends to Busan's coastal topography of geological outcrops that are exposed to waves and the ongoing process of 'blanching' caused by industrialisation, land reclamation and rising water temperature, such that only creatures such as Jichungee (Sargassum thunbergii), black barnacles and sea urchins survive in the crevices. Gaetbawi engages with the stories, folklore and spiritual beliefs of the last generation of barehanded female divers (haenyeo) and workers in fishing villages who are forced to relocate due to the large scale aqua culture industry, and celebrates the survival narratives of indigenous seaweed that is part-harvested and part left in the sea by the haenyeo to protect the endangered food chain.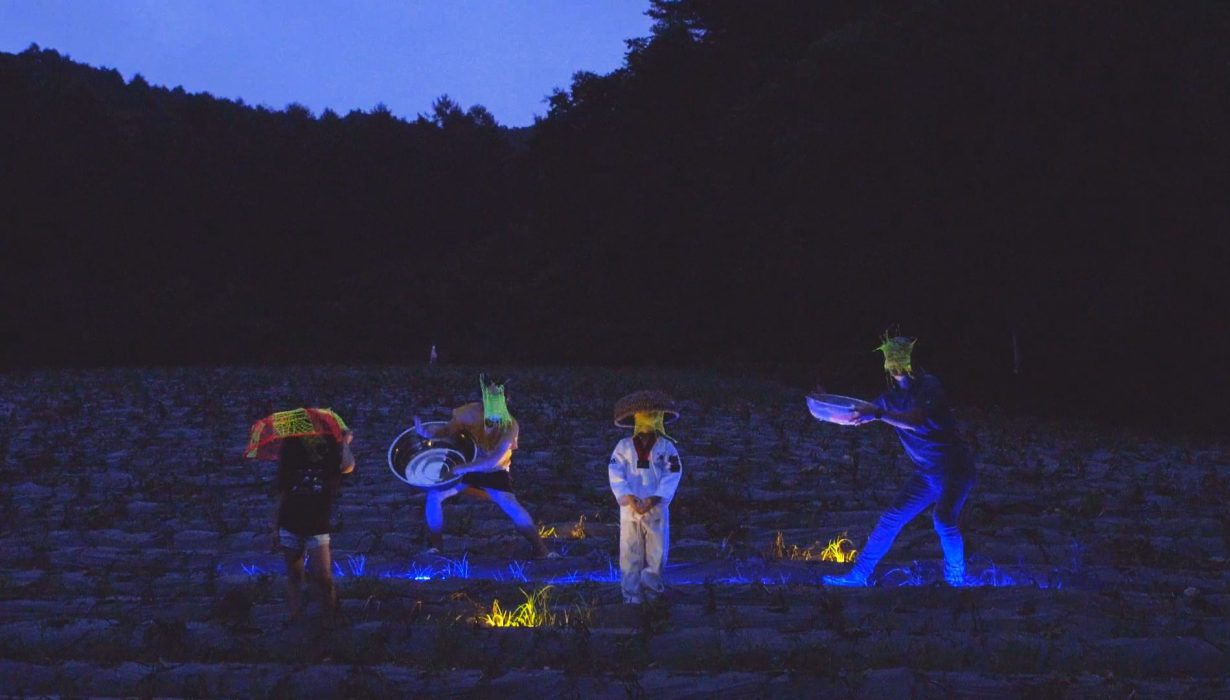 I recently ran into the Sisters at Documenta 15, the Kassel-based exhibition art-directed by Jakarta-based collective ruangrupa. It was the first in-person meeting since the workshop in Manila, along with many other reunions with colleagues in the euphoric days before the furore intensified around anti-Semitism claims that have somewhat hijacked this edition's central narrative and operational structure of lumbung, and its world-making possibilities via collectivity. Catching up then, and also when we spoke for this article, we shared experiences of the challenges of living and working together that inevitably includes the emotional labour of having to deal with conflict that manifests as part of coexisting. The ongoing tension between the self and the collective, and how we draw boundaries around the individual and multiple groupings, can be expressed by the Korean collective consciousness of woori, where woori frequently features in Korean language, and embraces 'we', 'our', 'I' and 'mine' (see Hee An Choi, A Postcolonial Self: Korean Immigrant Theology and Church, 2015). This ambivalent fluidity was encapsulated by a historical work staged in Busan, by Korean artist Bahc Yiso, whom Soyoon Ryu researched for her master's thesis at SOAS in London. Bahc had submitted his proposal to the 2004 Busan Biennale but passed away shortly after; his work was realised posthumously by friends and colleagues. Written in bold against the monumental billboard's bright orange background are the words Woori nun haengbok hayeo ('We are happy'). As the contemporary art scene and institutions in South Korea continues to grapple with how to respond to recent high-profile #MeToo revelations in relation to established artists, and the changing social mores that make these possible, the Sisters' work echoes and affirms a commitment to the belief that community and solidarity make possible social resilience and the healing of historical trauma and loss.
The Rice Brewing Sisters Club's installation Sea Plants, Bare Hands, Entangled Gaetbawi is being presented at Busan Biennale, through 6 November