Can the city's newest arts venue square its bombastic approach to contemporary art with its central role as part of a growing local artistic community? 
Factory International, a major new arts and performance space in Manchester, opens its doors to the public this summer, on the spot where Granada Studios once stood (home to North West England's television broadcaster until the early 2000s). Ellen van Loon of the Office for Metropolitan Architecture has led on the design, the asymmetrical ribbed metal facade of which is broadly in the deconstructivist style of the office's founder, Rem Koolhaas. Factory is both a permanent home and a new twin organisation for Manchester International Festival (MIF), which has run biennially since 2007. The venue received an initial £78 million capital grant from the UK government, as well as significant top-ups from Arts Council England, Manchester City Council and other bodies. MIF and Factory recently announced rolling Arts Council funding for 2023–26, equating to a lavish £9,908,150 per year.
Factory International's debut will coincide with the 2023 MIF, where superstar artists such as Yayoi Kusama will join a lineup of pop singers and theatrical performers. The recent death of Ryuichi Sakamoto makes the prospect of a 'mixed-reality concert' devised by the composer and production studio Tin Drum particularly enticing. Janelle Monáe, meanwhile, will jet into town for what the Factory website calls a three-day 'residency', allowing her to 'interact with Manchester artists and audiences in new ways', as well as offering a trio of 'euphoric' live shows.
But what will Factory International and the revamped MIF really do for the city? Will the new space be a Tate Modern-style success, and should it even be judged on the same terms? The work the venue has so far announced will run a gamut from theatre to pop music to contemporary art, with an emphasis on genre-splicing and grand spectacle: one of its inaugural productions, Danny Boyle's Free Your Mind – opening in autumn 2023 – will combine Michael Asante and Kenrick Sandy's hip-hop score and choreography with set design by Es Devlin, famed for her largescale lightshows. Inspired by the Matrix films (1999–2021), the piece will, according to press announcements, explore the power of digital illusion in the current cultural moment, name-checking the metaverse.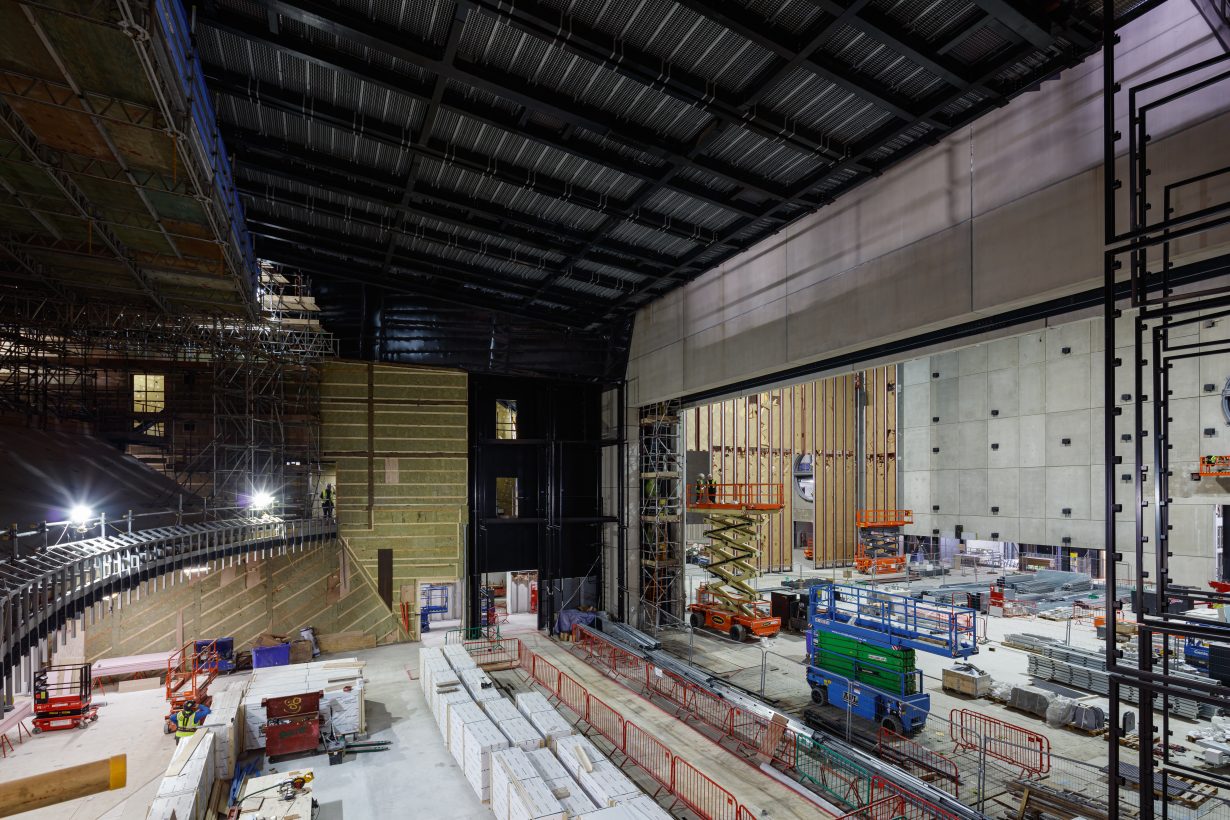 In reality, though, the prepublicity for the show, and for the venue in which it will take place, seems to be selling immersion in spectacle as much as a critical optic on it: 'Free Your Mind will take audiences on a thrilling journey through The Matrix and into a new realm of possibilities… This eye-opening production will stretch across the building's ultra-flexible spaces, responding to them and harnessing the collective energy of the moment.' The Factory's interior, which resembles a giant warehouse and will include vast moveable walls, is built for colossal extravaganzas of this kind (Kusama's giant inflatable spotted sculptures will fill the space during MIF).
In this sense, a largescale 'pure' arts venue such as Tate Modern is a less pertinent comparison than, say, London's Lightroom. That recently opened huge four-sided projection chamber is currently showing blown-up David Hockney paintings alongside an audio soundtrack of the artist expounding on life, love and the perils of vanishing-point perspective. The rolling UK tour of the Van Gogh Alive show (2011–), in which an oversized patchwork of screens is saturated with postimpressionist markmaking, offers a similarly immersive proposition. So too does Frameless, near Hyde Park, where you can get lost in giant digitised paintings from across the history of Western art. At 180 Strand the basement studio and exhibition space is designed to drench the viewer in light in a similar way, though the curating favours contemporary film and photography – Richard Mosse's infrared and ultraviolet aerial scenes, for example, as seen in his recent show Broken Spectre (2022).
In contrast to the sensory baths of much so-called immersive art, Boyle's intermedia outing is a product of original creation rather than inventive re-presentation. But Factory does seem to be drawing energy from a newly emergent category of arts event – and art venue – that pays little heed to the niceties of medium boundaries or (for want of less stuffy terms) the art-historical and intertextual context in which a particular artist or performer might seek to be viewed. In their place we find some of the visual tropes of contemporary art, and the ambience of a modernist, hangarlike public gallery, brought to bear in a kind of son et lumière public spectacle. Giant digitised paintings or kinetic lightshows look to compete with the effects budget and, presumably, the wider audience appeal of a Marvel superhero flick. (That's where almost £10m per year from Arts Council comes in handy.)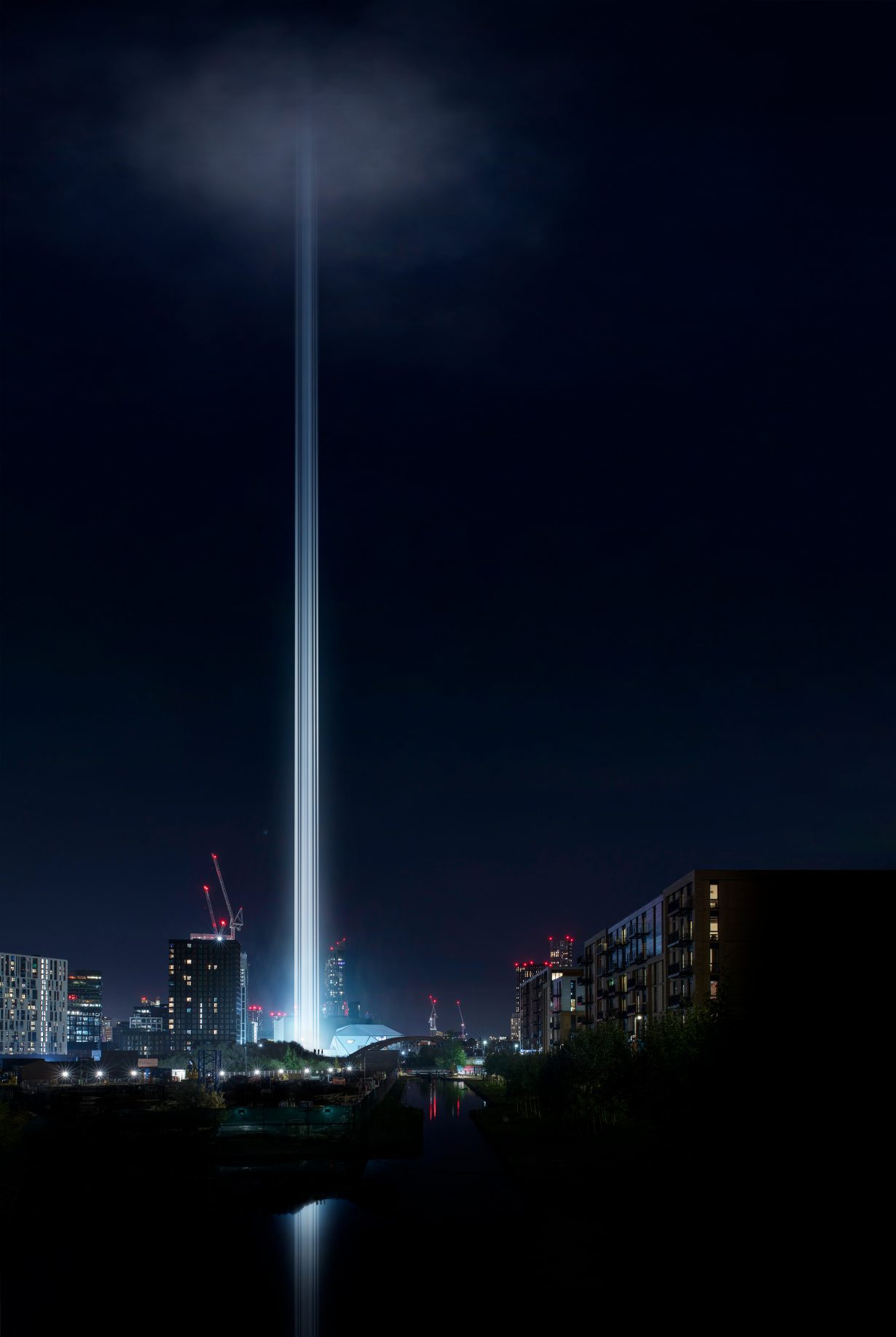 If this is what Factory is trying to do, those are the terms on which it ought to be judged. But is this the kind of spectacle Manchester's art scene wants? Andrew Hunt is a curator and professor of fine art and curating at Manchester Metropolitan University. He runs the art press Slimvolume and has recently opened a small exhibition space, Moon Grove, just south of the city's 'cultural corridor' of galleries and performance venues. For Hunt, "what Manchester really needs is a midsized ICA or kunsthalle, something dedicated to showing serious international contemporary art connected to the city's evolving art scene, culture and communities. That would fill an institutional gap that's lacking here, between smaller artist-run galleries and studios on one side and museums such as the Manchester Art Gallery and the Whitworth Art Gallery on the other." While Hunt senses no bitterness about Factory International's inauguration among the area's artistic communities, the huge cheques being written out for the site might reflect what the curator and publisher sees as "Arts Council England's traditional focus on Manchester as a site for music, live events and sport rather than art".
Then again, can we think about Factory as a purely creative venture of any kind, given that its origins and goals encompass a far wider programme of socioeconomic regeneration? Plans for a new 'theatre space' in Manchester were announced as part of then-chancellor George Osborne's 2014 budget, part of his much-vaunted 'Northern Powerhouse' agenda, intended to tool-up a network of northern English cities to compete with London for economic clout. At the heart of the powerhouse plan was a sound concept, what urban geographer Neil Lee calls in a 2017 article 'the potential economic benefits if the cities of Northern England worked as a larger functional economic area'. But problems developed around mission drift and lack of follow-through. Lee writes of the term 'Northern Powerhouse' becoming a general rebrand for 'government policy in the north'. In 2019 think-tank IPPR North found that the north of England had faced under-investment against multiple metrics during the 'Powerhouse' era.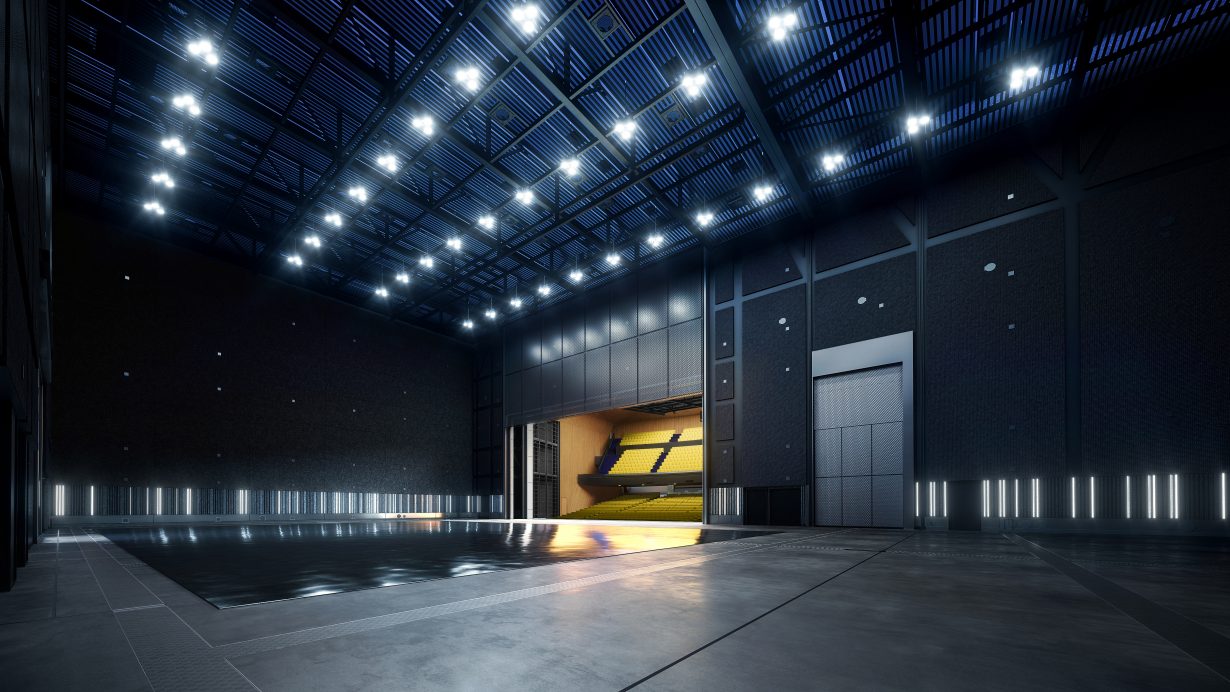 If Factory International is not just an arts venue but also one node in a network of new cultural and economic infrastructure that was meant to help the North of England to find its feet economically, then the wider failure of that policy reflects on it too. The project has run well overbudget, with a £25m shortfall announced last year to be made up by Manchester City Council.
Moreover, there is a wider narrative to unpick here about the ways in which regeneration in the form of metropolitan arts venues and festivals has masked ever-increasing wealth disparity across the urban West, and the related hollowing-out of city centres such as Manchester's through gentrification. This is particularly relevant in the case of Factory International – part of a larger renewal project for the waterside neighbourhood of St John's, overseen by property developer Allied London; a project that, according to the company's website, will encompass '320 hotel bedrooms, 560,000 sq ft of workspace, 240,000 sq ft of retail and 13 acres of public realm'.
In a 2013 paper, Richard Florida, the urban theorist who coined the idea of the 'creative class' – that network of bohemian-minded professionals, artists and scenesters whose presence led to increased economic development in certain urban locales – revised aspects of his thesis (first forwarded in his book The Rise of the Creative Class, 2002). 'On close inspection, talent clustering provides little in the way of trickle-down benefits,' Florida's later assessment states. 'Its benefits flow disproportionately to more highly-skilled knowledge, professional and creative workers whose higher wages and salaries are more than sufficient to cover more expensive housing in these locations.' This kind of backtracking – which mirrors academic consensus on the topic – begs the question of why national and regional government remains wedded to bells-and-whistles arts venues and events as a source of cultural revitalisation.
All is talk until Factory International opens its doors – and, at the very least, there is every reason to suspect that the sheer scale of what unfolds there could be exciting. For Hunt, though, while there are advantages to the spectacularist approach to contemporary arts curating Factory International has opted for, what's key is that Manchester keeps nurturing the kind of organic grassroots arts scene that has resulted in recent breakout successes like painter Louise Giovanelli. "This is a need that Factory, inevitably, cannot fulfil, but whose fulfilment it will depend on – ultimately it will need to have a symbiotic relationship with Manchester's growing artistic community to be successful."
Greg Thomas is a writer and editor based in Glasgow. He is the author of Border Blurs: Concrete Poetry in England and Scotland (2019)
Manchester International Festival runs 29 June – 16 July