I met Mélodie Mousset socially before I was aware of her work. I extended the most casual invitation for her to come down and visit while I was writing in Baja. To my enormous surprise, she and a Mexican friend actually came, more or less unannounced. Somehow they found this nondescript place in a Mexican campo five hours south of LA. We hung out and had drinks by the bay.
Later, I read my friend Noura Wedell's inspired, unpublished essay about Mousset's Organic Voyage project (2012–). In it, Mousset has her own internal organs virtually rendered by a forensic imaging company and then casts them in resin. She travels from Le Havre to Veracruz on a container ship and then on to Mexico City, where she has them recast as wax candles, in keeping with local customs. From there, she travels to the Sierra Madre mountains and spends four months living in the jungle with local healers, the curanderos. Eventually she burns her organs inside a cave.
The project was actively pursued for two or three years, and it's not finished yet. The hard drive containing the film was lost; everything fell apart.
Mousset's associative process is so rich. She fully believes in her own imagination, and the logical or alogical digressions that shape an inner life. What struck me most about Organic Voyage is the way that the artist's quasi-spiritual search is continually interrupted by material circumstances. She encounters a caste system on the container ship; a bunch of North American stoners and hippies have New Age-colonised the jungle, and the curanderos are all corrupt. Mousset's Voyage kind of mirrors Antonin Artaud's famous journey to Ireland with St Patrick's staff, but in reverse. He was seeking a body without organs; she was trying to externalise her own organs without a body to contain them. I don't think of Mousset as part of a lineage, unless it's one of exceptionally original, anomalous artists who have the courage to pursue an idea as far as it will go. So, maybe Carolee Schneemann, Werner Herzog, Béla Tarr, Paul Thek, Bas Jan Ader, Jay DeFeo.
Mousset has moved on to making virtual-reality experiments and projects. She is discovering the pleasure of the surface, after plumbing the depths. I think her mental agility, and ability to morph into various settings in an almost anthropological way make her work especially important now, and for years to come.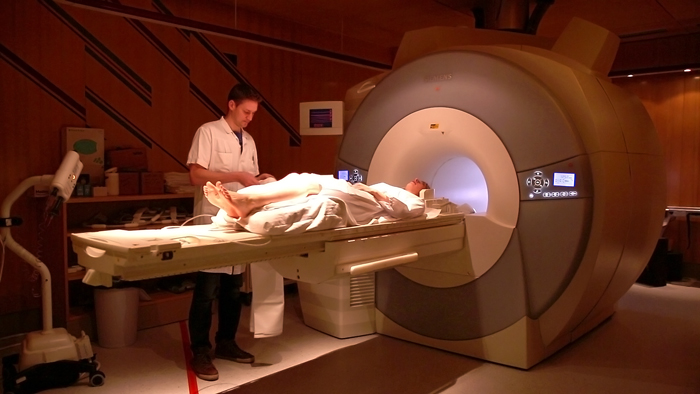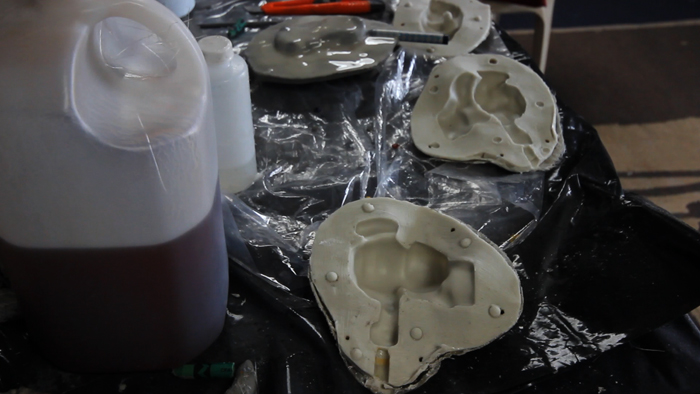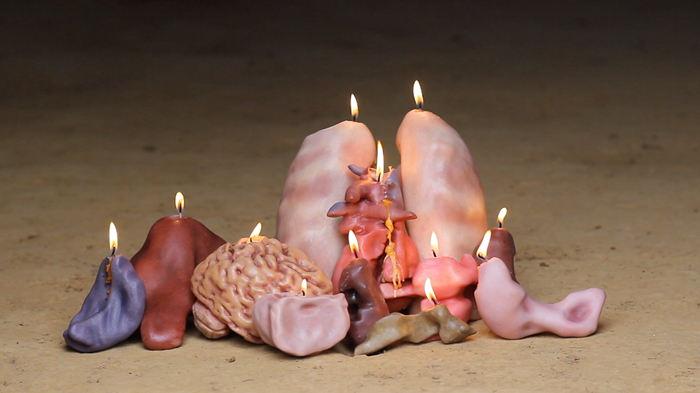 Organic Voyage (details), 2012–, mixed media. Courtesy the artist
Mélodie Mousset lives and works in Zürich. She was the winner of the 2015 Swiss Art Awards, and her latest VR installation, HanaHana, presented this autumn at the Zabludowicz Collection in London, received multiple accolades, including 'Best Artistic VR Experience' at the Beijing VR Festival and a Golden Halo award for 'best artistic achievement'. Other recent solo exhibitions include Intra-Aura at Last Tango, Zürich, and A Fresh Burn Like a Double Tree at SALTS, Basel. Her work will be on view at the Game Developers Conference in San Francisco, 18–22 March, in Effets Secondaires, a group show at CEAAC Strasbourg (15 March to 19 May) and in Masks, a group show at Aargauer Kunsthaus opening in September.
Chris Kraus is a writer and art critic based in Los Angeles. Her novels include I Love Dick (1997), Aliens and Anorexia (2000), Torpor (2006) and Summer of Hate (2012). Kraus has also published a collection of essays and two books on art and cultural criticism. She recently wrote a biography of the American novelist and poet Kathy Acker. 
From the January and February issue of ArtReview, in association with K11 Art Foundation