What is the point of staging popular online dance styles in a gallery context only for them to be filmed and uploaded back to their native realm? 
Bondy (2017), the first of four films in this debut institutional show by French multidisciplinary collective (LA)HORDE – who are also codirectors of Ballet National de Marseille – proposes nonperformative and communal forms of movement often dismissed as 'entertainment' as valid forms of choreographic expression. Named after the Paris suburb where it was filmed, Bondy splices together iPhone and professionally shot documentary-style footage of community groups – synchronised swimmers, cheerleaders, seniors at a line-dance party – in motion. Most scenes focus on 'in-between' moments such as getting in and out of pools, bedroom rehearsals and applying makeup in mirrors. The few staged scenes that deconstruct and reframe movement, however, are highlights: local bikers accelerate down suburban roads and walk behind each other through parks, arms outstretched as if on handlebars, before recreating torso tilts and gear-changing wrist twitches on chairs in a dance studio.
(LA)HORDE describe their recontextualisation of popular movement styles – particularly those on TikTok et al – as 'postinternet dance'. In The Master's Tools (2017), performers huddle together in the face of a water cannon, replicating riots that have become familiar viewing across online media. The collective is best known, however, for their engagement with jumpstyle, a genre that rose to prominence during the early 2000s. In Novaciéries (2015), a group of masked jumpstyle dancers rapidly kick downwards in an abandoned steel mill. At times they activate the forklift trucks surrounding them (one shows up in the gallery). Viewing their repetitive movements in an industrial environment imbues them with a newfound robotic quality. Beyond achieving a 'grungy' aesthetic, however, the reason for placing jumpstyle in this context is unclear.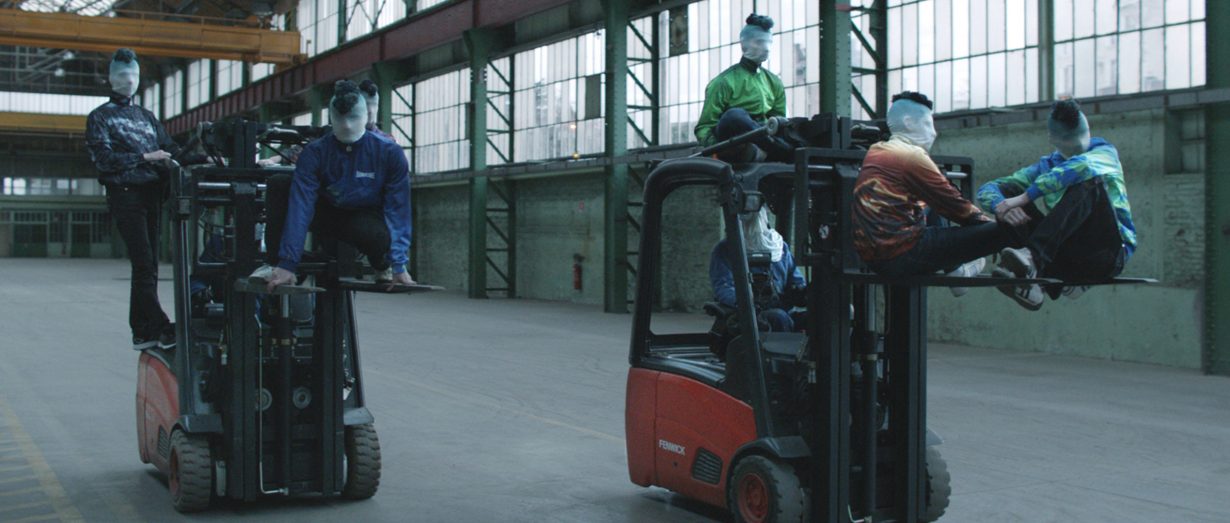 Jumpstyle was also the key focus of a performance of To Da Bone (2017) during the exhibition's opening. While the most engaging moments were when the dancers appeared to be in dialogue with their screened counterparts, the piece was disappointing in its repetition of a vocabulary from the films, rather than interrogating it in the same way as the bikers' actions in Bondy. Deploying the same intense facial expressions, casual sportswear and electronic music currently fashionable for gallery-based dance, the performance feels less provocative than it might have a few years back. This didn't stop the audience from filming and disseminating it across social media, cyclically returning the movement to its native realm.
If the dance styles (LA)HORDE tap out end up back online, do audiences really need to go to a gallery to engage with them? Perhaps by passing through this show, they find their way into new internet algorithms to be considered by different audiences. Yet in a digital age where the internet is increasingly celebrated for having its own culture, do forms such as jumpstyle really need a cultural institution's stamp of approval to be appreciated? Replicating them in this context, without much development or exploration, feels like little more than a slightly surface-level push for relevance, and edgy press imagery.
(LA)HORDE at Julia Stoschek Foundation, Berlin, through 30 July