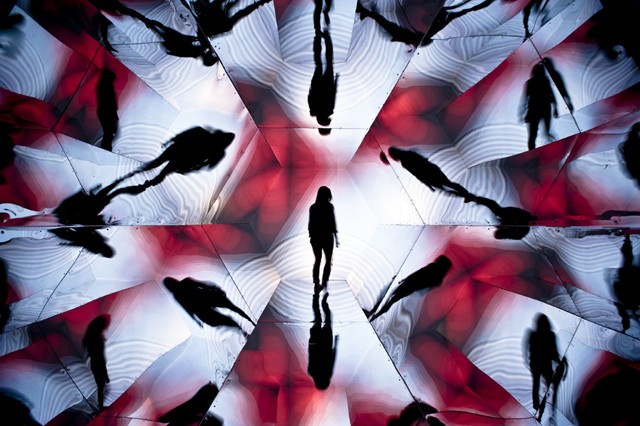 The London-based Irish artist Laura Buckley has died. She was known for her kinetic sculpture and installation, which incorporated moving image, sound, light and digitally scanned prints, to produce abstract, sometimes meditative, sometimes frantic, environments.  
Having begun shredding her paintings of reflections in puddles during an MA at Chelsea College of Art in 2007, creating sculptural installations by painting on MDF and rolls of wallpaper, Buckley soon transferred her interest in sculptural collage to multimedia. One of her most ambitious works was Fata Morgana, first shown at Cell Projects in London in 2012, and later at the Saatchi Gallery, a mirrored hexagonal tunnel into which visitors could step. At the far end a film collage featuring cut-up footage of everyday life, often filmed on her phone or a simple handheld camera, occasionally featuring her own family, played on loop, the colours and forms further abstracted as they reflected off the walls. A droning soundtrack added to the general sense of disorientation. 
'I had come to the end of my practice with painting' she told Bomb in 2014. 'I'd been questioning function, imagery, and surface and moving between abstraction and representation using photography and, more importantly, holes in walls and mirrors as a stand-in for painted representation. About ten years ago I bought a video camera to document my daughter's first years. By experimenting with the camera and moving the supports or props I'd been working with, I found I could express myself much more directly. I began to enjoy the production of space, composing and then deconstructing it, all the while moving out of the studio.'
In 2012 Fata Morgana featured in the music video, directed by Buckley for New Young Pony Club's single You Used To Be a Man. The artist also worked with the band Plaid on the video for their 2019 track Recall, originally written to soundtrack the artist's 2017 sculptural installation Repel Darker. 
'I wasn't used to visiting galleries, so my kind of interest in art was very much pop culture, such as the very early guitar bands, early electronic music and that visual imagery of music video, which I work with now, but very escapist', Buckley said in 2019. 'It was very much about coming back from school and getting into my room and recording songs from the radio, then playing them back.'
Other collaborations included Polarised, a 2016 show with Kim Coleman at Block 336, London; with Paul Purgas at the Whitechapel Gallery, London (2015); Slate, a live multimedia performance work with Dan Coopey at Turner Contemporary, Margate, and Gallery Vela, London (2013); and Stage Fright with Dave MacLean and Haroon Mirza at Rokeby, London (2009).
Born in Galway, Buckley's solo exhibitions included Eigen + Art in Berlin (2016), Supplement, London (2011) and Mothers Tankstation, Dublin (2010). Her films featured in screenings for Hanger Bicocca, Milan; Bold Tendencies, London; and the Derek Jarman programme for Serpentine Gallery, London. In 2014 she was shortlisted for the Film London Jarman award.