Rahel Aima unearths ancient scripts and thermodynamic sea creatures in one of the Arabian Peninsula's oldest cities
The most exciting thing that I saw in AlUla, a remote town in north-western Saudi Arabia, were some dustbins. They come in pairs of green and brown, the former for recycling and the latter for mixed trash, and are placed at intervals up and down the arterial street of the Old Town, a heritage site dating back to the twelfth century. But that's not why they were exciting. Things weren't that bad. Written on them is the slogan Keep AlUla clean. In Arabic and the Nabatean script. The latter hasn't been used for some 1,600 years.
Nearby, a language institute offers courses in Chinese, French and Nabatean. Ancient history is being revitalised everywhere you look, with a tourist infrastructure that sutures the Iron Age to Saudi Arabia's masterplan of Vision 2030 (a strategic framework that aims to reduce Saudi Arabia's dependence on oil by developing the cultural, educational, health, tourism and recreation sectors). All around AlUla, magnificent rock formations running the gamut from ochre-red to basalt-grey rise out of the desert, now shot with palm and citrus groves as part of an aggressive oasis-regeneration programme. It's as utterly magical as it is artificial.
"We are not opening a resort, we are opening a city and a country," said the manager of Habitas, a new eco-luxe resort built in the same valley in which the inaugural Desert X AlUla, the Saudi edition – one of many soft-power handshakes – of the Coachella Valley-based Land-art exhibition, was held in 2020. In California, Desert X operates with an ethos of leave no trace and works are dismantled after each run. Not here: private chalets look out onto works by Nadim Karam, Manal AlDowayan and SUPERFLEX, and an IKB Lita Albuquerque work – erroneously trumpeted as the first female figurative sculpture in Saudi in a millennium – can be seen from the infinity pool. It's worth noting that as much as it hopes to attract wealthy visitors from overseas, AlUla seems to function primarily to introduce Saudis to themselves, to their pre-Islamic past and a new national narrative of civilisational greatness.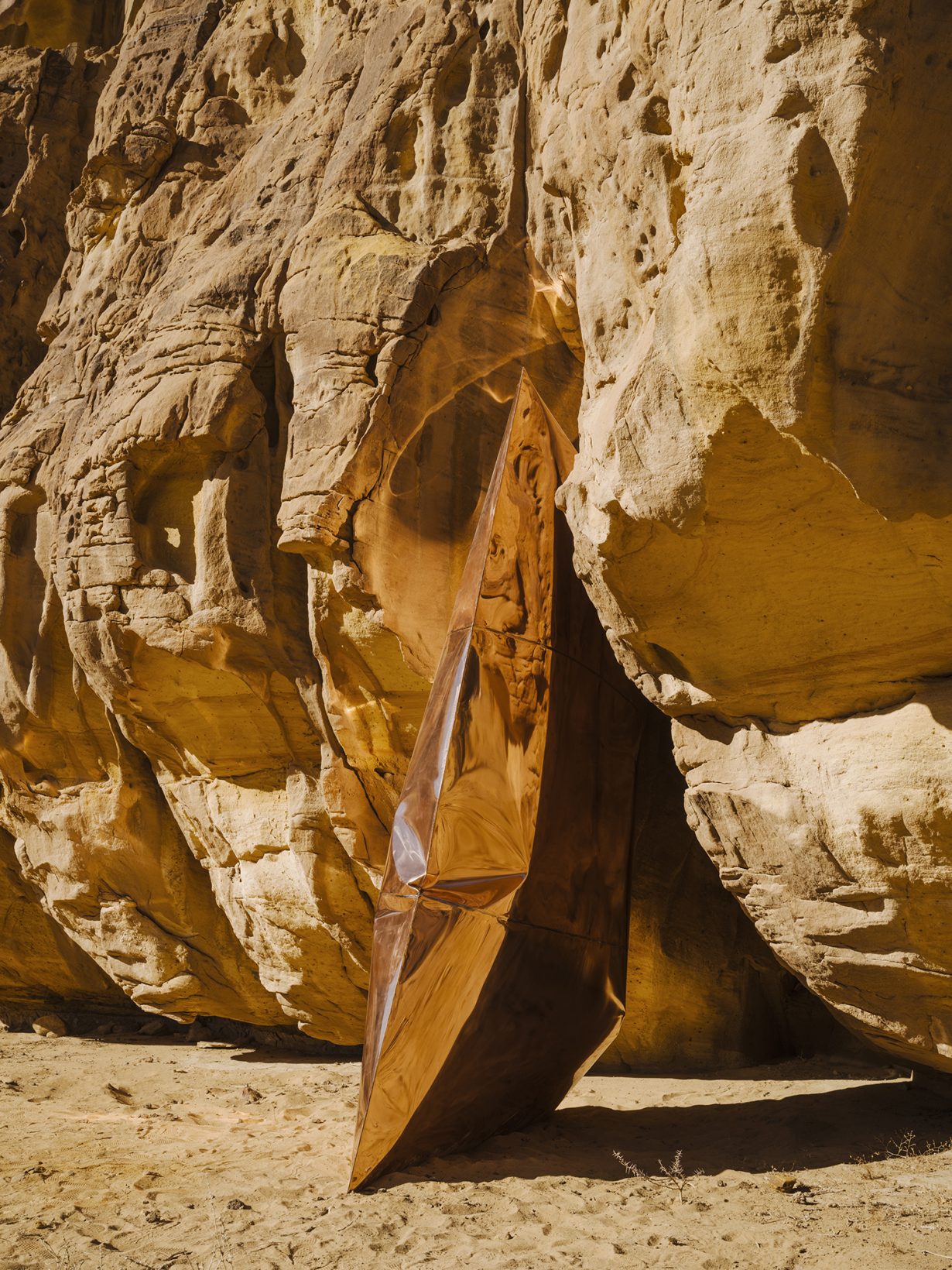 One wonders what lies in store for this year's location, situated a 30-minute drive from the first, darker and more atmospheric than its predecessor, with remnants of petroglyphic rock art. Whereas the first edition suggested paintings hung in a circuit around the perimeter of a large hall, Desert X 2022 is installed around a series of canyons that puts each work more directly in conversation with both its setting and the piece(s) visible next to it. And contra the bombasticism of 2020, this time the 15 Saudi and international artists involved mostly didn't attempt to compete with the majesty of the landscape. The exhibition is all the better for it.
Curators Reem Fadda, Raneem Farsi and Neville Wakefield chose the theme of Sarab, or mirage, gesturing towards a tension between the manmade and the natural, and man's attempts to control nature. (In Riyadh, Misk Art Institute subsequently announced the same theme for this year's grants, with no apparent irony.) Fadda added, "The [participating] artists spoke to the rocks, they spoke to the sand, they spoke to the bushes and the trees". But the rocks, sand, bushes and trees don't seem to have been listening. More successful, rather, were the works that looked beyond the immediate site to the broader AlUla region.
Rusted steel rods splay out of the ground like gargantuan reeds in Monika Sosnowska's installation, which references AlUla's position at the confluence of the incense and spice roads. But the metal is distressingly taken from the historic Hejaz railway: some heritages are clearly more worthy of preservation than others. Nearby, Shezad Dawood's gnarly coral forms – one pleasingly installed high up on a cliffside – speak to a geological timescale when the valley would have been underwater. They are painted with thermodynamic paint and, unlike their curiously resilient brethren in the Red Sea,
will slowly bleach to white over time.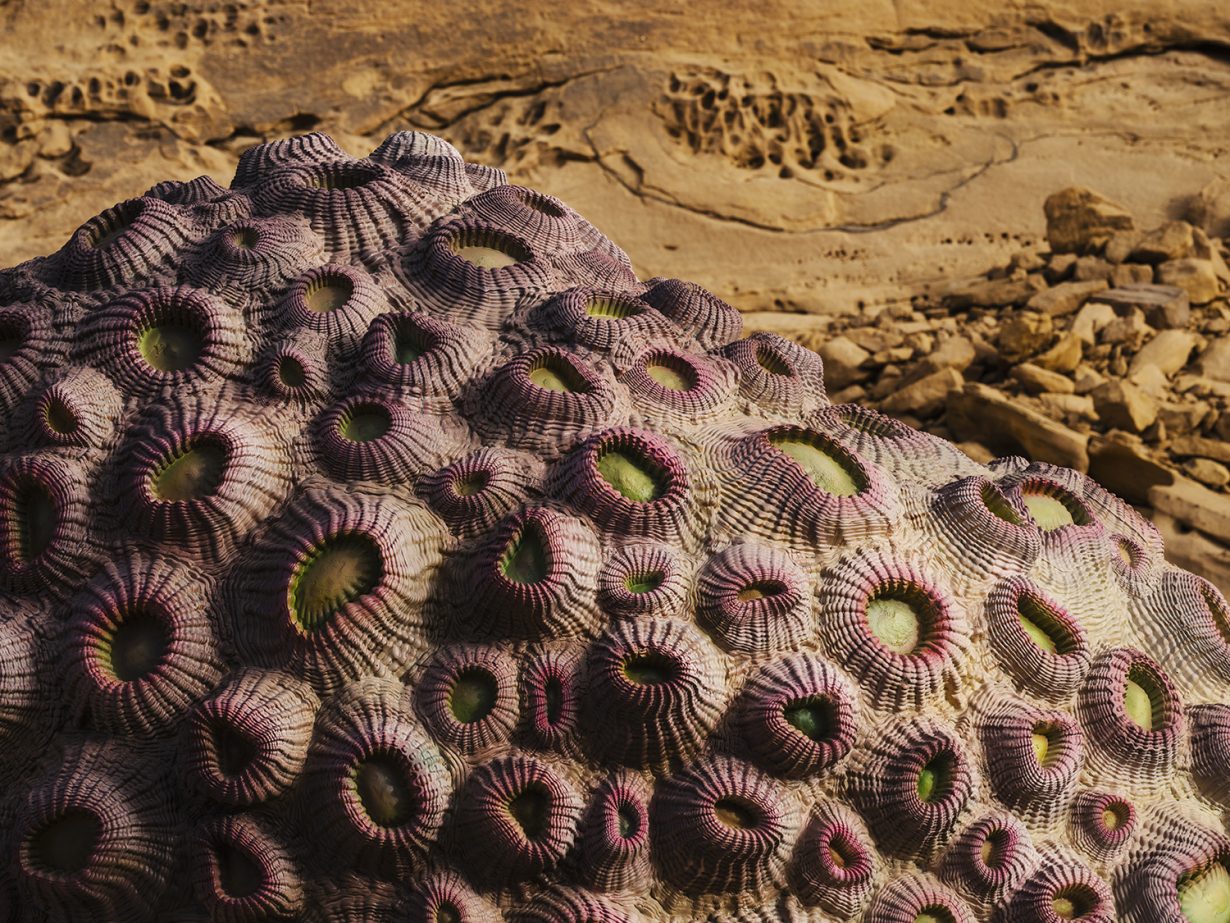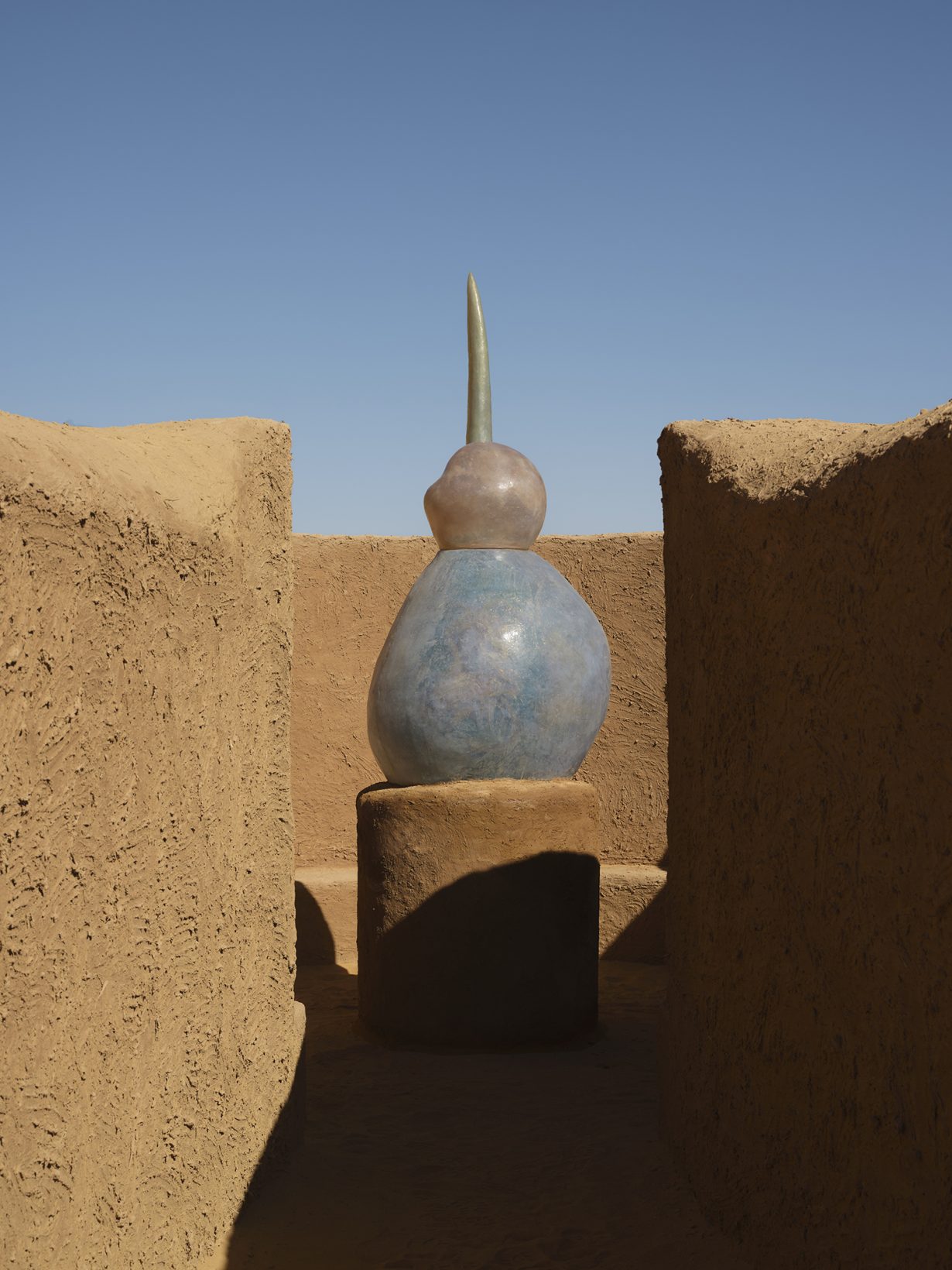 AlUla's primary draw might be the Nabatean necropolis of Madain Saleh, or Hegra, which features stunning rock-cut tombs and inscriptions, dating from the first century and similar to those found in its sister city of Petra. The relief staircases on their facades, along with Islamic geometry from farther afield, inspire Dana Awartani's pixelated sandstone throne, blending beautifully into its surrounds. At the centre of Sultan bin Fahad's earthen desert kite – ancient claustrophobia-inducing animal herding structures that converge on a killing floor – is a funny, globby sculpture topped with a spadix that features animal motifs found on Hegra tombs, except here they're trapped in the fibreglass; the work would have been quite stunning without it.
Mada'in Saleh has long been believed to be cursed and forbidden for Muslims – a Quranic verse details how lightning and earthquakes decimated its idolatrous residents – and although Saudi authorities are doing their best to rehabilitate this image, the paranormal still suffuses the air. Soldiers tell tales of a wizened crone seen creeping around the sleeping town late at night, a man went mad after spotting a Slenderman figure on the road and locals believe that jinn protect the town from raiders who come seeking rumoured stashes of buried Ottoman gold, or from dark forces as yet unknown. The unstoppable behemoth of development, perhaps: much of the area is being transformed in partnership with the French Agency for AlUla Development, an alliance that was confirmed, some would say not without coincidence, at the same time as a defence contract between the Republic and the Gulf state. Outside of Desert X, cultural initiatives include a robust public-art programme, an arthouse cinema, two artist residencies and a bellwether outpost of Jeddah's Athr gallery, which seems to gesture towards AlUla's framing as a destination for the monied.
What lies beneath? A rich loam of as-yet-unearthed history: whereas much of the surrounding region was plundered by Europeans in the last century, the recently resumed archaeological excavations in AlUla, a vast region of intra-civilisational connective tissue, have reportedly barely scratched the surface. Ground so fertile that it is said if you simply toss a date seed, a tree will grow, with a burgeoning wellness-influencer industry to match. A month later I returned to AlUla on a roadtrip and, away from the lubrication of a biennial opening, found a very different town. In the old-but-not-historic town where the people who service the tourist industry live I notice a hand-painted advertisement for land-investment opportunities, outside a laundromat wallpapered with idyllic tropical beaches. Gone was the easy, improvisational enchantment, replaced by a frictive apparatus of ticketing and entry, a slick, hypercommercialised veneer overlaying an ambiently grim, gold-rush-feeling town.