A restaging of lifestyle design as a pseudo artworld? Aaron Angell puts a name to a language without meaning
How rank this ease of lotus-land
I feel death in its dreaming shell.
– Catullus, 'Bid me to Live'
This month, two London homes opened their doors to the public for very different reasons. Charles Jencks's Cosmic House (Holland Park, built 1978–2019) and Ron Hitchins's No 43 Malvern Road (Hackney, built 1955–2019).
Jencks died in 2019, and his postmodernist gesamtkunstwerk – Jencks is associated primarily with theorising postmodernism – opens with Grade-I-listed status and a new institution established with the aim of reminding visitors the learned meanings behind every surface of this cultural theorist, landscape designer and architectural historian's project. It feels important that although part of the interior has been turned into a museum, the majority remains relatively untouched – allowing visitors to witness the aesthetic domestic programme enforced on Jencks's family (during my tour, I heard Lily Jencks, Charles's daughter, recall how she was banned as a teenager from hanging posters on her bedroom wall). The interior design was a collaborative work created with an array of artist and designer peers, among them Terry Farrell, who led on the architecture, Piers Gough, Michael Graves and ceramicist Carol McNicoll. Cosmic House is knotted with symbolism, in-jokes and ironic transgressions, and designed, essentially, around the theme of an all-encompassing cosmogonic journey: visitors ascend from a 'Black Hole' in the hallway – mosaicked by Eduardo Paolozzi – and up the 'Solar Stair', and similarly spacey thinking pervades the rest of the house. Yet this ideal for living is carried off with relative economy: the most surprising aspect of Cosmic House is how shonky much of it is up close, with most of the physical structure being made from sponge- painted MDF. The most amusing culprit is the 'Indian Summer' kitchen, a sunkissed Jane Asher daydream and veritable sermon on naffness. The 'Foursquare' master bedroom is more successful, where a jigsaw has been used to carve what feels like a miniature cityscape of gleaming white skyscrapers – but is in fact a series of freestanding bedside shelving units – both heavy and light at the same time despite their towering scale.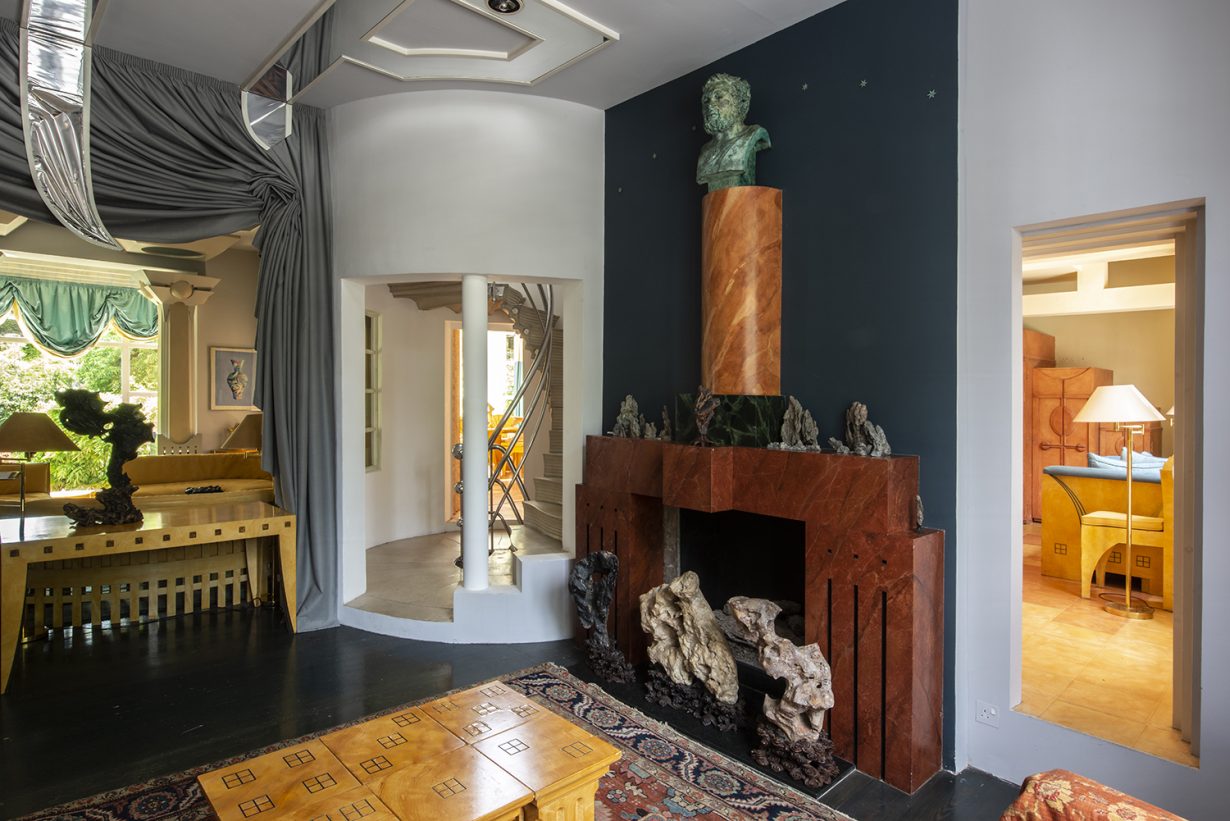 Still, it is remarkable how unimportant the actual structure of the interior appears once one switches to viewing it as less a home (though of course it was) and more an elaborate teaching tool, as well as an arena for ideas, failures and successes. Placing formal over material quality in the starkest sense, it is like a series of interlocking stage sets best viewed at a distance, only ever supposed to convey an atmosphere rather than embodying it.
It is curious that Cosmic House should open now, finding itself, in its painted staginess, so unfashionably out of step with an era in which interior design seems obsessed with supposedly meaningful raw materials, patronising handmade bucolicism, a platitudinous cult of curating and a consensus eclecticism resulting in a near complete absence of real conversation. Cosmic House heroises a cheap commercial material to symbolic and complex ends. On the other hand, however, the house I visited at 43 Malvern Road seems to privilege that same fetishism of 'material' per se, at the expense of any meaning whatsoever.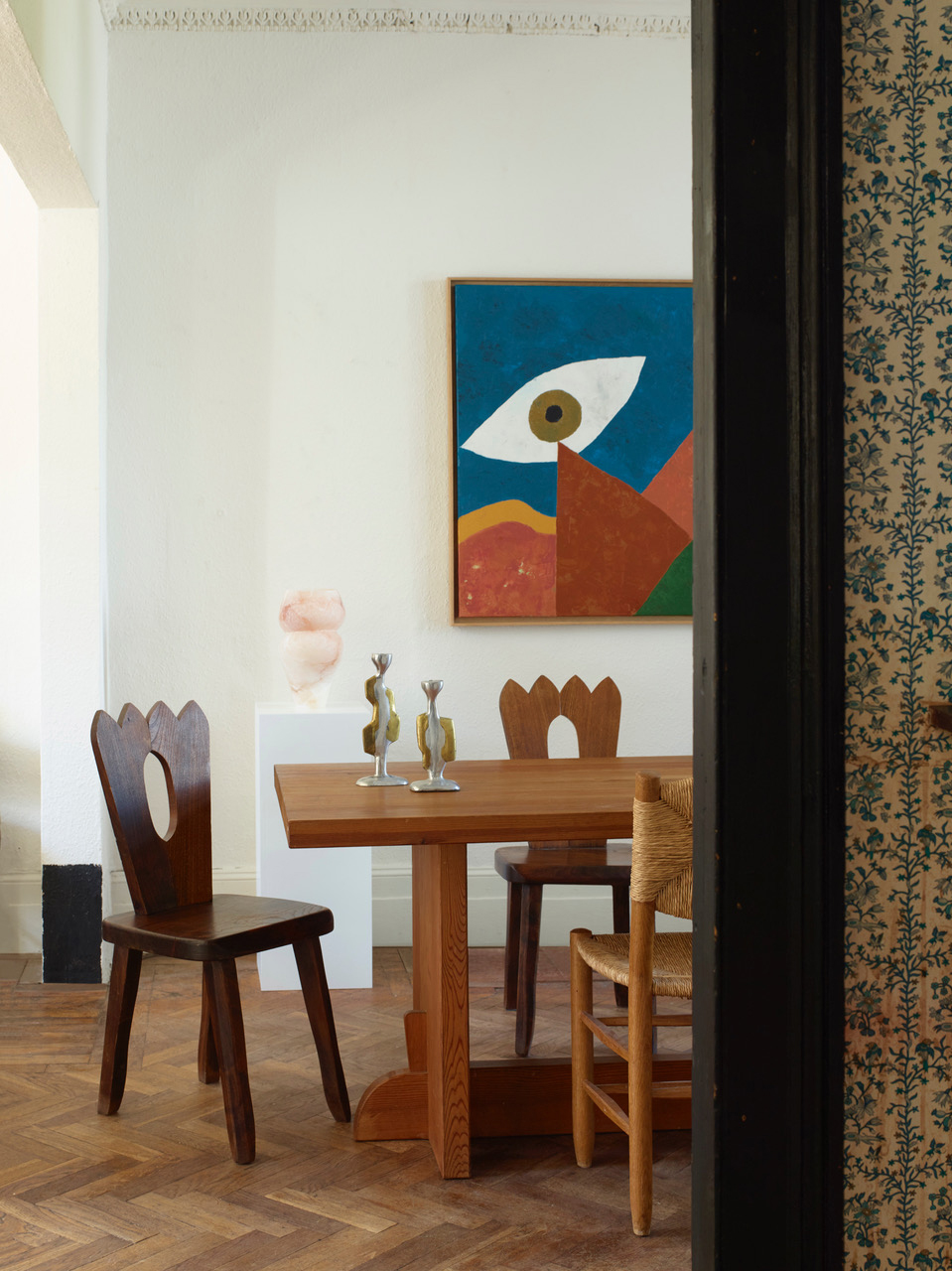 No 43 opens, for one month only, as something somehow more chimeric than Jencks's densest machinations. Ron Hitchins was a self-taught artist, ceramicist, flamenco dancer, onetime Ken Russell collaborator and lifelong East Londoner who spent nearly 70 years slowly accreting his home into a London Fields Merzbau. Heavily ornamented with ceramic and fibre-glass reliefs, this Victorian terrace was transformed by Hitchins into a midcentury interior that dramatised and reacted to the artist's passions (one upstairs room contains a tiny mirrored dance-studio, positioned so as to look out over the garden once busy with Hitchins's Hepworth-esque sculptures). The house has now been bought by one half of newly founded interior design duo Atelier LK, who, on finding most of Hitchins's works and fixtures removed (by friends, members of the London flamenco community and the V&A), have organised an exhibition of mostly young designers and craftspeople, as well as some storied modernists, who, they say, respond to the history of the house and Hitchins's work. It also presumably acts as a launch event for the LK brand. Yet what does a Charlotte Perriand daybed have to do with crypto-mingei furniture (Rooms Studio) and swathes of biomorphic ceramics (Dea Domus)? What does any of this have to do with this building? The experience of Jencks's house was one of noisy but thoughtful pantomime – like being toured past a pageant of increasingly theatrical historical phantoms jostling for influence and a scrap of bare stucco to decorate – but at least eventually agreeing on a ridiculous conclusion to the stratagem. Atelier LK's intervention is like walking into a room with 20 radios all tuned to different stations. In one room, something I surmise is a bit of old cider press stands next to a Noguchi lampshade. It is a project for a lifestyle so exquisitely captive to the current oblivious turn in interior design – a 'this-old-thing?' ontology of conspicuous rustication and swooning materialism. Marble, wood and ceramic are important because they are marble, wood and ceramic.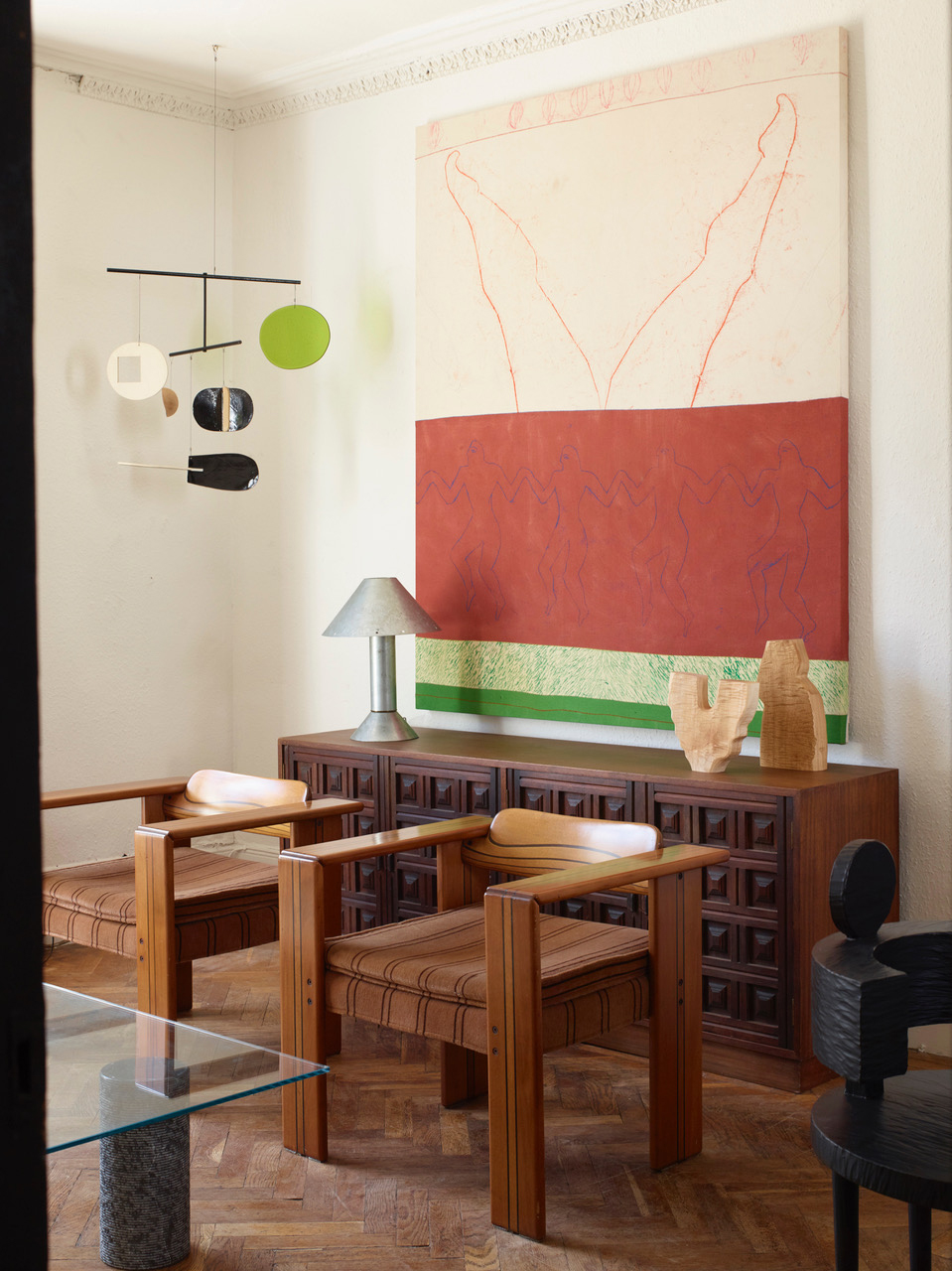 The show itself has no available list of works or plan, online or off, and one must glean details by trawling Atelier LK's Instagram. This seems apt, as to all intents and purposes this show is Instagram, and it is strange to see the algorithm made meat. These loose synaptic progressions are easy enough to digest onscreen, but IRL this feels like a type of limbic magpie-ism disguised as considered heterogeneity. And are we not bored now of this small-c curating?
This restaging of lifestyle design as a pseudo artworld? All this is not to say there is not a lot of superb work in the house. I love Oliver Cook's handled bowls in fatty alabaster, which in their milky waviness look something like Oribe trays reimagined by Erwin Wurm. Likewise, I like Minjae Kim's peculiarly gnarly synthesis of very solid carved wooden furniture with the lightness of an impressionist silhouette.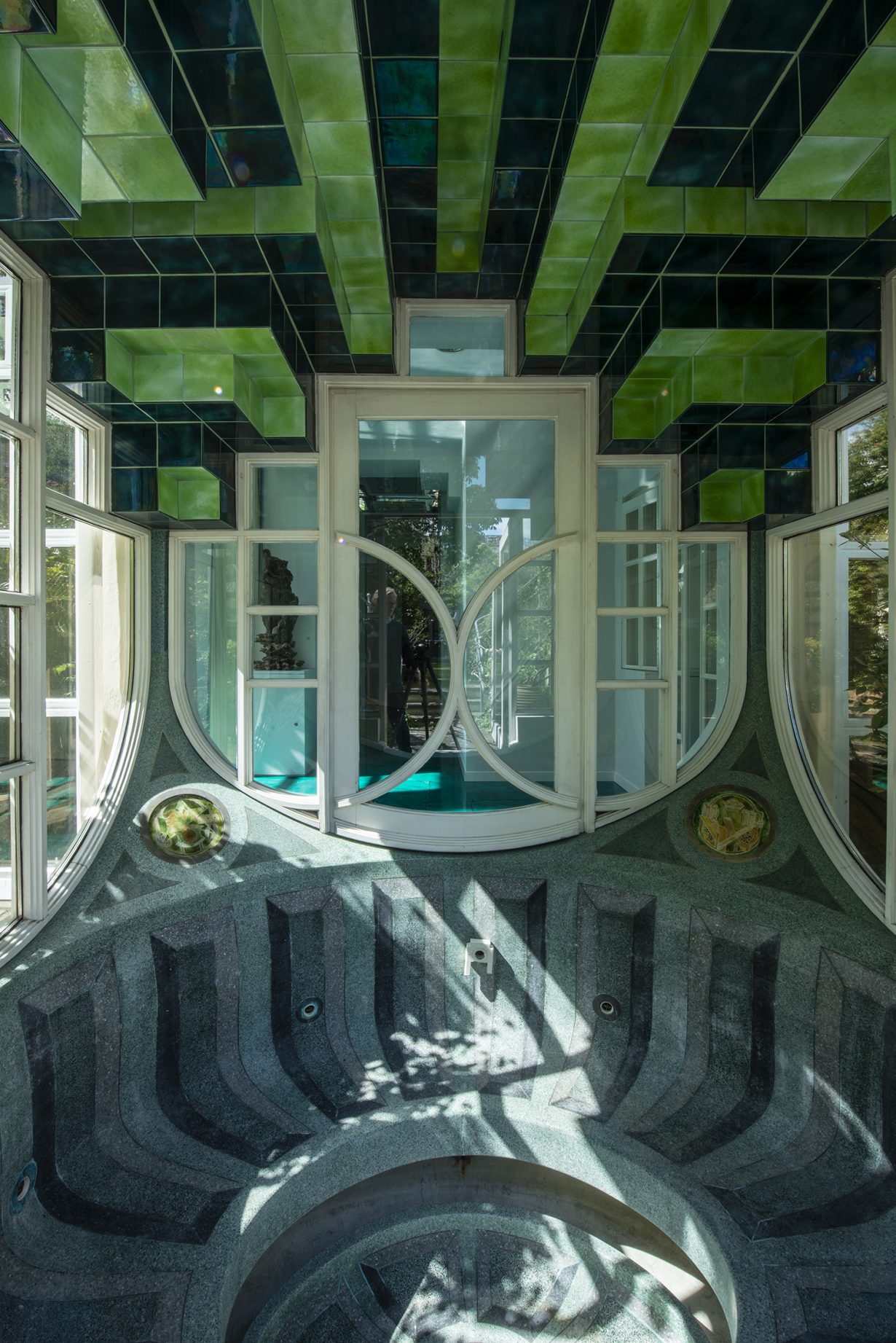 The preeminent voice of postmodernist architecture, Robert Venturi, once wrote that 'reality is irreducibly plural, located as it is between the demands of the past, with its beauty, and those of the present with its new struggles'. The current mood in interior design isn't really a serious representation of the past, or a reaction to the present. It is the postmodernesque interior in what I would call the materials taste. If the most brazen gamble of craft is that it is self-explanatory and somewhat resistant to criticism, then the central conceit of the materials taste is one of objects so comfortable in their DNA as to galvanise themselves against language itself. It is a style of languid comfort that resists analysis through its lack of real information, reinstalling the sacred into special materials as a form of potential energy, and so often letting the rest of the scheme off the hook entirely.
Materials can be important in and of themselves, and can be discursive in an interior. But more often they can't do it alone, and perhaps a less emotional approach is what's needed, taking heed of Cosmic House's batshit intellectualism. Real warmth in an interior emanates not from the germ of the material, but comes from obsessive sympathy and the solving of problems. The warmest moments in Cosmic House come from the large collection of Gongshi 'Scholar's Stones' scattered about the furnishings. These consist of grotesque natural forms variously of stone, wood or meteorite, and were first used in medieval China to inspire poetry or simply spark conversation. I suspect these were less Charles's intervention and more the work of his late partner Maggie Jencks, who had a lifetime interest in Chinese gardens and wrote a book on the subject. They are important as material. The ancient force that prevents this house from retreating entirely into its architect's egg. Like all special materials, they are energetic beyond language, perhaps even rational thought, but at least here they inspire it.