Shamans of the Blind Country captures the rituals, customs and mythologies surrounding the animist healing practices of the Northern Magar people
During the late 1970s, German ethnographer Michael Oppitz visited the Northern Magar people of Nepal. As a subgroup of the Magar people (who make up seven percent of the country's population), the Northern Magar lead a seminomadic lifestyle in the foothills of the Dhaulagiri Massif, speak Kham (rather than Nepali) and practise shamanism (instead of Hinduism or Buddhism). The rituals, customs and mythologies surrounding their animist healing practices inspired Oppitz to direct the four-hour documentary Shamans of the Blind Country (1980) in the village of Taka and release a corresponding photobook of the same title comprising black-and-white photographic and written documentation – now published for the first time in an expanded English-language edition.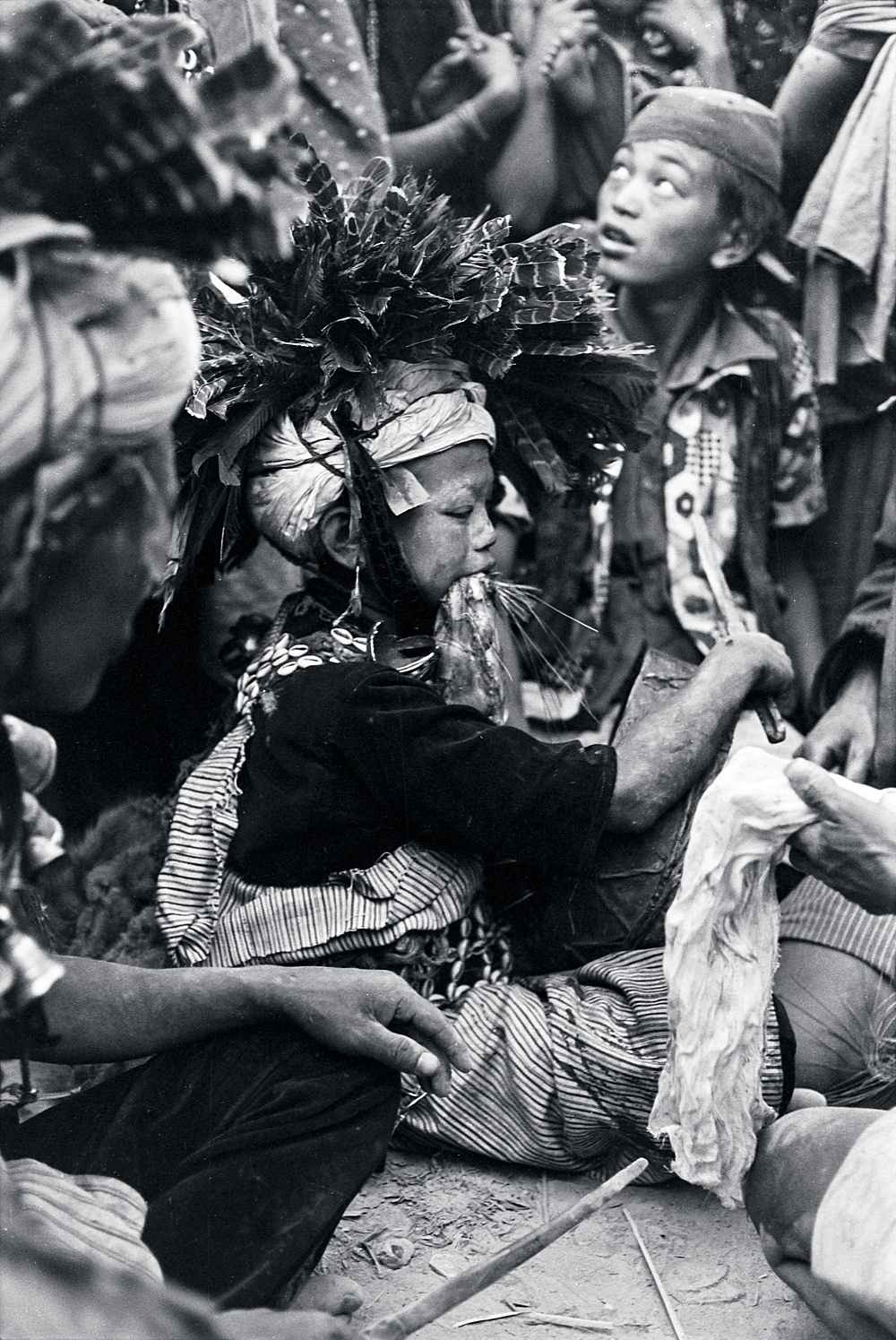 Via Oppitz's lens, we follow village shaman Master Bal Bahādur as he is called to treat the sick and ailing, performing rituals to summon malicious spirits and offering gifts in return for good health. Alongside images of these practices are photos of women weaving and tending cauldrons, shepherds herding, children playing and couples laughing. Opposite each is a page of text that Oppitz, in his detailed accompanying essay, carefully distinguishes as 'exposition' rather than 'explanation'. (Oppitz's painstaking analysis of his methodology is an unnecessary academic hangover in this context, but a later essay offers a useful insight into Northern Magar culture and value systems.)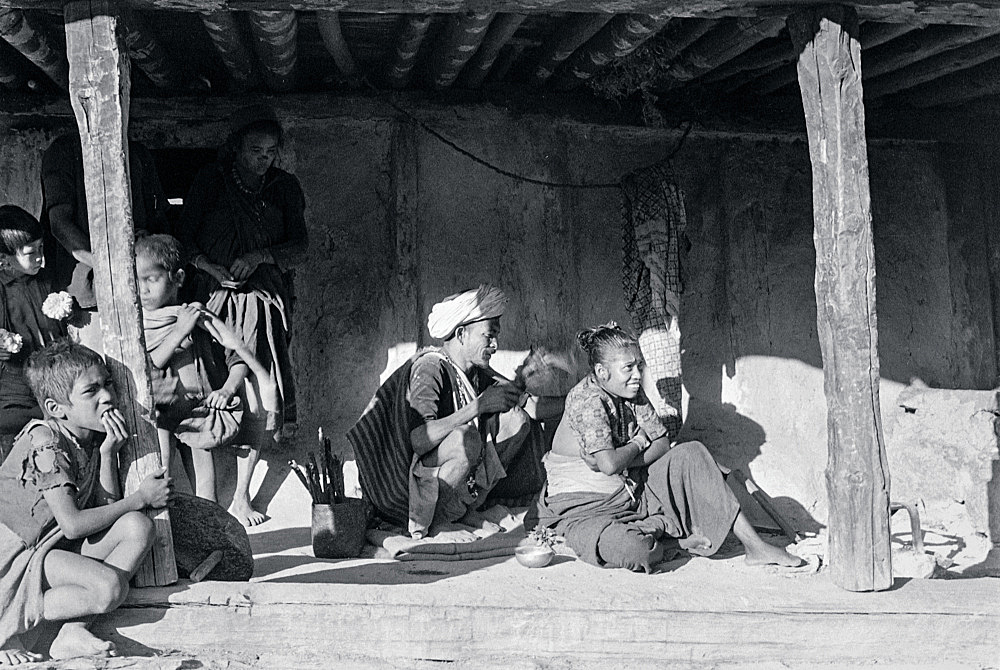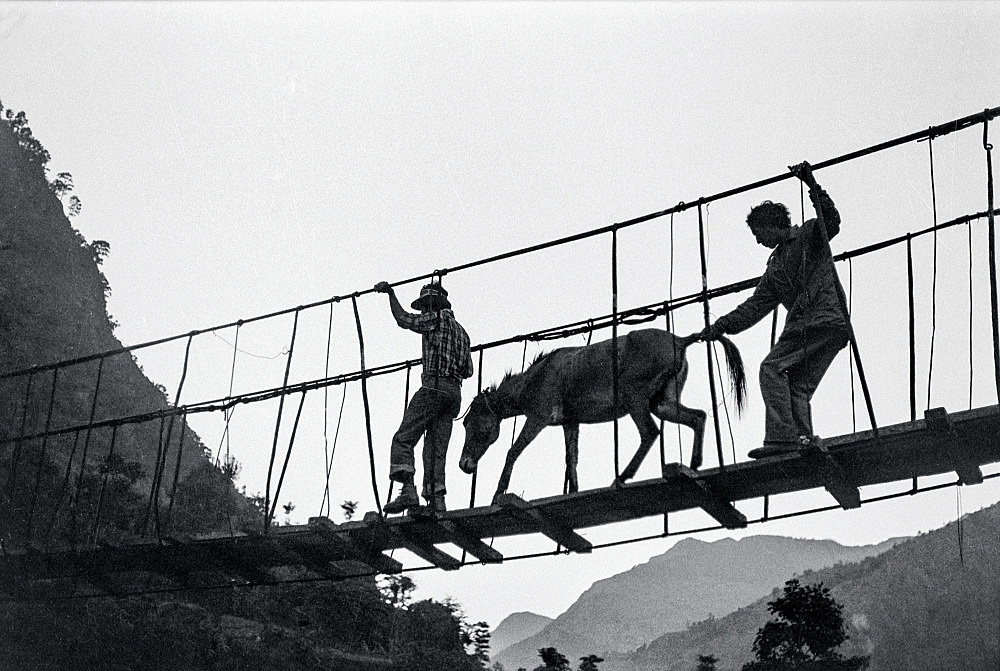 The Northern Magar rely on an oral tradition of passing stories to following generations; creation myths, folklore and legends of supernatural beings are chanted or sung during healing rituals and festivals. Woven into Oppitz's observations of Bal Bahādur's daily rounds are translations of those stories: the creation of the first shaman and his pact with the nine witch sisters (the main culprits for ill health and bad fortune, who demand a blood sacrifice as payment for allowing the shaman to cure the sick) accompanied by an image of two decapitated sheep heads, for example; or how dangerous spirits come to be, as in the story of Kubirām, a boy who, neglected by his stepmother, turns into a vengeful bird-child, presented alongside a photo of a group of men huddled under a fishnet used for protection against murderous spirits. Oppitz's associative words and images capture a culture in which myth, magic and the everyday merge.
Shamans of the Blind Country: A Picture Book from the Himalaya by Michael Oppitz. Galerie Buchholz, €30 (softcover)