Hedera Helix at Sulk Chicago presents fanciful compositions that craft a disquieting picture of introspection
In Naomi Hawksley's drawings, looks can be deceiving: despite their halcyon content, be it sleek canines or jejune figures, her compositions impart unease. Precariously situated between modes of self-reflection and self-absorption, her fanciful imagery crafts a disquieting picture of introspection. If her Surrealist forerunners sought to draw out the fantasies of the unconscious, then Hawksley surfaces a mind all-consumed by self-awareness.
A recent graduate of the School of the Art Institute of Chicago, Hawksley refined her nascent motif of anonymous ingenues over the past year. Nine graphite drawings from 2022–23 are on view in this, her first solo exhibition, in an apartment gallery located in Chicago's Printer's Row neighbourhood; the compact space opened in September 2021 and has presented the work of emerging and established artists across nine exhibitions since.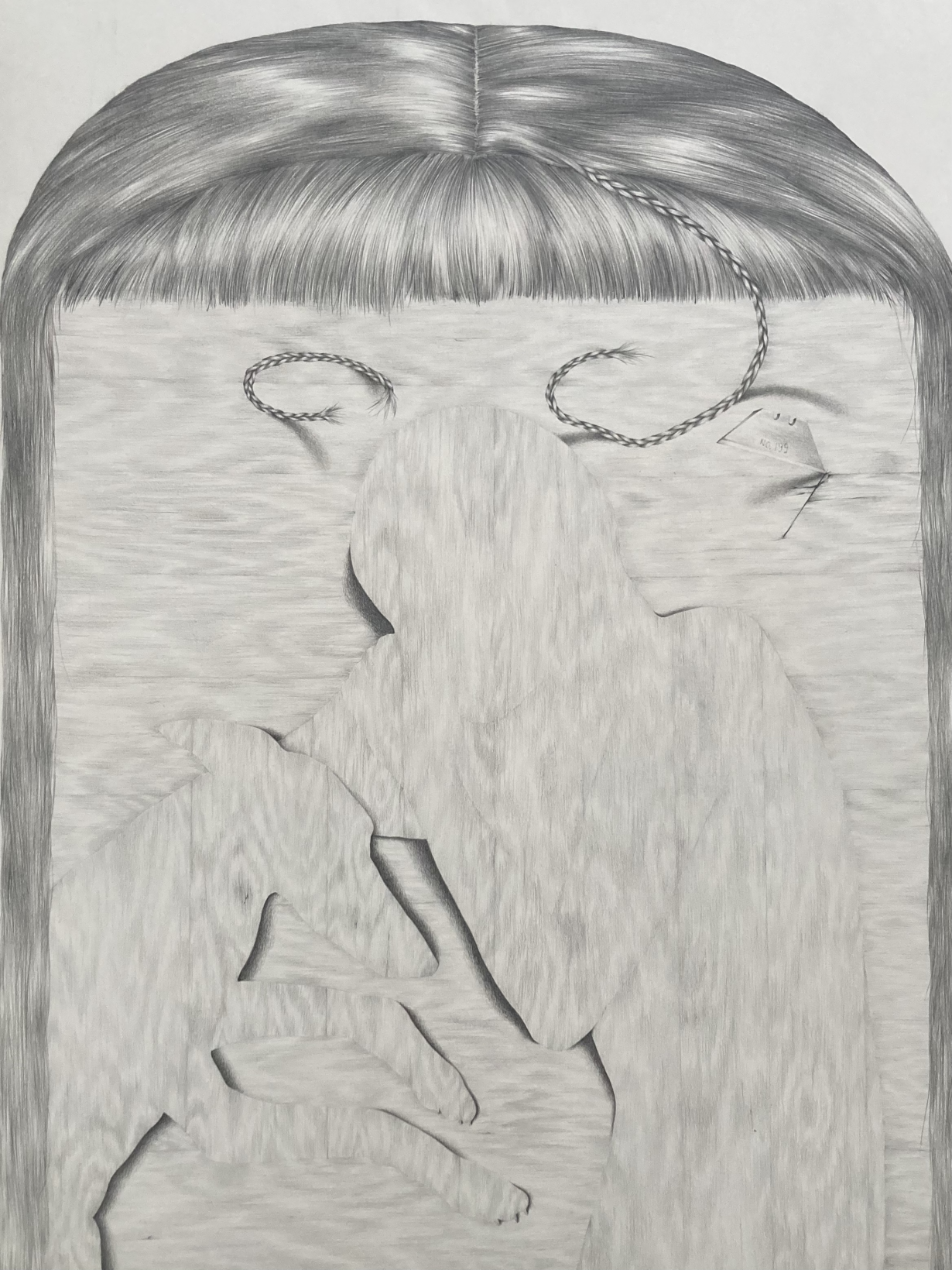 Intricate three-strand braids enhance Hawksley's otherwise austere heroines forged from negative space. These tightly woven locks detail an unwieldy method of maintaining one's image: even carefully plaited hair has knots, strays and split ends. Coquettish and vain, the trims convey surface-level concerns, and yet Hawksley's pictures hinge on the illusion of depth. Her backgrounds – constructed from sinuous, faux-bois slats – summon conventions of trompe l'oeil in which inanimate props lie atop convincingly rendered wood surfaces. However, Hawksley supplants objects with subjectivities. In Untitled (Girl) (2022) the larger image of a girl's panelled countenance lacks facial features. In lieu of eyes, mouth or nose, Hawksley inserts a wood-inlay of a girl and dog in embrace. This image enacts a kind of solipsism in which self effaces self; in the absence of defined features, her figurative veneers seem to retort that there is no selfhood to be made out. It is this refusal of definition that lends her drawings psychological complexity. A profound lack has resulted in the quest for self-discovery.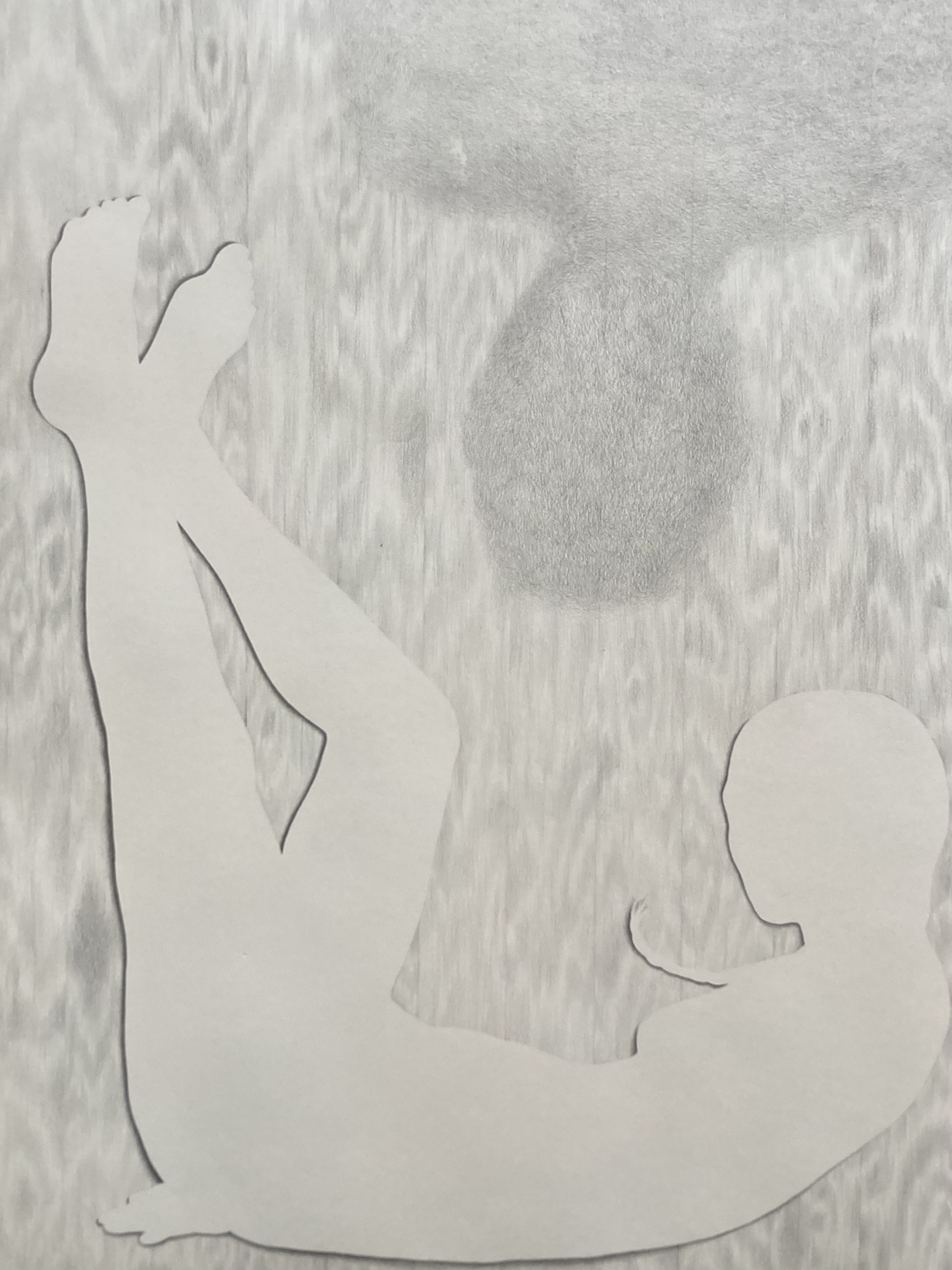 One work gives language to these mouthless subjects: atop the outline of a crumpled form, an italicised script fashioned from plastic beads reads, 'How will I be myself today'. Absent a question mark, the dewy phrase is more of an acknowledgement than an inquiry. The utterance does not dictate answers; instead it contends with the myriad actions that could transpire in a day.
A vacant protagonist in Hawksley's latest drawing, Untitled (Girl III) (2023), entertains these potentials. Stripped of ornament, a hollow figure rests off-centre on her back with legs raised and head craned inwards. A rogue upside-down shadow fills the upper half of the frame. It's an image of looking down on looking inwards. This relatively blank portrait espouses a kind of contemplation unmarred by looking alone. Instead, Hawksley suggests that coming of age is about sitting with the emptiness and ineffability of the unknown.
Hedera Helix at Sulk Chicago, through 17 March