The Berlin nightclub transforms into an art gallery
The portmanteau name 'Berghain', referring to the Kreuzberg / Friedrichshain neighbourhoods that Berlin's most legendary nightclub straddles, could also be used as a shorthand for risky behaviour. The venue is notorious for furtive goings-on in its extensive dark rooms; here be chemsex and a heightened probability of going home with a dose of the clap. More recently, clubs like Berghain have been associated with flareups of COVID-19; for now, techno marathons are on hold. Risk-averse reviewers of a certain age, then, might be forgiven for worrying when told the club has now become a gallery. Masks on…
First question: what will they do with all that space? Berghain is enormous. The former electrical power plant, with its stark concrete interior, is arguably an ideal venue for large sculptural works. Outside, a giant banner by Rirkrit Tiravanija hangs from the roof reading 'Morgen ist die Frage', a message super-pertinent to the moment that shouts: 'Tomorrow is the Question'. A friend in the UK quips, 'Yesterday is the answer'. Given Berlin's recent history, let's hope not. There's no scary doorman now; no berserker Viking type with tattooed face and steel teeth threatening to rip your face off. Collectors Christian and Karen Boros (known for their private collection in a Mitte bunker) are behind the show. There are 117 artists exhibiting, all of whom are currently based in Berlin studios, hence the title.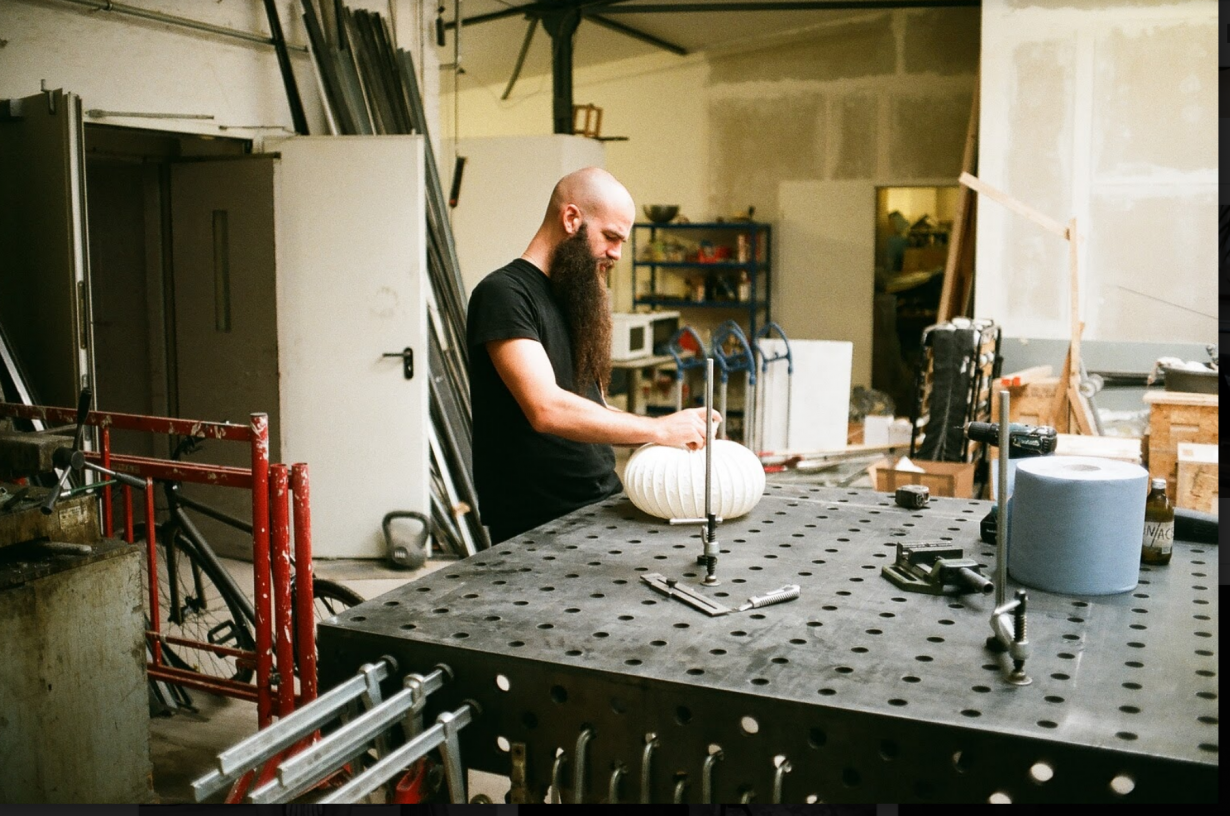 The first challenge in reviewing is Berghain's longstanding ban on photography. Small sticky coloured dots are stuck on the camera eye of laptops and mobile phones before you enter; a half-decent memory and a notebook is an asset. All the art, we are told, belongs to the artists and is, as yet, unsold (assuming the works are for sale here, which isn't clear). The first work we see is a permanent fixture of the venue: a sequence of 20 or so canvases by Norbert Bisky featuring boys falling out of a blue sky from an exploding plane. These chime with Die Mimik der Téthys (2019, all other works mentioned from 2020 unless stated), a massive sculpture by Julius von Bismarck found next door in the cavernous main hall: a huge buoy suspended from the ceiling by motorised wires. This bobs up and down, thus mimicking its earlier life on the sea, though it's tempting to think of it as a coy same-sex metaphor, a sly update of Rauschenberg's naughty Monogram (1955–59).
The second obstacle is that the titles of the works were not available at the time of viewing; even the names of artists were a bit of a search. In a sense Studio Berlin is an alternative Tate Modern, an anti-Tate, if you will: a site of similar dimensions and former purpose but denuded of naff information notices and shops selling tat. Disorientation, appropriate to the venue, is a not-uncommon theme. An Islamic clock by Khaled Barakeh (One Hour is Sixty Minutes and Vice Versa) ticks disconcertingly backwards, perhaps implying we're all out of time. Alicja Kwade shows Selbstporträt, 24 small glass vials each of which contains a chemical element, a representation of the amount of solid matter in the human body; the yellow of sulphur hints at these diabolical times, while being confronted by the minuscule quantities of stuff we're made of underlines our general insignificance.
Up in the Panorama bar (a first for this viewer, having only been allowed in the building before to see postrock at tame times of an evening) is a sculpture of a girl posing provocatively – CLIMBER (Angel Kiss) by Anna Uddenberg. Nearby, Jeremy Shaw frames what appears to be a found monochrome photograph taken in a revivalist church of a woman being blessed or healed – which he's titled Towards Universal Pattern Recognition (Exorcism in Essex, 15-4-75) – in distorting acrylic and chrome, lending a suitably hallucinogenic effect; seeing it might be seriously discombobulating on dance nights if it's left in situ after the show closes.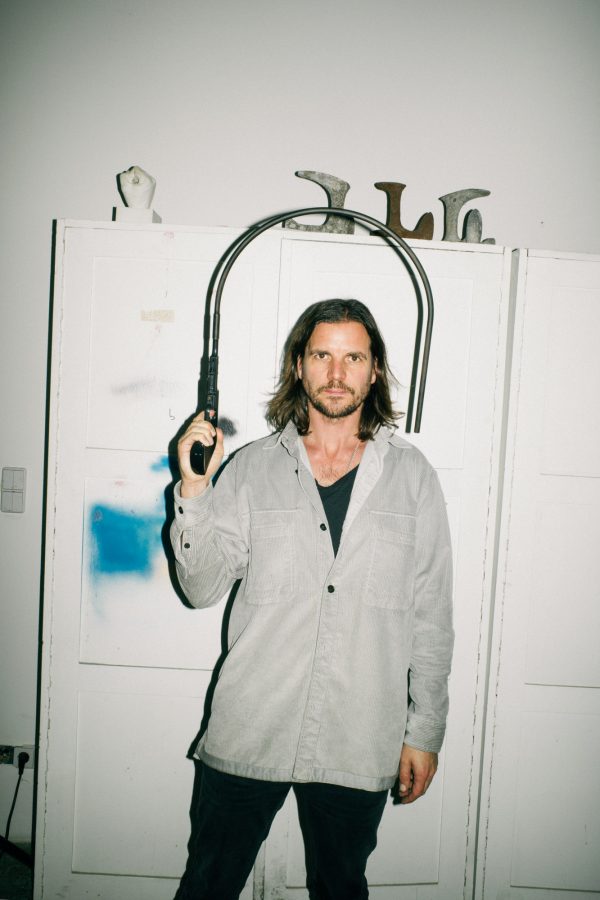 Stepping carefully down another ill-lit corridor we dodge 1-32, a set of scattered giant teeth, molars and incisors made from salt by Michael Sailstorfer. Then there's four suits of armour by Simon Fujiwara, chain-mail affairs studded with old packets of penicillin. These are called Syphilic Comrades, referring to artists (Gauguin, Goya, Toulouse-Lautrec, Van Gogh) who may or may not have had syphilis, an increasingly common risk of anonymous sex. Some of Fujiwara's works have an autobiographical dimension; whether this fact is relevant here is unclear, but the prescriptions look real enough. There's more reconfigured detritus as Klara Liden lights one dark passage with Tank, an orange lamp resembling a cloud and made out of a large plastic container, while Monica Bonvicini contributes Pas de Deux, one of her trademark leather-and-chain affairs, a gesture that's perhaps a tad too obvious in the context.
Tacita Dean offers a postcard with a drawing of a turd flying out of a sky shaped like an arse. She labels 2020 an annus horribilis and, in a German/English mashup, calls this Shite Zeit. Given the rumours that some artists have been paid only €150 to appear here, this feels like a doubly apt turn of phrase. Countermanding prettiness arrives with a tall blue-and-yellow polyhedron stack by Angela Bulloch cryptically called Heavy Metal Stack of Six: Patrick, while Nina Canell fittingly – for a show in a former power plant – shows Creepage, a Judd-like affair made from a high-voltage disconnector and some rain guttering. On another wall Jonathan Monk frames covers of singles by the Smiths and, uh, a signed photo of Benny Hill: deadpan as usual, he calls this Exhibit Model Detail with Additional Information II. A louche Benny in Berghain feels entirely correct.