Steffi Klenz's Concrete Thinking at Sid Motion Gallery meditates on the image's stressed position somewhere between information and aesthetics
Photographs live in mostly unnoticed matter – paper or acetates coated in chemicals, grids of flickering LEDs. The visible world of things is always contained in its frame, but its own materiality tends to go unnoticed. So Steffi Klenz's densely layered, richly material combinations of photographic, reprographic and drawn images, layered and bonded in and on frames and objects that reminisce about modernist architecture, are stunning, arresting things, in which images are decelerated and complicated by the stuff that makes them, dragging them back into the here-and-now of the gallery, and where images break down into graphic information or the trace of the hand – different kinds of index at odds with photography's naturalism.
Around the walls of one gallery are large, brownish plywood panels from the series Tensed Muscles (2021): something like little billboards or noticeboards filled with a noisy accumulation of images that (according to the gallery notes) relate to time Klenz spent getting to know the residents of the modernist Maiden Lane housing estate in London. Vivid studio-shot photographs of upraised hands, some light-skinned, some dark-skinned, are interspersed among black-painted frames with clips of newspaper stories about the area, along with more cryptic graphic elements – stylised lettering, painted red spots, the lot overlaid on what might be anatomical cutaways of muscle fibres, and the whole riffing on a history of constructivist modernism, from Russian avant-gardist El Lissitzky onwards. The feminine hands point and make hand gestures, the fingers wearing what look like condoms. Buzzing with a social and sociable sensibility, these assemblages mime – but don't represent – something of the conflicts and stresses of life in London.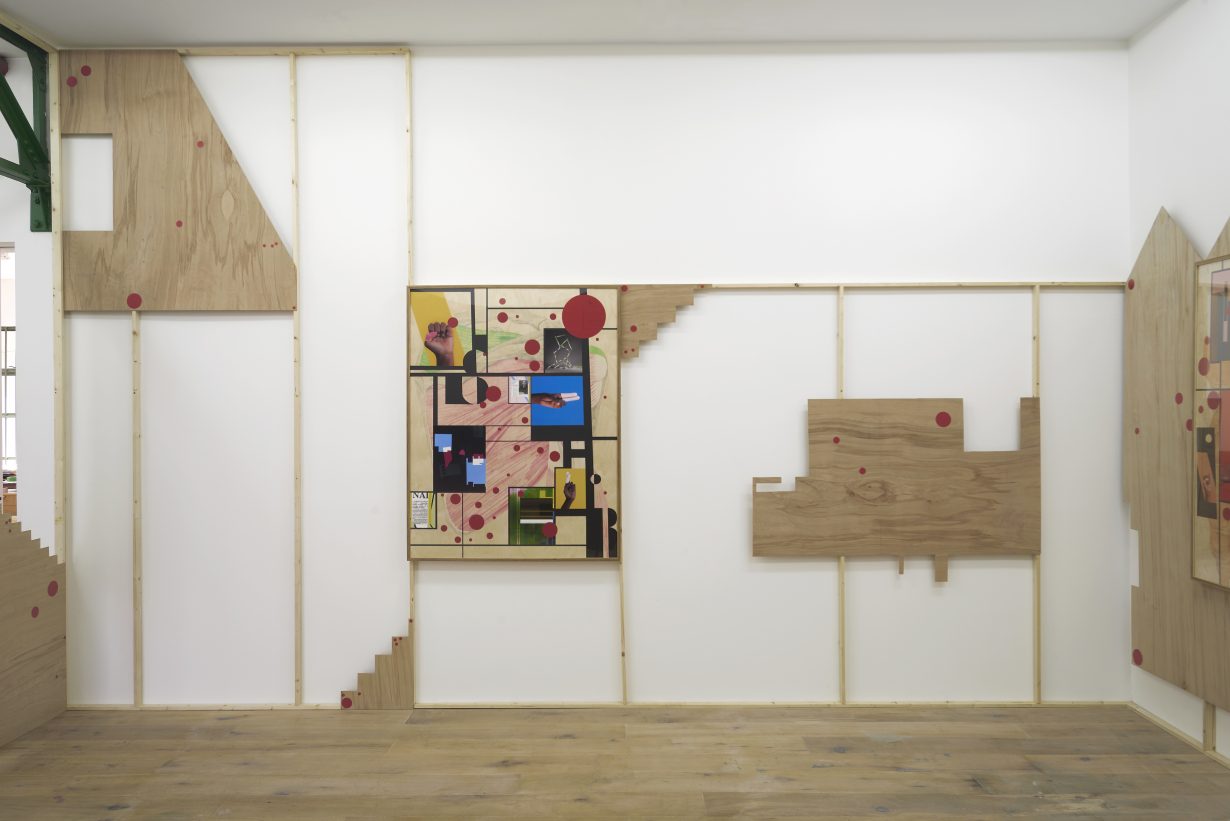 Eschewing didactics or documentary, however, Klenz's tableaux are more profoundly meditations on the image's stressed position somewhere between information and aesthetics: that the Tensed Muscles works are visually dynamic is obvious, but more importantly they pull us in and out of different registers of visual communication – news, typography, symbol, metaphor – bringing us back to the activity of looking and thinking about an object that contains images and ideas, in a culture that only really knows images as fluid and transient, existing inside glassy little digital slabs.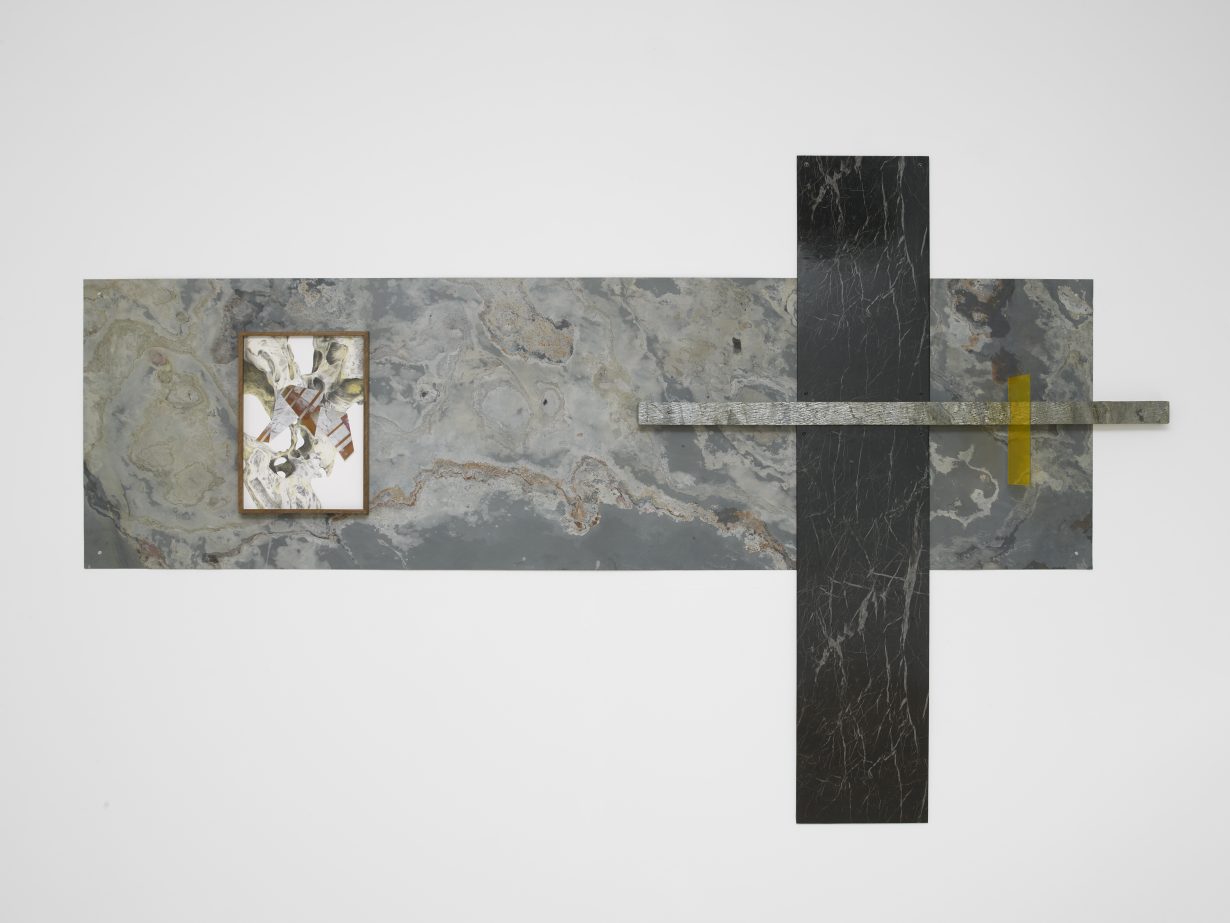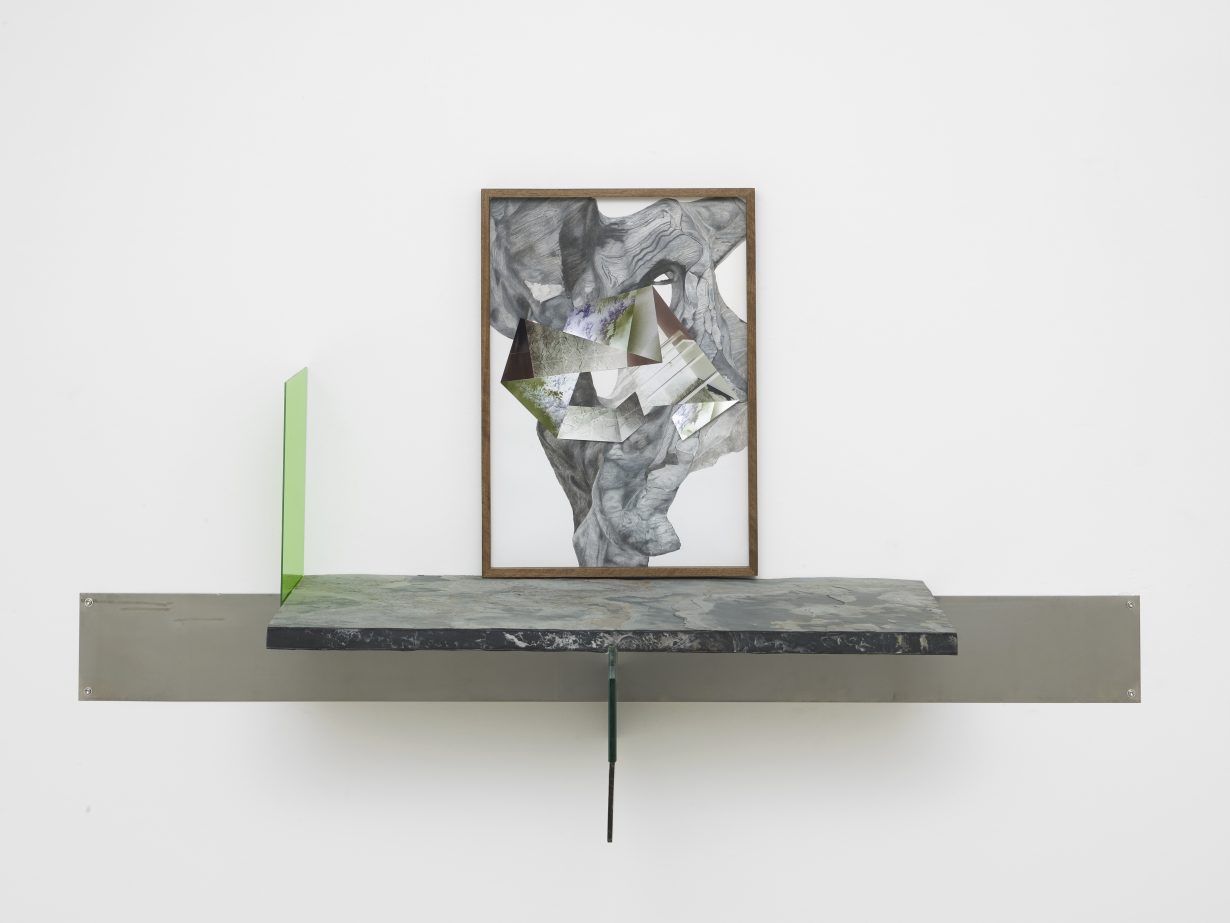 Underlying this is Klenz's attention to the ghosts of twentieth-century modernism, who are recalled here, perhaps, as witnesses of an older utopian hope that the social world could be completely remade, and that would produce a century of images of imaginary places, buildings and cities. Some were built, of course: contrasting Maiden Lane is the reference point of Klenz's other series here, A Scholar's Rock (2022) – Mies van der Rohe's Barcelona Pavilion of 1929. Mies's pavilion, with its seminal combination of open-plan design and lavishly veined marbles and stones, is hinted at in Klenz's peculiar shelflike wall-mounted sculptures, which each host a framed collage consisting of a pencil drawing of a 'scholar's rock' – those pitted rocks prized in classical Chinese culture for their complex and allusive organic shapes. Here, these sinuous bonelike formations are overlaid with irregular fragments of photos of Mies's pavilion. The works in A Scholar's Rock are, like their namesakes, also objects for contemplation – about the power of images and our disembodied thrall to them, but also the restorative and healing function of attending to a 'thing' sharing a space with us. And, by implication, the integration of our vision into a more actively social and material world, rather than the isolated and estranged seclusion of life lived in our little screens.
Concrete Thinking at Sid Motion Gallery, London, through 23 July