Through collecting, stitching and building, the artist looks at identity as a multifaceted, fluid notion
Sula Bermúdez-Silverman's first solo museum exhibition in Los Angeles explores ephemera, identity and history. In both form and concept, the six central works in the show contemplate the artist's Jewish and Afro-Puerto Rican heritage while gesturing more broadly to ideas of preservation, mutability and decay. The exhibit – housed in a single room at the California African American Museum – has technically had a whopping 14-month run, a timeframe that has seen multiple lockdowns, a historic uprising for racial justice, two presidents, a weeks-long spell during which LA was the global epicentre of the COVID-19 pandemic and, tentatively, a city reopening.
While the artist's mixed-heritage identity may take centre stage, the artworks themselves also fall outside of established categorisation. For example, in one featured series of works, three large transparent plastic sheets hang from the ceiling (Red Hook, New York, 2015; Austin, Texas, 2018; Los Angeles, California, 2019–20). Rather than patchwork fabric, these quilts gain their colours from readymade and occasionally colour-coded detritus, like ticket stubs, lighters, empty Marlboro packs and someone's torn nametag. Two of the three quilts use a grid design, each object filed into its perfect square. One, however, uses more elaborate quilting, with alternating diagonal lines to evoke the traditional patchwork blankets. Bermúdez-Silverman's quilts are as much in conversation with Andy Warhol's Time Capsules (1974–87) as they are with conceptual sculpture; equally, they nod to the 1970s feminist art movement, elevating traditionally feminine 'crafts' like quilting, weaving and embroidery to the realm of contemporary art.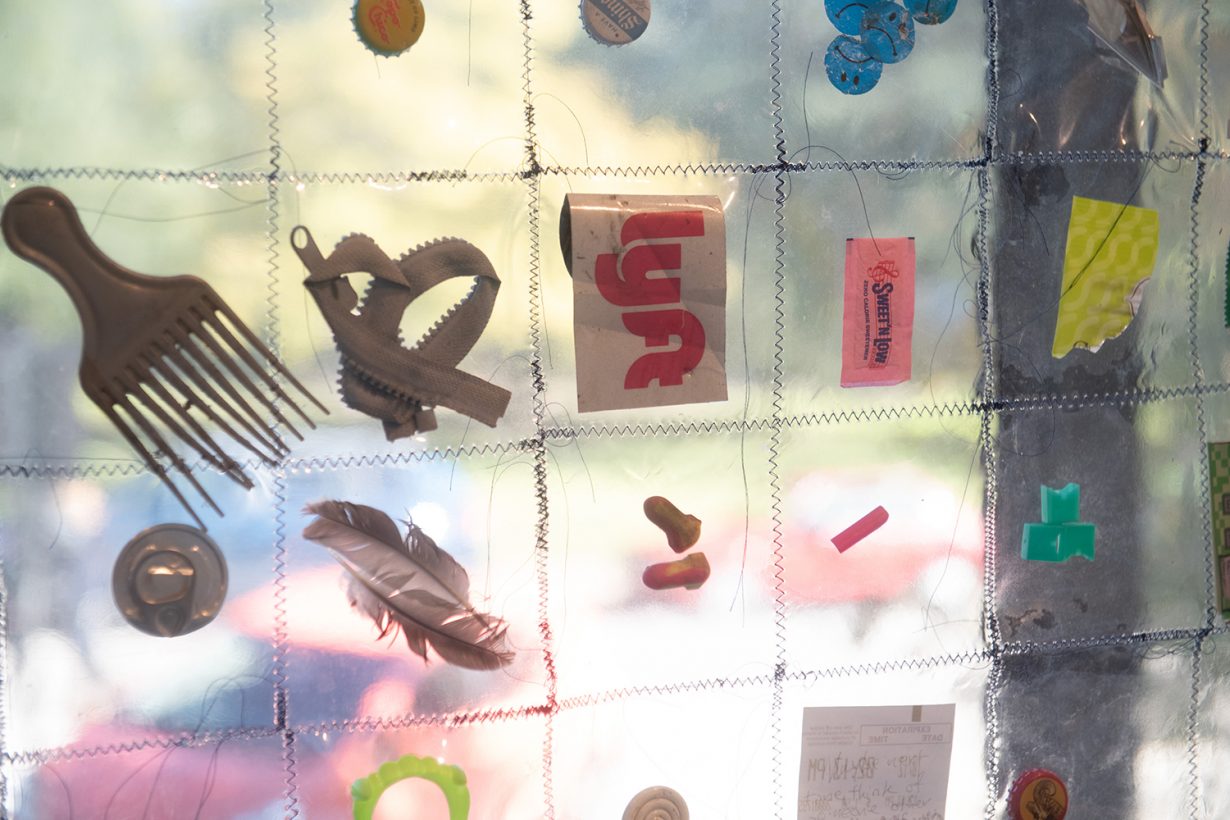 Whatever the genre, Bermúdez-Silverman is a rogue archivist, losing nothing. Many of the other works in Neither Fish, Flesh, nor Fowl also pull from evocative found objects – a used Afro pick; pastel-coloured wads of chewed gum – and from the artist's own head, as she uses her hair as material in both 3C / 4A (2017), a drop spindle wrapped in a hexagon of dark brown hair, and her found lace doilies (2014–17), carefully embroidered with hair instead of thread. There is a sense, throughout the show, of the dutiful preservation of ephemera. Strikingly, many of these objects do not purport to be important. In fact, they are overtly the opposite: our dirty discards; our trash. Provocatively, Bermúdez-Silverman encases or enshrines such objects respectfully, even lovingly.
One of the show's more surprising inclusions is a cameo from Rachel Dolezal, a white woman who incited ire in 2015 after it was discovered she had posed for years as a Black woman, even taking a leadership role in her local NAACP. In two multichannel video installations, Duck Test and Removal of Faux Locs Installed by Nkechi Diallo (aka Rachel Dolezal) (both 2018), Bermúdez-Silverman enlisted Dolezal to braid her hair, a process that took more than seven hours. Screening on loop via small tablets as part of a larger installation, Removal of Faux Locs… preserves both a faded pop-culture punchline and a onetime performance piece ad infinitum. These videos play alongside a collection of religious ritual objects from both Judaism and Santeria. The juxtaposition – the ridiculous paired, it seems, with the sublime – raises questions about that which makes us what we are. In a show largely comprising serial, found-object works, Bermúdez-Silverman depicts identity as a constellation: the lasting glow of disappearing things.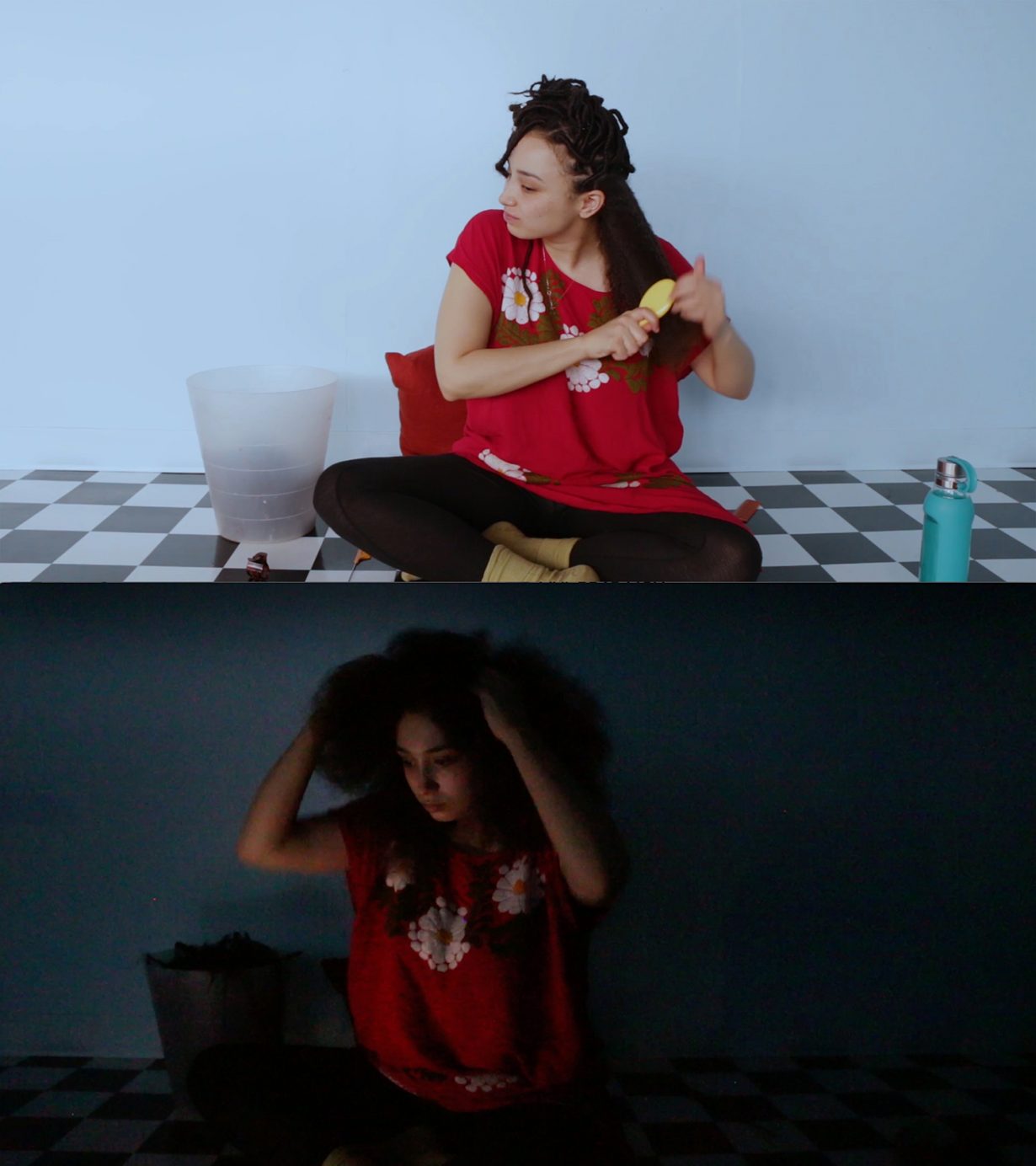 The highlight of Bermúdez-Silverman's exhibition is her title work, Neither Fish, Flesh, nor Fowl (2019–20): a row of ten multicoloured, almost-transparent sugar dollhouses, positioned atop lightboxes. The dollhouses have been modelled after the artist's childhood one, but are this time constructed using glass and sugar, a reference to the artist's Puerto Rican ancestors, who worked on sugarcane plantations. I had seen photographs of these dollhouses prior to viewing the show in person, and even virtually they moved me: their murky walls of sugar and glass; a row – like a suburban block – of nearly-identical homes, poured from the same mould; the cracked windows where imperfections, inescapable, slipped in.
In person, though, the dollhouses are outright breathtaking. They stand tall, meeting the viewer at eye level. Each house varies in its presentation, though most are open at the back, allowing viewers to peek in at multistorey saccharine homes affixed with miniature furniture, sugar staircases and glittery stickers, or packed full of a glowing green plastic forest. The sugar edifices, radiant and fragile, are inherently impermanent, a brave choice for an artist who otherwise makes tight stitches out of losable things. In a show that questions the pillars of identity and history, beauty glows from the cracks in between.
Sula Bermúdez-Silverman: Neither Fish, Flesh, nor Fowl, California African American Museum, Los Angeles, 28 February 2020 – 2 May 2021