I wear my wounds on my tongue (II) at Collective, Edinburgh engineers a sensorial and philosophical experience beyond nature
Edinburgh's Calton Hill, where Collective – an astronomical observatory-turned contemporary art venue – is located, was once a centre of the Scottish Enlightenment, marked by the rise of empiricism. Lakhrissi, a French artist and poet, gestures towards this history in his exhibition here, which includes sculpture, light and sound. (Its title draws from a 1997 collection of poems, Bite Hard, by the late Malaysian-American poet, essayist and performer Justin Chin.) Under the city's former observatory dome, three bloblike resin sculptures are positioned in a triangle. As the show's title suggests, the sculptures represent oversize tongues – their pink gleam contrasting with the clinical coldness of the dark steel plinths on which they rest. Whereas the room was once dedicated to the observation of stars, here our attention is firmly at ground level. Presented in this context, Lakhrissi's curious sculptures appear as if they might be tentacles or extraterrestrial matter fallen from the sky.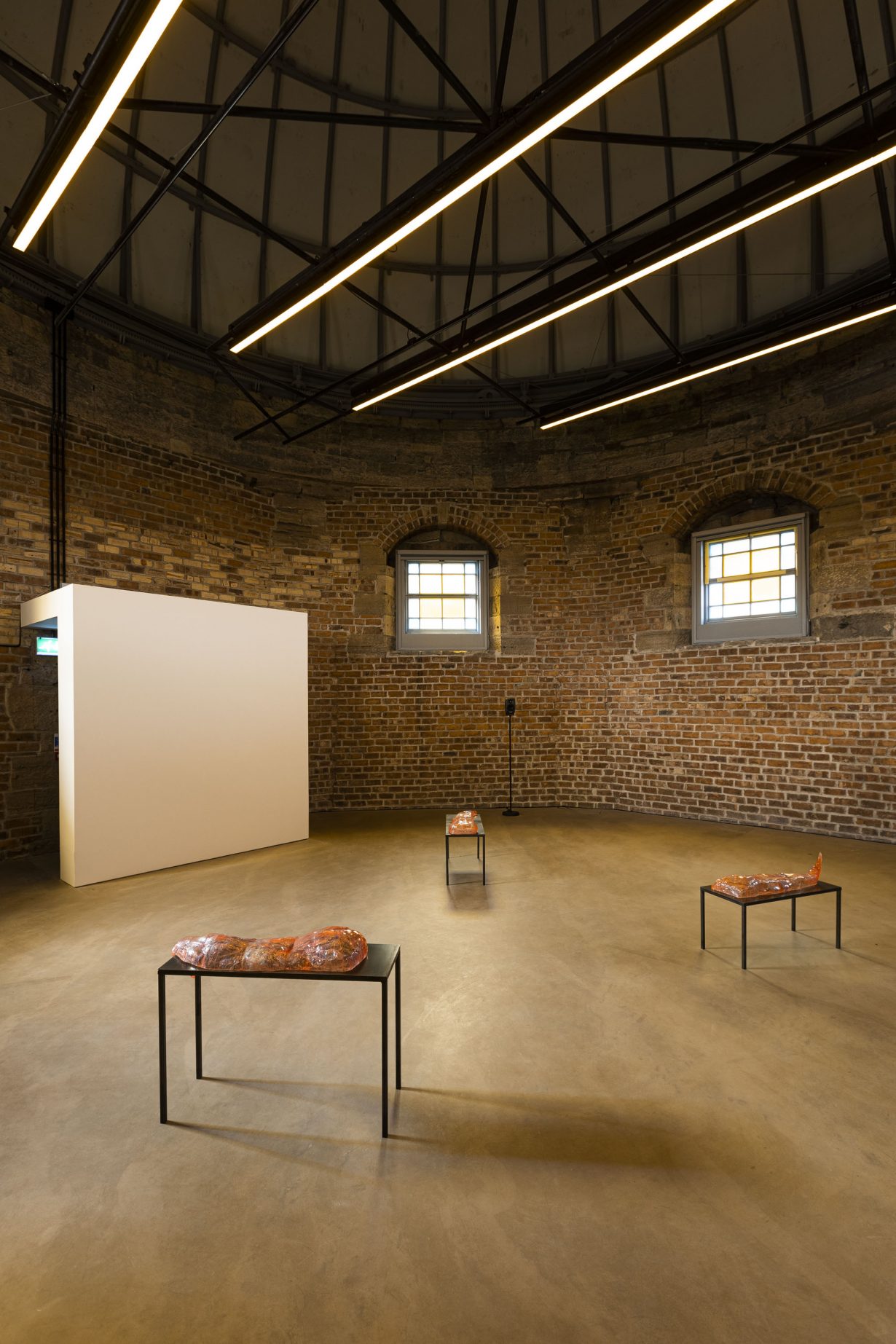 The orchestration of light is particularly tactful. Lakhrissi has covered the centre of the seven gridded windows punctuating the building with a yellow film, giving the exhibition space a warm glow that travels westward throughout the day and creates an ever-changing, otherworldly effect of colours when passing through the pink translucent sculptures, as if injecting life into them. In the background an 11-minute soundtrack made in collaboration with electronic-music composer Victor da Silva plays on a loop (it can be heard faintly from outside the building and onto the hill). The atmospheric score combines elements of electronic music dubbed by an altered voice – that of the artist – and eventually climaxes in a Sigur Rós-like postrock tune.
With I wear my wounds on my tongue (II), Lakhrissi engineers both a sensorial and a philosophical experience. Indeed, if the great philosopher of the Scottish Enlightenment David Hume – who first lobbied for the public enjoyment of Calton Hill – was a fierce advocate of naturalistic empiricism, Lakhrissi, to the contrary, invites us to look beyond nature. His is a celebration of the supernatural, an observation method for a world that is yet to come.
I wear my wounds on my tongue (II) at Collective, Edinburgh, through 1 October