This Lunar New Year, a look at the history of the deep fried pastry, and the idea 'that it is fortuitous to ingest that which you desire'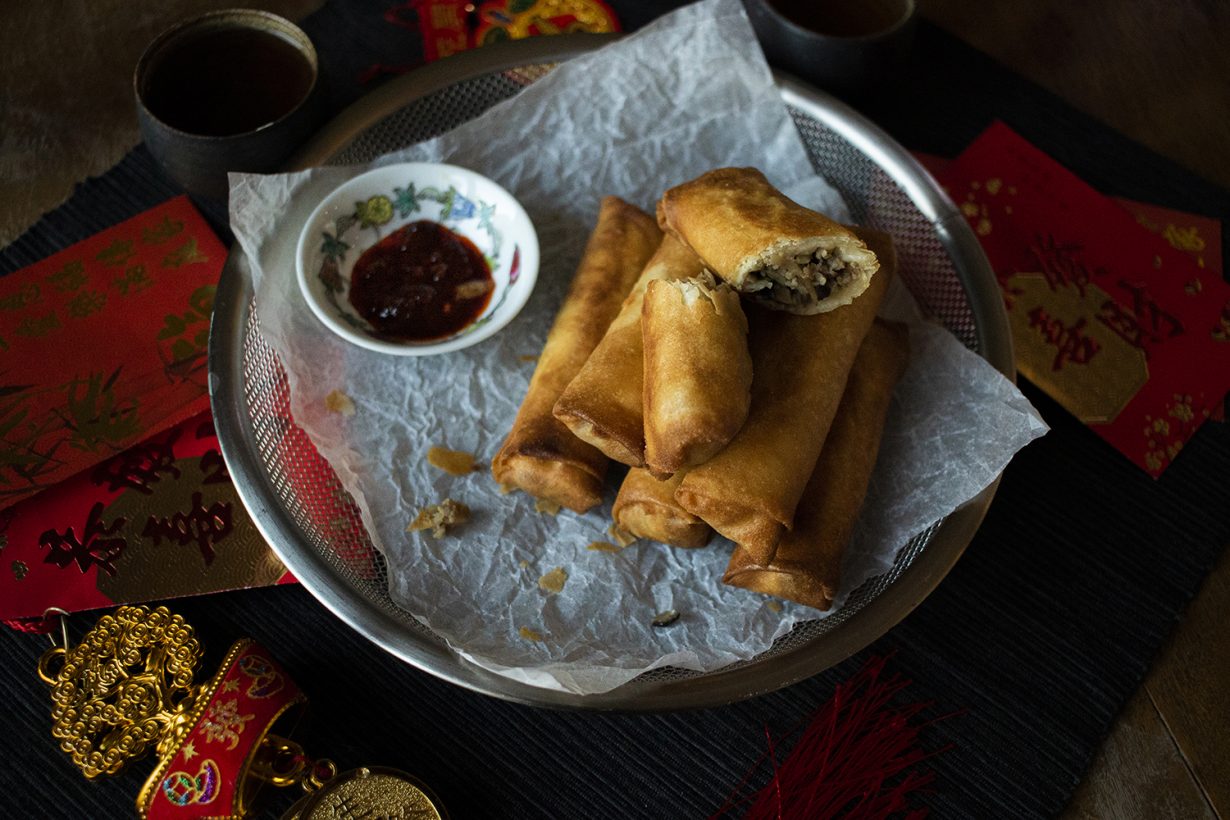 As the days finally begin to lengthen, and the seasons to turn, what better way to encourage the launch of spring (in the Northern hemisphere) than by cooking up a batch of piping-hot crispy golden snacks? I'm talking spring rolls, in case it wasn't obvious. It's not that anyone, ever, really needs an excuse – we'll get back to that – to chomp down on one of these crunchy, deep-fried delicacies, but for this month, and for the purposes of this column, there is one: the upcoming Lunar New Year.
The spring roll (as the name, a literal translation of the Cantonese and Mandarin, suggests) originated as a seasonal food. It's first mentioned in a Jin Empire text (written around 1,700 years ago) that describes the 'spring plate' as the gathering of fresh ingredients into one dish to be shared with family and friends. By the Tang dynasty, the seasonal produce was accompanied by thin wheat pancakes. Then, some centuries later, someone dropped one of the stuffed pancakes into a vat of hot oil, therein surfacing the delicacy in its best incarnation. Eventually the dish of folk traditions was adopted as Lunar New Year fare, with the roll one of a collection of golden snacks consumed for their association with wealth and hoi jauwo ('opening the oil pot') – a practice observed in order to ensure that the rest of the year would be as rich (the metaphor arising from the resulting bounty and its flavoursome fat) as the pot from which the rolls emerge. All of it founded, of course, on the premise that it is fortuitous to ingest that which you desire.
For Chinese families celebrating Lunar New Year, hopes and wishes manifest not only in the appearance of a food, but also via linguistic associations: a whole steamed fish for 'surplus', clams because they open up like new horizons, extralong noodles to promote longevity, black moss in soup for prosperity, tangerines and oranges for luck and wealth, and glutinous rice dumplings to celebrate family reunions and comings together. And an abundance of these good fortunes is what it's all about! More happiness – prawns! More babies – pumpkin seeds! More money – dumplings!
This kind of associative thinking is taken to an extreme in Hong Kong director Fruit Chan's horror flick Dumplings (2004) – in which an ageing former actor, Mrs Li, desperate to hold onto her beauty, enlists the help of Aunt Mei, a cook who makes delicate dumplings from the stillborn and aborted foetuses of destitute women. A regular diet of these dumplings ensures that Mrs Li comes, literally, to embody youth. Chaos, naturally, ensues. The film tackled Hong Kong's growing social and economic issues of the time, portraying the rich profiting off the poor, and an older generation literally eating its young, by taking a dig at the darker aspects of a 'you are what you eat' tradition of consuming symbolic foods. Around the time that Dumplings was released, specialties such as shark's fin soup – served at banquet tables for its 'rejuvenating' qualities – were at the height of fashion, supposedly benefiting the consumer but at a devastating cost to ocean ecosystems. Like the film, it's a cautionary tale served up as an amuse-bouche. For everything 'more!' something else is less.
Spring rolls are now neither necessarily seasonal in respect to ingredients, nor restricted to being scoffed at a particular time of the year, and making a homemade batch (as with any kind of dish) allows a degree of control over the kind of produce you use and where you source it. The core of mine includes pork, shrimp, dried shiitake, bean sprouts and napa cabbage. Will this latest batch bring me a lot of gold this Lunar New Year? Most likely not, if precedent is anything to go by. Some things you can't control. Will I still eat as many as I can, then? Some habits are hard to break.
From the January & February issue of ArtReview