A long-awaited survey at Museum of Modern Art, New York finds the artist looking both outward – to the world's constituent elements – and inward to photography itself
Wolfgang Tillmans is boiling peas in the kitchen of his erstwhile East London studio. The camera is fixed on the pot, and as it simmers the puckered green spheres rise and fall, whirl and crest; temporary allegiances forming fluidly as they surge, disperse and re-aggregate in new configurations, evoking a social organism. The muffled calls of a Pentecostal preacher across the street filter in from beyond the frame, periodically ebbing and dissolving into steam. The 2:42 minute-long video Peas (2003), one of 417 works on view in the German artist's ecstatically sprawling MoMA survey, offers a meditation on the beauty – spirituality, even – of everyday life as it highlights the broader networks of exchange, community and place in which such activities are sited. There is tenderness and gravity to this kind of beholding, perhaps particularly when what – or whom – is being beheld is routinely dismissed societally as insignificant.
Tillmans's constitutional sensitivity, which we might call attunement, is among the unifying threads of the wildly disparate photographs, videos and mixed media installations on view here. The long-awaited exhibition, organised loosely chronologically, spans more than three decades of the artist's practice, from the greyscale, increasingly closeup photocopies that were his entrée into photography during the mid-1980s – skyscrapers along Sixth Avenue disintegrate into diagonal lines – to a music video for a 19-track album he produced last year, featuring rhythmic vignettes focused on sundry subjects: a gymnastic routine, hermit crabs, a scanbed. The show has no fealty to genre; portraits of friends, lovers, strangers and occasional celebrities are interspersed with still lifes, appropriated media imagery, nudes, cameraless abstractions, landscapes and skyscapes. Queer youth subculture and nightlife are long-standing touchstones for Tillmans, whose photographs on these topics began gracing the pages of magazines like i-D and Purple during the 1990s. (Taken at the velvety edge of visibility and conceiving of the club as a space of intimate togetherness and radical possibility, his nightlife images from this period are particularly striking.) Yet he likewise turns his lens on subjects as varied, random and inevitably interconnected as photographic apparatuses, celestial bodies, mass media, technologies of travel, fashion, mass protests, architecture, and, and, and…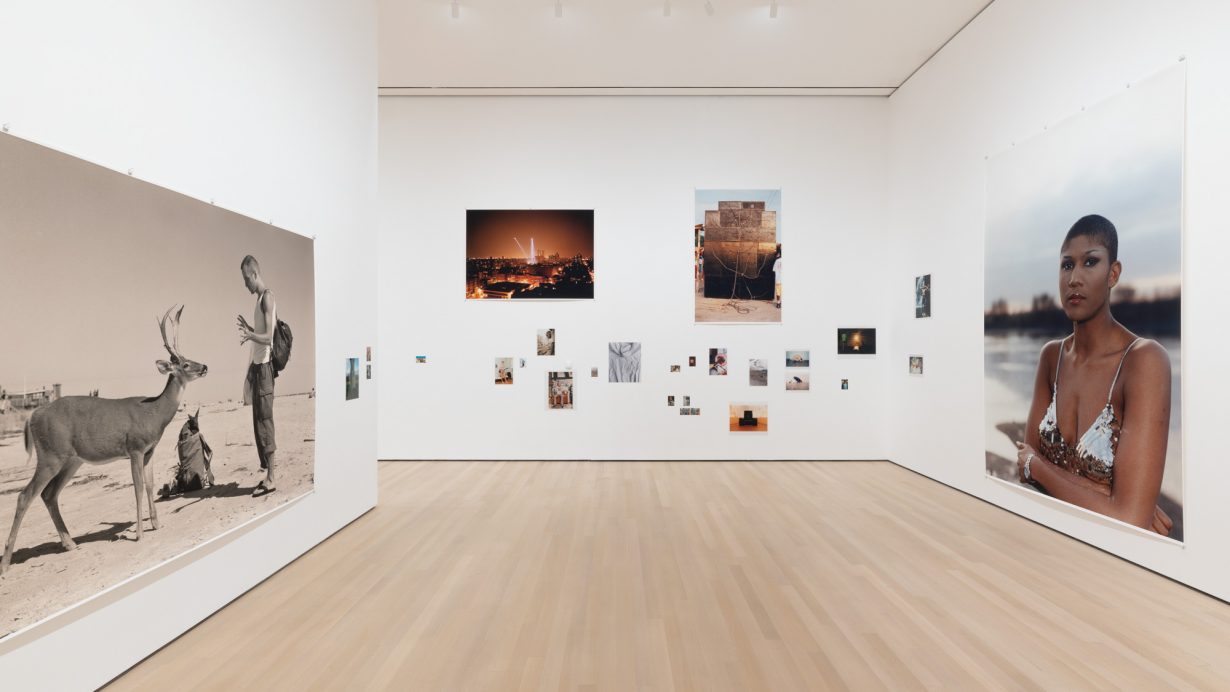 The democratising effect of this omnivorousness, which rejects hierarchies of image production and consumption that place one subject or style over another, is amplified by his hallmark mode of installation, which he first explored in a gallery exhibition of his work in Cologne in 1993. Tillmans frequently presents his photographs unframed; instead, they are neatly affixed to the wall with binder clips or tape, sometimes mounted in the magazine spreads in which they once appeared. He builds Warburg-inflected cosmologies of images, clustering and constellating his photographs at a range of heights and intervals. (The dimensions of the photographs themselves also vary, though Tillmans regularly returns to certain standardised formats.) Here, photos are positioned at obfuscating altitudes, hung in underutilised interstitial spaces like doorways, or laid flat alongside media clippings and scientific reports in tabletop collages, a strategy the artist developed in 2005 for his ongoing Truth Study Center series, mining the pernicious cognitive biases and the circulation of destructive misinformation about topics like the US invasion of Iraq or the global AIDS crisis. (Tillmans, who was diagnosed with HIV in 1997, is a longtime AIDS activist and LGBTQ+ rights advocate.)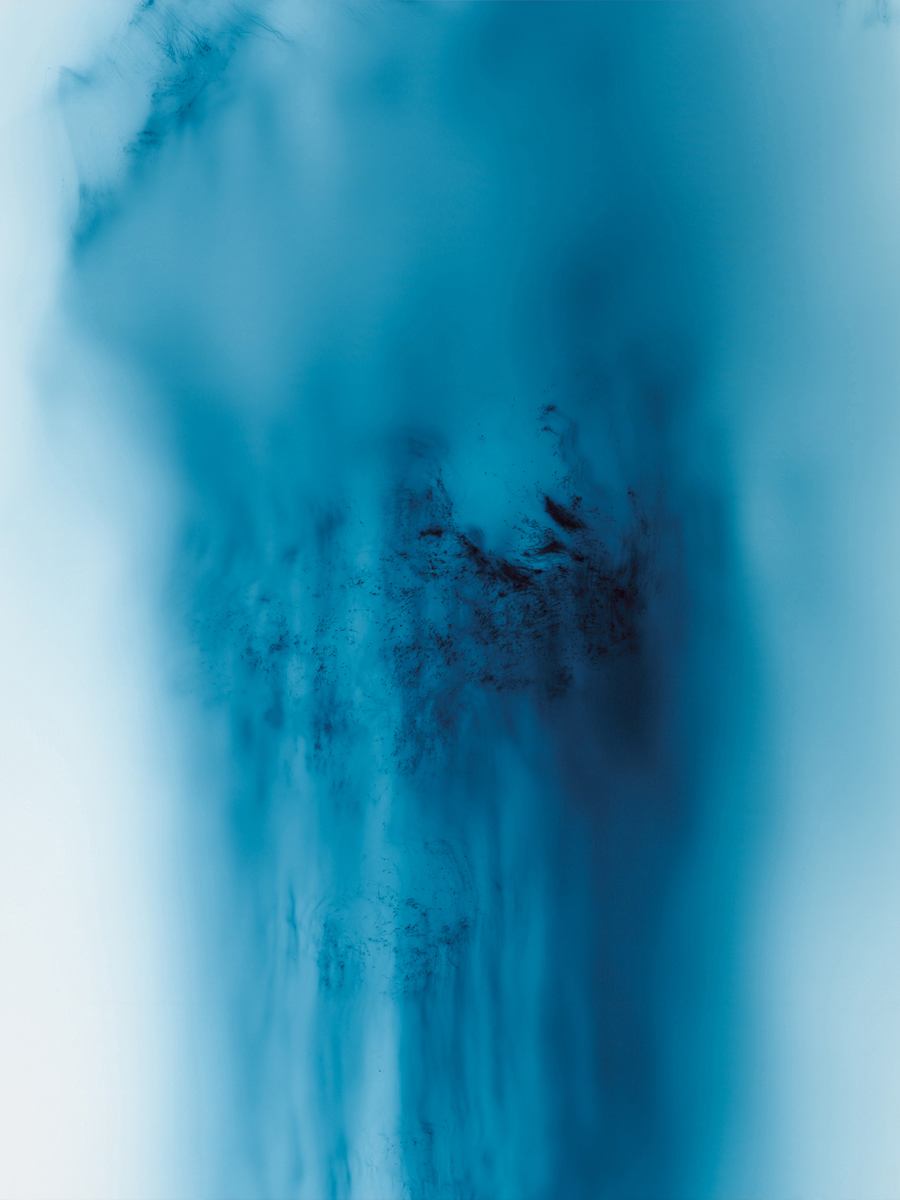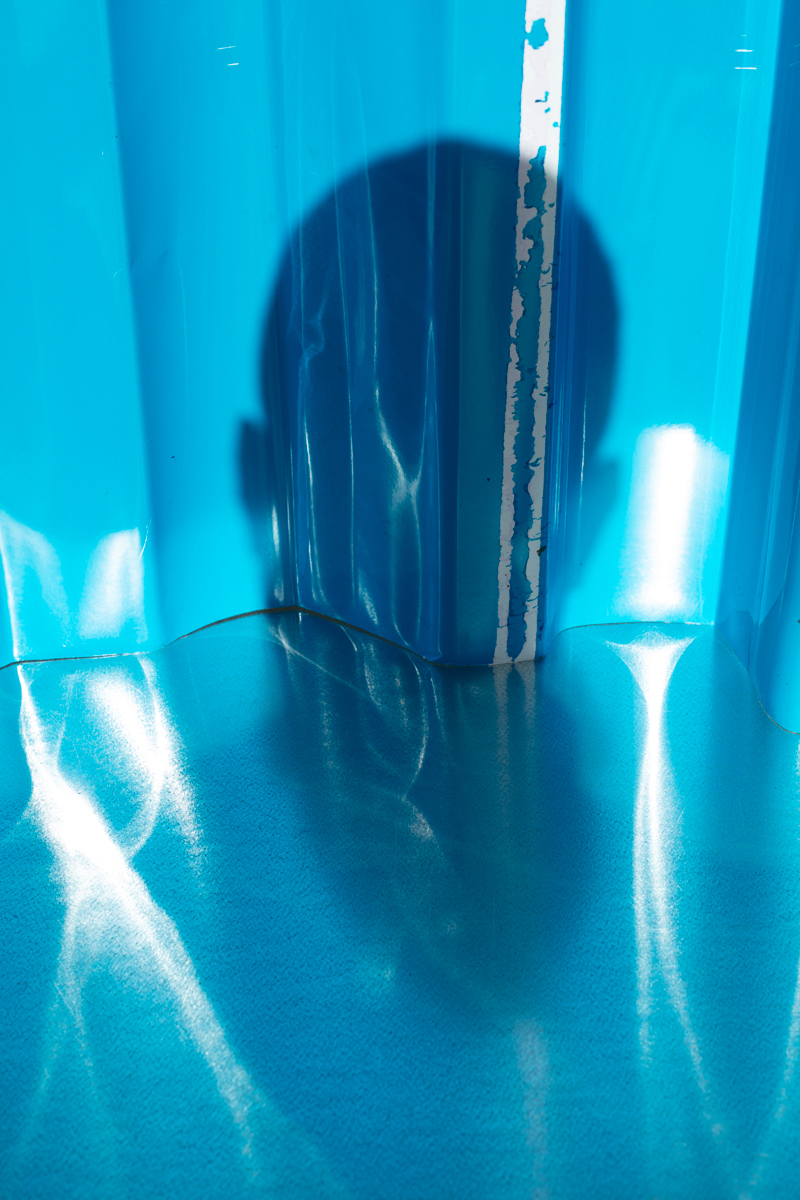 The artist's unorthodox installation tactics provoke active viewing. Viewers are prompted to think relationally and contextually, excavating affinities between neighbouring photos. Located by a photograph of an LGBTQ+ protest (NICE HERE. but ever been to KYRGYZSTAN? Free Gender-Expression WORLDWIDE, 2006), a photo of fuzzy television static (Sendeschluss/End of Broadcast I, 2014) pictures the potential for state censorship or hacking by dissidents. A string
of images depicting objects like air conditioning units (Movin Cool, 2010) and an automotive headlight (Headlight ( f ), 2012) constructs an open-ended rumination on globalisation and the movement of commodities as part of Tillmans's Neue Welt (New World) series.
While Tillmans often looks outward, toward the people, objects and systems that make a world, his abstractions – a strain of his practice since the late 1990s – are concerned with interrogating photography itself. In the Freischwimmer (Free Swimmer) series, started in the early 2000s, the artist manually exposes light-sensitive paper to handheld lights. Delicately hued, soft and smudgy, the resultant abstractions feature dark filaments that seem to snake and skitter in enigmatic, watery expanses. Taking photography back to its fundaments, these non-representational examples of 'drawing with light' draw out the sensuousness of the photographic unconscious – and contribute to the heterogeneity that keeps Tillmans's practice protean and slippery.
To look without fear at Museum of Modern Art, New York, through 1 January