BISO, the International Biennial of Sculpture of Ouagadougou, chisels an art of hope in Burkina Faso
Every Friday, the Mogho Naba holds court in Ouagadougou. The customary king still commands respect and devotion for the Mossi people. Among the local crowd queuing, a man carries a special gift: a lost-wax cast bronze sculpture. Based on an ancestral know-how transmitted from fathers to sons, traditional methods of sculpture live on, but how do they converse with contemporary visual arts amid a rapidly changing political and security situation in the country?
The first part of this question occupied cofounder and president Christophe Person when he partnered in 2018 with Burkina Faso–born photographer Nyaba Léon Ouedraogo to develop an international sculpture biennial in Africa, which became BISO. It was a timely move in the wake of contemporary African art fair 1-54's launch in London, AKAA (Also Known As Africa art and design fair) in Paris and the 2015 Venice Biennale curated by Okwui Enwezor. But BISO's third edition, which opens today, takes place in a radically transformed landscape compared to its 2019 inaugural edition, with alarming levels of violence and insecurity that have displaced nearly two million Burkinabè. How can a young institution like BISO survive in that context?
For Burkinabè artist and BISO participant Hyacinthe Ouattara, the biennial presents a chance to positively highlight the country in spite of its ongoing hardships. 'It's a form of resistance,' he said. His work Aribinda Mon Amour is a mixed-media sculpture named after the northern town that jihadist groups have attacked on numerous occasions (50 women were kidnapped there just last January). He combines different elements such as a red cloth as a background, a yarn-bombed bicycle, discarded sandals, T-shirts, jerry cans and colourful patches of wool. These everyday items bear witness to violence, forming a visual map of upended lives and itemizing the artefacts of love.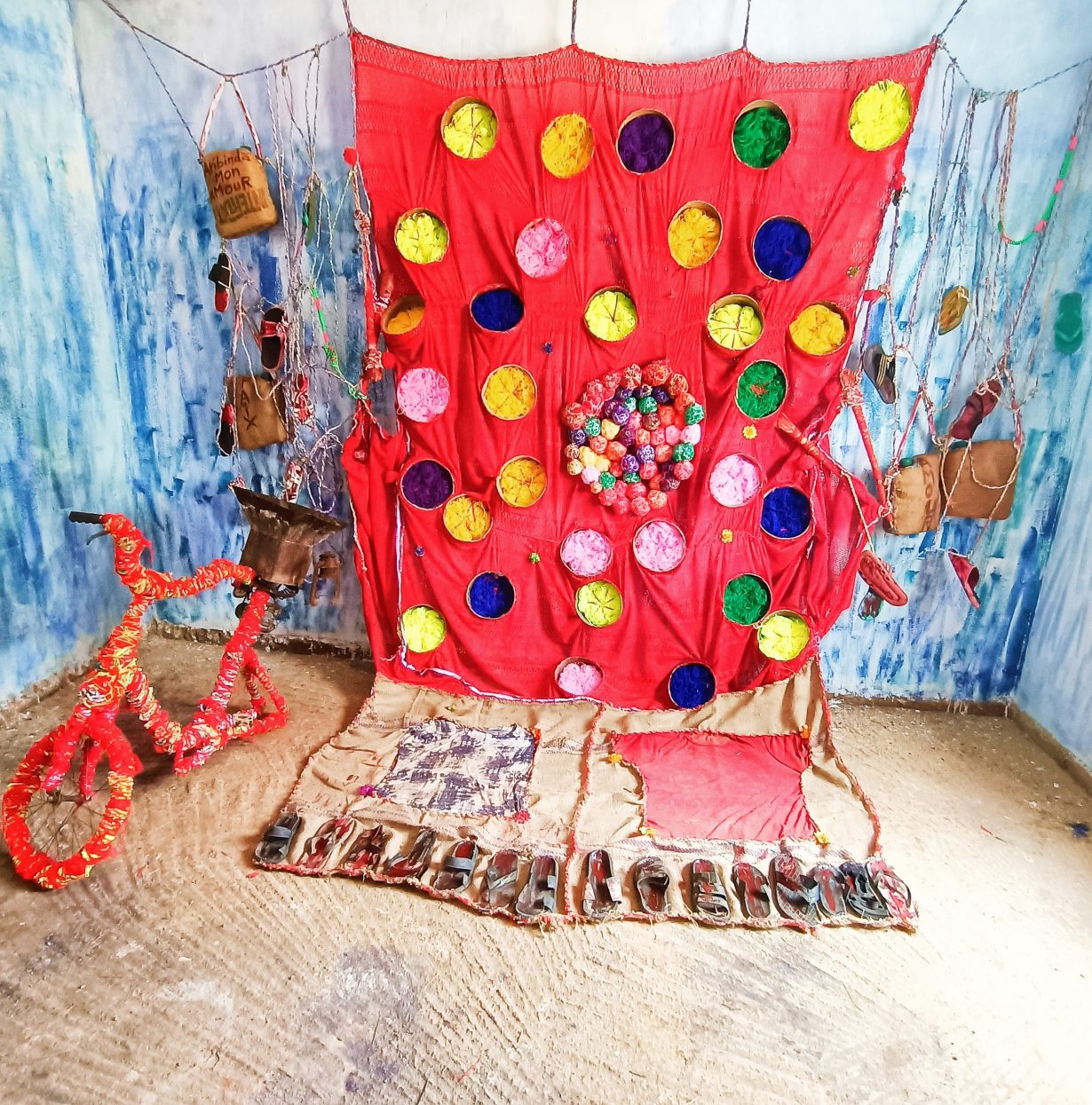 This edition of the biennial – which includes on-site residencies of three to four weeks, talks and events as well as an exhibition – invited Outtara and 18 other African and Afro-descendant artists, both established and emerging, to create new works. The biennial's theme is taken from Congolese author Emmanuel Dongala's novel The Fire of Origins (1987), a parable whose main character is an antihero wrestling with the arrival and aftermath of colonisation. Dongala's protagonist, who comes from a family of blacksmiths and learns about nature's healing powers from a young age, embarks on a polyphonic and spiritual journey within the alchemical power of the furnace and postcolonial reckoning. These details provide a curatorial framework that relates to the fire of Burkinabè bronze masters.
BISO connects veteran sculptors with new a generation. The young Mauritanian artist Oumar Ball, who was awarded a top prize in the 2021 biennial, has described how the mentoring and encouragement he received from the seasoned artists uplifted him. 'They are role models for the young generation I'm part of,' said Ball, for whom the biennial provided much visibility. He has since started working with Dakar's Oh Gallery.
Burkina Faso is home to a rich cohort of recognised contemporary artists, like sculptor and architect Diébédo Francis Kéré, a 2022 laureate of the Pritzer prize, and sculptor Ky Siriki, BISO's honorary president who in 1988 launched the International Symposium of Granite Sculpture in Laongo near Ouagadougou for sculptors to create works in-situ. Ouagadougou is also home to an international dance festival (FIDO) and one on craft and design (SIAO), among others. This rich history of local engagement with the arts also led to residencies being an integral part of the biennial. Spending time locally allows the BISO artists to expand the traditional field of bronze sculpture with textile, glass, wood and other materials. Malian artist Mohamed Bomboly Keita is showing anthropomorphic sculptures made of papier-mâché inspired by the Malinke tradition, upcycling discarded cardboard as source material. Togolese artist Sadikou Oukpedjo's wooden block portraits exude human strength as well as sylvan potency. The residency allows participants the time to exchange with local artists, visit Laongo, work at the art hub of the Centre National des Arts et des Artisanats and see the monuments and architectural remnants that resulted from President Thomas Sankara's 1980s eco-feminist revolution, which placed art and culture at the centre of his administration's policy.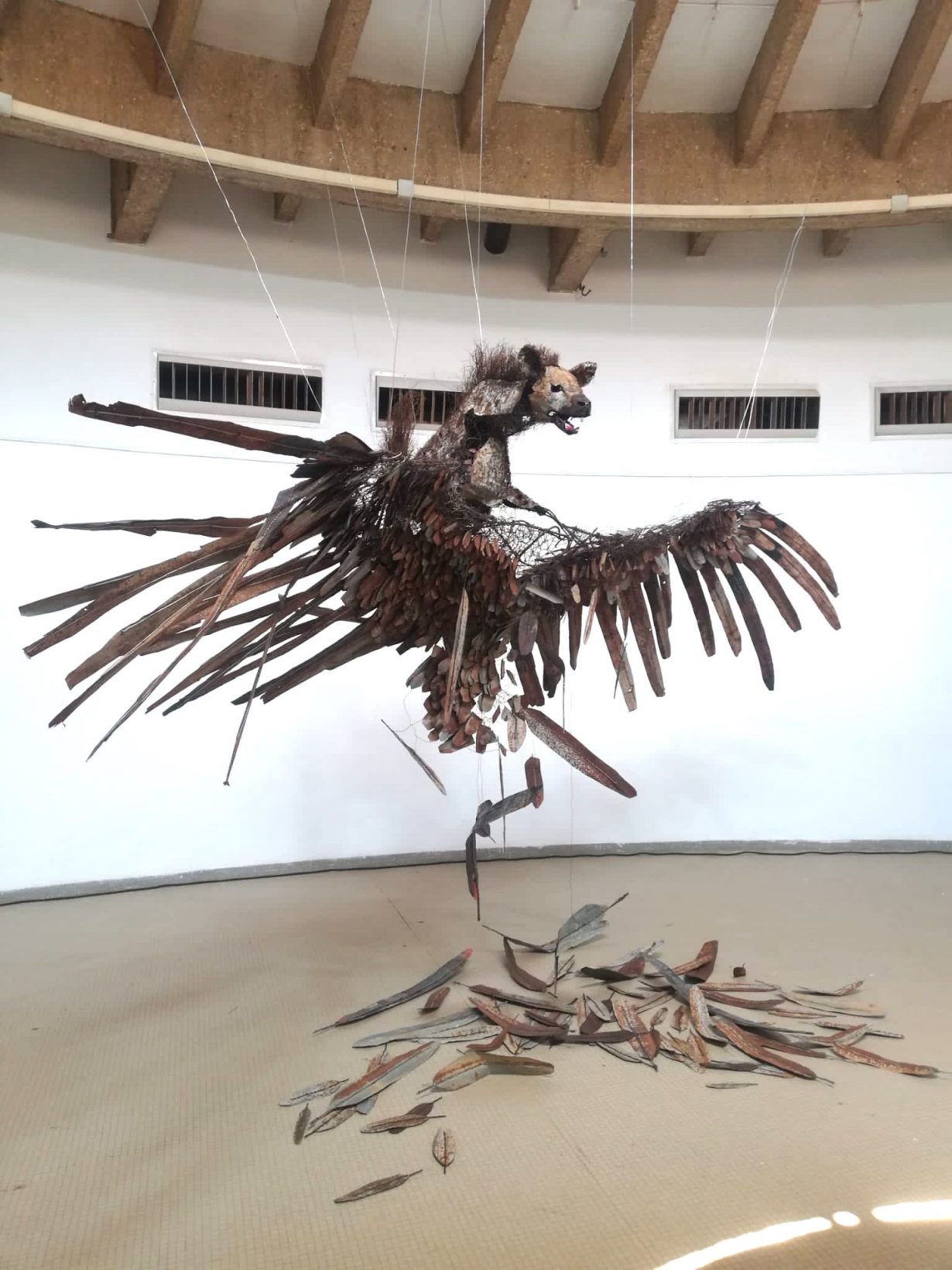 In previous years, BISO counted on the interest of French collectors and art enthusiasts for visibility and support. Yet amid upheavals in Burkina Faso, the country's relations with France have dramatically shifted from the enthusiasm of Emmanuel Macron's visit to Ouagadougou in 2017. Then, the French President reaffirmed his government's commitment to the restitution of wrongfully acquired art objects which would turn a new bilateral page. But that optimism didn't last. In October 2022, protesters vandalised the French Institutes in Ouagadougou and Bobo-Dioulasso amid rallies denouncing French interference, which precipitated their closure. In January, new Burkinabè authorities (after two military coups in 2022) requested the withdrawal of French troops, who had supported the government's anti-jihadi efforts since 2009. Tension between the two countries increased this summer when France suspended both aid to the country and the issuance of many types of visas to Burkinabè citizens.
Until this year, the French Institute in Ouagadougou has hosted BISO. The biennial has now moved to a location used by FESPACO, the Pan-African Film Festival – the oldest, largest, and most prestigious film festival in the continent. Given the patronage of the Burkinabè Ministry of Culture and a model that, for now, is primarily split between French buyers and African producers, BISO is vulnerable to these changing dynamics. It can respond to it by carving a more independent path for itself. In the 1980s, Ousmane Sembène, a founding figure of the FESPACO, declared: 'Europe is not my centre. […] I myself am the sun', in response to a question on whether his films were understood in Europe. Forty years later, it seems that BISO remains shy of carrying such a bold legacy, and yet it has a unique opportunity to rebalance power dynamics and anchor the biennial – from curation to network building, programming and sales – into an unflinching pan-African identity that can exist outside of France's shadow. Biennials add value when they make an artistic statement about the moment we live in as well as steer unheard conversations that are local but may carry global messages, an endeavour rarely politically neutral. BISO's curatorial voice is strong, but remains at risk of becoming yet another playground for European collectors at the expense of a greater, more innovative ambition.
With political instability expected to remain volatile, what emerges for now is a cloudy horizon for local populations and contemporary art in the region, which might prompt some cultural actors to reposition themselves at regional level in Dakar, or look toward other global art capitals. The French Ministry of Culture recently suspended all collaboration with artists from Burkina Faso, Mali and Niger, on instruction from the Ministry for Europe and Foreign Affairs. Responding to the outcry generated within France's cultural scene, the Ministry of Culture later sought to play down its decision, denying that it requested to boycott artists from these countries and pointing instead to security conditions that have forced the suspension of cultural cooperation engagements and new visa issuance. In other words: cultural relations could continue if artists are based elsewhere or if they already possess a valid visa. But the signal sent is one of disengagement and increased politicisation. Two hundred artists and institutional representatives in France signed an open letter to the French government on 25 September denouncing the measure.
"I'm not surprised", says Famakan Magassa, an awardee of the 2023 Norval Sovereign African Art Prize who is based in Bamako. Magassa expected the decision, given the continued deterioration of diplomatic ties between France and Mali. Yet this impacts him and many others. "In 2021, I had my first international residency in Paris. The French Institute supported me, also to obtain a visa. Since 2021, I have been travelling regularly between Bamako and Paris for professional reasons," he explains, noting that restrictive visa policies disproportionally discriminate against African artists, which hinders mobility and access to opportunities. "For me, an artist belongs to the world, not to a country."
Farah Abdessamad is a French Tunisian writer based in New York City.