In his first American museum survey, Young Lords and Their Traces at New York's New Museum, the artist asserts that art doesn't happen in a vacuum
Theaster Gates is known for his ongoing efforts to transform vacant or decrepit buildings in Chicago's underserved South Side into sites of cultural preservation and production; 'Black people matter, Black spaces matter, and Black objects matter' are the stated values of his nonprofit devoted to the task. These cardinal truths reverberate throughout the artist's first American museum survey, titled in honour of the Puerto Rican Chicago street-gang-turned-social-action organisation, active during the 1960s and 70s, that famously offered free food, healthcare and arts programming out of an occupied church in Harlem for 11 days in 1969. The exhibition spans three museum floors and two decades of Gates's practice, gracefully foregrounding the social and spiritual lives of objects (made, gifted, found, repurposed) and architectures as it underscores the value of the relationships and communities that animate them; this framework elucidates the extent to which Gates's object-based works and social-practice projects are energetically intertwined.
On the top floor is St. Laurence Bell (2014–22), a large bronze bell recovered from a storied, predominantly Black parish church in Chicago that was demolished in 2014 due to financial woes. In a postmodern gesture, Gates places the object not only in a contemporary art museum but also in a small shed constructed from old pine planks salvaged from another New York arts institution, the Park Avenue Armory, where he held a retreat for Black artists in 2018. Nearby, A Heavenly Chord (2022) comprises a Hammond B3 organ hooked up to wall-mounted Leslie speakers, gear associated with Black church music and its evocations of Black spiritual and creative life. (That churches can be spaces of oppression and repression is neither explicitly acknowledged nor refuted.) Riffing on Donald Judd's minimalist cubes, the row of boxy speakers imbue abstraction with social content – a theme also explored in Seven Songs for Black Chapel #1–7 (2022), Gates's cycle of silvery abstract paintings made from industrial roofing material. On certain Saturdays, musician Shedrick Mitchell plays the organ, activating the sculpture with sound.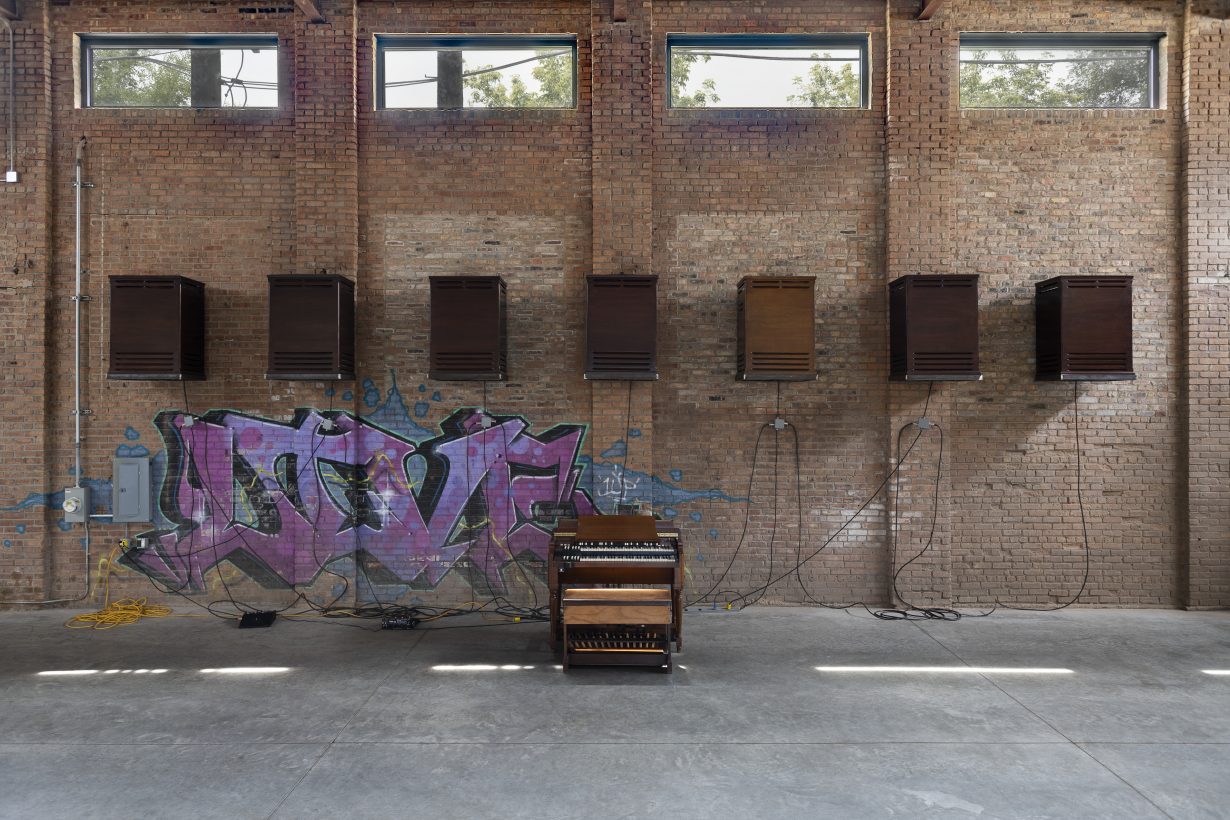 Music is central to Gates's practice. In 2008 the artist founded the experimental musical ensemble The Black Monks, whose improvisatory sound draws on forms of Black vernacular music – blues, gospel, jazz – as well as Eastern monastic chants. The Black Monks feature in two videoworks on the middle floor: Billy Sings Amazing Grace (2013), a performance with soul singer Billy Forston, and A Clay Sermon (2021), in which musicians perform beside Gates's still-damp clay creations in a studio formerly occupied by expressionist ceramicist Peter Voulkos, founder of the influential California Clay Movement. "In the beginning, there was clay," intones Gates, a biblical pronouncement that alludes to his own artistic trajectory (Gates has a joint master's degree in ceramics, urban planning and religious studies). The montage then intercuts footage of clay being extracted from the earth and shaped into vessels with that of Gates wandering the landscape and singing. Sound from the videos intermittently converges in the room between them, which is populated by about 40 sombre clay objects, ranging from rounded vessels to studded totems to sentinel-like figurines. Over half are titled a variant on Black Vessel for the Traces of Our Young Lords and Their Spirits (all 2022), paying homage to the radical organisation while engaging with the capacious connotations of the word 'vessel': a container used for ritual and sustenance; a mode of watery transport; a person chosen by God.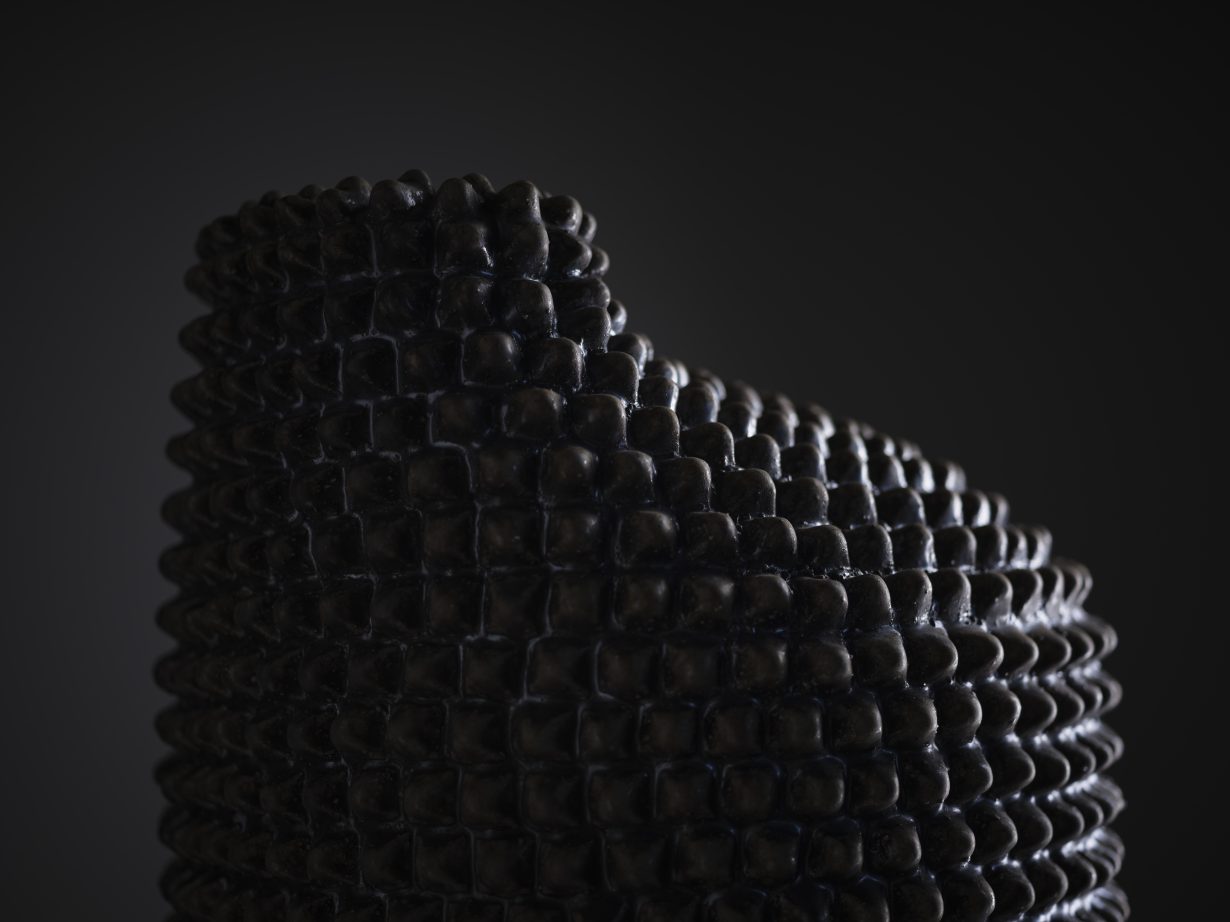 The Young Lords are among several influences referenced in the survey; through frequent citation, Gates asserts that art doesn't happen in a vacuum as he leverages his platform to amplify the people and discourses with which he is in dialogue. Cast iron shelving on the show's bottom floor contains some 4,500 books belonging to Gates's former colleague the Soviet cinema and literature scholar Robert Bird, who in his final years explored the relationship between Soviet communism and Black radical imagination. Nearby, Sweet Chariot (2012), a sagging tar kettle gifted to the artist by his late father, memorialises Theaster Gates Sr's work as a roofer as well as broader histories of labour. Marked by garnet walls and opulent carpeting, a room on the lower floor is transformed into a museum-within-a museum. Vitrines repurposed from the Oriental Institute of the University of Chicago (an archaeological research centre devoted to the ancient Middle East) feature objects belonging to figures who Gates holds sacred, many of whom are recently deceased Black creative or cultural leaders. Among the precious relics are a paint-spattered boot worn by artist Sam Gilliam, a necklace owned by fashion designer Virgil Abloh and a small metal bell bestowed upon Gates by trailblazing writer-activist bell hooks. Given pride of place in the survey, these recontextualised remnants – memorials on a human scale – reimagine the contemporary art museum as a charged space for mourning, honouring and communing.
Young Lords and Their Traces at New Museum, New York, through 5 February