Tribal peoples are getting some of India's top governmental jobs but does that signal any real change in their status?
India's latest president took up office this past July. In addition to her achievements as a career politician, Droupadi Murmu has many other firsts to her name: the 15th president is the youngest the country has had, and at sixty-four years of age, she is the first born in independent India. She is only the second woman to hold the office. But perhaps it is the fact that she is the first person from a tribal community to become the First Citizen of India that has had the greatest impact on society. In a country shaped brutally, often violently, along caste, class and religious lines, and where, like elsewhere in the world, indigenous people are among the poorest and most oppressed sections of the population, Murmu's journey from a village in Odisha state, Eastern India, to the highest political office is a monumental achievement. It also smacks of tokenism, albeit part of the shrewd political strategising that has marked the eight years of Prime Minister Narendra Modi's rule in the country.
In India's parliamentary system of politics, executive power is held by the prime minister and a cabinet of ministers. The position of the president remains largely ceremonial, with some limited powers to do with parliamentary bills, mercy petitions in case of capital punishments and suchlike. Yet, in backing and getting a candidate from a tribal community elected as president, the widely held consensus among political analysts in the country is that the Modi-led Bharatiya Janata Party (BJP) has gained a foothold in securing tribal support for the upcoming general elections in 2024. It's a win-win: the brand-conscious party gets to be seen as inclusive, particularly given that generally it is seen as a party of increasingly militant Hindu nationalism (or Hindutva), but more especially during the 75th year of Indian independence, an occasion that the BJP is going all out to celebrate as a personal achievement.
The nuances of this appointment, however, are much more complicated than issues of symbolic inclusion. Murmu's election needs to be read in the light of the fact that the right-wing BJP and its allies have not managed to gain stable inroads into several parts of Central India where indigenous people make up a large chunk of the population and where regional parties, with political identities that are not always in sync with the centre's Hindutva agenda, govern the states. Notably, these indigenous people live in mineral-rich areas, in relation to which India has been trying to change forest and mining laws so as to make it easier for corporate bodies to extract and exploit natural resources.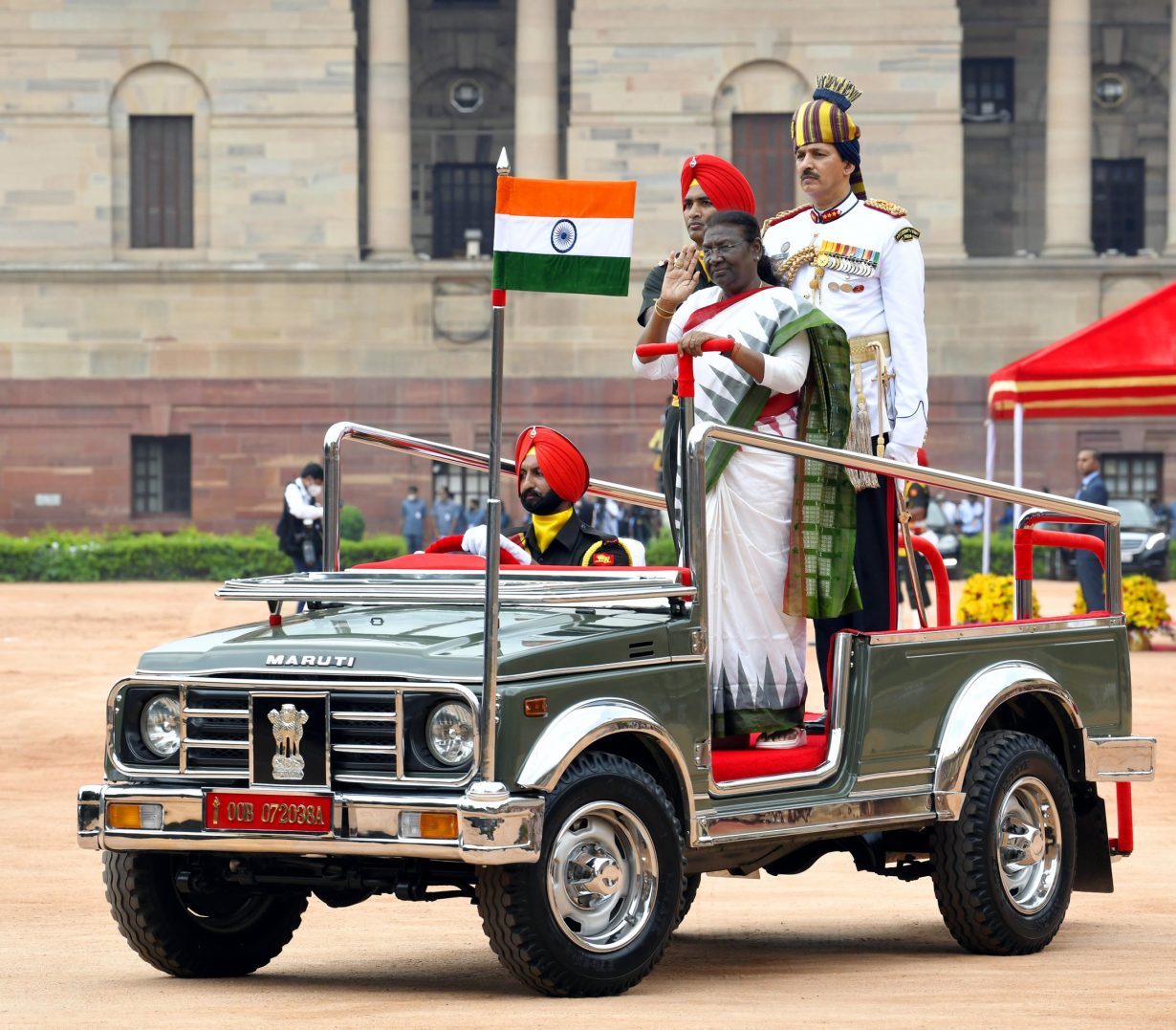 There could not have been a better candidate than Murmu. Born in a Santhal tribal family, she was one of the first girls from her community to gain a college education. She would go on to work first as a clerk and then as a teacher, before entering politics and slowly climbing the political ladder as a member of the BJP. Murmu is known to back the party line in pushing its Hindutva agenda, designating Hindi as a national language and perpetuating the myth of the holy cow. On the other hand, when she served as the governor of Jharkhand, a state with a high tribal population, she is best remembered for sending back proposed laws that were seen as harmful to the interests of indigenous people for reconsideration by the state assembly. These actions are cited as proof that she could be the strongest advocate for tribal rights that the communities have had yet. While this of course remains to be seen, it is helpful to remember that exploitation of indigenous people continues unabated and has indeed escalated since her party came to power. On the flipside, however, acts of resistance by the resident to extractive policies may actually be encouraged by the BJP in order to ensure that she is not dismissed as a puppet president.
Of course, India does have a history of making such 'strategic' appointments. A. P. J. Abdul Kalam, a scientist and a Muslim, was elected president in 2002, the year of the fateful Godhra riots in Gujarat (where the burning of a train resulted in the death of 58 Hindu pilgrims and led to widespread anti-Muslim violence that killed a further 1,000 people), which would propel the current prime minister into national politics. The outgoing president, Ram Nath Kovind, is a Dalit, among the most severely oppressed of communities. Holding the highest position in the country did not stop Kovind and his wife from briefly being denied entry into a temple in Puri on the grounds of his caste (members of which are traditionally banned from entering and praying at Brahminical temples). In each case, the candidate's background is emphasised, only to train focus on how they have moved away from the perceived undesirable parts of their religions. Thus, Kalam was a Muslim, but still was vegetarian, could quote from the Vedas, played the veena and prayed to Goddess Saraswati. Murmu, who turned to the Brahmakumari movement after losing much of her family to tragic accidents within a short span of time, is also a vegetarian and lives a simple, almost frugal life. Such dietary choices and austerity sit well with the image of what is sold as the mark of a good Brahminical Hindu, and therefore an ideal citizen of fast-radicalising India.
This Hinduisation of India is another reason why Murmu's presidency is of particular curiosity. Tribes have long demanded a Sarna code in the census that would allow them to self-identify as followers of the Sarna way of life, which revolves not around a god figure, but around the worship of nature. Currently, tribes can only choose between the major religions – a legacy of colonial rule when the British found it easier to club non-Muslims and non-Christians as Hindus – something tribal leaders say is detrimental to the preservation of their culture and eco-friendly way of life. The BJP has been particularly rattled by the idea of this code because it would drastically reduce the number of those counted as Hindus in the country and work against the illusion of a Hindu majority that it takes great pains to maintain.
Thus, this tokenism of having a tribal as president serves a dual purpose – that of appeasing a huge voter base by doing the bare minimum while actively ignoring core issues, and furthering a political message that the tribes will continue to be counted as Hindus and how it is to their advantage to side with the majority.
An aside: in the midst of all the self-congratulatory messages in the country for its own progressiveness, what has barely, if at all, been commented upon is the fact that Droupadi is not even the president's real name. Named Puti Tudu when she was born, Murmu has talked about how it was changed by a teacher 'who did not like' her tribal birth name. The mainstream Hindu name itself was changed several times, from Durpadi to Dorpdi before finally settling as Droupadi. It's a story that is nothing short of horrifying in its attempt to erase indigenous culture, but nevertheless reminiscent of similar horrors inflicted on indigenous peoples all over the world.