ILOVERUSS at Nikolaj Kunsthal, Copenhagen makes sense of dreams and memory in a claustrophobic, unglamorous world
"Today was my one hundred and eighty-third job as an extra," says perennially struggling actor Russ Kingston. In this shot he's in his fifties, lean, with a long face and kind, melancholy eyes. His tatty apartment is sparsely furnished: a folding card table and chair, an old metal filing cabinet, stacks of junk piled against the wall. Shot by the Swedish artist Tova Mozard during regular visits to Los Angeles over 20 years, the 51-minute ILOVERUSS (2023) is projected across five screens in Nikolaj Kunsthal, a former church, while one single soundtrack binds the disjointed video together: on one screen Kingston and Mozard sit by a pool, on another they're already swimming; a scene from The Magnificent Seven (1960) plays while at the other end of the narrow but cavernous gallery Kingston reenacts the same scene; the camera pans over Kingston's messy living room while he croons The Platters' 1955 The Great Pretender; elsewhere he's in his sixties or seventies, shirtless and emaciated, lying in bed, head resting on Mozard's lap.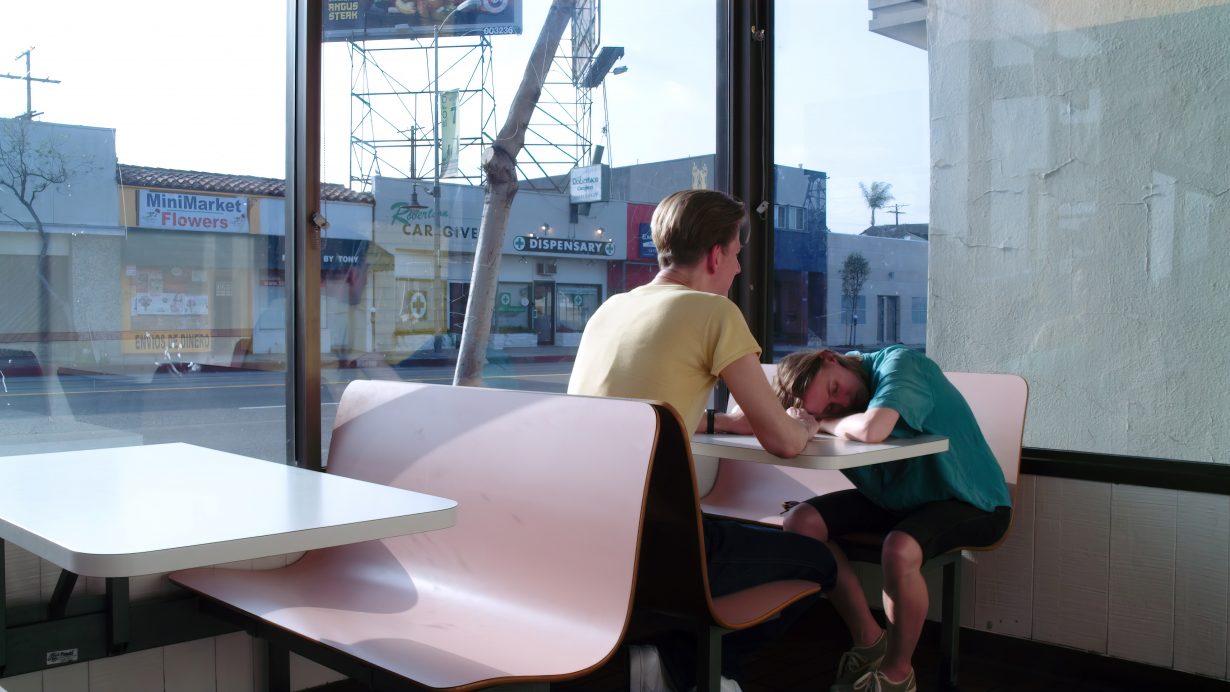 Kingston and Mozard are clearly immersed in the dreamlands of LA as well as other paranormal realms: "I was just broadcasting my feelings to you… did you hear?" Kingston asks during a call with the artist. In the gallery below ILOVERUSS, Mozard's single-channel video Psychic (2018) documents sessions with by-the-hour clairvoyants: "This angst is your integrity", one tells her. Long shots hold on neon signs – 'Palmistry', 'Tarot', 'Future' – and a large 'Palms Read' banner discarded in a parking lot. In another gallery, photos of smashed cars, empty comedy club stages and film props deepen the Hollywood seaminess. Meanwhile, throughout the venue's connecting corridors are self-portraits that further ingratiate Mozard into showbiz hinterlands: Snapshot (2000) features a young Mozard posing coyly with the German actor Udo Kier, as if snapped at a VIP party. Kier gazes out at us with mesmeric confidence while Mozard self-consciously averts her eyes like an aspiring starlet. In Channeling Elizabeth Short (2020) Mozard stands barefoot outside a suburban home, dressed in a red nightie, eyes closed, apparently contacting the victim of the infamous 1947 'Black Dahlia' murder – who, before she was killed, was just another Hollywood hopeful toiling against obscurity.
There's little gloss to Mozard's images. And despite her and Kingston's expansive conversations, the mystical domains traversed in Psychic or the low-rise sprawl all around them, Mozard's LA is a claustrophobic place of crummy apartments, windowless arcades, downbeat storefronts. Kingston is in the hospital and Mozard calls him: "Do you feel like you're in a movie?" she asks. He avoids the question, instead hopefully wondering if she'll "be a visitor?" No, Mozard replies, she has to return to Sweden. It's an excruciating, telling moment. In her lens as well as her onscreen persona, Mozard is thoughtful, self-contained, gentle but relentless. She watches Russ through years of disappointment and failure to make it in Hollywood, struggling alongside him to make sense of all the dreams and memories.
ILOVERUSS at Nikolaj Kunsthal, Copenhagen, 26 May – 30 July