The artist's photographs chart reconciliation, resistance and double-consciousness in their vision of a new idyll
A young man sits in a dark pool of frothing water, with residues of mud clinging to the dip in his collarbone. He looks down at the water that's foaming, lapping away at the silt collected on his swim shorts. 'He surfaced like a bullet, iridescent, grinning, splashing water.' That last sentence, from Toni Morrison's 1977 novel, Song of Solomon, swims into my mind when I look at the photograph Distillation from American photographer Tyler Mitchell's latest series, titled Chrysalis (2022). I think of that sentence because whenever the protagonist of Morrison's novel, Milkman (aka Macon III), touches water it marks a transformative experience. And it feels like something transformational, or at least on the cusp of change, is happening in Distillation and in the other photos of Chrysalis, in which young Black men and women are pictured in bucolic settings, splashing, swimming, sleeping, daydreaming. In Song of Solomon, various events lead Milkman to travel to America's rural south, away from his Black middle-class upbringing in an unnamed northern city, towards the lands where his father and aunt grew up, in order to find the stash of gold they (his father and aunt) discovered and left behind in a cave during their childhood. But the real treasure he uncovers is a deeper understanding of his family's history, their relationship to the land as slaves, and then ex-slaves and freed people, and then just people, and how the traumas inflicted upon them created ripple effects through generations. The pervasive feeling of disconnection and disassociation Milkman feels at the start of the novel resolves into a kind of spiritual reconciliation of past with present, via a physical return to the rural, allowing him to move forward with his life.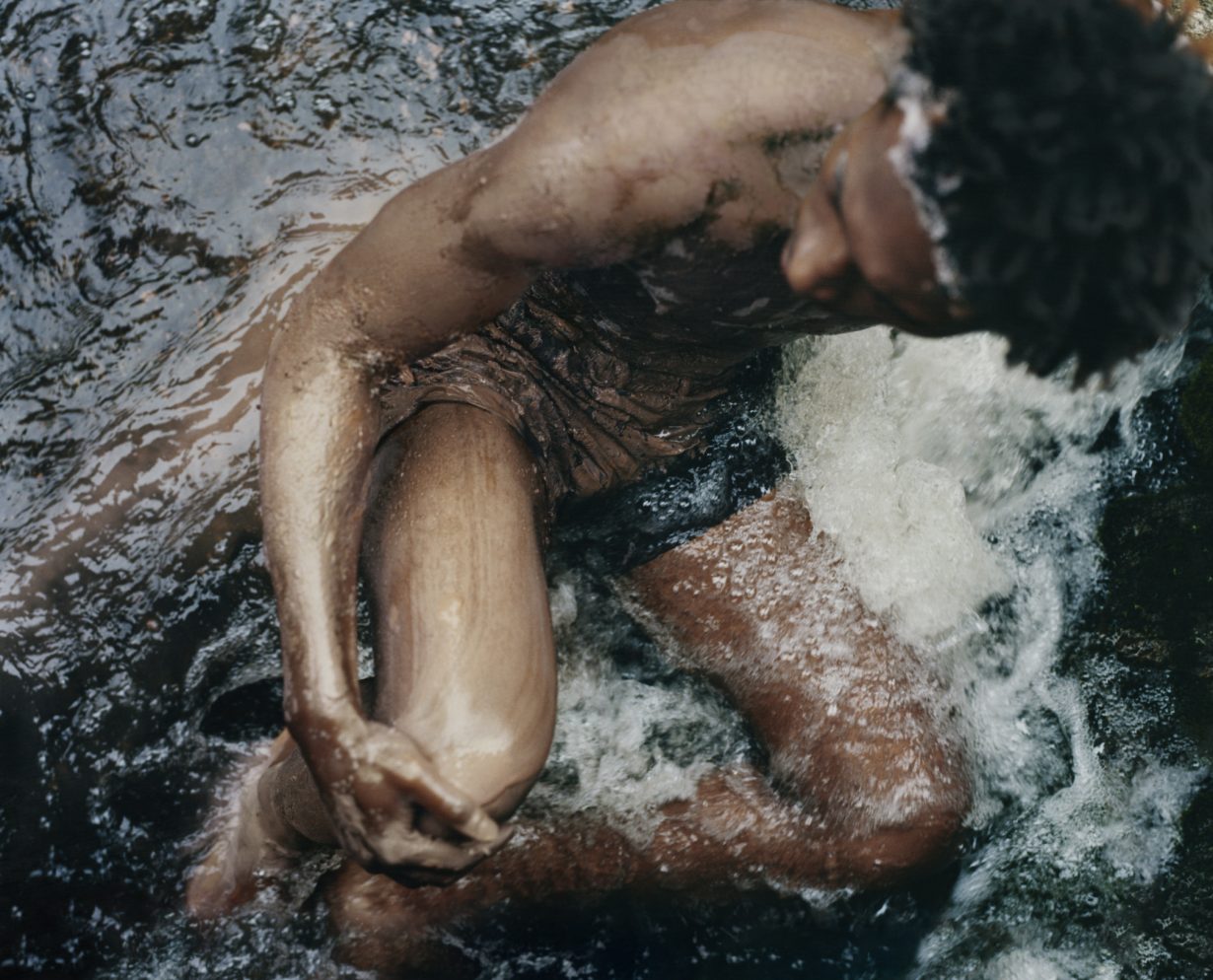 For Mitchell, Song of Solomon resonates with the collection of images that form Chrysalis, not only because many of the photographs feature those young men and women in and around water but also because for Mitchell – who grew up in Atlanta and spent his youth in the city's parks and surrounding countryside – it speaks to the coming-of-age revelation that's related to a similar psychological and physical disconnection. "You grow up and realise that there's a really complicated history," he tells me over a video call. "The violent histories that took place on those lands. And that seeps its way into everything, into every interaction, into every way that you construct ideas about yourself, and the lens through which you're seen in the world."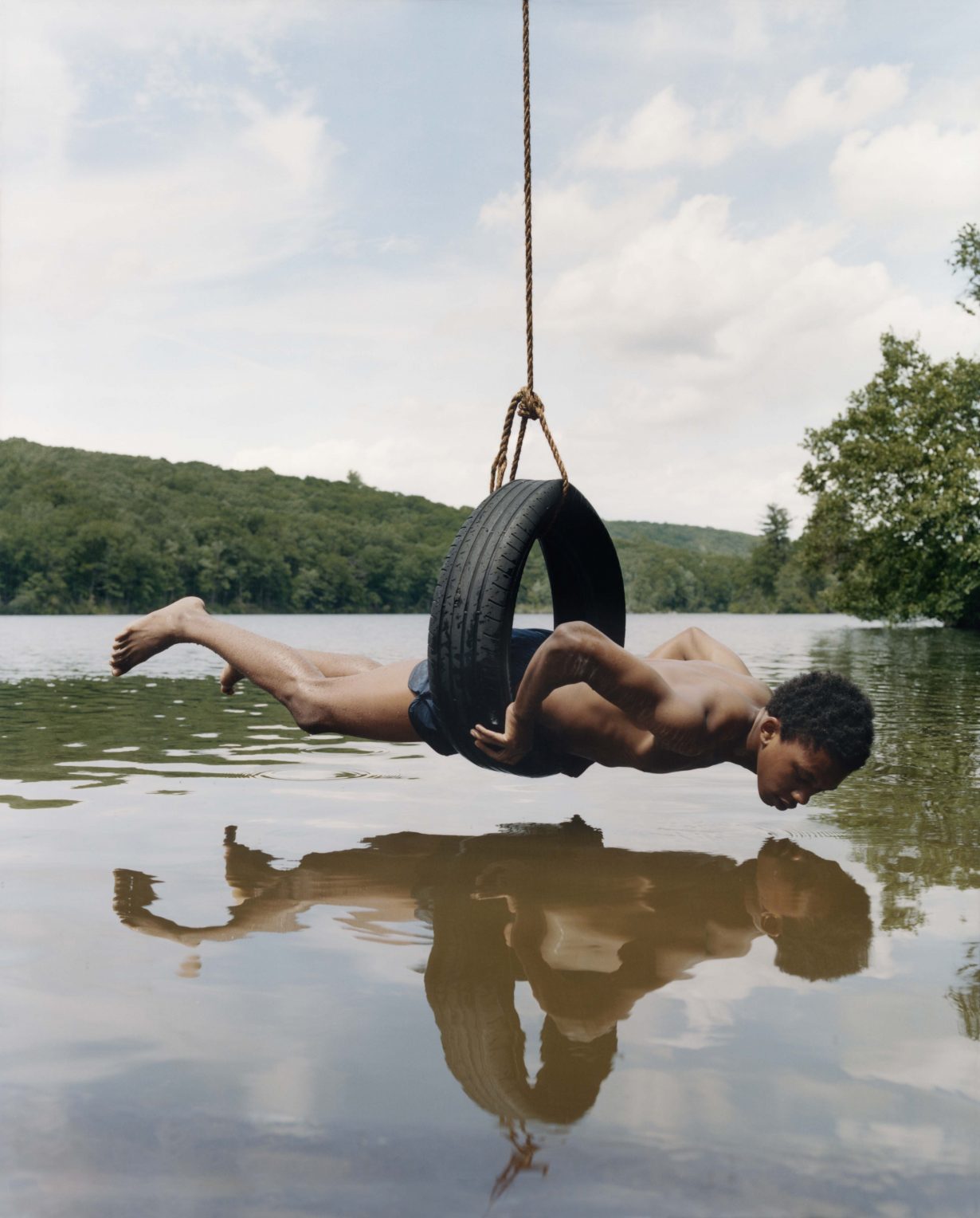 In A Glint of Possibility, from that same series, a rubber tire hangs from a length of rope that extends beyond the photograph's frame; a young man perfectly balanced horizontally through the hole of the tire is suspended above still water, gazing at his reflection. His face hovers close to the water's surface, close enough that his breath seems to cause a series of creases across the glassy expanse. The man and his reflection appear like a visual metaphor that recalls W. E. B. Du Bois's theory of 'double-consciousness' first put forward at the end of the nineteenth century, while he lived and worked in Atlanta. 'One ever feels his two-ness,' he writes, pointing to a kind of psychical fracturing for the individual Black subject who is 'always looking at one's self through the eyes of others' and 'measuring one's soul' by a world that privileges a white perspective. This 'two-ness' also speaks to the uneasy tension Mitchell describes of the Black experience in green spaces. "In the back of my psyche," he says, "is the constant reminder to be careful and vigilant about stepping on someone's 'yard'. In the South it's not too far from reality that they would come out of their house armed. I'm certain that lies in the minds of a lot of other Black folks who grew up in the South."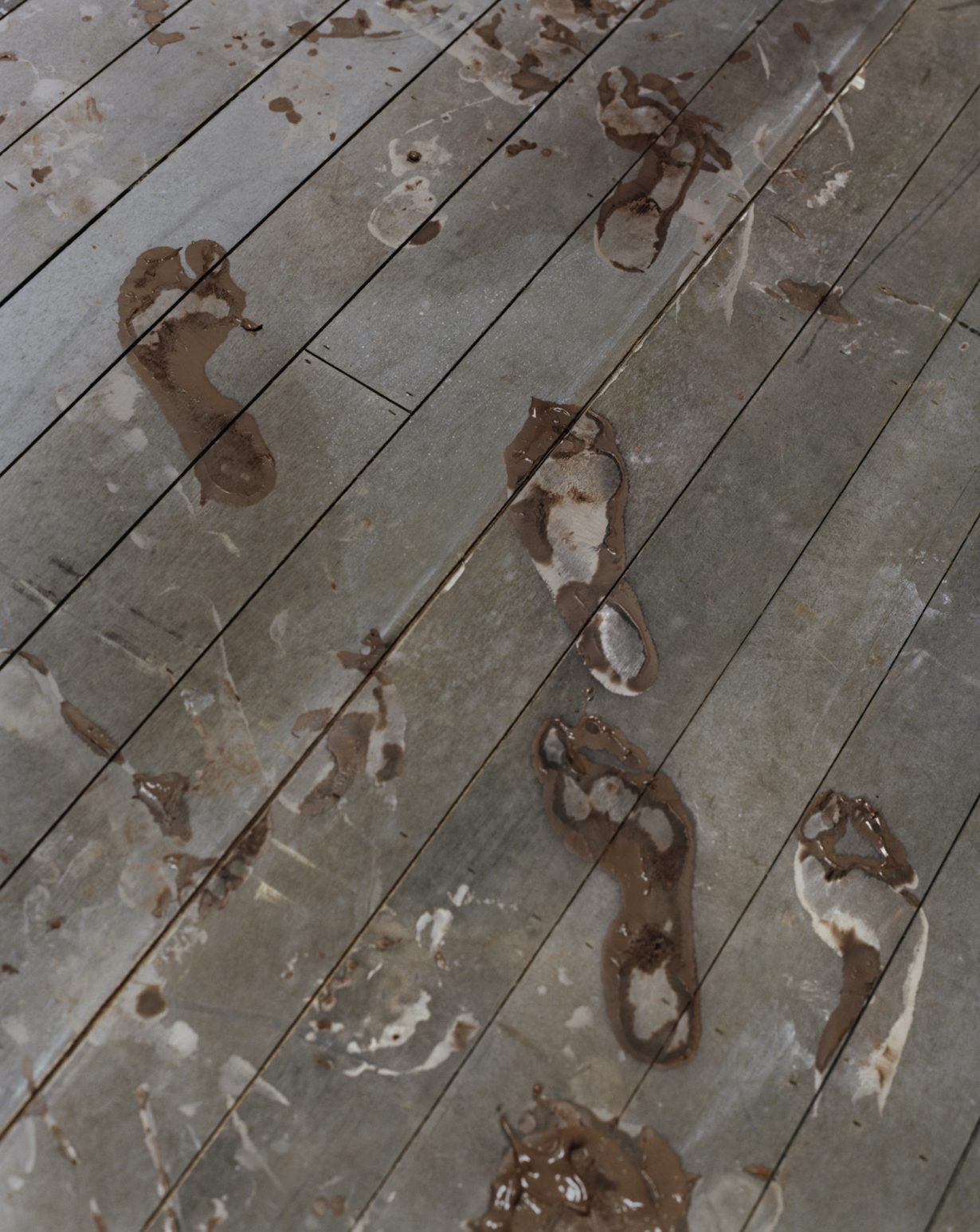 In his first UK solo show, at Gagosian, London, Mitchell pairs individual photographs from Chrysalis so that they appear as diptychs, combining largescale images of idyllic scenes – "of embodiment," he says, "agency or positivity, and of belonging to the land" – with smaller photos that are more expressionistic: of a hand reaching out of rippling muddy water, or a man half-submerged and covered in sediment. In one of those smaller pictures, titled Tenderly, a set of mud-caked footprints patter across wooden floorboards, the absence of a body made greater by the traces it has left behind. These silt-filled photos represent the immediate sense of threat that remains in the back of Mitchell's mind, "moments that are on the eerier side, a reminder that Black folks have to remain vigilant while being in the land". But Mitchell's diptychs go beyond a formal representation of how that psychological state – that heightened vigilance and awareness of history – cannot be detached from the lived Black experience. It's almost as if he is reaching for a way to visually articulate a different kind of double-consciousness: one that doesn't so much parallel Du Bois's proposition of 'two-ness', but rather sits obliquely to this concept; a version in which reconciliation and resistance are two sides of the same coin. "I'm trying to call forth the seductive and threatening elements of both the American Dream and the landscape in which I grew up," says Mitchell, "and this can be applied to any number of global conversations in which Black people have felt that they both deeply and spiritually belong to a certain land, but who have also been rejected from, ran out, pushed out from that same land."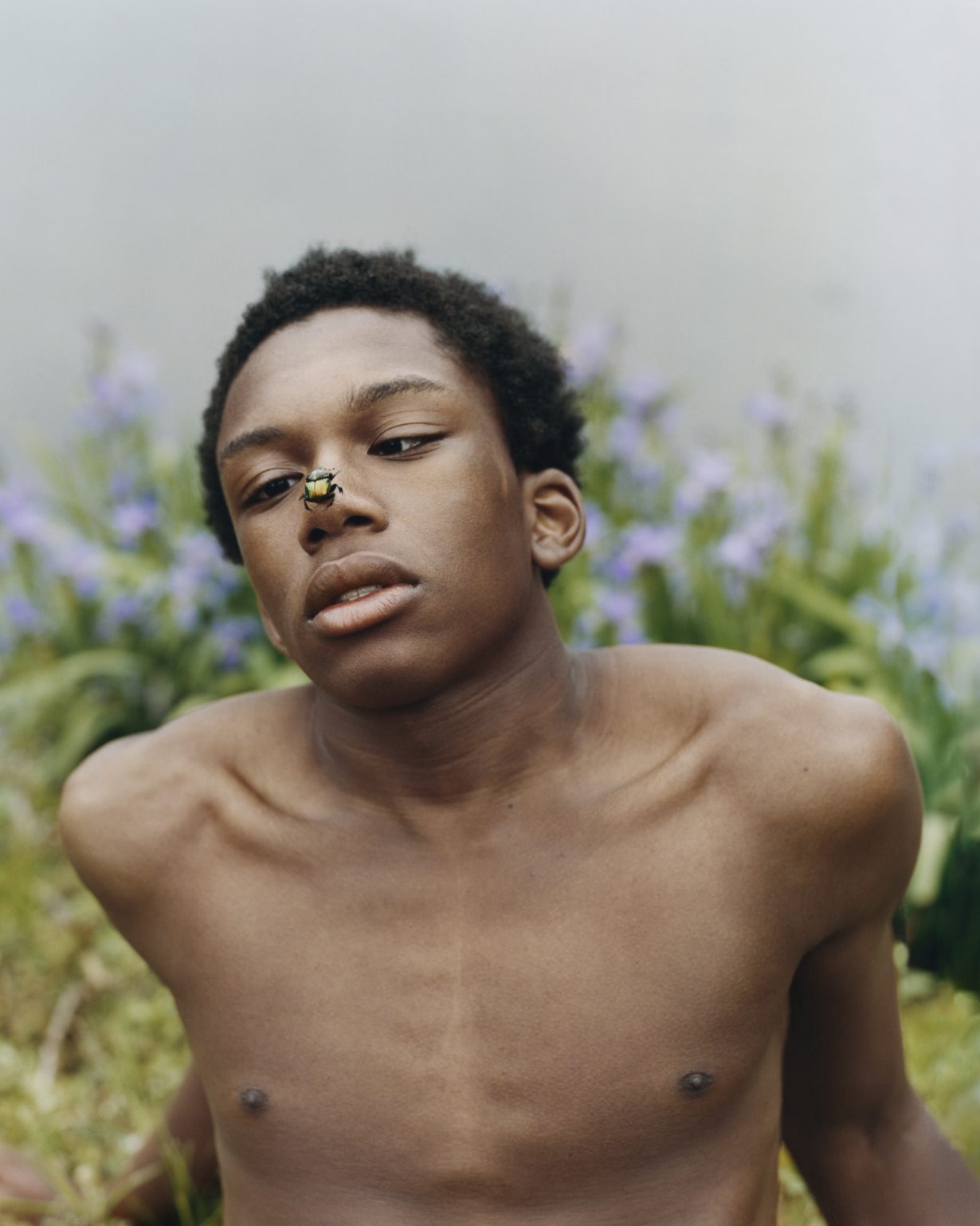 Chrysalis, then, is an attempt to address those tensions of Black presence within and absence from the landscape via what Mitchell calls an "optimistic vision of the way Black folk should exist freely in outdoor space". That vision points to the historical, economic and social exclusion of Black people from leisurely pursuits, one that Du Bois says results in 'little of careless happy childhood and dreaming youth'. Take, for example, Simply Fragile, in which a smooth-chested young man leans back in a patch of grass beside water, a mist of purple flowers blooming beyond his shoulders. He looks down, cross-eyed, at a green and golden beetle that has landed on the tip of his nose. It pictures a delicate, fleeting moment of carefree peace. And yet, set alongside those muddy photos, there's a sense that this moment of idyllic relaxation is still a speculative idea, one that is in the process of coming into being; a pictorial echo of the desire that Hanif Abdurraqib writes of in A Little Devil in America (2021), to 'go to the place where Black dreamers stare at the moon and remark loudly about signs and stars in a summer that feels as endless as those old summers' of his youth.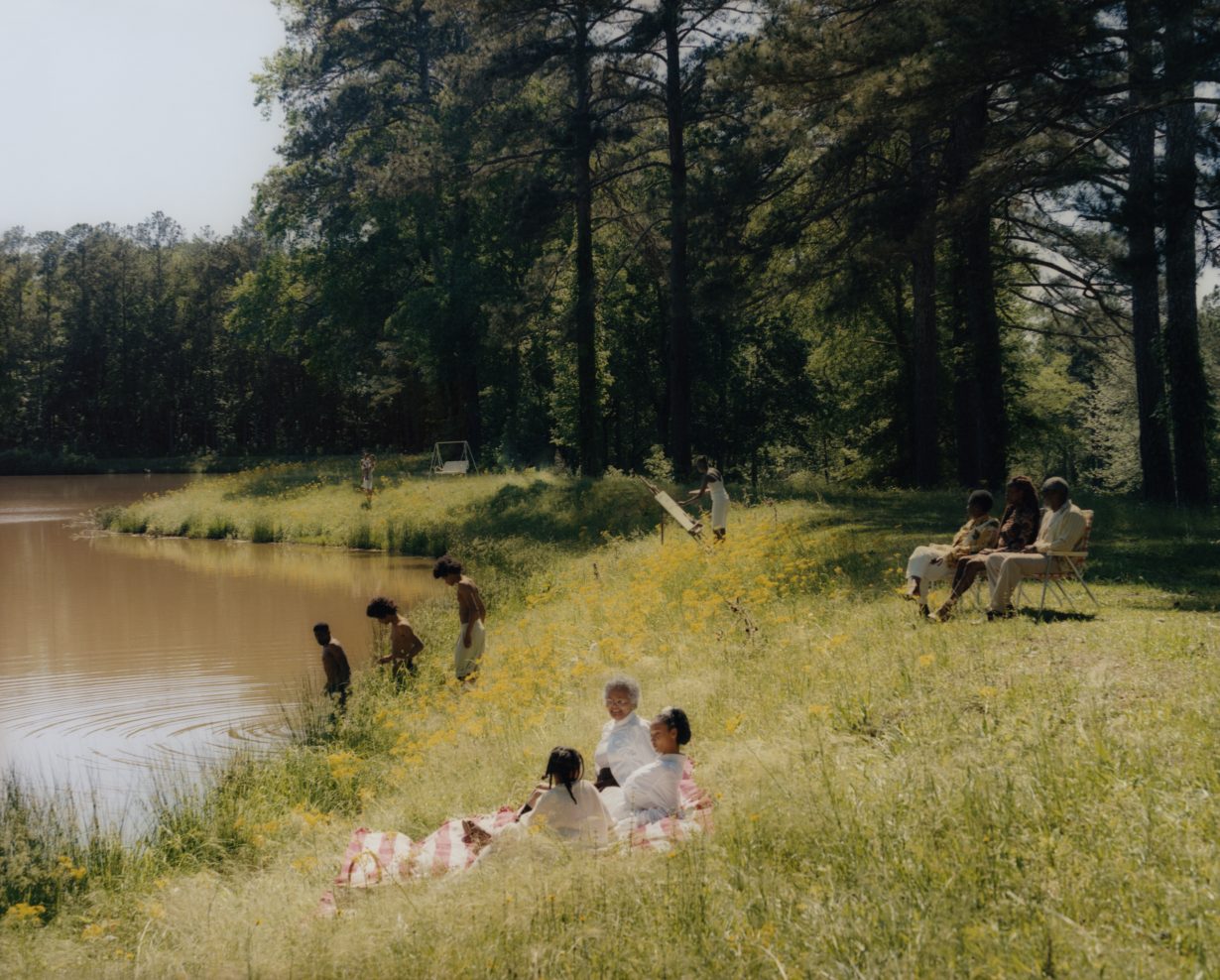 The bucolic scenes of leisure, of being at peace in nature, depicted in Chrysalis are a familiar trope in Mitchell's work: in the series Dreaming in Real Time (2021), the photograph Riverside Scene depicts gatherings of Black folk enjoying a golden summer, picnicking, painting or contemplating on the bank of a river while three boys make their way into the water. It recalls Georges Seurat's painting A Sunday Afternoon on the Island of La Grande Jatte (1884–86), of white Parisians spending leisurely time by the Seine, and at the same time highlights Black absence from a genre of Western art history in which the pleasures of nature were the preserve of wealthy white people. Mitchell is more obviously critical of this exclusion in another photograph from that series, Georgia Hillside (Redlining): a young man flies a kite while two people picnic, a woman lies in the grass, a family photoshoot is being set up and three women wearing luxurious white dresses appear to be waiting. Each of these gatherings is demarcated by a series of undulating red lines painted on the hillside, a reference to the US practice of 'redlining' that has been used to discriminate against Black neighbourhoods in order to deprive them of services primarily related to banking and finances.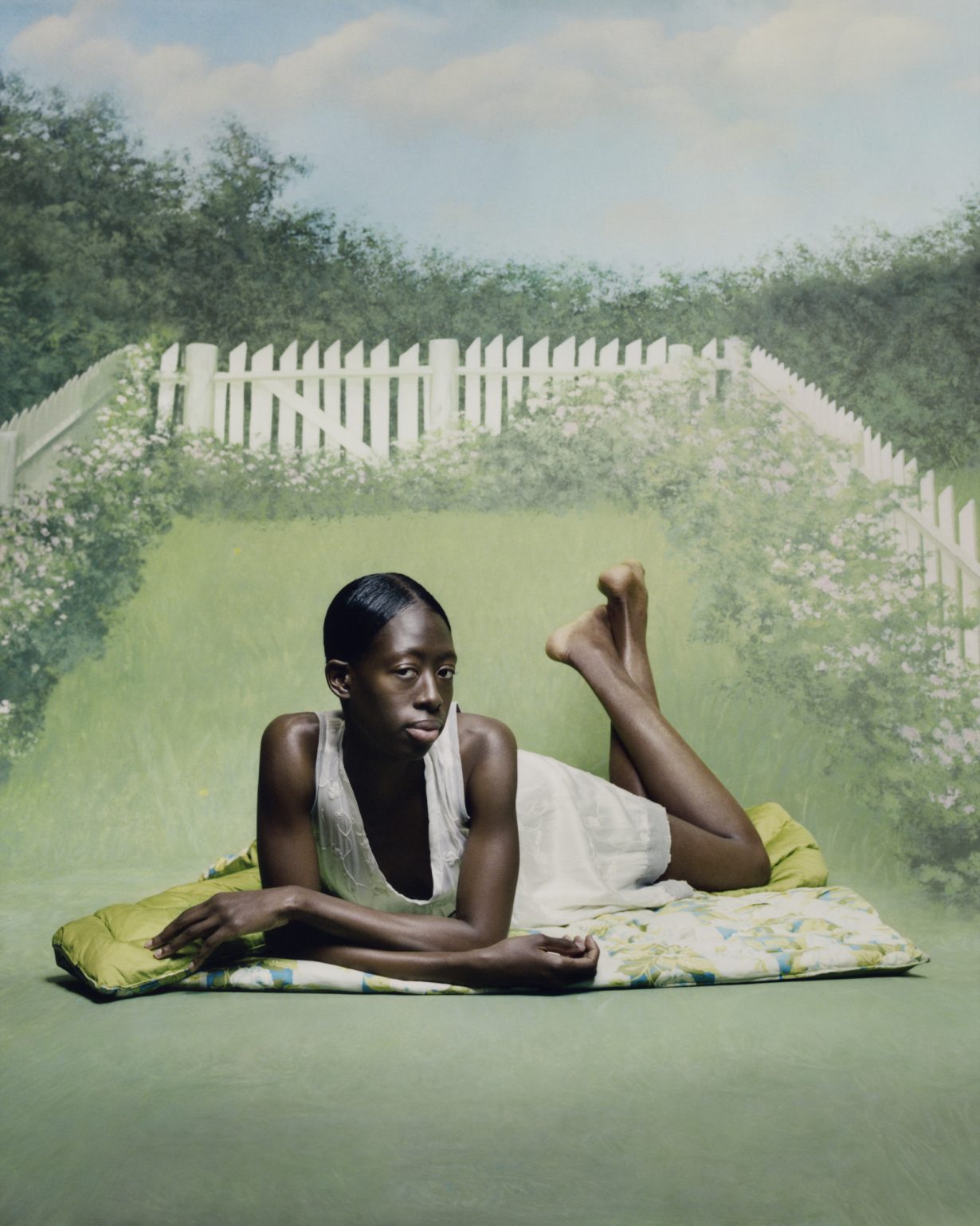 Not all the photos in Chrysalis are set in outdoor surroundings; others, like Cage, in which a young woman in a white dress lies propped up by her elbows, her legs crossed nonchalantly in the air, is photographed against a painted backdrop of a garden surrounded by a white picket fence. It references the kind of vernacular African-American studio photography, popularised by photographers like Richard Samuel Roberts (who was active during the 1920s, in South Carolina), in which sitters would pose against elaborate, painted backdrops of natural scenery, with props and personal belongings. Those old studio photos, Mitchell says, "represent a hopefulness for opportunity and a new life. It says, 'Here are the belongings we hope to have over time'. Wrapped up in those backdrops is the desire for upward mobility and freedom."
The painted backdrop as a prop itself appears in Mitchell's triptych Protect from all Elements (2022). The series of images shows a young man at various stages of pulling a blue-sky backdrop over a tomb-like structure of tilled earth, at once calling forth histories of working the land and laying to rest the trauma of that past landscape. Chrysalis is suspended in that moment of reconciliation between past and present, recognition of being unseen and seen, of reshaping identity and reclaiming a position in the world, and as Mitchell puts it, a more general "coming into one's senses". To emerge on the other side iridescent, grinning, splashing water.
Chrysalis, an exhibition of Tyler Mitchell's photographs, is on view at Gagosian Davies Street, London, through 12 November