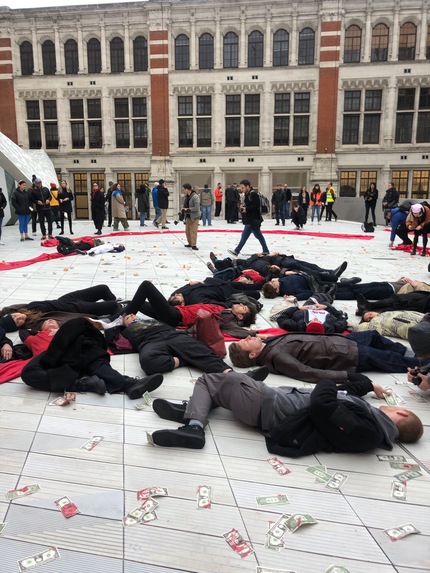 The V&A in London, which artist Nan Goldin has described to the Observer as 'the last bastion of holdouts' in terms of cultural organisations supporting the Sacklers and bearing the family name, is to remove the acknowledgement of the patrons.
The Sacklers, who owned Purdue Pharma, have been the subject of numerous lawsuits, investigations and media coverage in relation to their production and marketing of the opioid OxyContin. According to the US Centers for Disease Control and Prevention, opioid addiction has seen nearly half a million deaths by overdose between 1999 and 2019.
After sustained protest pressure, museums around the world – including London's Serpentine and Tate galleries and New York's Guggenheim – have announced they would refuse further donations from the Sacklers.
P.A.I.N., the activist group co-founded by Goldin, has been targeting six institutions over their financial links with the family. The Met, Smithsonian and Guggenheim in the US responded by dropping the Sackler name, as did the Louvre in France. Harvard Art Museums and, until now, the V&A continued to use it.
In November 2019 the group staged a 'die-in' at the V&A's Sackler Courtyard, which was opened in 2017 and funded with a £2 million donation from the Sackler family. The family also funded the Sackler Centre for Arts Education at the West London institution.
Elsewhere in the capital, the National Gallery, the National Portrait Gallery, the British Museum and Royal Botanic Gardens, Kew, have removed the name from buildings and facilities.