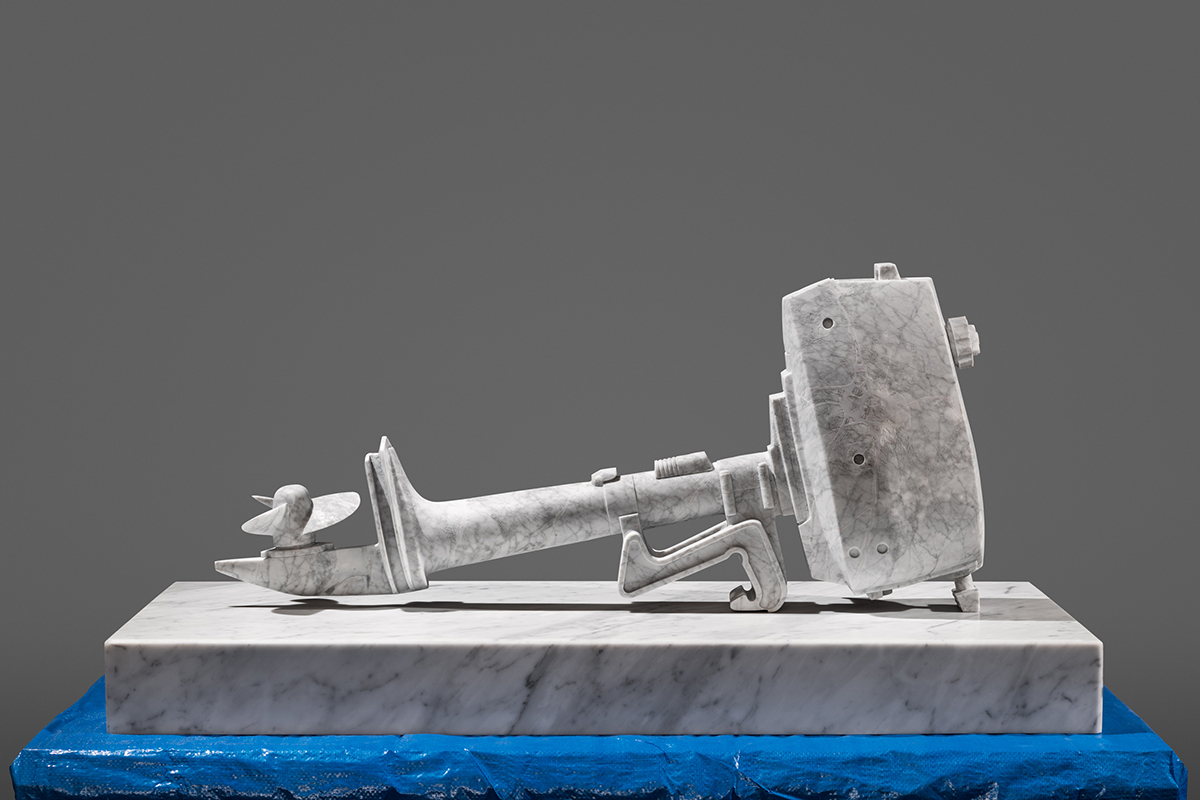 The Sovereign Art Foundation has announced the winners of this year's edition of the Sovereign Asian Art Prize. Australian artist Alex Seton has been awarded the grand prize of $30,000 (USD) for his sculpture Oilstone 05_Corrosion (2019) which depicts a boat engine made of marble.
Pakistani artist Saba Qizilbash was also awarded The Vogue Hong Kong Women's Art Prize of $5,000 for the 2019 work Inbezelment, an installation of five bezels into which graphite drawings have been set with resin. Indonesian artist Made Wiguna Valasara received The Public Vote Prize of $1,000 for a hand-stitched and embossed canvas work titled Daily parade (2019).
Seton often works with marble sculpture, though he is also known for photography, video and installation. His marble works, such as Oilstone 05_Corrosion, call into question the role of and value applied to statuary, while working with traditional and nontraditional techniques to form the works (such as the use of hydrochloric acid to accelerate corrosion).
In a statement to the press, Seton said of his win:
'What a brilliant surprise! Thank you to The Sovereign Art Foundation for this honour and of course an enormous thank you to the brilliant Mikala Tai for nominating me. Without curator advocates like Mikala it's almost impossible to stand out in the wonderful roar of contemporary art now. This year's field of artists have my admiration and heartfelt congratulations for their bold and sensitive works, and I'm proud to show alongside them together as artists of the Asia-Pacific region. It is after all, where all the most exciting art is being made now.'
\The winners of this edition of Sovereign Asian Art Prize were chosen from a list of 31 finalists. The judging panel comprised: David Elliott, writer, curator, museum director; Jan Dalley, Arts Editor of the Financial Times; Jiyoon Lee, art historian, curator, and writer; Miao Xiaochun, artist and professor; artist Zhou Li; William Lim, architect, artist, collector and educator; Executive Director of Asia Society, Alice Mong; and Elaine Lin, Head of Collections at Asia Art Archive.