Ahead of Yahon Chang's Floating Poetry, Meandering Mindscape, a 45-minute solo painting performance at Elizabeth-Kirche, Berlin, and forthcoming monograph Yahon Chang: Painting as Performance, the artist sat down with ArtReview to introduce his practice
Taiwanese artist Yahon Chang (b. 1948) mobilises dialogues between body, mind and the spiritual world through his large-scale painting performances using large brushes and black ink. Brought up in Taiwan after the Second World War, Chang's works developed a visual language voicing agony, adversity and acceptance, while striving for higher spirituality and peace. After exploring traditions of calligraphy, martial arts, Chinese literati culture and spiritual practices, his works underwent a performative turn, leading to appearances at Performa 19 as well as Palazzo Strozzi, Florence in 2019.
Chang's latest 45-minute painting performance Floating Poetry, Meandering Mindscape – curated by Manu Park, former director at Nam June Paik Art Center – will unfold in the space of Berlin's St. Elisabeth Church, parallel to the Berlin Gallery Weekend. The musical accompaniment featuring compositions by Korean musician Isang Yun (1917-1995) will mount an immersive meditation to his spiritual quests.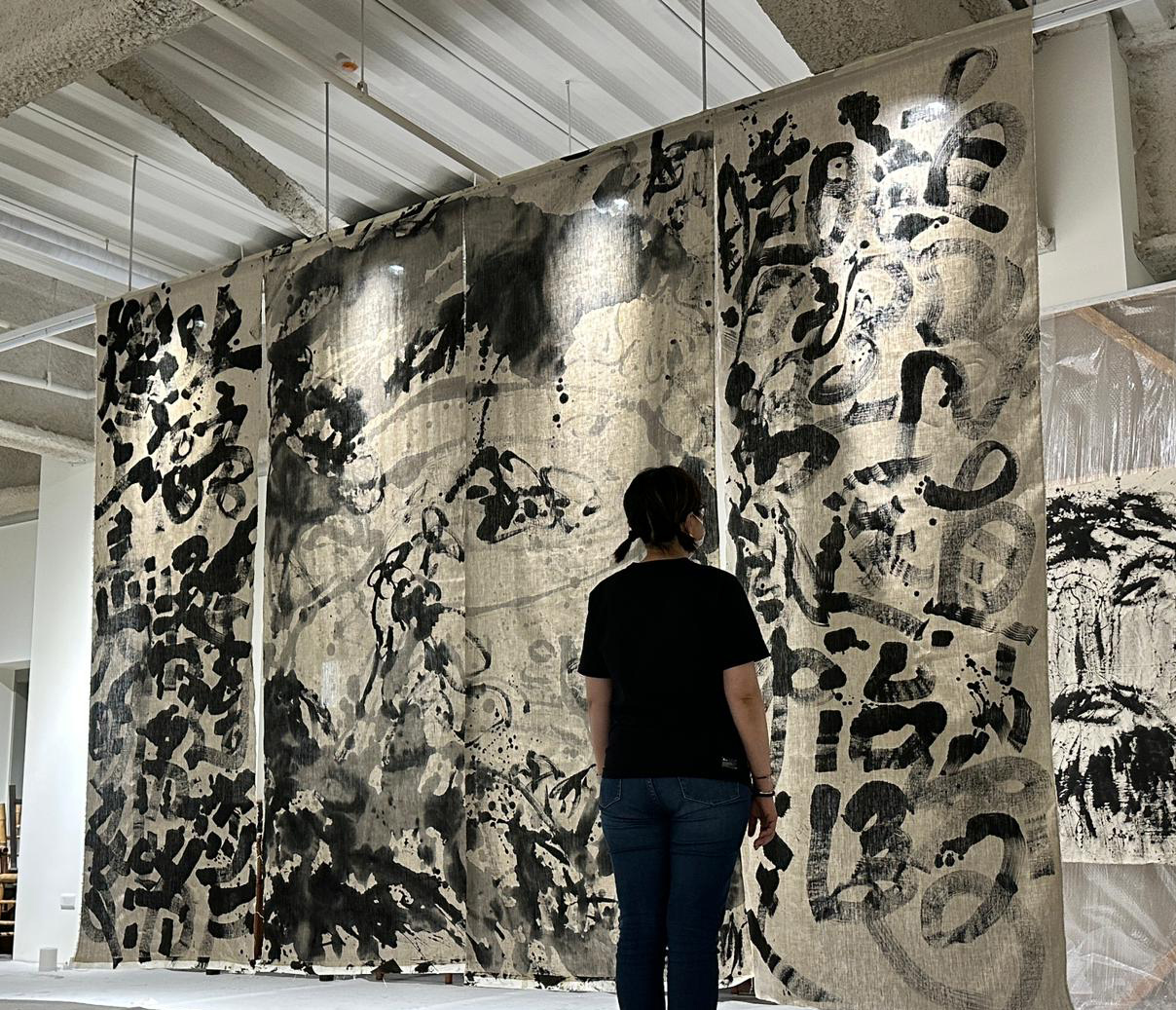 ArtReview: Your recent works are predominantly in black ink, but other ones also use oil and a colourful palette. How has your painting practice evolved, and how does it relate to your recent performances?
Yahon Chang: Most of the works that have been recently exhibited are black indeed, but I have actually painted a lot of coloured works at home. My painting practice, roughly speaking, evolved from smaller canvases, which you could paint by merely moving your wrist, to the large paintings that require the whole body and mind in operation. These works then developed into 'spatial painting installations', followed by the on-site performance as a kind of initiation ceremony to the exhibitions.
AR: At what point did you start thinking of painting as performance?
YC: In 2011, I had a solo exhibition at the Busan Museum of Art in South Korea. The exhibition was mainly of my paintings, but I did a live performance on the opening day. The work created on site was so huge that it almost covered the entire floor space of the opening venue. That was my first recorded public painting performance. 
AR: In Chinese art history, qi plays an important role in brushworks and calligraphy, and you talk about your interests in Tai Chi. But your paintings are also often compared to abstract expressionist works. Where do you think your works lie between the various traditions?
YC: The qi emphasised in traditional Eastern Asian calligraphy and painting includes both a visual momentum (qishi) and a spiritual vitality (qiyun); while for Western Abstract Expressionism, I am particularly interested in personal, performative brushwork and foregrounding an intense emotional investment. My practice absorbs both traditions, and I hope to freely integrate the spirits and characteristics of both, just like how Tai Chi integrates both strength and gentleness. In this sense, when I paint, I move the ink with my mind, mobilise my body with the brush, and use my waist as the axis to drive the limbs, so that my paintings will have the spiritual resonance as smooth as the drifting clouds and the flowing water.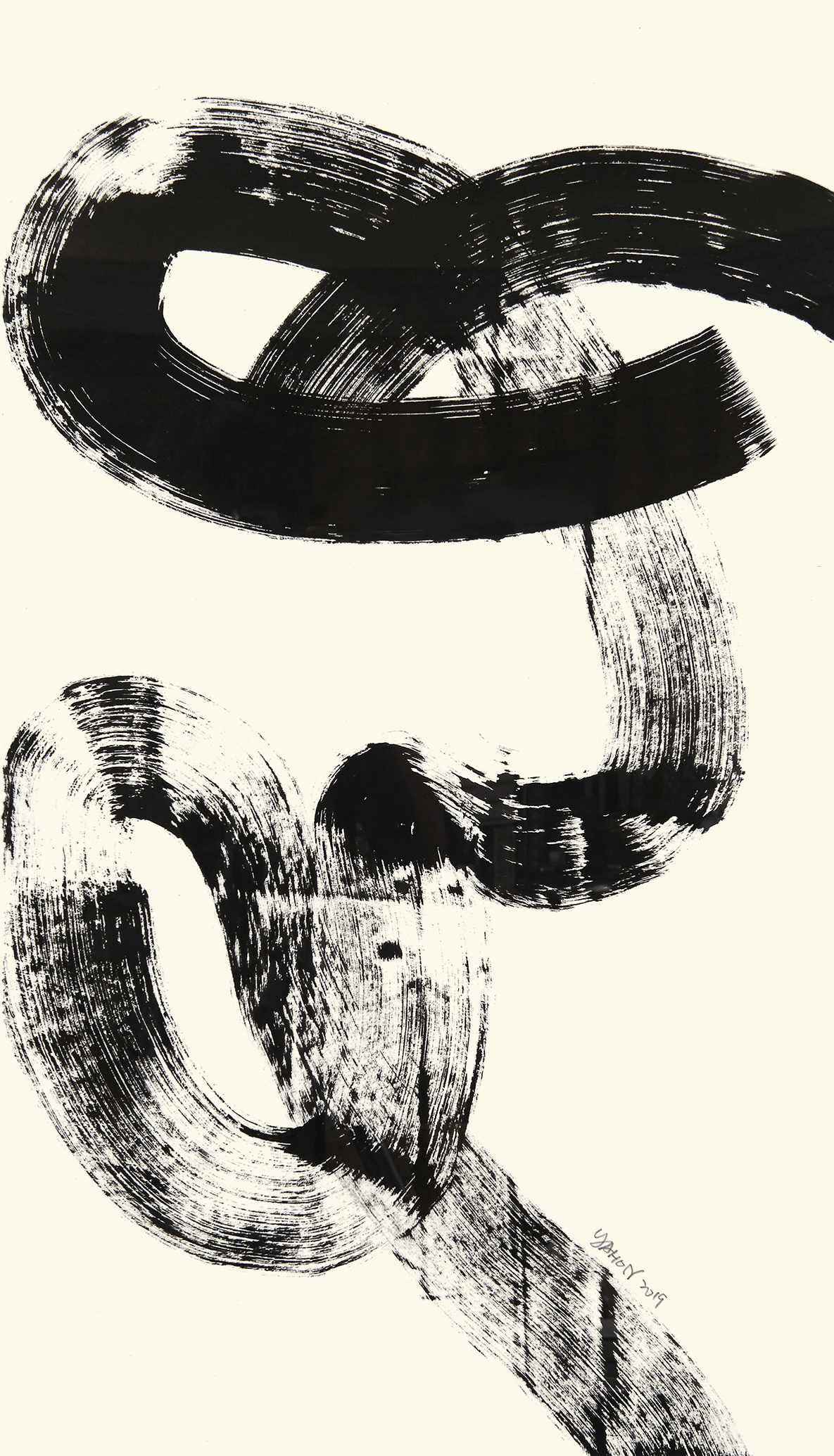 AR: You started your artistic training in interior and architectural design, and your works have become increasingly site-specific. What is the significance of space and location in your works?
YC: Years of experience in interior and architectural design have helped me feel the textures of different spaces and 'cultural energy' of different locations. In recent years, my on-site artmaking and exhibitions have explored such a focus and correspondence, that is, how to respond to the energy of the space and the environment of the place. The 'energy of the earth' of the site is very important to me. I cannot paint if I do not resonate with it – I am a spiritual painter with a sensibility for energy.
AR: The Berlin performance title, Floating Poetry, Meandering Mindscape 流觴曲水, cites the Orchid Pavilion Gathering in the fourth century, in which a group of literati would gather to enjoy a moment of creativity and improvisation. Do you see your painting performance as a similar occasion? What role does the audience play in it?
YC: In the 'winding stream party' gathering in the fourth century, there was an interdisciplinary creative dialogue between ancient Chinese literati and artists, through a series of liberal improvisations. In today's Berlin, I am honoured to mount this performance, where I hope to continue the ancient spirit to 'resolve the self-others opposition' via a dialogue between contemporary music and art. I believe that, through the live audio-visual work, the audience will be able to feel the layered connotations of openness, experimentation and interaction.
AR: Your works have always drawn attention to mind, body and spirituality, and you have approached these topics in various ways. Where do you see these ideas developing in your work going forward?
YC: My interest in body, mind and the spiritual world focuses on how the three balance different figurative subjects of gods, humans and animals – and how to express an ethos on the equality of all sentient beings. I hope to expand from the current painting-based practice to the application of three-dimensional mediums. For example, I will be showing a series of ceramic works in the coming September.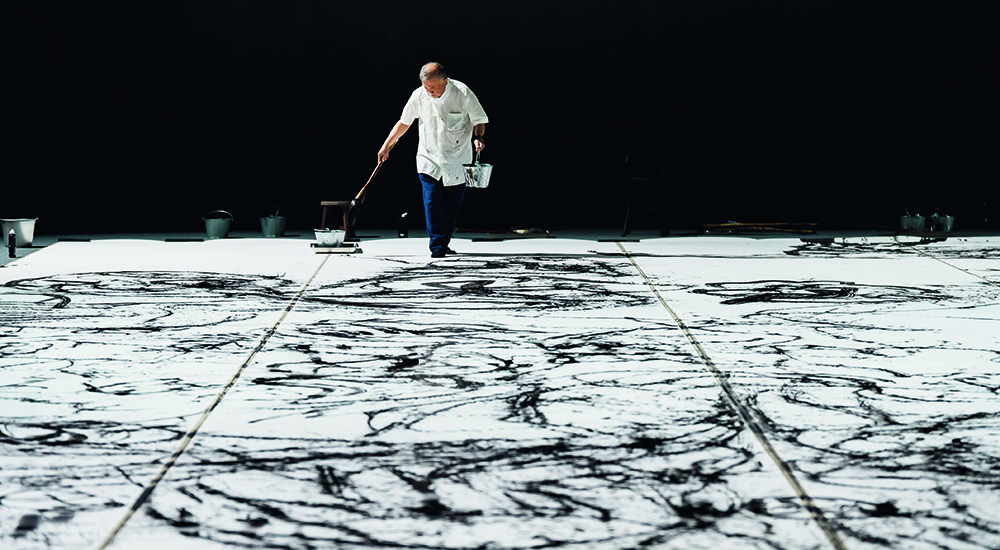 AR: And Manu Park: When did you first encounter Yahon Chang's work and when did your collaborative relationship begin?
Manu Park: I first saw Yahon Chang's work in 2010 at a group exhibition of Taiwanese artists in the city of Gwangju. As I was so impressed by his oil paintings on canvas that since then I never missed any opportunities to visit his studio in Taipei every time when I go to Taiwan. I came to start my own survey of his work in 2015 when I was asked to contribute to the catalogue of Chang's solo exhibition as a collateral event during the 56th Venice Biennale.
AR: Chang's Berlin performance will be accompanied by a musical piece composed by Isang Yun. Could you talk about the decision to include music into Chang's performance works?
MP: Isang Yun belongs to that generation of artists aongside John Cage and Nam June Paik whose works are greatly influenced by Zen Buddhism and East Asian philosophy, especially Daoism. And then there's contemporary music composer Isang Yun, who endeavoured to get to the bottom of Yin Yang philosophy and its sensibility according to the natural force of life. Yahon Chang as a visual artist obviously shares this approach with Isang Yun, and his painting practice is deeply rooted in that spiritual tradition.
His painting performance in Berlin intends to revisit an ancient Chinese aesthetic category youxuan 幽玄, which means profound and mysterious. Yahon Chang's landscape painting in splashed ink and calligraphy-based abstraction are imbued with this unique aesthetic, now almost forgotten and lost in contemporary art world – even in China, Japan and Korea. Isang Yun's music will reinvigorate Chang's bodily movement when he performs his act of painting, accompanied with Yun's musical pieces such as Espace I for piano and cello and Glissées for cello solo.
Event Details:
Floating Poetry, Meandering Mindscape
Solo Painting Performance by Yahon Chang
Location: St. Elisabeth-Kirche, Invalidenstr. 3, 10115, Berlin, Germany
Performance Date: Saturday April 29, 2023
Performance Timings: 6–7pm
Book Signing: 7–7:30pm
Yahon Chang: Painting as Performance, ed. Britta Erickson and Nadine Barth, is out now
Translated from Chinese by Yuwen Jiang