Shanghai Art Week features major exhibitions of Yang Fudong, Alex Da Corte and Zhang Enli; while the capital plays host to a pair of shows by Zhao Gang and Zhang Hui
'Art Week'. There were times when it seemed as if ArtReview Asia wouldn't be using that term for a while. Working out what exhibition is going to open, what's being postponed and what's going to open only to close again has been like reading a history of the Five Dynasties: 'In the morning one General would be supreme, but by the evening another General would be in power.' (Yeah, ArtReview Asia had time to read all 800 pages of its edition of Water Margin during lockdown. It was either that or watch two actors on Zoom pretending they were making a TV show.) But back to the present. The idea of an event lasting a whole week unless it's online? Well, that's bonkers. It's been to Berlin (merely a Gallery Weekend) and 'Frieze Week' in London (not much different from any other week); will Shanghai Art Week be any more of a return to 'normal', whatever that means these days? Perhaps. There's certainly a lot going on.
Shanghai Art Week remains anchored around its twin art fairs: West Bund Art & Design (West Bund Art Center, 11-15 November) boasts 48 galleries and art spaces, while Art 021 (Shanghai Exhibition Center, 12-15 November) has a whopping 114. And neither are they all the same across the two events (though there is some crossover), nor are the participants exclusively local. After all the lockdowns, isolation and screentime that have rendered you unaccustomed to other bodies and permanently crosseyed, you'll probably need a lie-down after this visit – you might even want to talk to gallerists over your phone at the beginning. That way you can always blame a bad connection when you feel the need to run away. Best to ease yourself into the wild sociability of it all.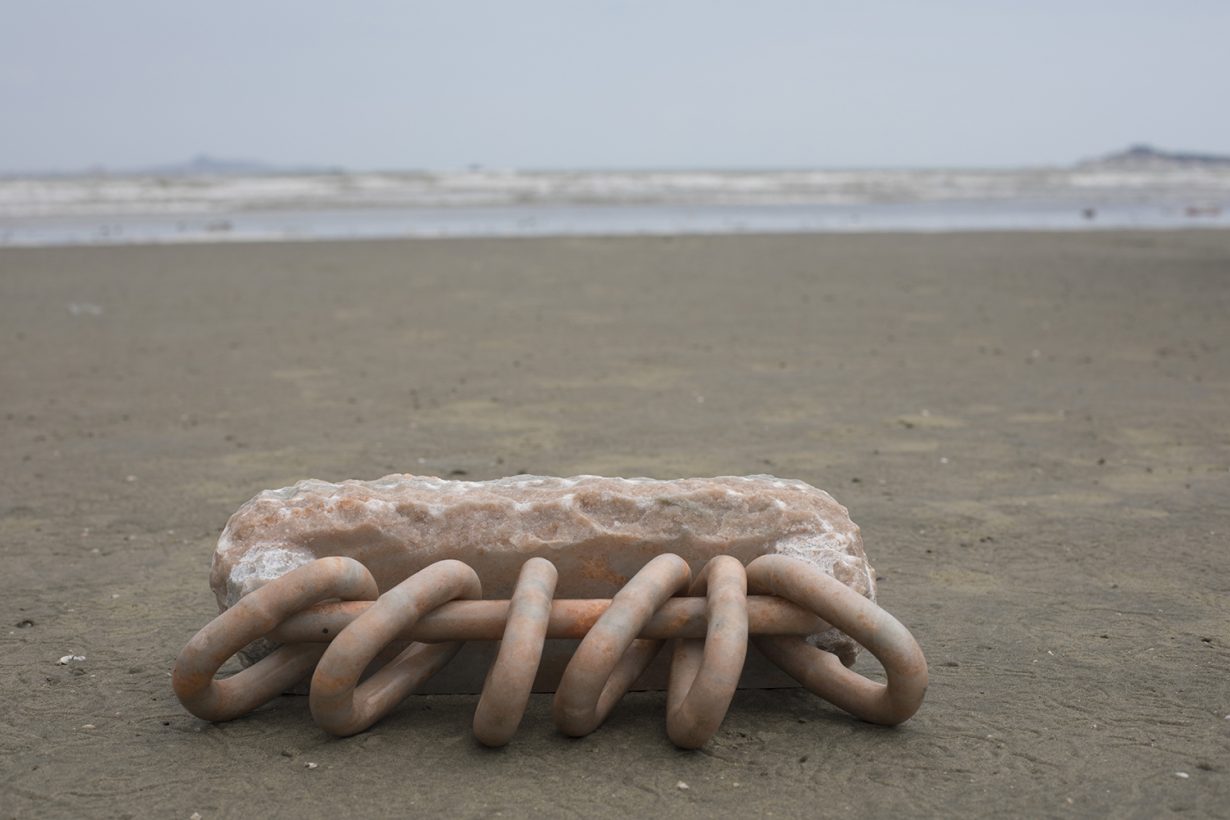 After that you might want to head off somewhere that's a little beyond the beaten track (or, if you're coming from Art 021, the beaten six-lane highway). Located in a shikumen-style townhouse in the old-town neighbourhood of Huang Pu, Rén Space has, since its founding in 2013, been one of Shanghai's hidden gems. This month sees the launch of Exposure, a solo presentation of Shanghai resident Yang Zhenzhong (through 21 February). (The thing about art weeks – or more properly, the underlying effects of art's successful globalisation and marketisation – particularly those in Shanghai, is that it's so often hard to find any work on show by the people who live and work in the place you're visiting. So perhaps a benefit, if we can speak of such a thing, of the COVID-19 era and the difficulties it presents for travel and the shipping of goods, is that this trend – in which works by the same cabal of market-approved international artists appear to circulate continuously around the world, however far you go to try to escape them – might suffer something of a U-turn.) Perhaps it's appropriate, then, that Yang's new body of work, which exploits the latest robotic-carving technologies, takes as its starting point the endless possibilities for manufacture offered by new technologies. And then seeks to combine that with a discourse on how technological infinity may not be compatible with finiteness that characterises humanity. Contradictions, in the end, have often proved to be the prime material of an artist whose work has tackled themes such as death, the effects of industrial automation and the proliferation of (redundant) imagery in the digital sphere, and is often seen as one of the pioneering forces of new-media art in China.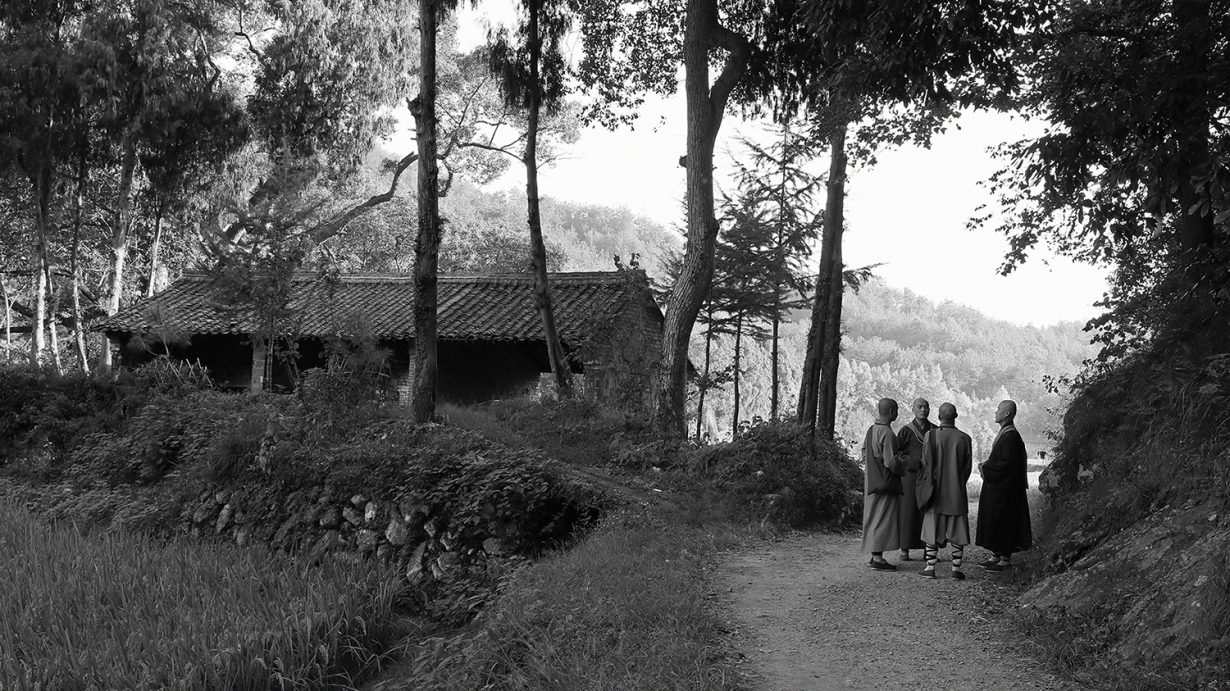 Over at Shanghart's West Bund outpost, Yang Fudong (8 November-24 January), an artist whose imagery is rarely redundant, continues his exploration of China's visual history and the interconnectedness of past and present, tradition and innovation, in an exhibition titled Endless Peaks. Let's take a pause here: ArtReview Asia knows what you're thinking, and no, it's not a show about COVID-19 infection rates. Rather, the title refers to the imagery of mountain peaks emerging from clouds that has proved an iconic and enduring standard in art, from ink paintings on. ( "I think that contemporary art is grounded in history; it is not a standalone project. Perhaps contemporary art might not show its historic elements on the surface, but it's impossible to separate it completely from the history of a community," Yang told ArtReview Asia last year.) Although best known as a filmmaker (one of China's best), Yang's latest exhibition continues his ongoing exploration of the concept of 'Huihua dianying' ('Painting as a film'), which includes an expanded notion of what film is and can be (this show includes painting, photography and video installations), and toys with various notions of narrative viewing and the ways in which art connects with audiences via evocations and elaborations of the spiritual.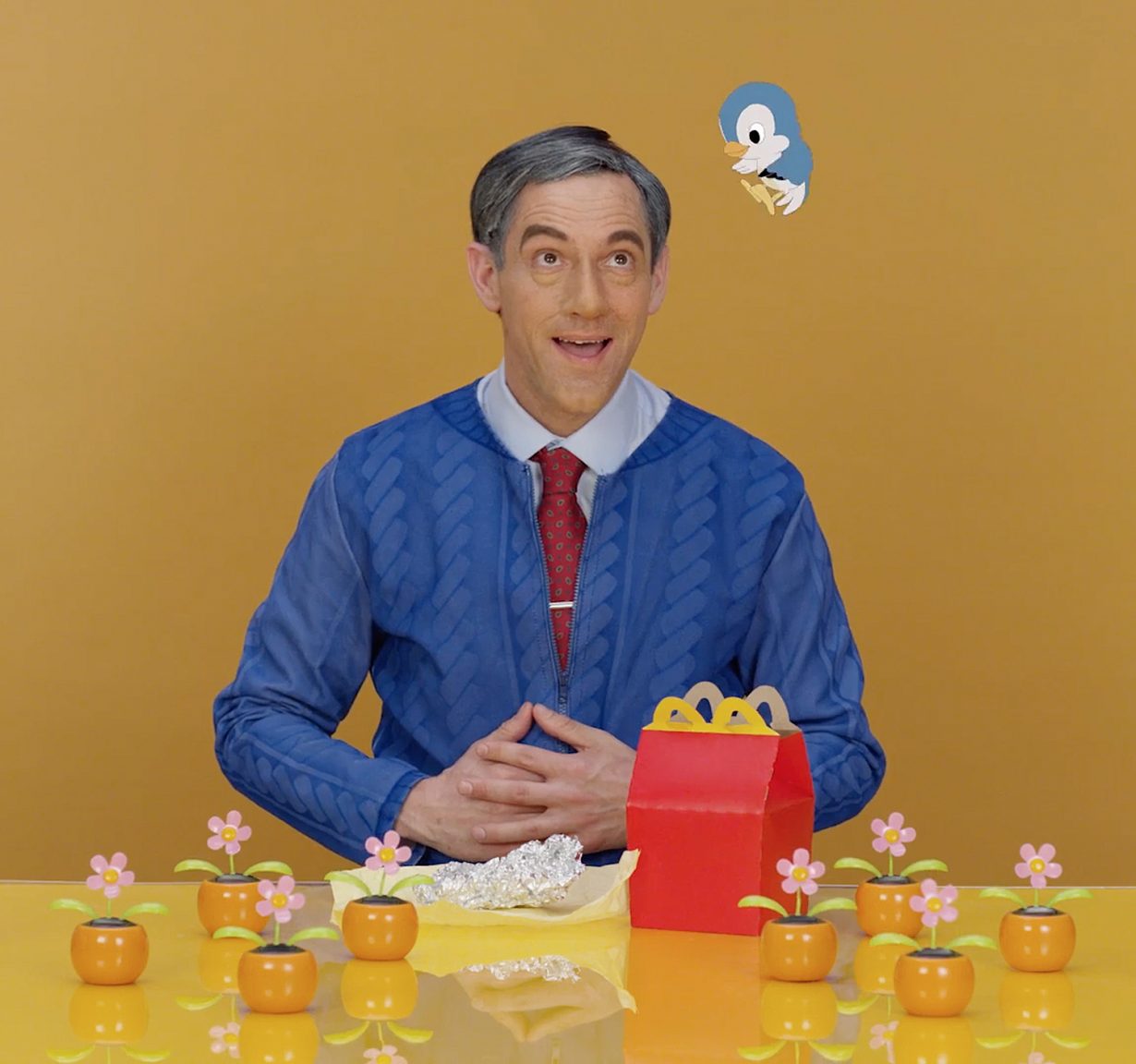 Of course, this is an art week, so Shanghai is host to the work of a number of nonnative artists, the pick of them perhaps being American Alex Da Corte, whose work will fill the two main floors of Prada's Rong Zhai space (13 November-24 January). On show is a new exhibition version of the artist's epic (two hours and 56 minutes) Rubber Pencil Devil (2018), which was previously shown at both the Venice Biennale and the Carnegie International last year (which seems a much longer time ago). Set against the artist's signature Day-Glo colour sets, the work is a trawl through US popular (TV) culture with a focus on both queerness and inclusiveness, and features the artist assuming the characters of the Pink Panther (painting a trellis pink), Sylvester the Cat and a rubber- faced devil toying erotically with an oversize rubber pencil, the whole laced with camp. Look out too for the artist's camply seductive depiction of Mister Rogers, host of Mister Rogers' Neighborhood, a preschool educational TV show (informed by the presenter's collaboration with child psychologist Margaret McFarland) that ran for more than 30 years (1968–2001) and aired on what eventually became PBS (one of the sweaters he wore on the show is now in the collection of the Smithsonian Museum in Washington, DC). Originally screened in a cartoonish, neon-outlined farmhouse, at Prada Rong Zhai the work has been reconfigured to screen on 20 multicoloured cubes. Like an art fair, then. But more fun!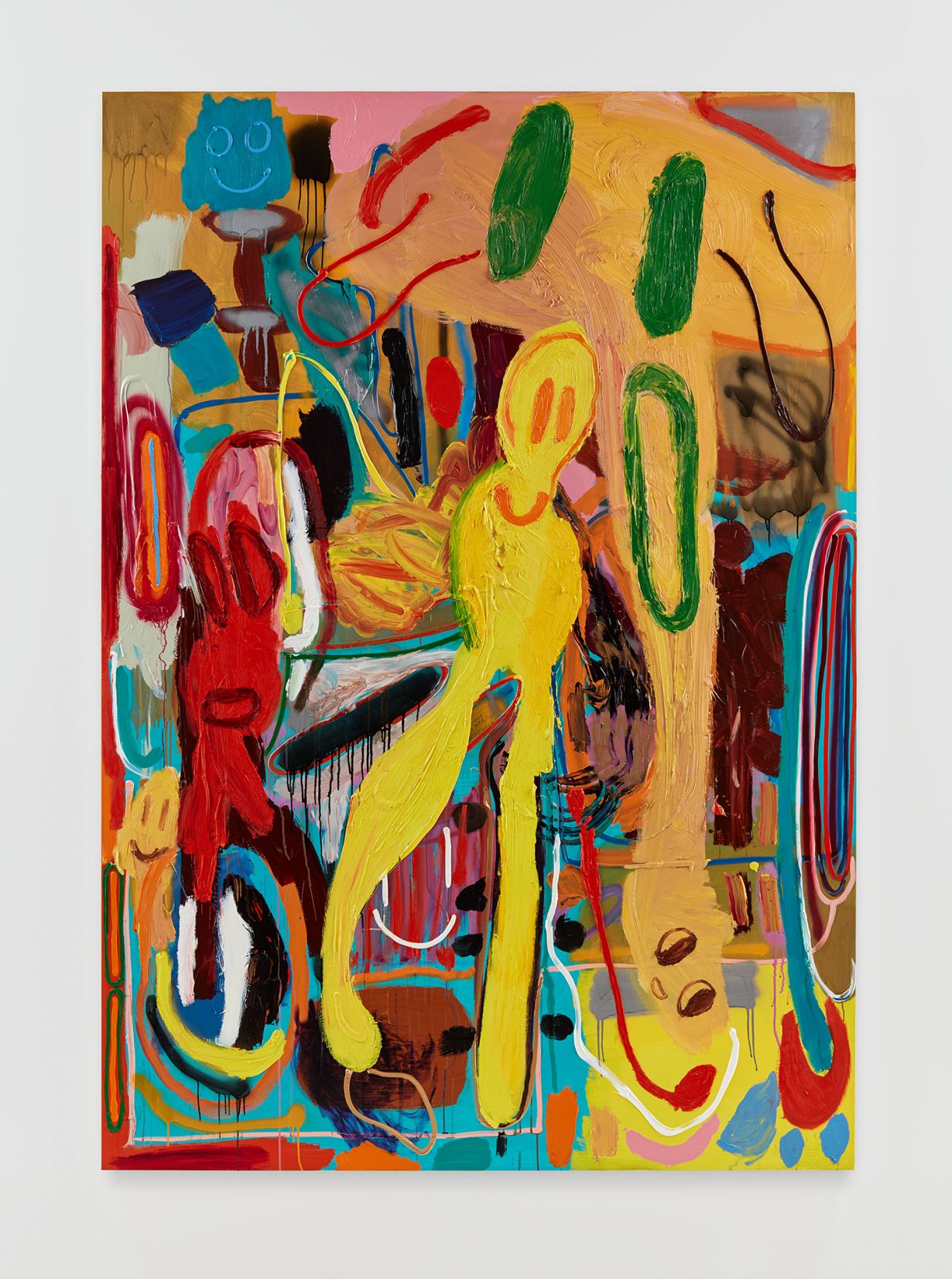 For those of you wishing to continue in the colourful vein, you'll want to proceed (back) towards West Bund, where California-based German painter André Butzer's first institutional solo show in China, Light, Colour and Hope, is ongoing (Yuz Museum, Shanghai, through 10 January). Friedrich Hölderlin meets Walt Disney in a show that fuses the histories of (German) painting and (American) popular culture, and attempts to collide the experiences of confronting the known and the unknown in a way that causes audiences to confront their inner selves. Although there's a fair chance you'll already have become very used to doing that by now.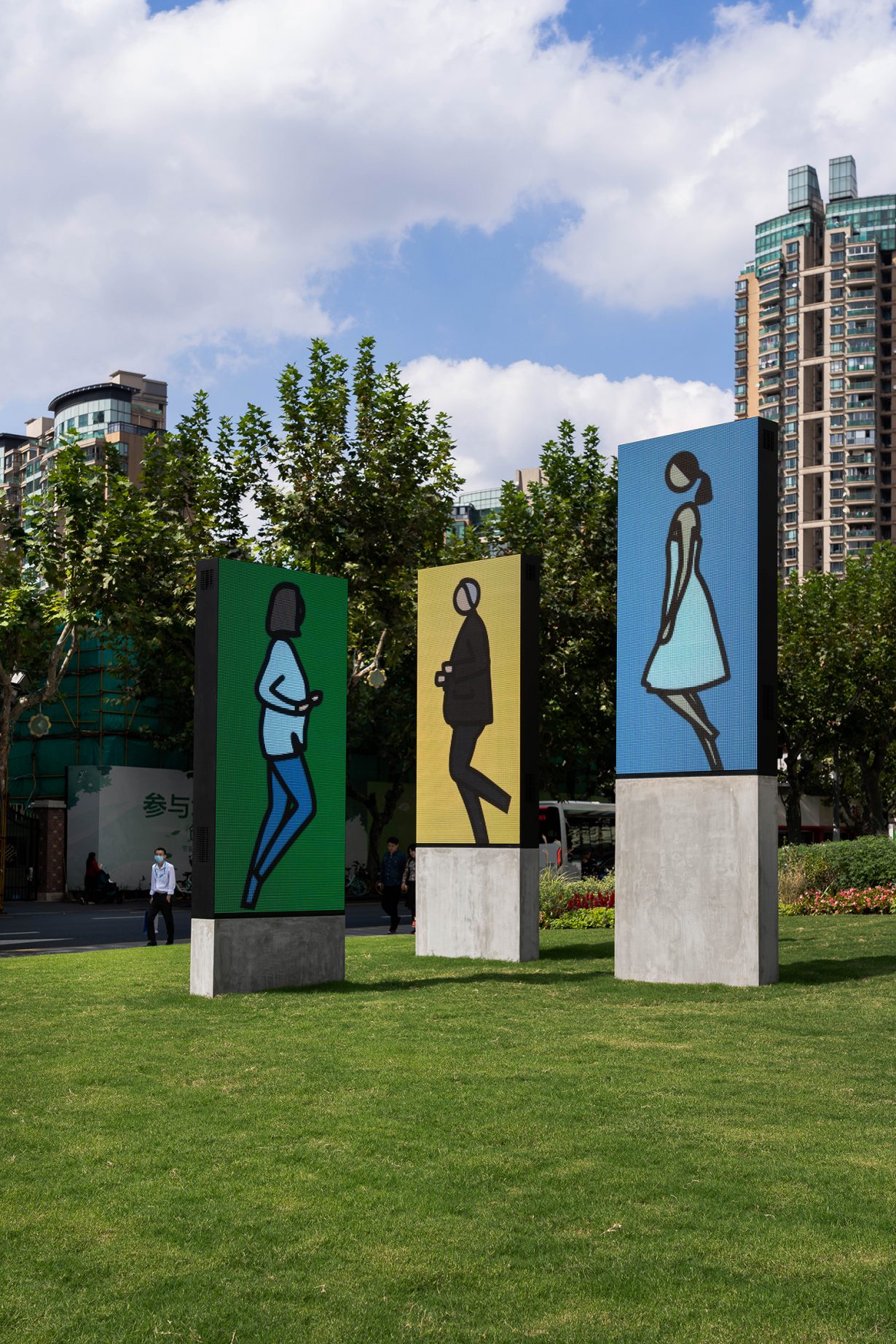 If that's the case, Shanghai also offers some artistic encounters in outdoor space, among them the sixth edition of the biennial Jing'An International Sculpture Project, which takes place in the Jing'An Sculpture Park (through 31 December), opposite a Buddhist temple (a replica of an ancient one that was moved) and on the edge of the high-end West Nanjing Road shopping district (around the corner from Art 021, if you're still wandering the corridors of the Shanghai Exhibition Center). Among the works on show is Julian Opie's LED installation Amelia 1, Julian, Yasmin (2019), a triptych of the British artist's reduced figures, each socially distanced from the next (on separate supports), who are all seemingly trotting away from something. (Perhaps each other, given the times, but presumably not his first solo show at Lisson Gallery Shanghai (through 27 February), which includes seven new works, including three largescale portraits, three sculptures and a computer animation, or his new commission for Huarun Group's Embankment Square in Pudong. There's no running away from him, really.) Also on display at Jing'An Sculpture Park are works by fellow Lisson Gallery artists Richard Long and Pedro Reyes (Unite, 2019, which looks like a pair of electricity pylons high-fiving each other), as well as Pascale Mathine Tayou, Liang Shaoji (an oil-fume pipe in the shape of a conch shell) and Juan Garaizabal (a steely riff off motifs from traditional Chinese architecture).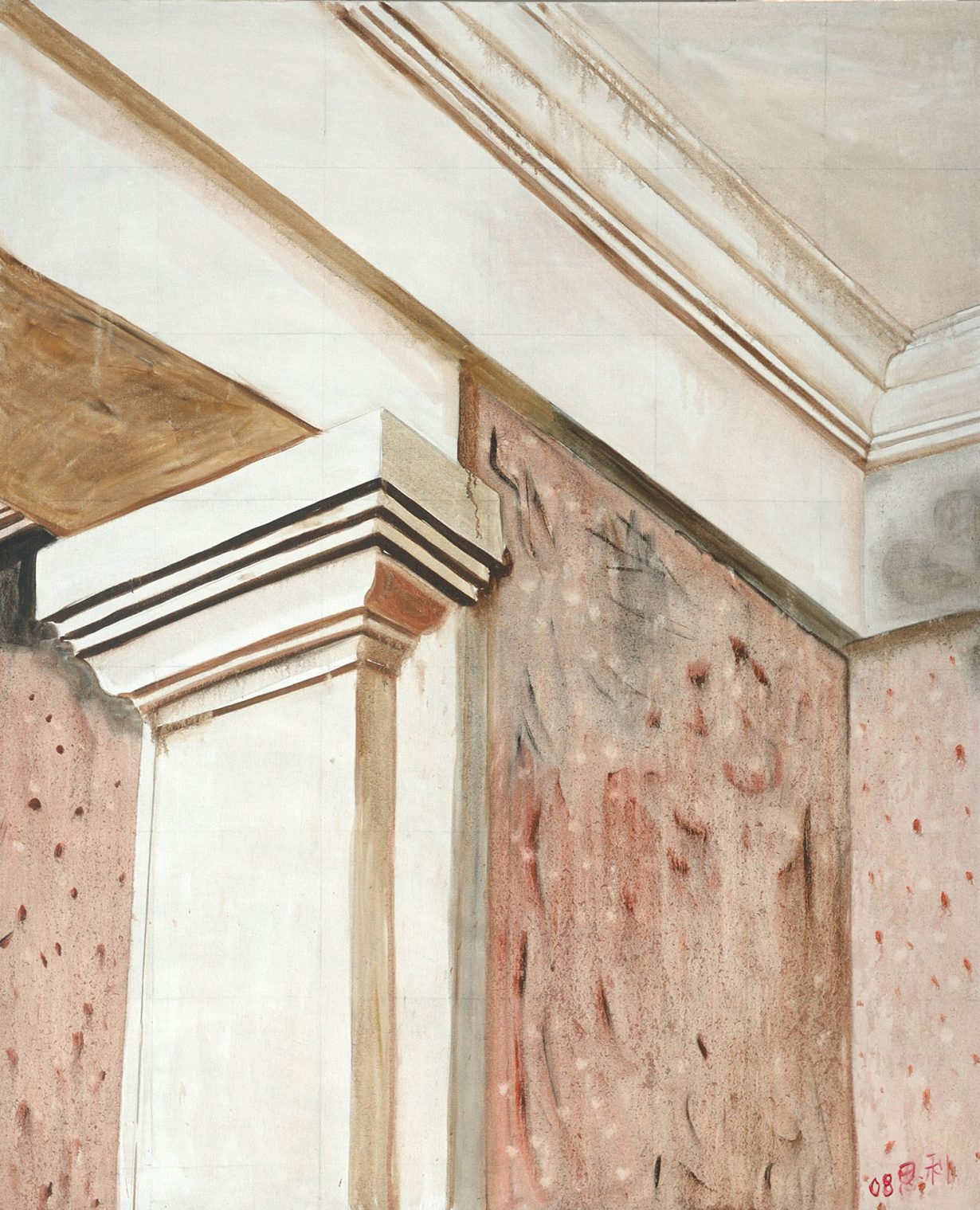 For those of you itching to get back to the local, the Power Station of Art plays host to the largest survey exhibition to date by painter Zhang Enli. A Room That Can Move (through 7 March) is curated by Hou Hanru and features more than 100 works spanning three decades of the Shanghai-based painter's prolific career. From early works focusing on everyday life and everyday objects and the ways by which people survive in the city, through to the all-encompassing 'Space Paintings' (painted directly onto the surfaces of interior and exterior spaces), the exhibition promises to cover the full gamut of contemporary existence – from people in space to the space within people. While also, naturally, show- casing the artist's fluid yet precise painting style.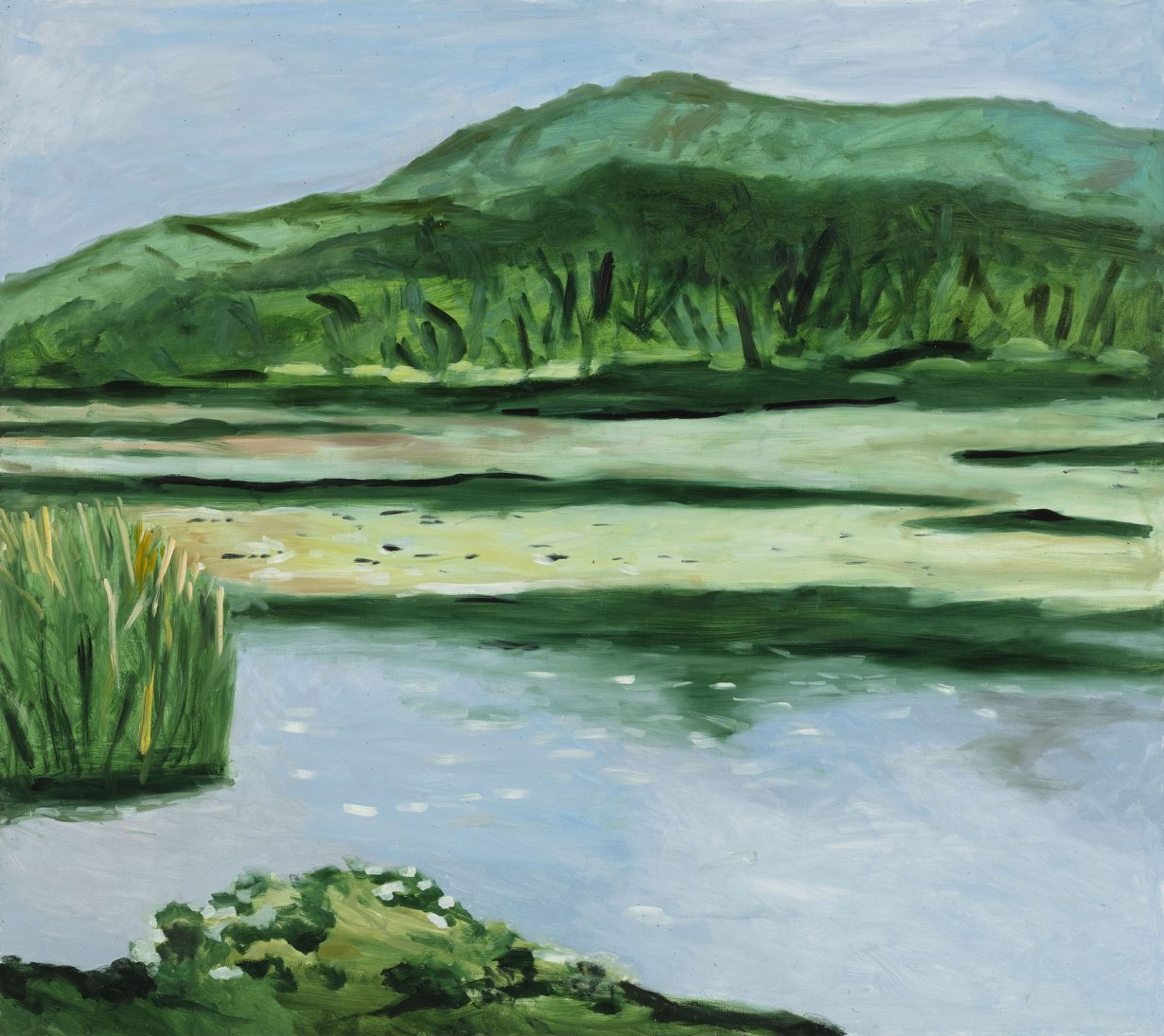 The Chinese Eastern Railway, stretching west, south and east from Harbin, was the product of the 'Sino-Russian Secret Treaty' signed by the Qing Empire and Tsarist Russia in 1896 and came into service shortly after the turn of the twentieth century. Its route became the inspiration for a project by artists Zhao Gang (who has Manchurian roots) and Zhang Hui (who was raised in Harbin) that explores the history and culture of northeast China and launched in 2019. Each artist took a journey east and west respectively, before meeting in Harbin where they met other researchers to conduct a series of 'walking meetings' to discuss what they found. The end product is a pair of exhibitions, Chinese Eastern Railway: Zhao Gang, which opens at Beijing's Long March Space in October (through 13 December) and Chinese Eastern Railway: Zhang Hui, which opens at the same venue in December (until February). Zhao first came to attention as the youngest member of the Stars Group (credited with being contemporary Chinese art's first avant-garde artist group) of the late 1970s and early 1980s, before leaving China for the next two decades to study in the US and Europe. He returned to Beijing in 2006, since when his paintings have increasingly turned towards examinations of his personal history and its relationship to the history of contemporary China. His show at Long March includes life paintings of the scenery at Hengdaohezi in Heilongjiang Province and 96 small paintings – with subjects spanning autobiography, art history, actual history, famous people and the interplay between Eastern and Western philosophy – that the artist executed in the wake of the current pandemic. As with Zhang Enli's show in Shanghai, this promises to provide an important insight into the development of contemporary painting in China, and should whet the appetite for Zhang Hui's exhibition to follow.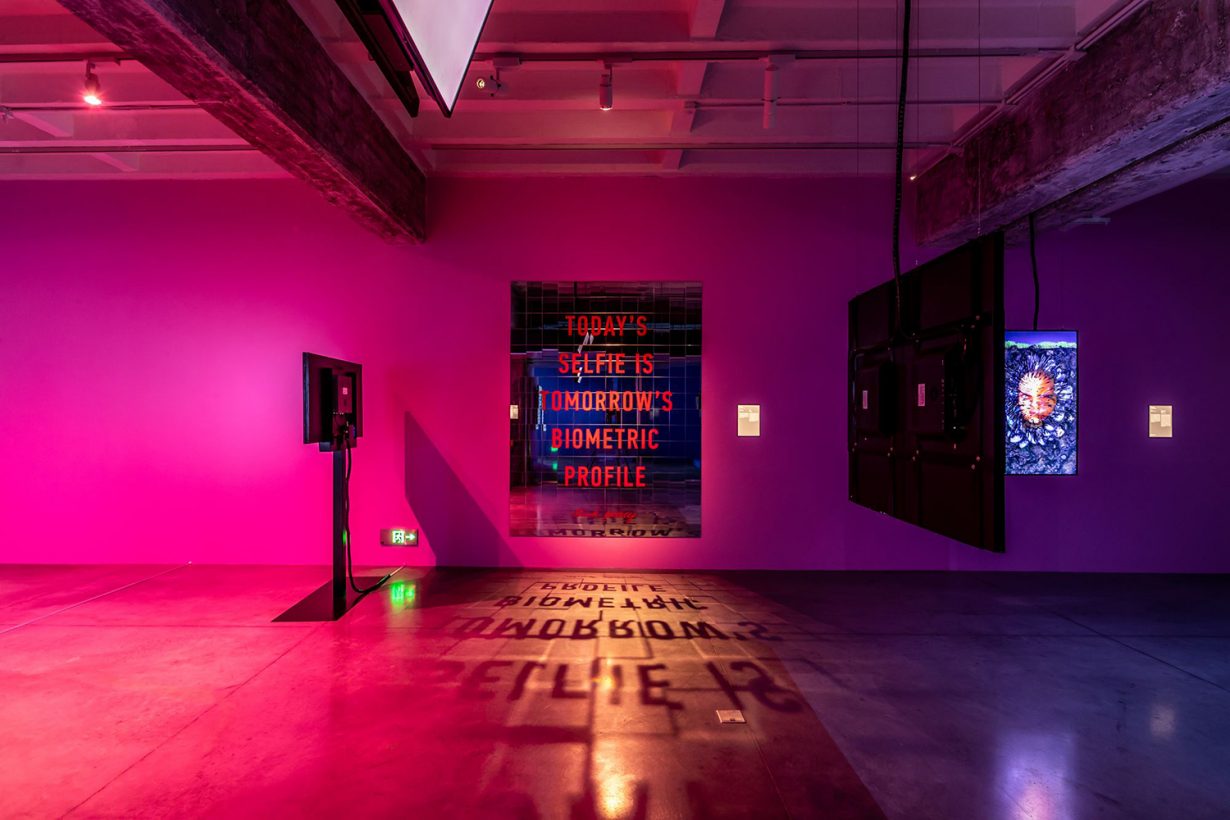 The multimedia exhibition AI: Love and Artificial Intelligence (at the Hyundai Motorstudio in Beijing, through 3 January) is the result of curator Chen Jiaying's winning proposal on the theme of 'sustainability' to the 2019 Hyundai Blue Prize for emerging curators. Featuring the work of 13 international and Chinese artists (among them Aaajiao, Benjamin Berman & Miguel Perez, Jonas Lund, Stine Deja and Wang Yefeng), the exhibition seeks to tackle the tricky question of how human a world governed by big data and artificial intelligence can actually be through the theme of 'intimacy' (the title is a pun: Ài is the translation of 'love' in pinyin Mandarin). The exhibition is divided into two routes, with visitors' journeys being defined by an initial choice to 'swipe' left or right; it includes simulations of online dating apps, devices programmed to capture attendees' 'emotional states', physical enactments of likes and dislikes, and a general experience of algorithmic manipulation. Just like real life!