Adrian Piper has not set foot on American soil for over a decade – not since the American-born artist/philosopher, who moved her primary practice to Berlin in 2005, discovered the following year that she'd been added to a US watch list for 'suspicious travellers' (a blanket designation, the criteria for which the Transportation Security Administration has never fully revealed). Active since the mid-1960s, Piper has garnered a reputation as among the most politically uncompromising of artists to emerge – and more crucially, maintain urgency – over the past five decades. That this methodical and intellectually rigorous artist came into maturity and established a place for herself within New York's 1960s Conceptualism, a movement founded on theoretical premises followed to their logical ends, is perhaps not surprising. But the career she went on to carve out would both defy elements of the movement's logic (specifically, its emphasis on objectively defined aesthetic experience) and upend numerous contemporary artistic conventions – primary among them, that 'serious' political art is best served cold and dry.
Piper's work presciently addresses a host of intersectional disparities in a manner that is somehow also precise and personal, as well as visually engaging. While overdue, MoMA's retrospective is well timed, coinciding with a moment of increased attention to historically marginalised artists, particularly those of colour. As this sweeping installation, which covers the museum's entire sixth floor – the most space MoMA has ever given to a living artist – demonstrates, another likely reason for decades of institutional slights is Piper's resistance to categorisation, as evidenced by her continual shifts between modes of display – among them street performance, two-dimensional work in the forms of photocollage and drawings on newspaper, and installation. Several of the earliest works on view here – including Nine Part Floating Square (1967), a multipart work composed of a grid of nine square canvases, each divided into nine cells, some of which have been gessoed to suggest a smaller interior square – call to mind the graphic and formational strategies of Piper's mentor and friend Sol LeWitt. But yet another explanation for Piper's previous exclusion from the canon is the explicitly confrontational nature of her later works, however disparate in form they appear.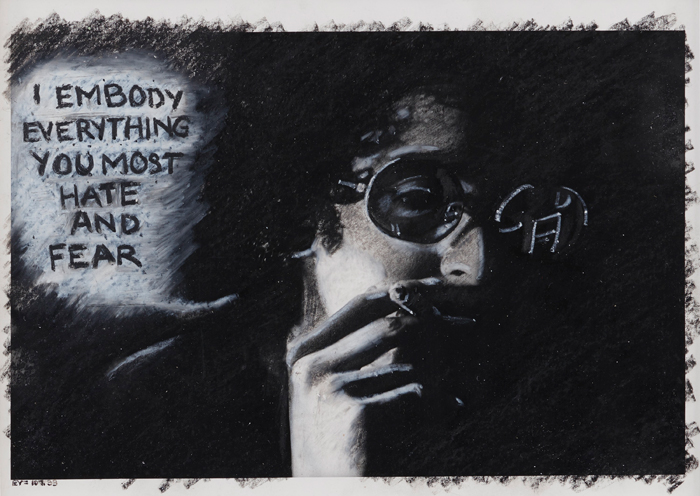 Piper's work of the 1970s, born of the artist's frustration with the limits of Conceptual strategies to address the real and pressing issues she saw around her, particularly the US invasion of Cambodia and activism building domestically around antiwar and women's-rights efforts, would take an increasingly urgent tone. In 1973 Piper debuted a performative alter ego she dubbed 'The Mythic Being', embodied by the artist herself. A black male character with aviator shades, a large curly head of hair and a moustache who walks the city streets reciting fragments from the artist's adolescent journals, this persona was initially imagined as a means by which Piper might experiment (as she described it in the 1973 performance-based video The Mythic Being) with "systems and internal expectations versus external audience perceptions" via a physical entity separate from her own. The project evolved into an extended meditation on this anonymous figure's status as a black man (and implicitly, viewers' reactions to him as such). Yet like all of Piper's output, it can't be encapsulated as a commentary on any given facet of identity politics. Rather, she shows us how the strangeness of this figure, who dons male garb but has Piper's slight physique and high voice, who swaggers while chanting intimate thoughts, draws our attention to the very assumptions we make about the Mythic Being as we attempt to 'place' him. Crucially, as the video makes clear, she is also very funny in this role, her mordant, deadpan delivery well suited to the New York City streets, puzzling even the most jaded of its denizens.
She shows us how the strangeness of this figure… draws our attention to the very assumptions we make about the Mythic Being as we attempt to 'place' him
The remainder of the show is equally resistant to categorisation. Moving chronologically through the galleries, one is able to observe the artist's shifts between various visual strategies throughout the years. Form is never primary here, but rather a means to an end. Piper picks and chooses the vehicles best suited to the particular needs of the works themselves. One particularly arresting example is Black Box/White Box (1992), a dual set of immersive interiors. Made in the aftermath of the infamous observer-filmed police battery of Los Angeles cab driver Rodney King and the riots that followed the acquittal of the officers involved, these two enclosed structures provide intimate viewing stations in which to confront archival video and audio from the incident and its subsequent political fallout (including, in the 'white box', a chilling clip of President George H.W. Bush decrying the "brutality of the [rioting] mob".) Meanwhile, in the 'black box', an audio recording of King's statement to the press following the acquittal plays alongside a lightbox featuring his brutalised face, which abruptly shuts off to present the viewer with his or her own reflection.
The installation is bookended, in the foyer where the exhibition begins and ends, by a 2007 video of Piper dancing in a plaza in Berlin. Here, as in the Mythic Being works, she plays with incongruity. But now it's the image of Piper herself, an older woman unabashedly enjoying her physicality and her ability to activate and take up space, that's revelatory. 
Adrian Piper: A Synthesis of Intuitions 1965-2016 at MoMA, New York through 22 July
From the Summer 2018 issue of ArtReview