Who the Baer at Fondazione Prada, Milan explores dream-reality confusion via the life and times of a cartoon bear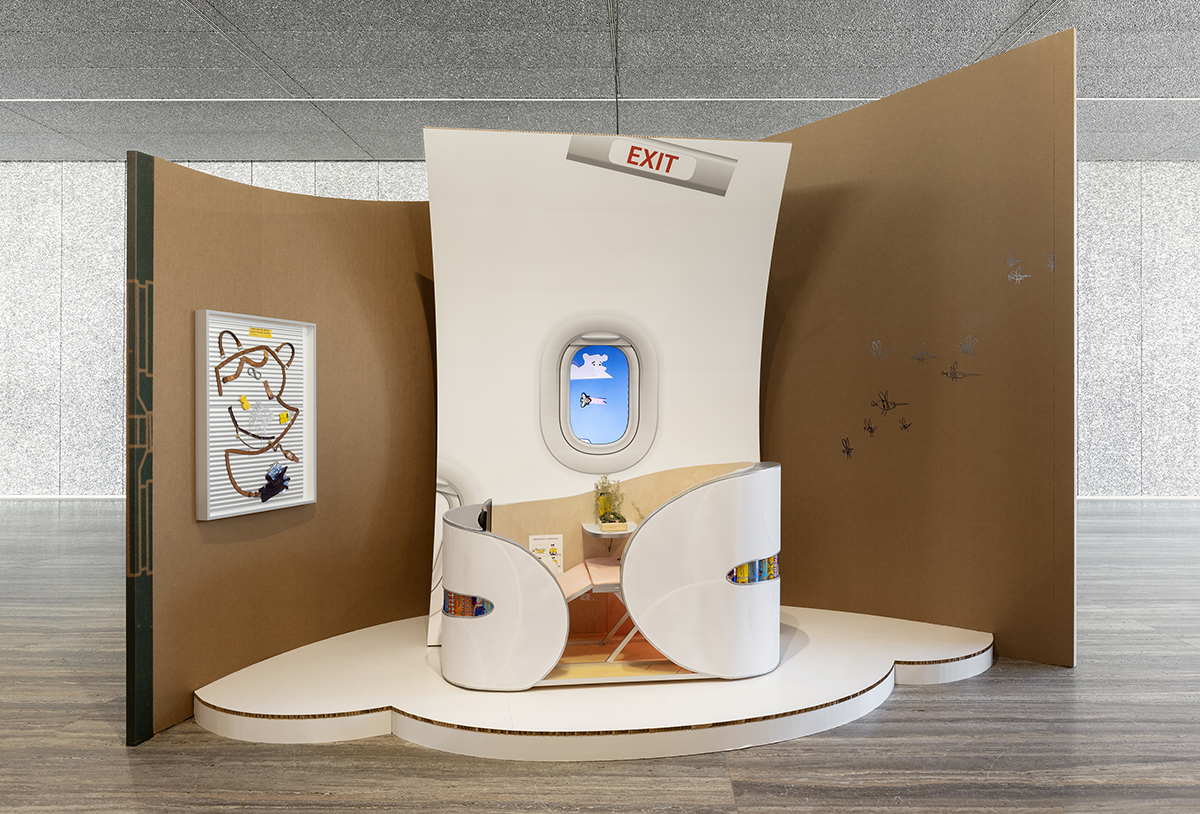 Who the Baer is a cartoon character dreamed up by Simon Fujiwara during the pandemic-induced lockdown year of 2020. Although there's obviously a fair degree of conscious appropriation involved in that dreaming-up. Appropriately, then, the majority of the works on show take the form of mixed-media collage (from conventional combinations of paper to structures incorporating moving image and kinetic sculptures) and explore a certain degree of what a trained psychologist might term 'dream-reality confusion' (the dream is contaminated by the real, unless it's the other way around).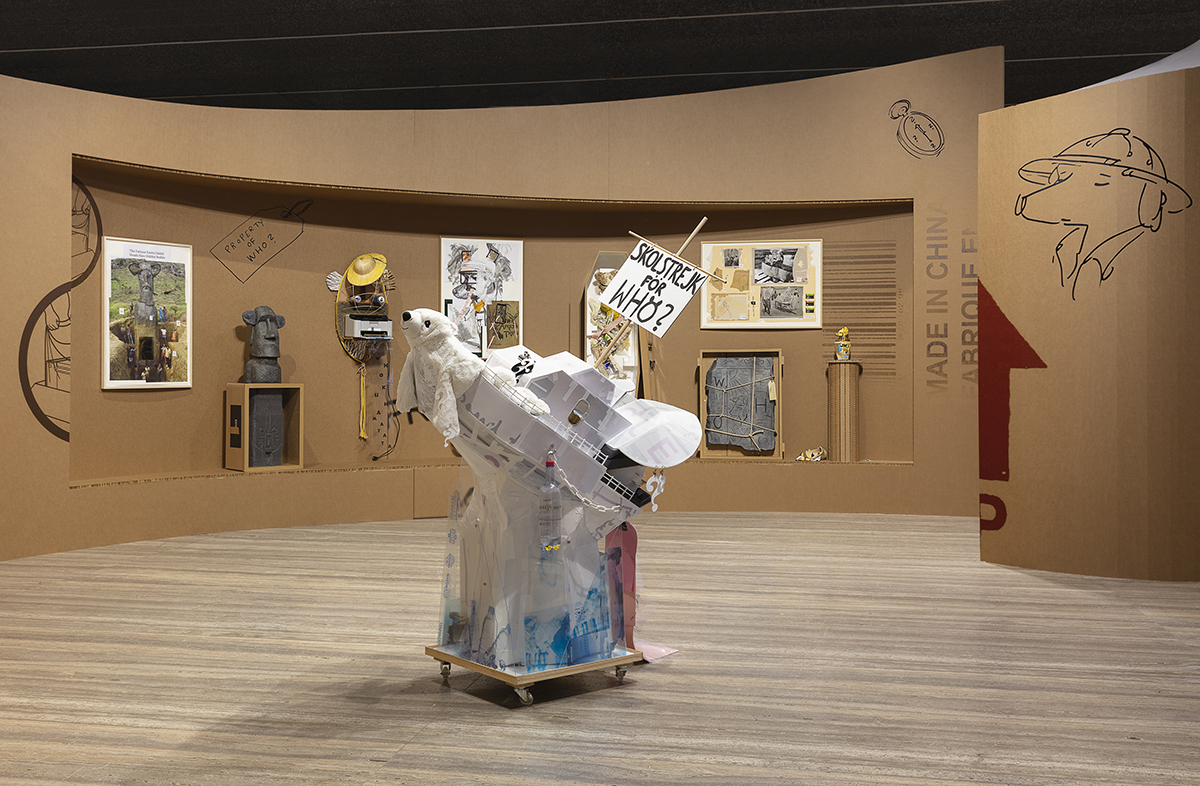 The exhibition takes the form of a structured journey presenting Who's invention and is shaped by a sequence of works, many of which are decorated by more-or-less-absurd survey-style ticked boxes, org charts and detourned political and marketing slogans, that playfully suggest who Who, as someone born in 2020, might be or can become. It's a warped take on a 'choose your own identity' adventure, if you like. The works on show are housed in a vaguely mazelike cardboard architecture whose outer limits trace the silhouette of the bear in question. Although only the truly architecturally minded would have any chance of recognising this while wandering through them, the forms nevertheless give viewers the feeling that, despite their individual titles, we are dealing with some sort of an indivisible gesamtkunst-werke (or are trapped in a larger-than-life, ursine model of the boardgame 'Operation'). Which, depending on your outlook on such things, might be a common-sense or a naive notion of how we expect identity to function.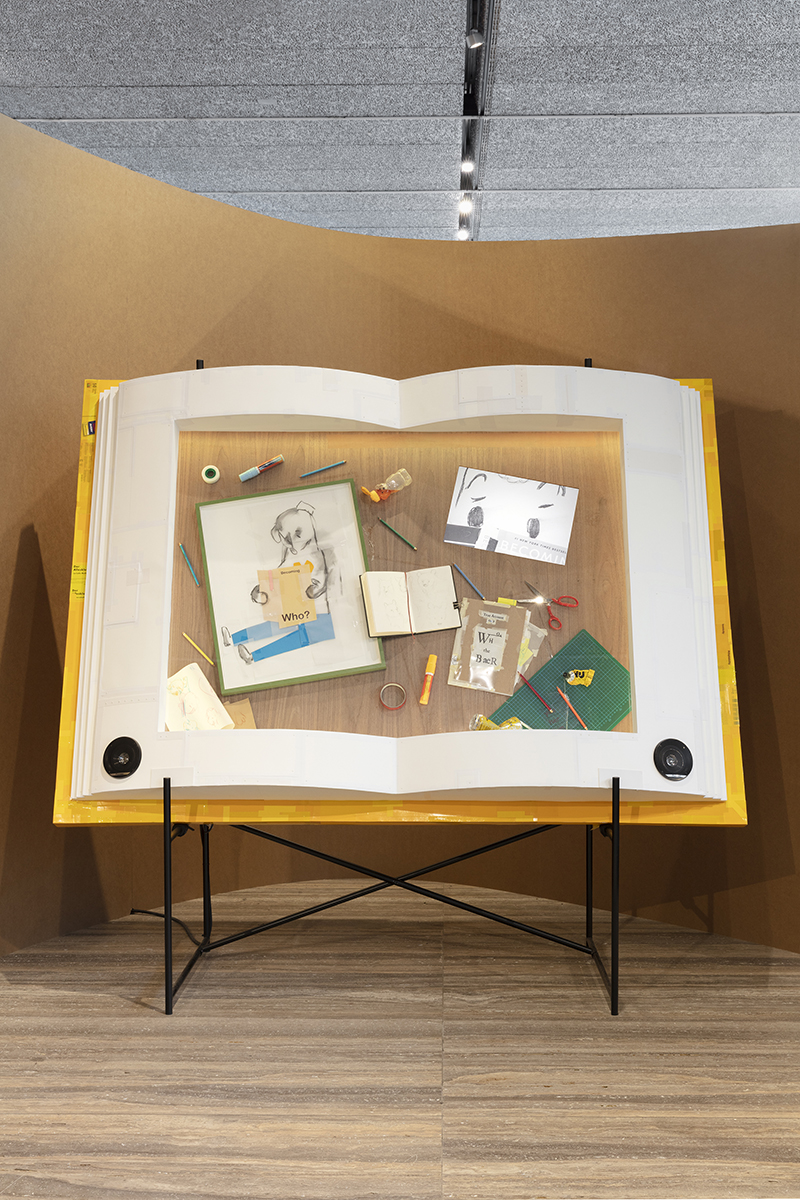 The journey begins with A True Account of Who the Baer (all works 2021), a structure that looks at first glance like a giant Disney fairytale book (of the type that opens Snow White and the Seven Dwarfs, 1937), whose open pages are cut through to reveal a collagist's worktable (littered with pens, scissors, notebooks, glue and a cutting mat), as if to emphasise that all 'truths' here are constructed. 'Out of what?', then, is the question with which we begin. An image of Who themself appears in the collage, seated, dressed only in a pair of blue jeans, reading what we might take to be a self-help book, titled Becoming Who?, and appearing at once Pooh-like and reminiscent of the bear costume deployed by Swiss artists Fischli/Weiss in videos from the early 1980s in which, channelling an artworld version of Gustave Flaubert's Bouvard and Pécuchet, they too dreamed up schemes to categorise the world and its absurdities. And in case there was any doubt about the artificial nature of the world on display, the account proceeds with a series of collages purporting to detail Who's invention through the diktats of a branding exercise (titled Branding Who and offering 'three design traits your brand character must have' – 'instantly rings a bell', 'inspires trust', 'drives engagement' – the play on 'your character' running throughout the show). And yet while all this might suggest that Fujiwara's character is built on clear design principles, structure and planning, it is playfully undermined by Who's subsequent unfolding
as a symptom of our unstable present, the baer taking its place in a world that is as full of befuddlement as it is of potential.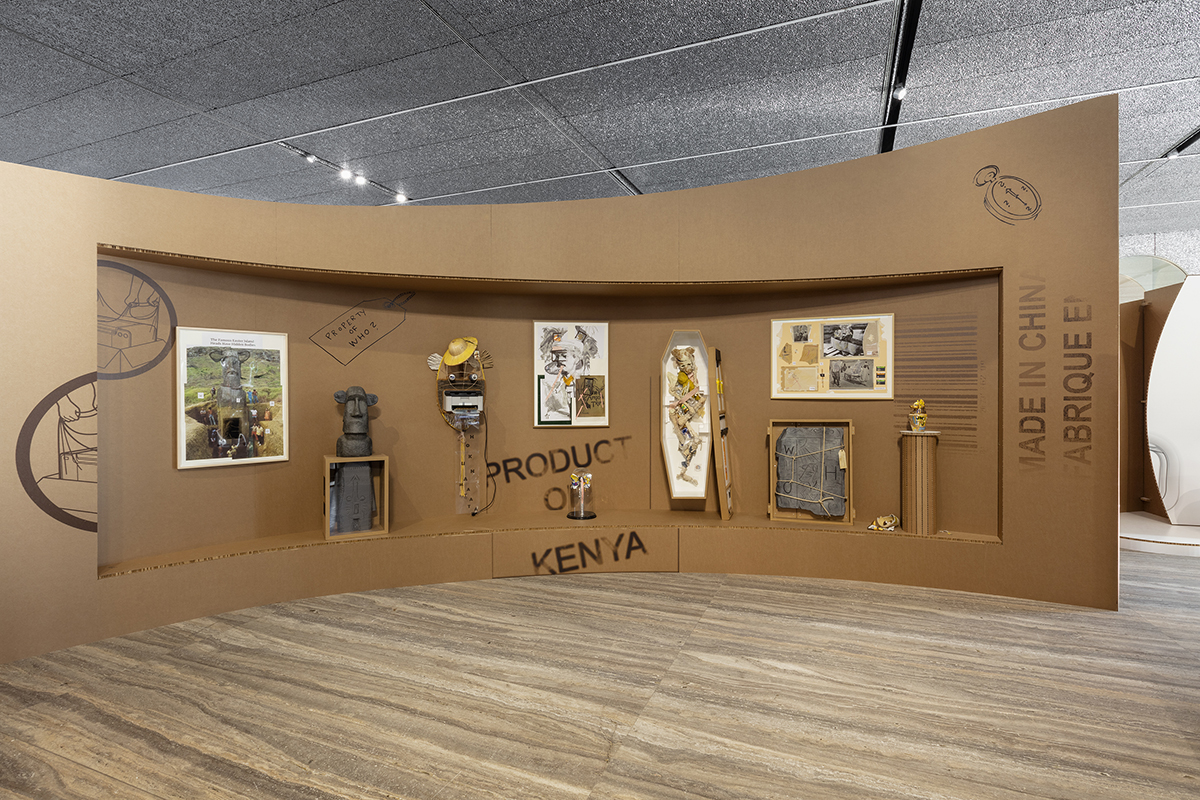 The various artworks that follow explore themes of gender, sexuality, race and historic and inherited identity, all of them presented, thanks to the conceit of creating a character, as choices to be made (by Who or their creator) rather than the product of necessary truths. Who's in the Mirror? is a cartoonish Sleeping Beauty-type mirror decorated with a selection of pronouns. Adam Who? and Eve Who? feature art-historical representations of the biblical characters collaged over with gendered jean types from fashion magazines or catalogues and drawn sketches of Who in muscular or serpentine form. There's the vague sense that both male and female forms trace the outline of a Google image search. A feeling that lingers as the exhibition proceeds.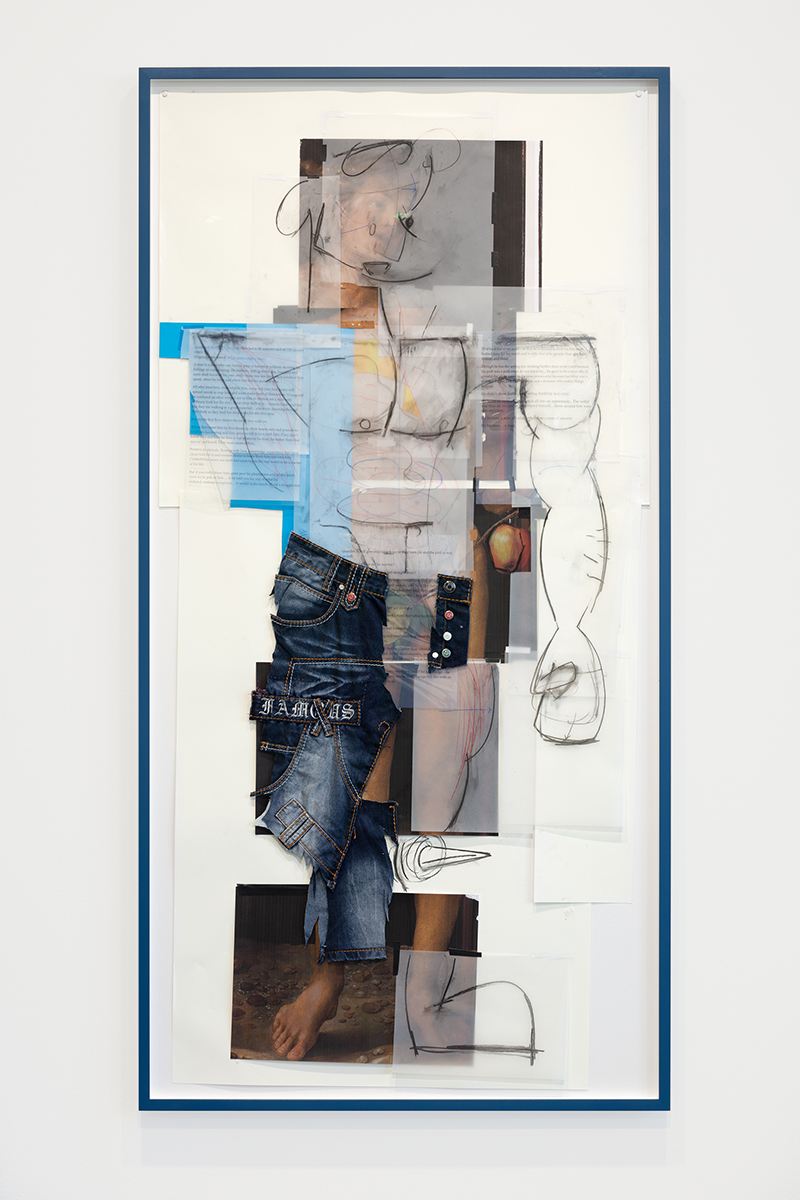 Later collages reference Elon Musk and Grimes's decision to raise their child gender-neutral, while Skolstreijk for Who?, a cartoonish sculpture of a ship lurching over what may be polar waves or an iceberg, with a flattened polar bear flopping over its prow and a placard displaying the slogan of the title raised mid- ships, references… well, you know. Elsewhere stop-motion animations chronical Who travelling the world to find themself (with all the hippyishness that might imply). Turning to ancient monuments, we trawl through Easter Island-style sculptures of heads (sporting cartoon-bear ears) and Ancient Egyptian-style mummies clutching toy bears to their bony chests (titled Who's in Egypt?, the pun evoking debates about both restitution and cultural appropriation as well as the ethics of the display of human remains). A vanity table with a Chinese lantern looks like it was abandoned by whichever one of Fischli/Wiess was wearing the panda costume (a version of which hangs to the side of Fujiwara's lifesize tableau), its surface littered with news stories about China's pandas. Who is inserted into Gustav Klimt's The Kiss (1907–08); Who's Baerlines (New Rules for Liquids) is part of a series of works that examine travel and transportation (from the point of view, largely, of branding); Whope is a detourned version (bearlike) of Shepard Fairey's iconic image of Barack Obama. Who is reflected or projected in everything. Like a desperate narcissist, or lost child searching for home. You can't help but be reminded, of course, that it is by apparent reflection of a similar kind that many of the algorithms that govern our digital and analogue lives work.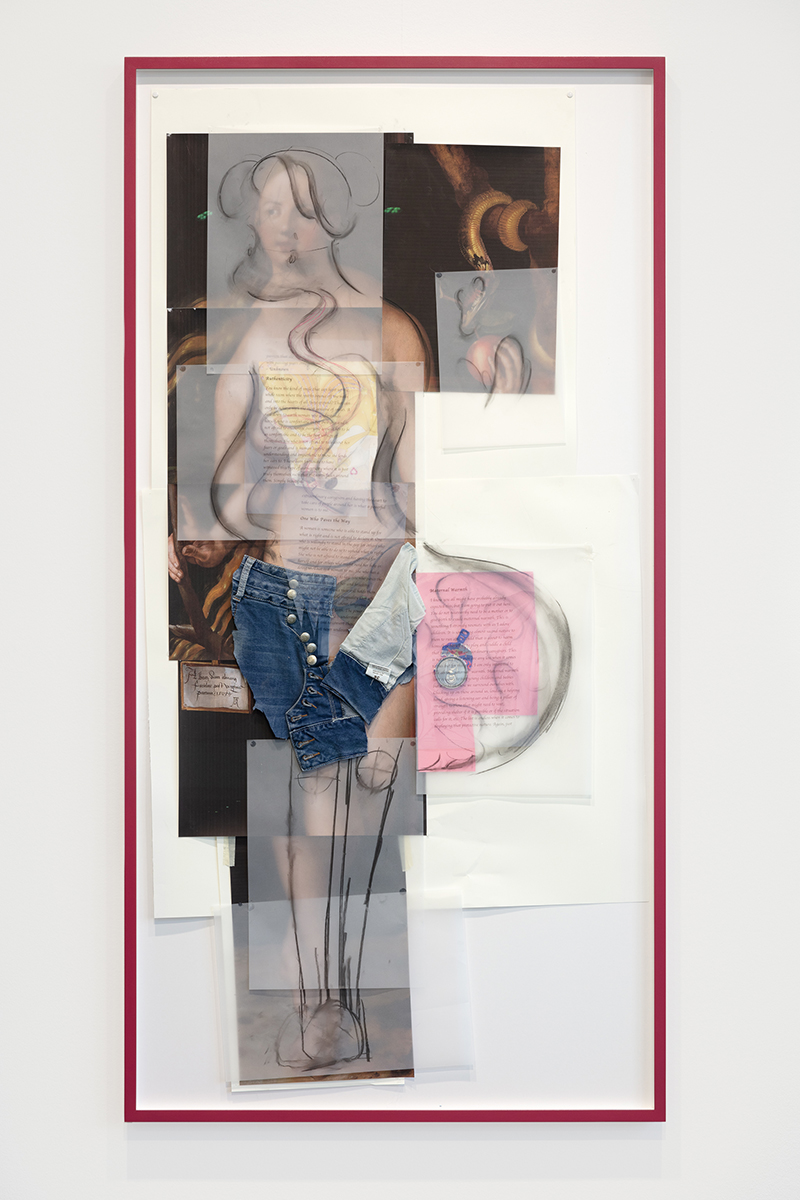 There's a trace here of Guy Debord's examinations of the dominance of mediated existence, of lives lived through marketing and images, and of a world in which, as he puts it in his 1967 tract The Society of the Spectacle, 'All that was once directly lived has become mere representation', tracing what he viewed as society's steady descent from being, to having, to appearing. That last phase is where Who,
and by proxy Fujiwara, starts. In this world the construction of new images from old ones (true to theme, and for what it's worth, Prada notes that the entire physical installation is recyclable) is all there is. But whether that's a good or a bad thing, a constraint or a liberation, is something about which both character and their creator evince a degree of ambivalence. Despite the fact that one of the implications of Who's the Baer is that art shares DNA with marketing, advertising and sloganeering to the point at which they become indistinguishable as separate species. We're back to the drawing board at which we began. Or never really left.
Simon Fujiwara: Who the Baer at Fondazione Prada, Milan, 29 April – 27 September
From the September 2021 issue of ArtReview