Featuring Candice Lin, Trajal Harrell, Isabel Nolan; columns on art-repatriation, making Picasso 'relevant', art merchandising; and much more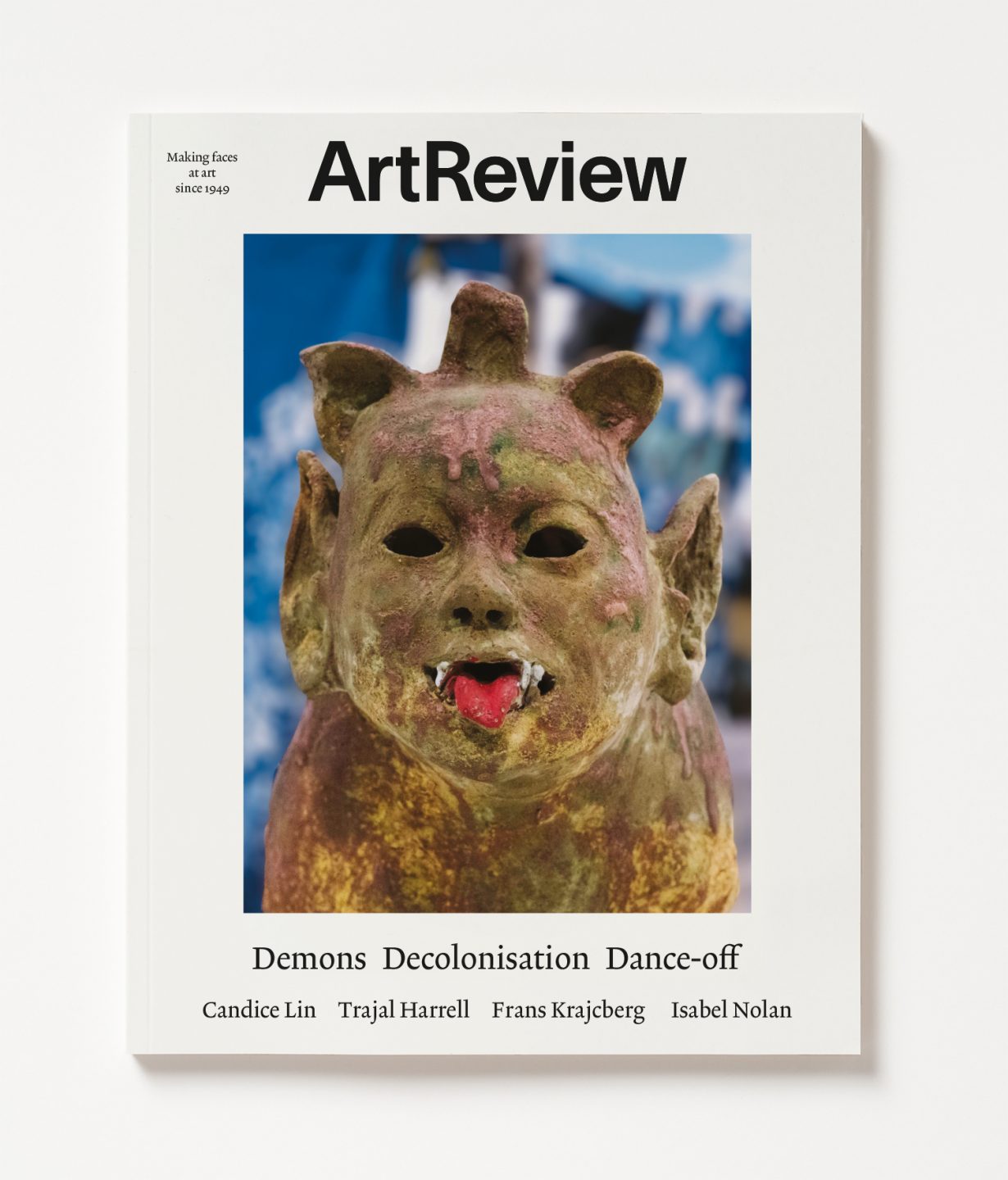 Immersed in demonic smells and coated in lard, Rachel M. Tang enters the intoxicating installations of Candice Lin – on the cover of ArtReview April – to share some meaningful glances with cats, plague bacteria and sex demons. What she finds is a troubled and surprising web that connects us all, one that suggests that maybe all this isn't just for our own pleasure, and art isn't exclusively for humans. If we're thinking about popularity, why not consider the most populous cohabitants of our planet? Maybe the bacteria have different ideas about who art is for.
Choreographer Trajal Harrell's work, profiled by Evan Moffitt, has always been about who dance is for, and who writes its history, particularly when you're starting out in a city like New York, home to the tradition of experimental dance shaped by the storied Judson Church Dance Theater. Harrell's criss-crossing of the city's ballroom vogue culture with the unexpected strictures of experimental dance, and then with other 'outside' dance cultures, speaks to how any 'art scene', however progressive, can quickly become exclusive and self-repeating, needing 'outsiders' to shake it up. Martin Herbert meets Isabel Nolan, to talk about the 'complexity of beauty' and why the foot is the most underrated subject in art; while Andrew Russeth considers the sculpture and architecture of Maya Lin, the daughter of Chinese immigrants who became one of America's great designers of memorials.
If art is about keeping certain subjects at the front of popular memory, Sarah Jilani asks who the objects being held in European museums are actually for. Western museums argue that they're keeping items removed from other cultures and settings for the good of the work – which as Jilani suggests is just another way of saying they still think they're better than everyone else. Deepa Bhasthi, meanwhile, writes about a new museum in India that is undertaking feminist-inspired scholarship with a trio of important exhibitions. But as Oliver Basciano discovers, no artwork is safe when you have a mob running riot, as recently happened in Brazil following the defeat of its rightwing populist president Jair Bolsonaro. As Bolsonaro supporters trashed the Oscar Niemeyer-designed government buildings of Brasília, they damaged a sculpture by Brazilian modernist Frans Krajcberg, an artist whose journey, as Basciano discovers, included fleeing Nazi Europe and spending decades in Brazil mounting a prescient and powerful campaign against deforestation in the Amazon jungle.
Also in this issue
Art museums – when they're not tearing themselves up over whether to send their collections back to the places those objects came from – are also finding that, when it comes to famous artists, the art often refuses to stay in the museum anyway. In her column, Marv Recinto looks at the explosion in art merchandising and traces how Jean-Michel Basquiat's street art-inspired canvases have made their way from the art gallery back into pop culture, ending up on everything from mobile phone cases to poop-proof rugs. And as Paris's Musée Picasso launches a bid to find younger audiences, 50 years after the artist's death, J.J. Charlesworth argues that it might do better to aim for the type of 'immersive' digital art experiences that have been feeding art- and Insta-fixes alike among this demographic.
Plus
Our selection of exhibition and book reviews from around the world – including Ian Cheng, Ser Serpas, Sue Williamson, and Kemang Wa Lehulere; and much more.