AURORA at Anat Ebgi, Los Angeles invokes and subverts a sense of late Americana through pictures that are 'of' something identifiable but elude easy paraphrase
Aurora is the main eastern exurb of Denver and the third largest municipality in Colorado. It's where subdivisions and big-box stores gradually give way to the ruralness of the Great Plains. Major employers include defence contractors, a US Air Force base and Amazon. Ten years ago it was the site of one of the more deadly mass shootings. It's a very American place.
For Caleb Hahne Quintana, who grew up there but now lives and works in Brooklyn, it's mostly a memory, and that is what his paintings are largely about: intimate moments, many of friends and family members, as remembered by the artist and composed as pictures that exceed their mundaneness.
Because Aurora is a 'western' locale, it is an inheritor of its region's natural beauty, despite real estate developers' best efforts at taming and erasing it. As such, 'landscape' is prevalent here, particularly in Hahne Quintana's use of colour, even though the focus of many of the artist's paintings are figures. The American West, as often depicted, is dusty and bleached, or else Technicolored, an artefact of Hollywood's purchase on our imaginations. In contrast, Hahne Quintana uses rich and deep blues, oranges, yellows and browns to invoke, rather than represent, his home state's atmospherics – at least as these are called to the artist's mind. This is autofiction in pictorial guise.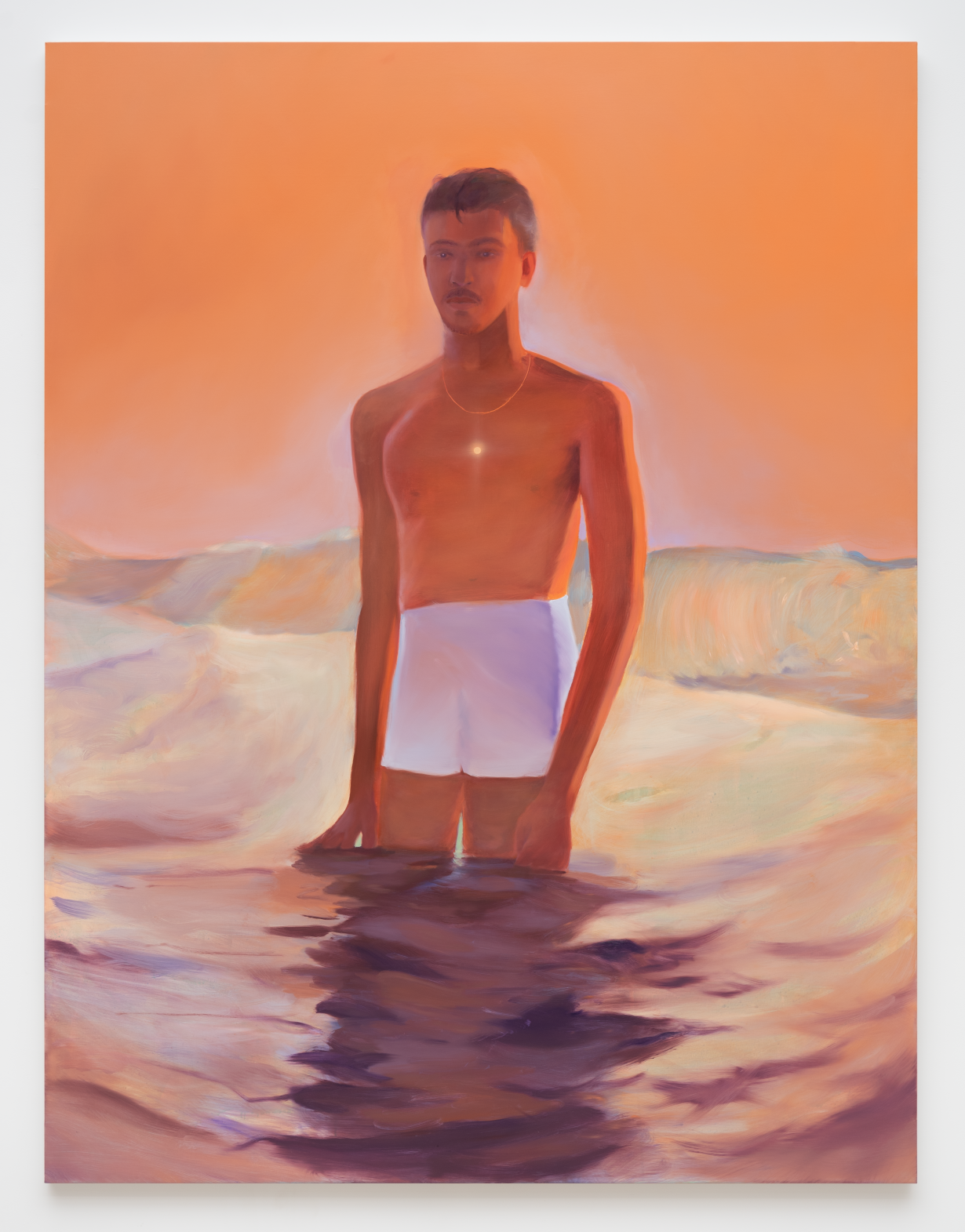 Hahne Quintana's pictures are not 'realist' in the representational sense, nor are they exactly figurative, as if trying to elude easy paraphrase. Almost every one is 'of' something quickly identifiable and describable: a person, a glass of water, a tree. Yet in each the details have been simmered away, though not enough to reduce the images to the merely graphic or symbolic. The effect remains idiosyncratic, not systemic.
Canvases such as Talons Reach (2022), which at first glance shows the silhouette of a figure floating in a pool, their head and torso just breaking the water line, with a lit cigarette between their lips, might best be thought of as conjuring those experiences one had, most often as a teenager, when strong feelings of closeness, of presentness, created a shutter-click moment of aesthetic dissociation, producing an image in memory. It's what we grasp at when we talk about the subtle traumas of our loves, families or friendships, those scenes-plus-feelings from our pasts that can only ever be reconstructed but are no less real for that. It's a case of nostalgia, but one absent a storyline, like the American West itself, once we've grown up and moved away.
AURORA at Anat Ebgi, Los Angeles, through 17 December