She Keeps Me Damn Alive at Arebyte Gallery, London, is a game in the form of an exhibition
It's a decade since the game designer Anna Anthropy published Rise of the Videogame Zinesters (2012), her retort to the quagmire of the corporate gaming industry. Ten years in which game production has (mostly) continued to disappoint with its absence of nuanced perspectives and recruitment reform. Conversely, it's a period that's seen the evolution of the techno-cultural phenomenon that spurred Anthropy's bracing tract: an influx of homebrew practitioners and development tools attentive to a newly expressive, inclusive culture of game creation. In the opening months of 2022, this stark polarity persists: upper-tier developers Activision Blizzard heft legal weight against countless accusations of sexual assault by former employees, while online 'game space' continues to function as an unmoderated frontier of hate speech. And yet, distribution platforms such as itch.io and Game Jolt provide vanguard spaces for the ludic exploration of stories and identities that counter normative media production and the reactionary tendencies of gaming fandoms, offering involving approaches to understanding-through-play.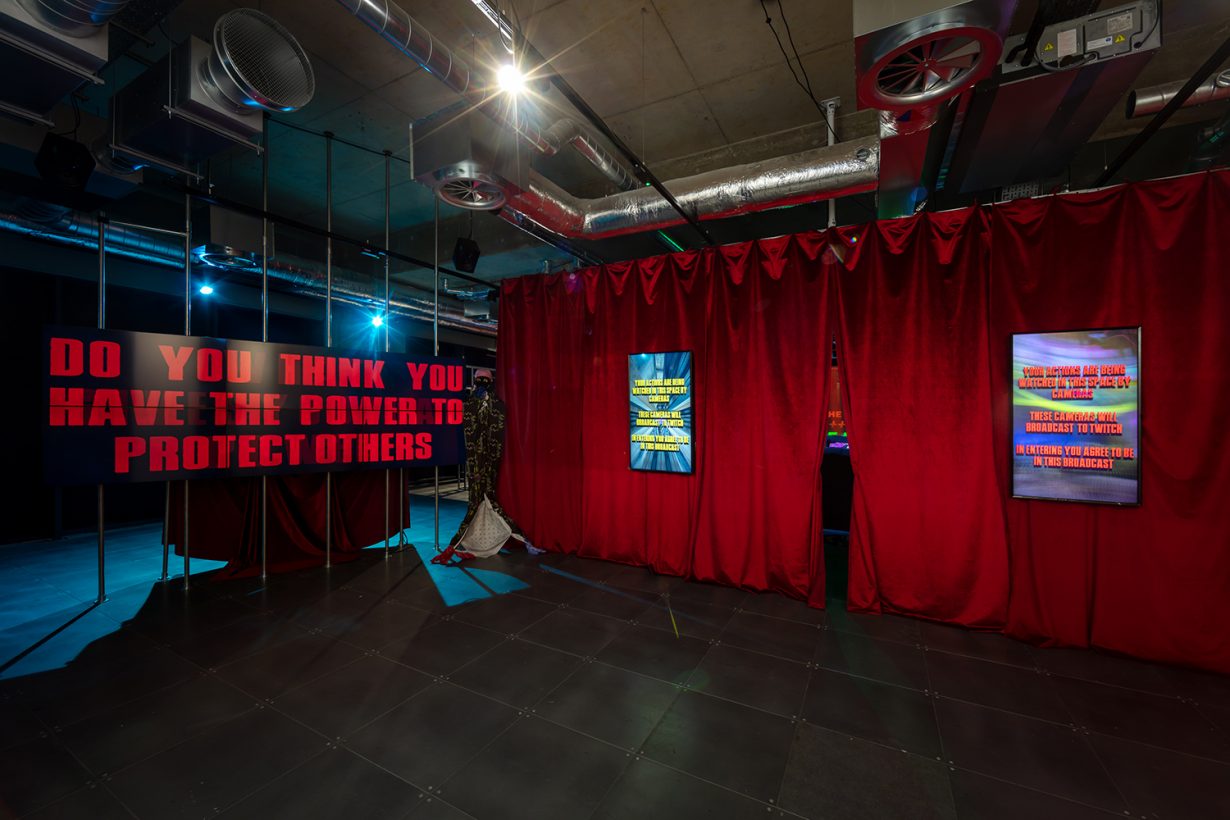 Danielle Brathwaite-Shirley's She Keeps Me Damn Alive is an uncompromising, necessarily unhinging and ultimately welcome eruption of this emergent attitude in game design into a gallery context. A game in the form of an exhibition, its central mechanic and integrated environment are sculpted explicitly around the celebration and preservation of Black transgender life. Flanking the gallery's entrance are hoardings depicting quasi-divine sentinels clutching alien weapons. Easily misread as the signage for an e-sports arena (for Fortnite tournaments et al), these displays are the first intimation that the ensuing exhibition space has mutated into a domain of play in which a visitor's participation (or indeed passivity) might be scrutinised.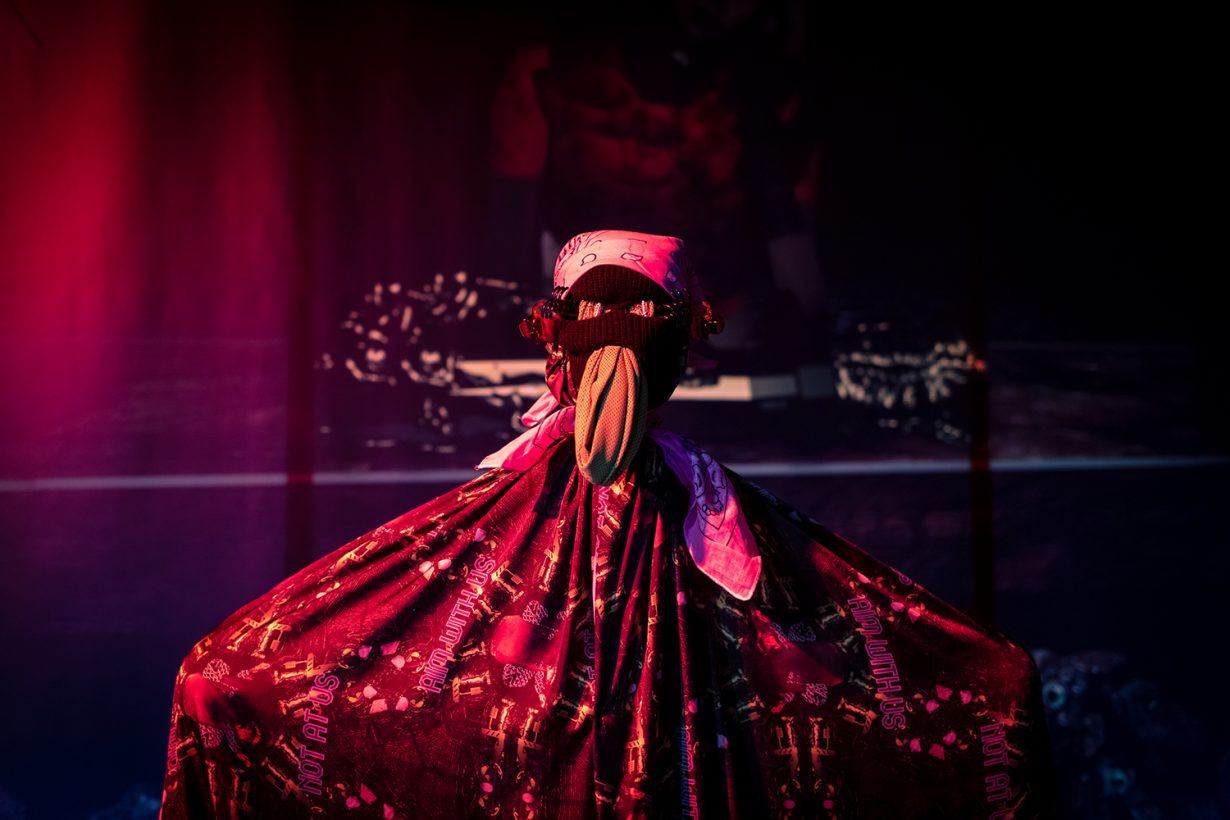 On entering, a 'briefing' area instantly recalls the joyous, cacophonous hellscape of an arcade (I'm reminded of London's now defunct Sega World, with its blaring cabinets of The House of the Dead (1996–), a legendary horror game and acknowledged influence upon the artist). The short film Health and Safety (2021) sets the terms of engagement, instructing players to 'Shoot to protect Black trans people' – a provocation tempered by the reflection 'What gives you this power?' – while opposite, a robed mannequin proffers screens detailing the statistics of the game's bizarre antagonists: 'Pretend Allies', 'Supremacy Agents' and 'Touristic Touches' populating a rogue's gallery animated by the misplaced energies of sanctimonious comradeship, hollow alliances and the spectral privileges of whiteness.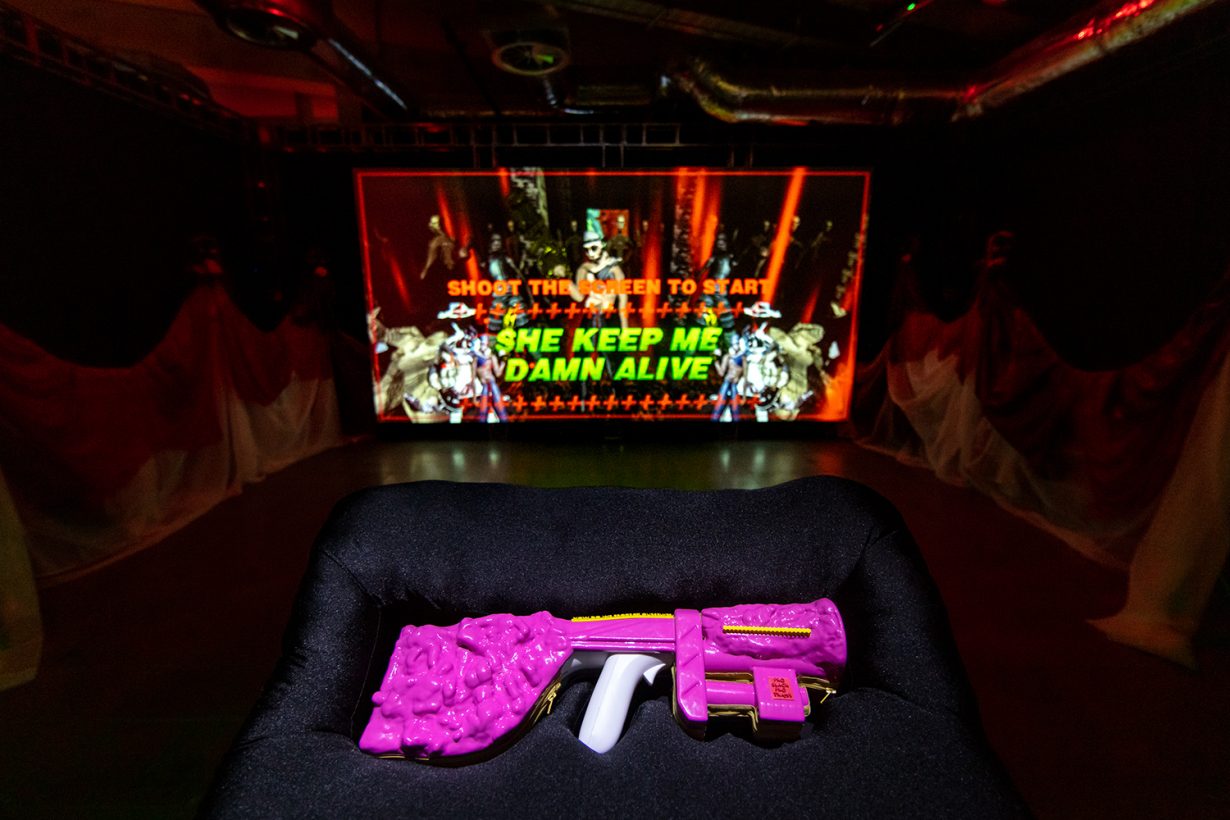 This horde poses a threat to 'Dwayne', 'Marikiscrycrycry' and 'Ebun Sodipo', avatars modelled on the artist's friends using motion-capture data, and whom the player is expected to protect while traversing the exhibition's main work, a 'rail shooter', or virtual rifle range. These 'low-poly' (a modelling technique using limited polygons) renderings of peers are integral to Brathwaite-Shirley's archival approach. Acknowledging the absence of Black trans people from many existing archives, they work to forge a new codex for previously excluded experiences. While academics such as Ruha Benjamin have identified the 'coded inequities' of facial recognition software and predictive policing applications, Brathwaite-Shirley seems divergently focused on the precarity of more diffuse cultural milieus, in which hostilities seep into the very code upon which networked communications are built, and where the preservation of Black or trans identities – online, in games, IRL – isn't guaranteed by a supposedly benevolent tech sector or its users. As such, the three biomes navigated during the exhibition's game (an underwater temple, a dungeon and a city ransacked by white gentrification) form an occasionally euphoric yet always uneasy register of trans life.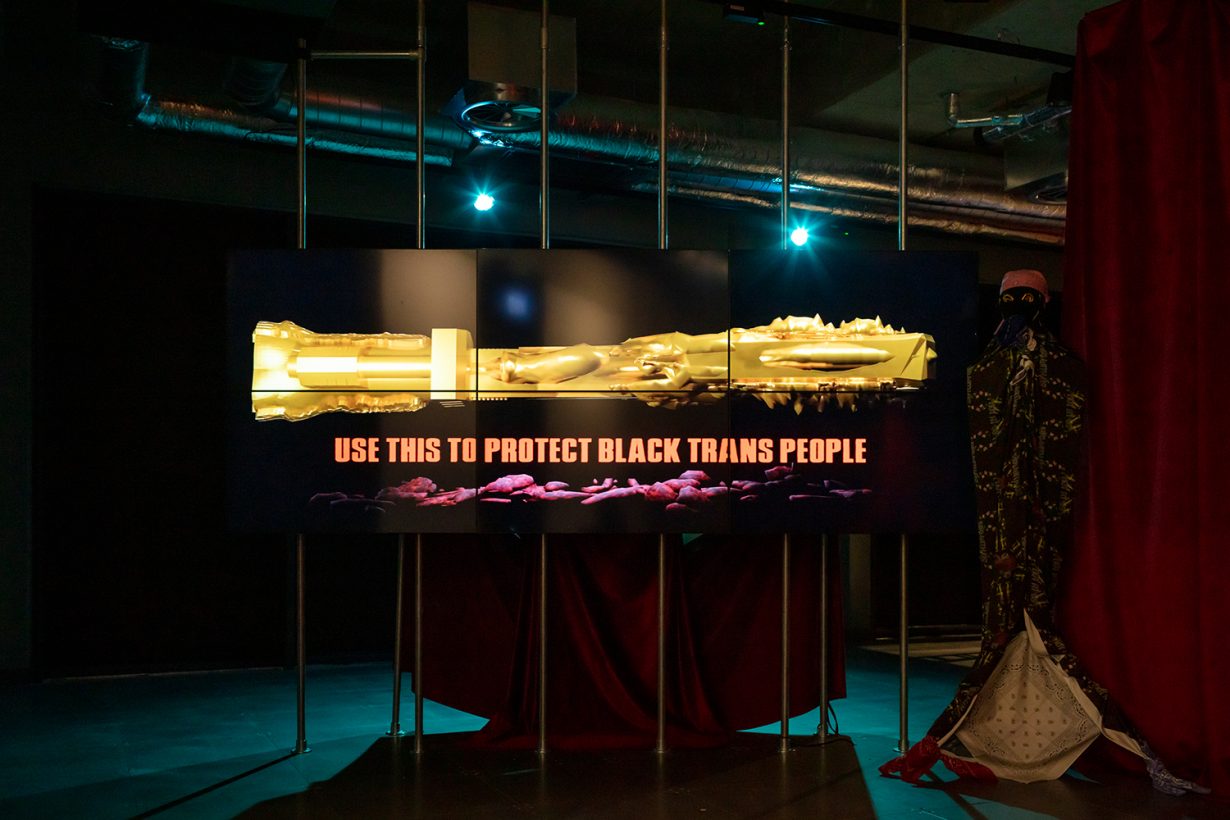 Players are encouraged to listen, observe and respond to the predicaments of their denizens, curbing the encroachments of hostiles with a strange firearm. A Cronenbergian agglutination of sculpted viscera and functional hardware, this 'gun' is uncannily weightless, a pink gimcrack that smelts the ergonomic design of gaming peripherals into a tumescent appendage. It's embarrassing to wield, both impractical and unreliable, and I failed numerous attempts to play 'successfully', facing countless reprimands from the game's narrator, which asked me to reflect upon my aggressions or evasions before ordering me to leave the gallery. Game Over? Not exactly. She Keeps Me Damn Alive's accusations hit harder knowing that my time in the gallery was being broadcast live to a public Twitch stream, that the satisfaction of 'accomplishing' the work's lessons of attention, responsibility and camaraderie wasn't to be so easily gifted to me, but awkwardly oscillated through the conflicting and residual experiences of misapprehended entitlement and shame.
Danielle Brathwaite-Shirley, She Keeps Me Damn Alive, Arebyte Gallery, London, on view until 5 March