The colonial threads of debt in the contemporary world are unravelled in The Accursed Share, linking violence with the capitalist legacy of wealth extraction
Entering the Talbot Rice Gallery, the viewer finds an arrangement of mortar shells engraved with floral patterns, filled with plants from artist Sammy Baloji's home country, now called the Democratic Republic of Congo. The shells are arranged on steps mimicking those of a town hall in France (which the artist found depicted on a postcard in a thrift store, covered with huge First World War shell casings of similar style). Copper extracted from what was then the Belgian Congo (home to the world's second-largest copper reserves) was vital to
the construction of munitions such as these, and thus to the Allied war effort in both world wars. Extraction of copper by Western and Chinese companies in the DRC continues to the present day. This untitled work by Baloji, made between 2018 and 2023, stands out in The Accursed Share, a group show named after philosopher Georges Bataille's 1949 book (the 'accursed share' is the portion of capital in any economy that must be channelled into cathartic, nonfunctional expenditure if it is not to be released through violence).
Bataille's phrase is an enticing hook, but this is primarily a show about counterposed systems of debt in the contemporary world (albeit the curatorial thread becomes frayed at points): those by which Western Europe has placed other parts of the world in economic dependency and the moral debt owed to the populations swindled in this manner. Baloji's installation, for example, speaks to the implicit threat of violence by which foreign economic systems were imposed in colonies such as the Congo Free State. The conversion of martial relics into quirky ornaments – they are sold online as plant pots with flowery friezes already added – partly suggests the ways in which goods, materials and capital extracted during the era of colonial plunder continue to circulate in contemporary global marketplaces, often in ways that are hard to trace back to these points of origin.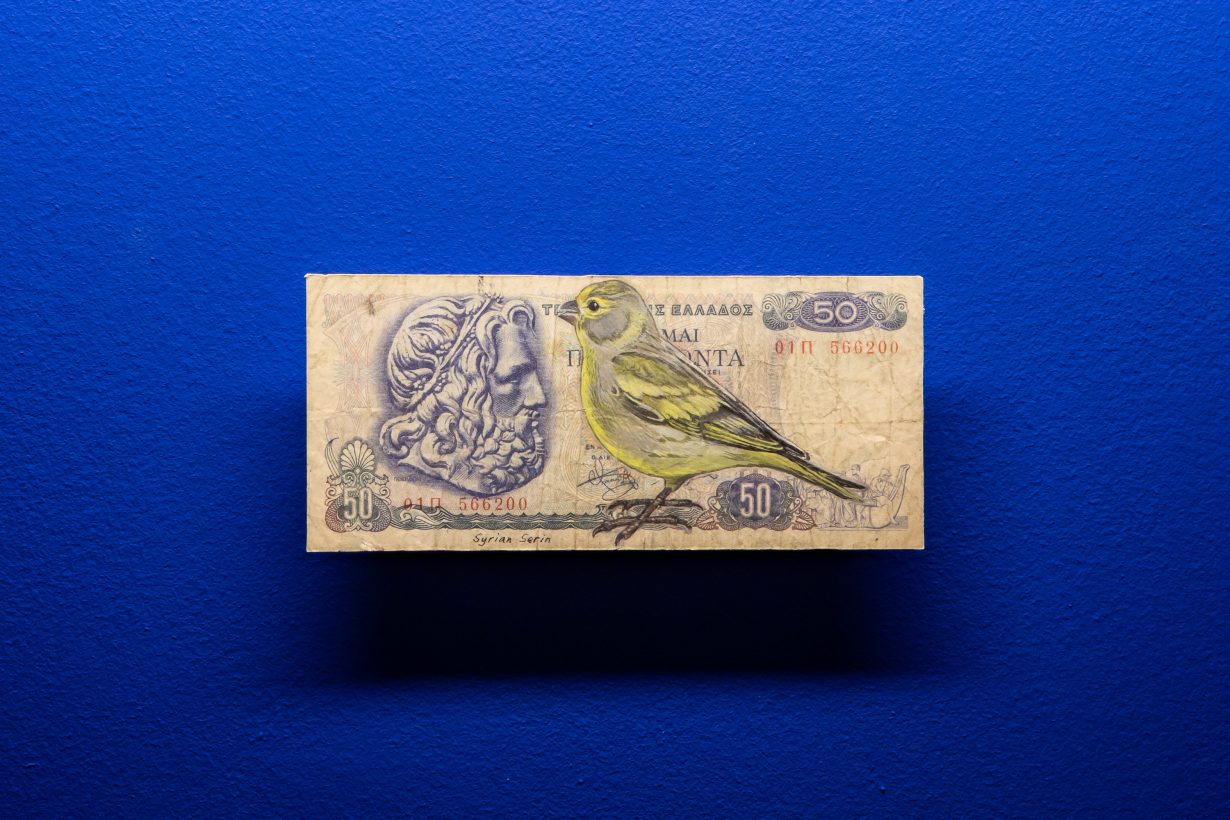 On the opposite walls, Cian Dayrit's textile hangings take on the connotations of protest banners and regional folk art, offering a more frontal encounter with postimperial economics. Often working in collaboration with rural communities in his native Philippines, the artist presents colourful text-and-image-led cartography and diagrams, like his Valley of Dispossession (2021), an embroidered map of Central Luzon showing areas that include 'military presence', 'aggressive development projects' and 'mining tenements'. Works like this one – emblazoned with the phrase 'Agrarian Revolution is Justice!' – document peasant-led protest against American occupation, Chinese military aggression and a system of modern feudal-style agriculture that sees much of the country's rural labour taking place on land controlled by foreign corporations.
Completing a trio of contributions that dig beneath the surface of contemporary global wealth disparity, unearthing its economic
and social origins, Lubaina Himid brings the scale and spectacle of her 2004 installation Naming the Money to the grand Georgian Gallery (formerly part of a nineteenth-century natural-history museum). In these neoclassical environs, a gathering of lifesize figures, in colourful Renaissance and Baroque clothing, stands in for generations of forced emigrants from Africa, put to work as entertainers or servants (all forms of slavery, of exploitation as nameless chattel in the context of a wider process of imperial plunder). A musical soundtrack is accompanied by snippets of speech from a hidden speaker, haikulike constructions that give each character back their name: "My name is Mwambia. They call me Dan. I used to play on hilltops. Now I play in ballrooms. But I have my songs."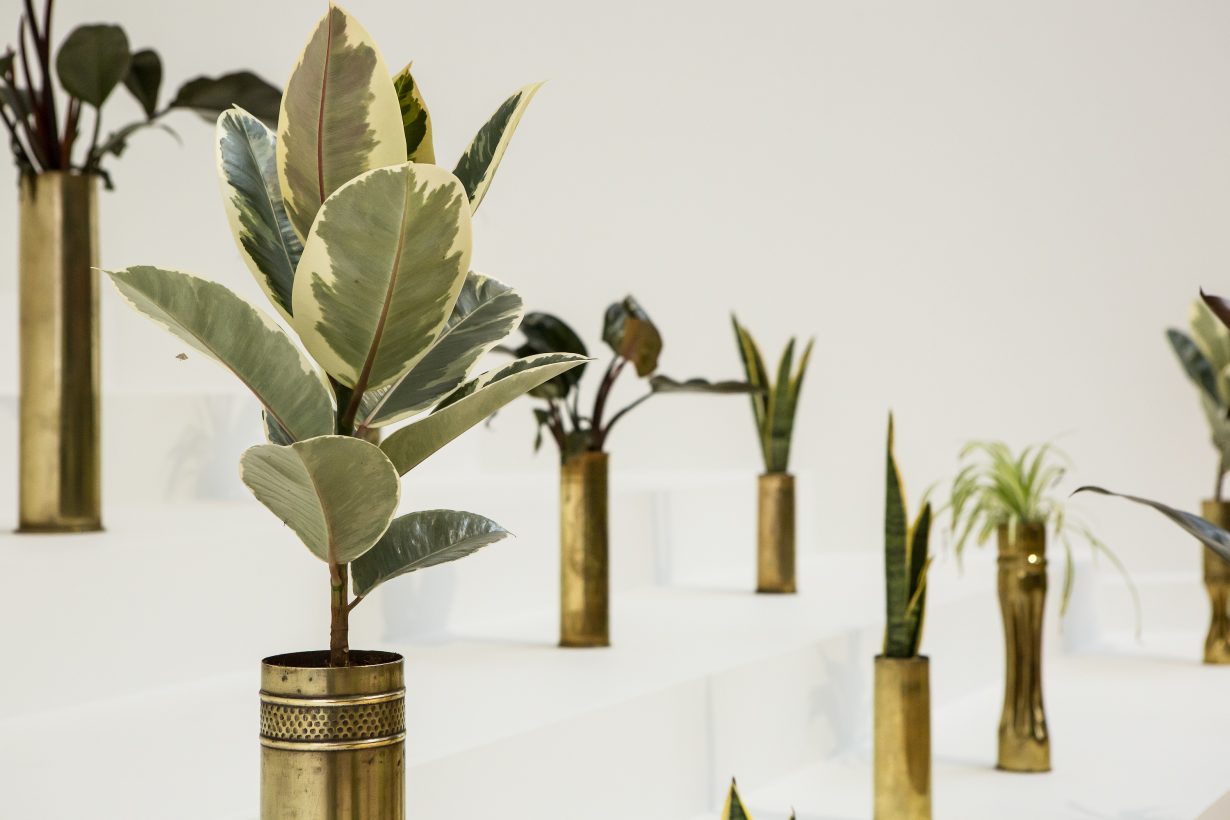 It's not all doom-mongering, however; other works present glimpses of possible futures free from the pathologies of debt. Marwa Arsanios's speculation on the development of an agricultural commons in contemporary Lebanon – in her film Who Is Afraid of Ideology? Part 4: Reverse Shot (2022) – complements the terrao group's speculative systems for sustainable AI forest management and Goldin+Senneby's excavation of the deep history of a plot of land (The Plot (Utopia Bloemen), 2018). The latter includes charcoal wall-paintings of primordial forests and a painter's box easel containing diagrams and information.
The theme of debt is strained to snapping point at times. It's not clear what Goldin+Senneby's work adds to that topic, for example. But Hana Miletić's gestures of postcapitalist care, handwoven bandages that 'stitch up' random sections of wall throughout the show, offer a neat throughline. The final word, however, must go to Hanna von Goeler's delicate Migration series (2015–23), a collection of defunct banknotes adorned with the artist's pictures of migratory birds, denizens of an older system of global exchange that might just outlast the chaos of the capitalist era.
The Accursed Share at Talbot Rice Gallery, Edinburgh, 17 March – 27 May