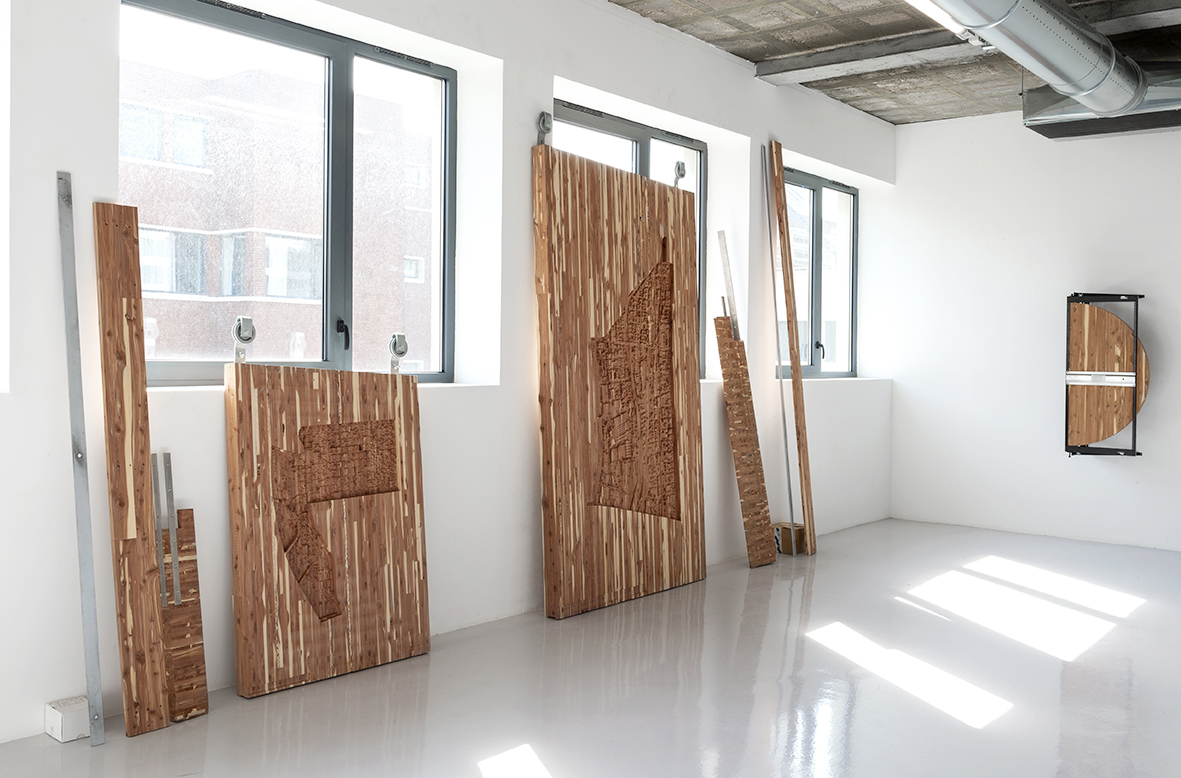 Since the 1970s, the idea that the art industry is essentially the advance-guard of gentrification has become a received wisdom. Yet what is the role of art itself in the equation? This is the central question posed by Aaron Flint Jamison in this exhibition at Romainville's Air de Paris, itself recently relocated to a down-at-heel former industrial quarter designated as an 'Opportunity Zone'. The American artist's show is a furious attempt to reckon with the artworld's associations with neoliberalism and politically enabled gentrification, grappling with the contradictions inherent to staging such an event in this environment. Jamison, who cofounded the Portland arts institution Yale Union in 2008 only to hand it over to a Native American nonprofit in an act of 'reverse gentrification' a dozen years later, is evidently uncomfortable not just with his own role in these processes, but with the very nature of the art that fills this kind of space.
His anger is manifest from the outset: the Opportunity Zone (all works 2021) series sees planks of cedar wood, riddled with indentations, tilted against the gallery walls beside their aluminium brackets. Closer inspection reveals that the sections carved out from the planks are maquettelike renderings of city plans: one, most prominently, representing the built environment surrounding Air de Paris; another of a brownfield site adjacent to Yale Union; and, poignantly, a third presenting a relief map of the wasteland left following the 2016 fire that burnt down the Ghost Ship artist space in Oakland, killing 36 people. It is now an area earmarked for development.
Quite suddenly, the show changes tack: a second room plays host to GraDiva, a multipart installation that directly picks apart the legacy of Marcel Duchamp's embrace of the readymade. The letters of the title – the name of the gallery founded by André Breton in 1937, whose doors Duchamp designed – are engraved, spaced out, on the insides of two box-shaped cedar sculptures, visible only if one stoops to inspect. In another instance, two tall panes of glass flanked into cubicle form by more cedar pay explicit homage to The Large Glass (1915–23), right down to the spidery cracks on its surface. In a repudiation of readymade practice, the emphasis here is on the handmade: rhythmic lines of orange glue seep from the joints in the wood, imperfections left pointedly untidy.
Jamison's thesis here rests on the idea that the readymade is the conceptual gateway to contemporary capitalism's more disturbing processes; that it is essentially an analogue to outsourcing and gentrification, a negation of artistic agency that has transformed the production of art into a process of procurement. Whether or not you agree with this argument, the way in which it is argued is infectiously combative.
Flint Jamison, Veneer
Air de Paris, on view until 9 December