At Marian Goodman Gallery, London, a riveting intervention in the debate on how the present treats problematic histories
The Bahamian artist's new exhibition has as many plot twists as a good outing to the multiplex, so explaining it without spoilers is tricky. In a room to the right of the gallery's entrance a big book stands on a small table. It is titled the Encyclopedia of Invisibility, and copies of the book's pages cover the walls, floor to ceiling. All the entries – the ones I've jotted down include Roland Moreno, the inventor of the smart card; the omer, an ancient Israelite unit of measure; Richey Edwards of Welsh band Manic Street Preachers – relate to a person or a thing that has in some way disappeared from view – either forgotten by history despite the ubiquity of their invention, or mysteriously vanished, as in the case of Edwards.
In another gallery a figure constructed of neon depicts (the title informs us) the late Cuban ballet dancer Alicia Alonso. A series of mixed-media paintings collage together various figures that might be generalised as being Black heroes – footballer Viv Anderson, musician and activist Paul Robeson, Ethiopian leader Haile Selassie. A first-floor gallery continues the theme of recalling Black pioneers through 12 resin busts – including nurse Mary Seacole and singer Nina Simone – each face partially obscured by a series of found ceremonial African masks.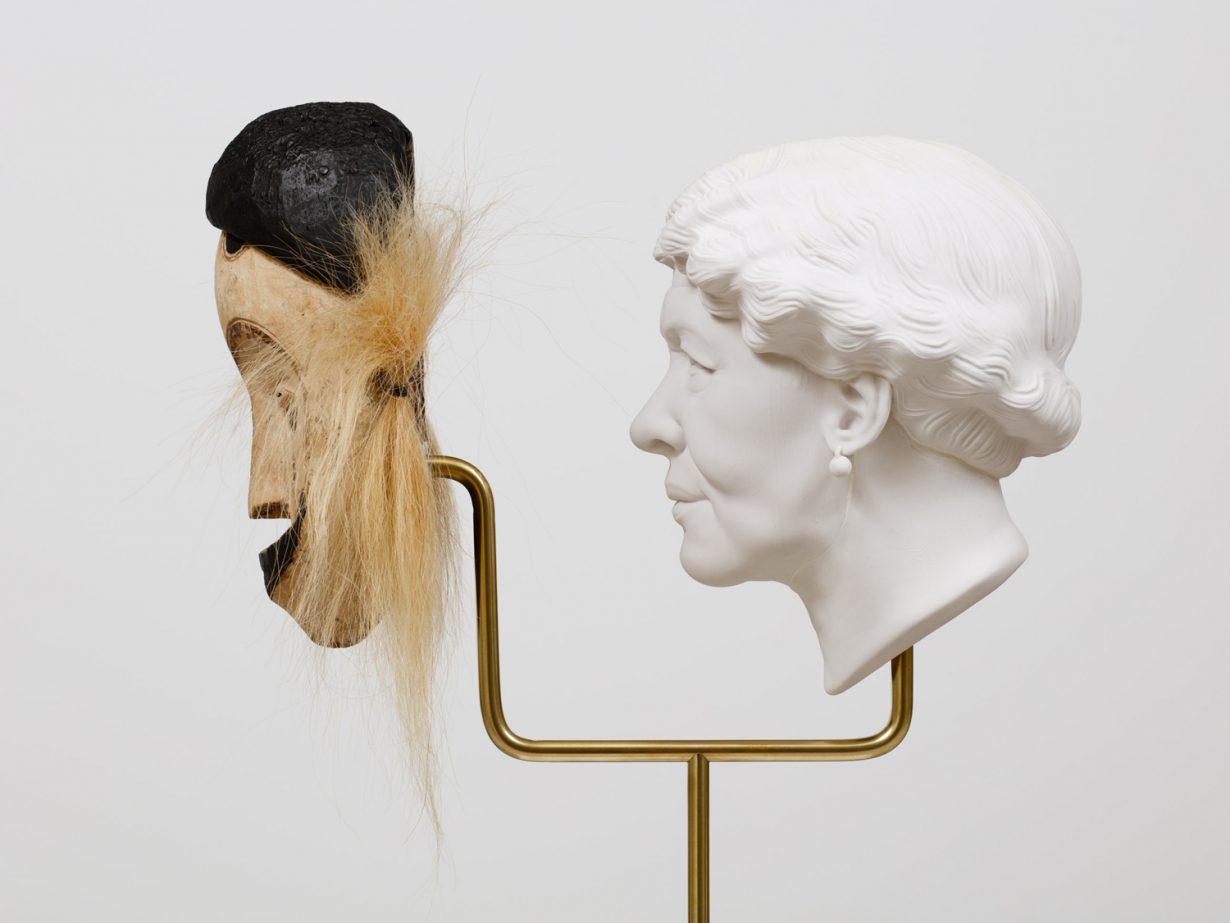 Contemplation of the sculptures is interrupted, however, by a man wandering into the space, his clothes of the late nineteenth century, who starts to sing. He and a couple of further performers proceed to lead visitors on a musical tour full of 'secret' rooms hidden among the exhibits. Which is where I probably need to leave the description hanging.
In the musical that follows we learn this figure is Matthew Henson, the Black American polar explorer, who recounts his adventures to a younger performer, playing his child. Within this, Henson's heroism is hedged: we learn the past is complicated, detail is needed, that there is little in the way of heroes and villains but all figures will "be confronted by the judgment of history"; their actions, language and views found wanting. What's important is to learn from the errors. "Only will can construct a new us," 'Henson' sings. Strachan's theatrical outing is a nuanced – and riveting – intervention in the otherwise shrill debate surrounding how the present treats histories it finds problematic.
Tavares Strachan: In Plain Sight, at Marian Goodman Gallery, London, until 24 October