The Iraqi-American artist uses intestines as a visual metaphor for trauma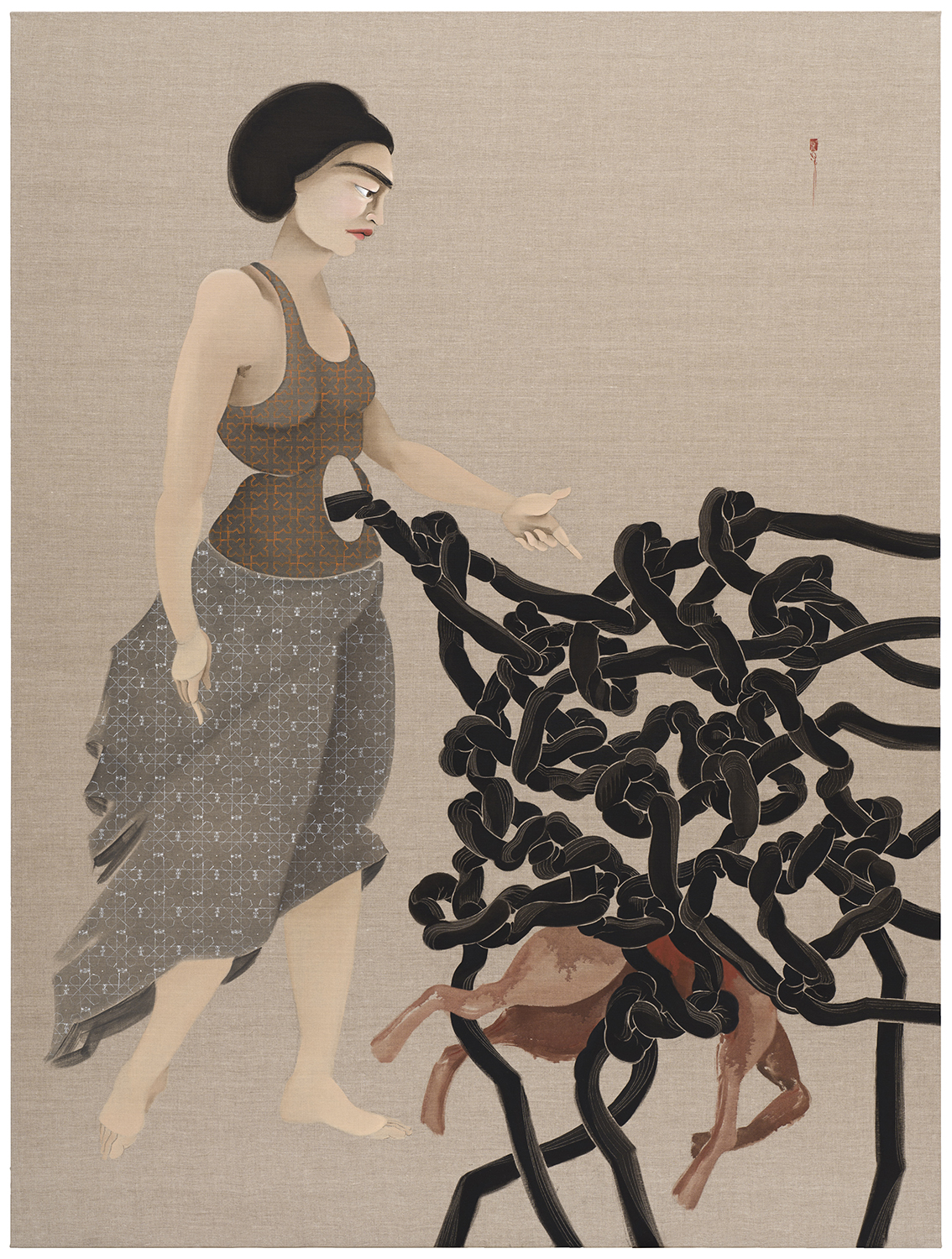 The gut, often referred to as the body's second brain, is a site of somatic intuition and processing. In Hayv Kahraman's work, it is a place where pain can be acknowledged, examined and ultimately accepted. In Gut Feelings the artist takes a physiological approach to trauma and othering while drawing on her experiences of acclimating to life in Sweden as a refugee from Iraq during the Gulf War. Kahraman uses exposed, knotted intestines as a visual metaphor for trauma to explore the process of coping with the impacts of distressing events as she highlights the inalienable connection between mind and body. The show also considers links between neuroscience, the microbiome and how the body carries trauma through the artist's work with bacteria.
Across three galleries are paintings portraying women in Kahraman's typical style, which draws on Persian miniature and Italian Renaissance influences. The interaction between the female figures and the innards emerging from their bodies creates a tension over who is ultimately in control of this process of untangling and healing.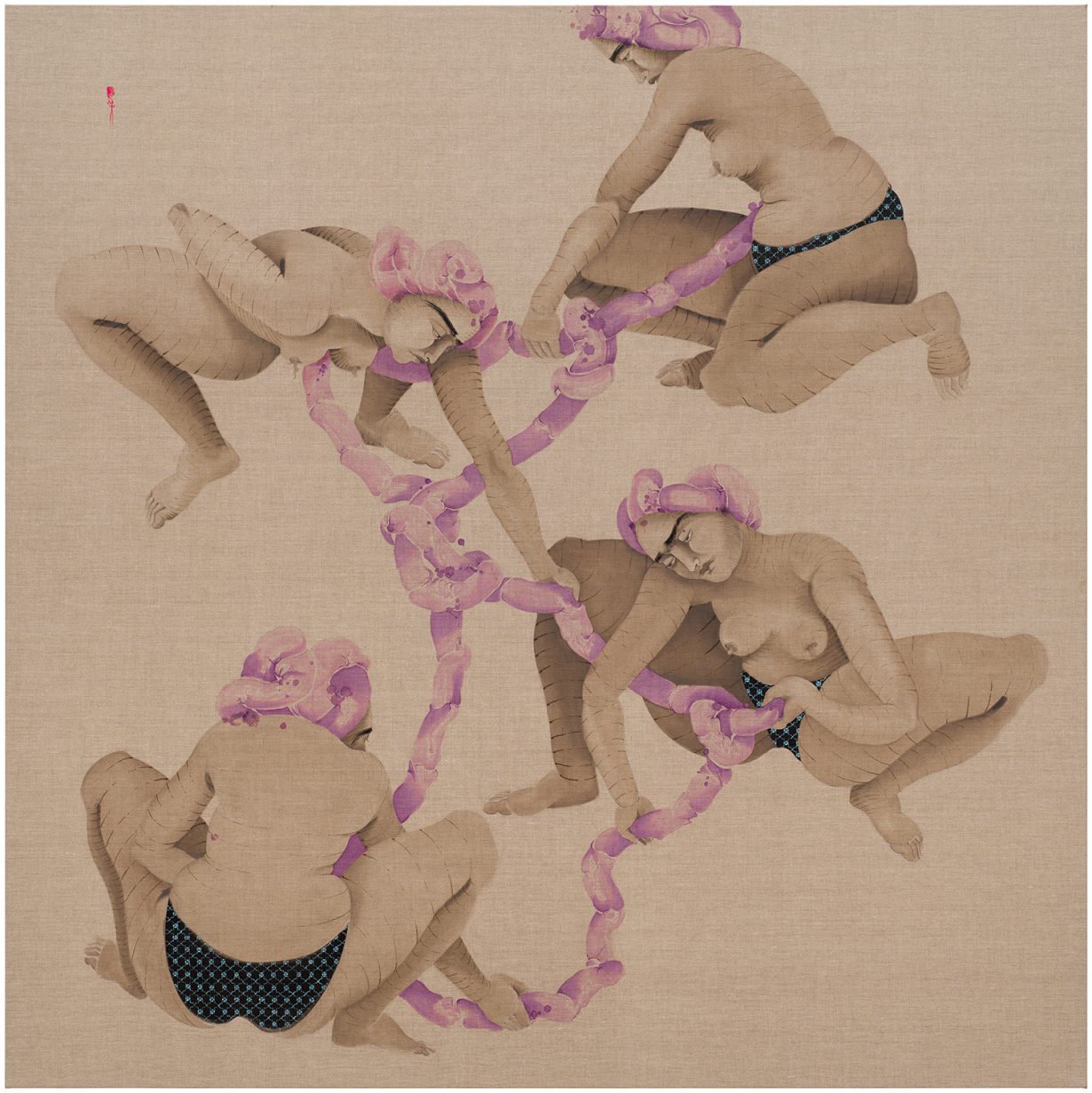 In the first gallery, jars of torshi – pickled vegetables served in Middle Eastern cuisine – sit on shelves opposite the painting Entanglements with torshi (2021), in which their fleshy pink brine is used to paint an intestine connecting four women. Bacteria, central to torshi's fermentation, were one of the starting points of Kahraman's research. It led her to work with a new material – wispy flax fibre, harvested through dew retting before being woven into linen. This process involves laying flax stalks on grass so that dew and bacteria in the soil gradually rot away the stalks' woody exterior to reveal the hairlike fibres within. In the second gallery, small growths of these flax fibres, preliminary sketches and notes sit among finished paintings on linen canvas.
In the final gallery, where the paintings are all completed on flax fibre and suspended midair, the material seems to double as a symbol for the fragility of the process – addressing one's own trauma – depicted on it.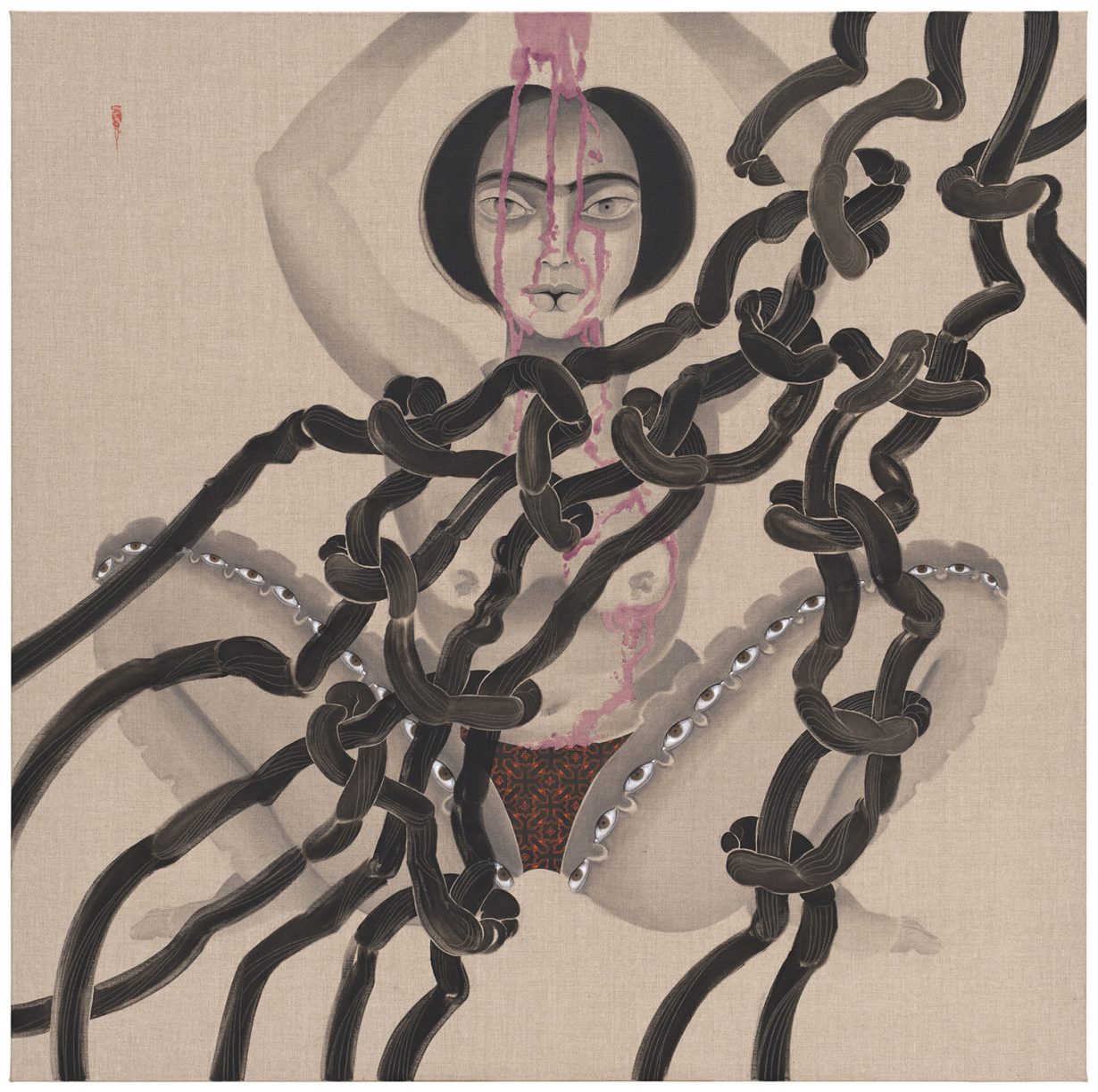 Although this process may be delicate, Kahraman's women are less so. There is a defiant calm in their faces as they work through what is inside. This countenance is shared by the four figures crouching to support the weight of a burdensome collective gut – or trauma – in Entanglements with torshi in the first gallery. It is maintained in other paintings as insides transition from raw pink cords to black, gnarled masses that entrap and suffocate. However, a flicker of triumph is present in the faces of those who have mastered, and now almost command, what once held them captive. Eventually a balance is struck, a symbiosis achieved, with what is unquestionably part of them.
Hayv Kahraman: Gut Feelings at The Mosaic Rooms, London, 25 February – 29 May