From Citizen Sleeper and Signalis to Hardspace Shipbreaker, the cosmic dystopias of 2022's videogames provided timely meditations on stinging economic hardship
In 2022, the vast ether stretching from Earth's atmospheric hinterland to the deepest reaches of the cosmos seeped back into popular imagination. Thanks to the  Webb Telescope images, space regained its preeminent position as a site of wonder, sparkling like a prog rock album cover from the 1970s. The 'final frontier' also emerged as something more aspirational than it has been for decades, a potential tourist destination for those able to afford the gilded flights chartered by Jeff Bezos's Blue Origin and Elon Musk's SpaceX companies. Space, in its simultaneously awe-inspiring and distracting spectacle, had returned.
It feels telling, then, that three of 2022's best video games appear to share little of this wonder for the stars. Citizen Sleeper, Signalis, and Hardspace Shipbreaker instead imparted isolation, anxiety, and terror, not because of the existential dread space so often inspires but the ways in which they imagined intensified strains of capitalism might be deployed across it. As the form of blockbuster games was further consolidated, these strikingly different games – a visual novel (Citizen Sleeper), 3D puzzle game (Hardscape Shipbreaker) and survival horror (Signalis) – offered further evidence of the flourishing creativity to be found outside of the mainstream's glare. Yet, for all their differences, each utilised distinct mechanics and aesthetics to evoke a common, seemingly immutable condition: the precarity of being marginalised. Stars may have been back in the news cycle but as inflation rose and wages stagnated, these games provided timely meditations on stinging economic hardship.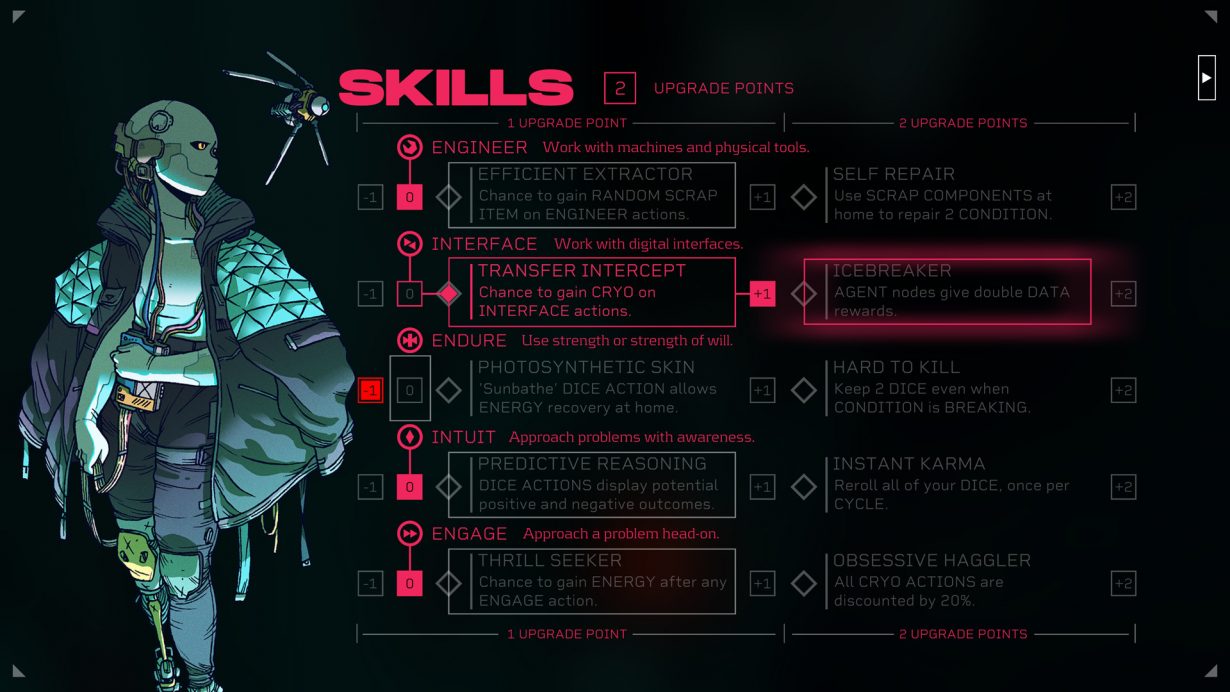 Set aboard a city-sized space station inspired by the mongrel sprawl of Blackfish City (2018), Citizen Sleeper (developed by ArtReview contributor Gareth Damian Martin) explores precarity through ideas of chance and circumstance. Reminiscent of tabletop RPGs, its dice rolls represent opportunity, the quality of which are tethered to the health of your android body. Roll a six and you're more likely to succeed in an action; roll a one and the odds are reversed. Crucially, each roll impacts your ability to earn money. Like the brilliant Cart Life (2010) which Citizen Sleeper echoes, you're always a few credits short of something you need: a life-extending drug or food. During one sinister conversation, a worker reminds you of a salient truth: all of your other needs (and those of every inhabitant) are contingent on the goodwill of the corporation that runs the space station. 'We are the ones that provide the oxygen you are breathing, the light you are seeing, the systems you use every day to live out your cycles', he says. It was a reminder, if we needed one at all, of what it means to live under the yoke of private interests.
Even amid its cosmic dystopia, Citizen Sleeper strikes a defiant, hopeful tone. It lets you forage for mushrooms (matsutake and more) – an increasingly popular metaphor for resilience amidst societal ruin (galactic or earthly) – all while focusing on further small moments of respite from oppression (you may take a break from more pressing tasks to eat a bowl of steaming hot ramen, for example). In this way, Martin's tender tale resonates with Hardspace: Shipbreaker, a surprisingly cheerful puzzle game about the bleak reality of indentured servitude. At its outset, you're shown the full extent of your billion-dollar debt to an authoritarian corporation, one you must work off by dismantling gigantic spaceships in zero gravity. You live like a prisoner in a tiny room. Each day brings only a new shift with further opportunity to break up gigantic ships. Slowly but surely, you begin to take pleasure in such work, labouring with increasing efficiency and grace. Before long, you are practically gliding about the scrapyard like a ballerina in a space suit. In the grand scheme of things, this is a small joy – which is precisely what Hardspace: Shipbreaker and Citizen Sleeper are about.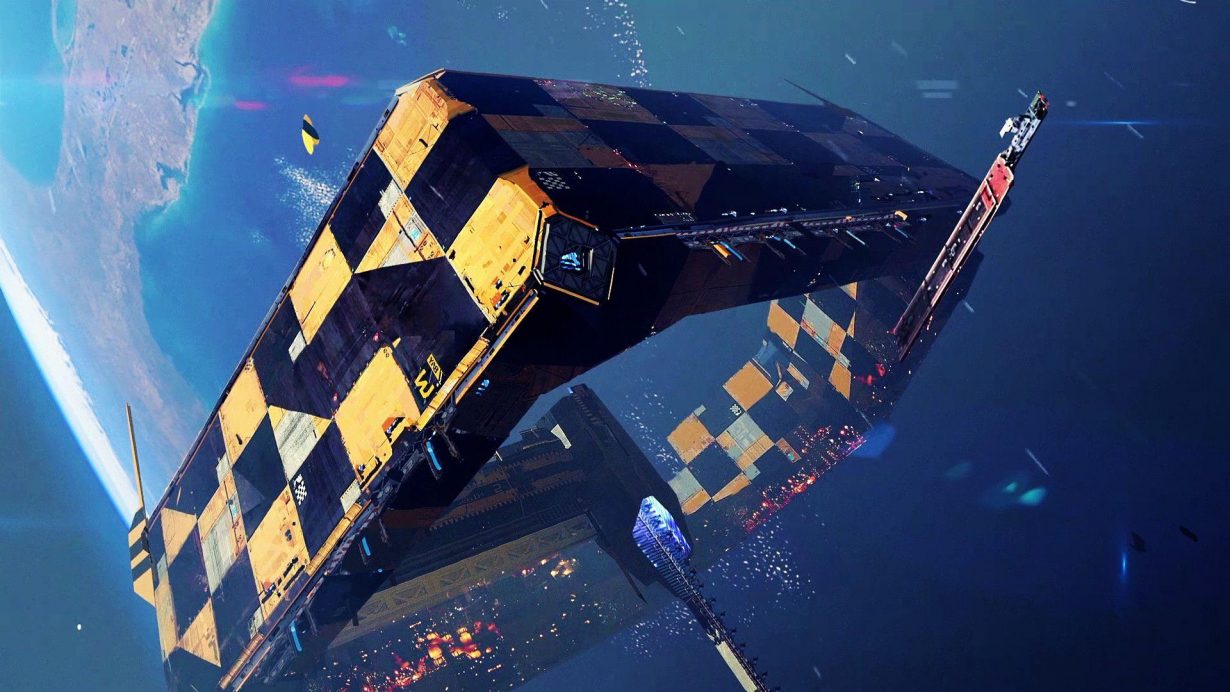 Beyond the satisfaction of demolishing spacecrafts, Hardspace: Shipbreaker's story centres on workers' struggle to form a union. Then life imitated art: in September, one of the game's support studios, Anemone Hug, became the second Canadian video game studio to unionise. This was arguably 2022's most encouraging development: as part of a growing number of worker efforts in North America, including at Raven Software and Microsoft Zenimax, game workers continue to wrestle power from companies that have long practised gruelling production schedules and, in the case of Ubisoft and Activision, toxic work cultures including repeated instances of alleged sexual assault and harassment.
Where Hardspace: Shipbreaker turned hazardous employment into an elegant puzzle, Signalis imagined interstellar late-stage capitalism as a full-blown existential nightmare. Again, you play as an android, a 'Replika', according to the game's cyberpunk-indebted lore. You direct them about another site of labour, this time an abandoned mining facility. And yet, despite the familiar premise and 32-bit, mid-1990s PlayStation aesthetic, Signalis is no relic. With the visual flair of arthouse anime, it fills the screen with shocks of intermittent red and haunted visions of a white-haired girl, while a crunching drone soundtrack blasts through your speakers. You gradually experience a story that asks, what happens when those who are treated as a commodity assert their will to live and to love? The answer is a gruelling and horrific journey – and one of the year's most captivating.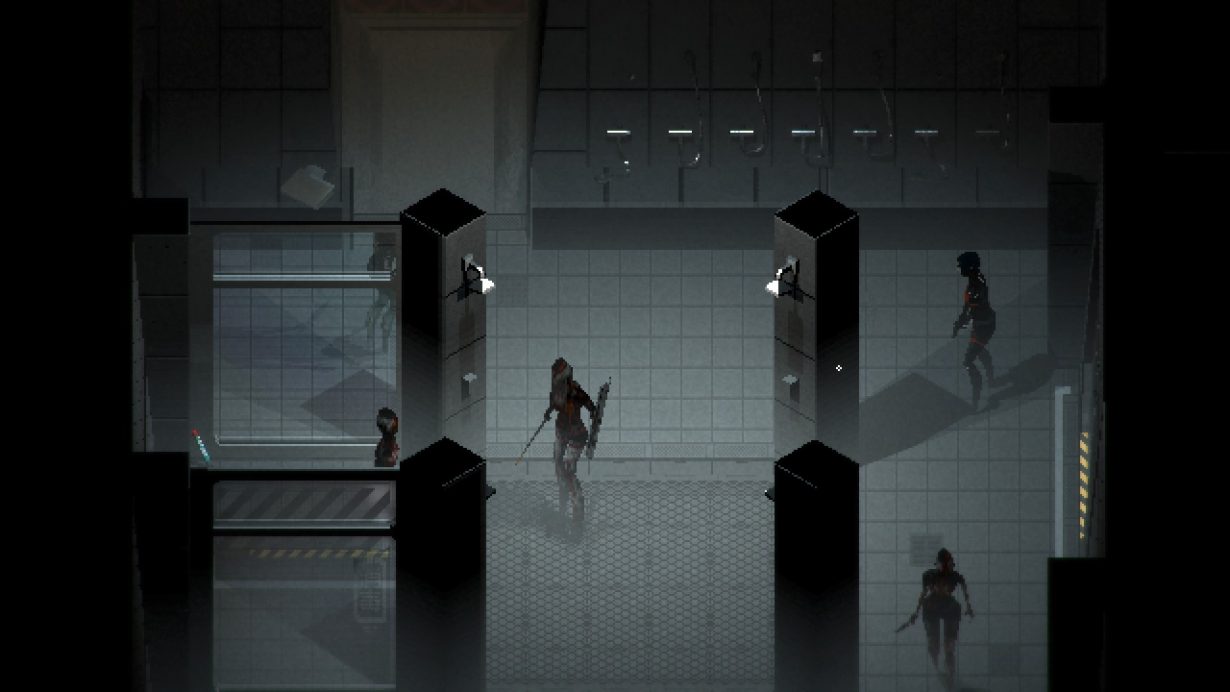 For sci-fi closer to home albeit preoccupied with similar themes of economic injustice, point-and-click adventure game Norco offered perhaps the year's best narrative – a story of a blighted, near-future Louisiana town situated in the shadow of an oil refinery. With beautiful pixel art bearing the influence of nineteenth-century illuminists and subplots involving strange conspiracy theorist cults, Norco presented a fittingly oil-smeared reflection of our messy, 'permacrisis' moment. Less profound but no less visually striking was Somerville, a game light on socio-economic concerns beyond its premise of a cosy, middle class family being ripped apart by a cataclysmic alien invasion. Filled with artfully muted greens, blues, and browns, it embraced and encapsulated the so-called 'beautiful apocalypse'.
Thankfully, the year didn't only offer sombre takes on sci-fi. Two of 2022's biggest open world adventures, Horizon Forbidden West and Elden Ring (my personal game of the year), channelled something of the cosmic wonder found in the Webb telescope images. In Horizon Forbidden West, this manifests as sumptuous particle effects – leaves and pollen swirling in the game's ebullient virtual wind. In Elden Ring, the entire virtual world radiates a striking yellow. Look up and the origins of this illumination are evident, a towering golden Erdtree. Venture below to encounter a different kind of awe, an immense underground valley filled with its own set of skies and stars. Both perspectives took my breath away. 
That such transcendent moments were possible in this year's best games is no small feat. In 2022, the video games industry, like so many others, was further consolidated. In January, Microsoft gobbled up Activision Blizzard for $68.7 billion, only for the Federal Trade Commission to file an antitrust case in December to block the deal (pending review in March 2023). It was but one of many mergers and acquisitions involving a plethora of publicly traded corporations (the year's total deal value reportedly tops $102 billion). And as such, game design has begun to increasingly reflect the growth-driven responsibilities of companies that answer to shareholders as much as they do fans. Now, rather than delighting for a handful of hours, titles are designed to hold our attention for ever-longer periods, often in the hope we might purchase digital clothing and weapons as a means of showing off to our friends online. And yet, through the gloom of this overbearing system, the year's best games burned bright: enchanting, disquieting and thrilling, sometimes all in the blink of an eye.