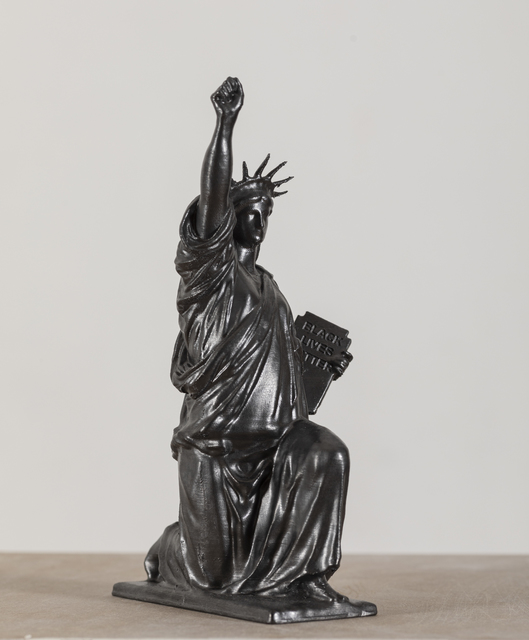 With parliamentary elections looming next year, art in Hungary is proving a useful whipping boy for Viktor Orbán's right-wing government. The most recent target, the Guardian reports, is a proposed temporary statue celebrating the Black Lives Matter movement, one of several public artworks to go on show in Budapest.
The work, by artist Péter Szalay, features a 3D render of the Statue of Liberty kneeling with her fist held aloft.
Orbán's chief of staff, Gergely Gulyás, told the newspaper: 'Black Lives Matter is basically a racist movement. The racist is not the person who opposes a BLM statue, but the person who erects one', with several of the prime minister's allies in the pro-government media parroting similar lines.
The ruling Fidesz party has long sought to engage in culture wars with Hungary's arts community, pushing for state museums to serve its conservative agenda. In 2017 György Fekete was appointed director of the Hungarian Academy of Arts (MMA), mainly for his view that art should emphasise aesthetic beauty and a 'national sentiment' and eschew criticism of government or church. In 2019, fearing reprisals, the Ludwig Museum pulled a mural portrait of Orbán from an exhibition.
As a response, artists are forced to operate without any state support. One such grassroots initiative, the Off-Biennale, was explicitly set up to counter what it terms the country's existing 'centralized, party-loyal art infrastructure with dubious professional standards.'
Szalay's work was commissioned by Suzi Dada, of the the opposition Two-Tailed Dog party. She said: 'For Fidesz, culture politics is all about historical memory and memorials, relativising Hungary's role in the second world war and painting us as victims.'