Shonda Rhimes's Netflix series about New York's fake heiress can't fight its adoration of fake-it-till-you-make-it capitalism
Everyone lies. Whether it's touching up a CV or a selfie, everyone puts a spin on things, a certain gloss. Everyone presents an image of themselves to the world, and, at times, this may only have a tenuous relationship to reality. This, essentially, is how criminal attorney Todd Spodek frames his defending argument for his star client in Shonda Rhimes's new Netflix series Inventing Anna (2022). Who isn't guilty, is what he's really saying. But, what he's not saying – what he's trying to gloss over – is that not everyone lies about being an heiress to a fortune in the multi-millions, and not everyone tries to skip out on hotel bills totalling tens of thousands of dollars. Not everyone forges documents in an attempt to defraud international banks out of hundreds of thousands of dollars. In short, not everyone is Anna Delvey. And, while Spodek might be right that everyone lies, there's a reason the phrase 'nothing is certain except death and taxes' has entered common parlance. Because the unglossed truth is that, no matter how hard you try to evade them, things have a habit of catching up with you in the end.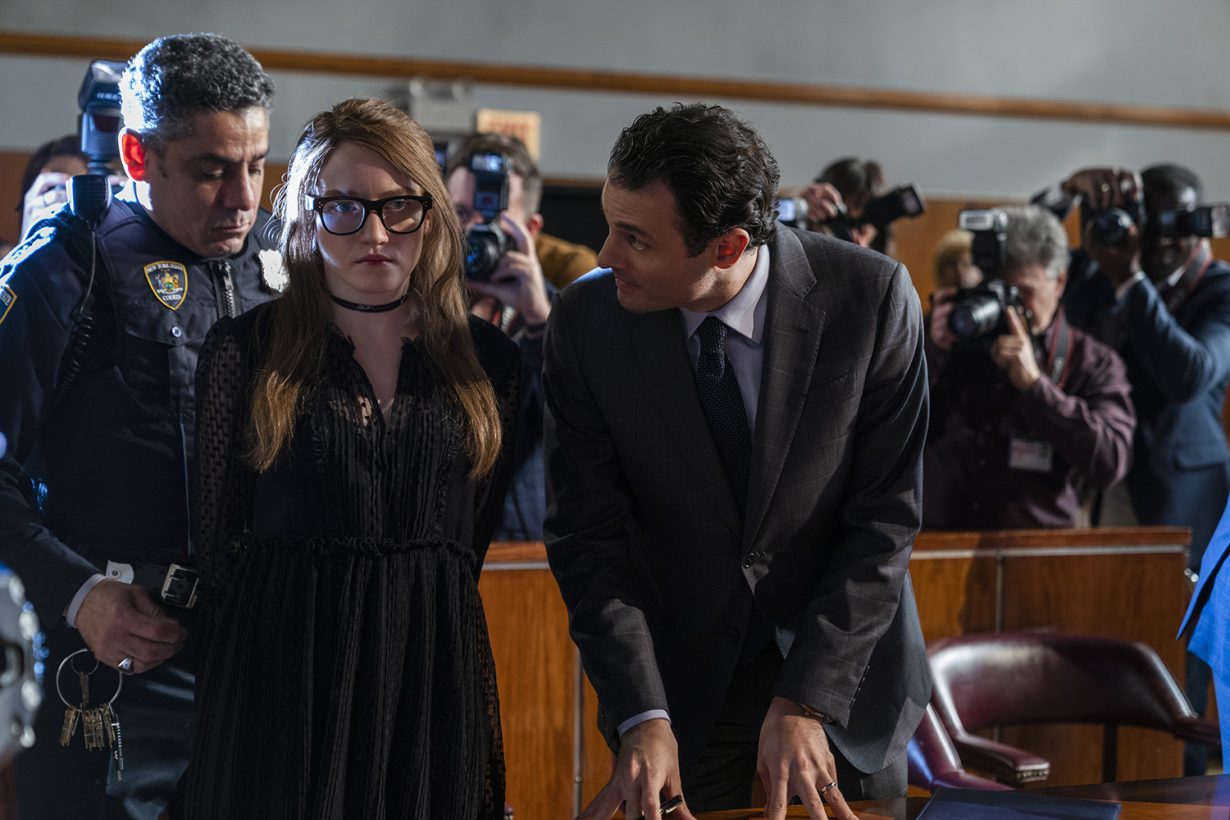 So to Rikers Island, where we lay our scene, and where, in spring 2018, Ms 'Delvey' – real name Sorokin – was jailed without bail while awaiting trial for grand larceny. Don't expect an interrogation of US incarceration, or a deep-dive into the notoriously hellish conditions at New York's mammoth jail complex, because Inventing Anna only has time for one entity renowned for exploitation and misconduct, and that's Delvey herself. Despite attempts to construct itself as an ensemble piece – the series follows journalist Vivian Kent (Anna Chlumsky) in her investigation into Delvey (Julia Garner) and each episode trails the perspective of a different Delvey acquaintance, or witness, if you will – really Inventing Anna is a one-woman show. This is "the Anna Delvey story," as everyone keeps saying, over and over, like the script was written by automated SEO software.
Maybe it could be no other way, seeing as the series' starting point was pure SEO fodder to begin with. By that I mean it is based on a New York magazine article by Jessica Pressler, 'How Anna Delvey Tricked New York's Party People', which went mega-viral in early 2018. Industry tracker Chartbeat recorded it as the sixth most-read story of that year. On the surface it may seem strange that a story about one wannabe socialite could go so stratospheric (in New York, of all places, the city of wannabes). But, behind Anna's 'heart-shaped face and pouty lips' was a treasure trove of details seemingly designed to break the internet. There was the 'futurist' boyfriend 'on the TED-Talks circuit' who had 'been profiled in the New Yorker.' There was the 'personal trainer-slash-life coach' who worked with Dakota Johnson and whose package of sessions cost $4,500. There were dinners with Macaulay Culkin, and dinners with 'pharma-bro' Martin Shkreli, who allegedly played leaked tracks from Lil Wayne's delayed album, Tha Carter V, at the restaurant, and who would later be convicted of securities fraud (only after raising the price of life-saving drug Daraprim from $13.50 to $750 a pill). And, right at the heart of 'the Anna Delvey story,' was the art foundation-slash-social club that she dreamed of establishing, which sounded a bit like Soho House, if it had a German bakery and installations from Damien Hirst or Jeff Koons (Christo would be on hand to 'wrap' the building on the opening day, Delvey promised).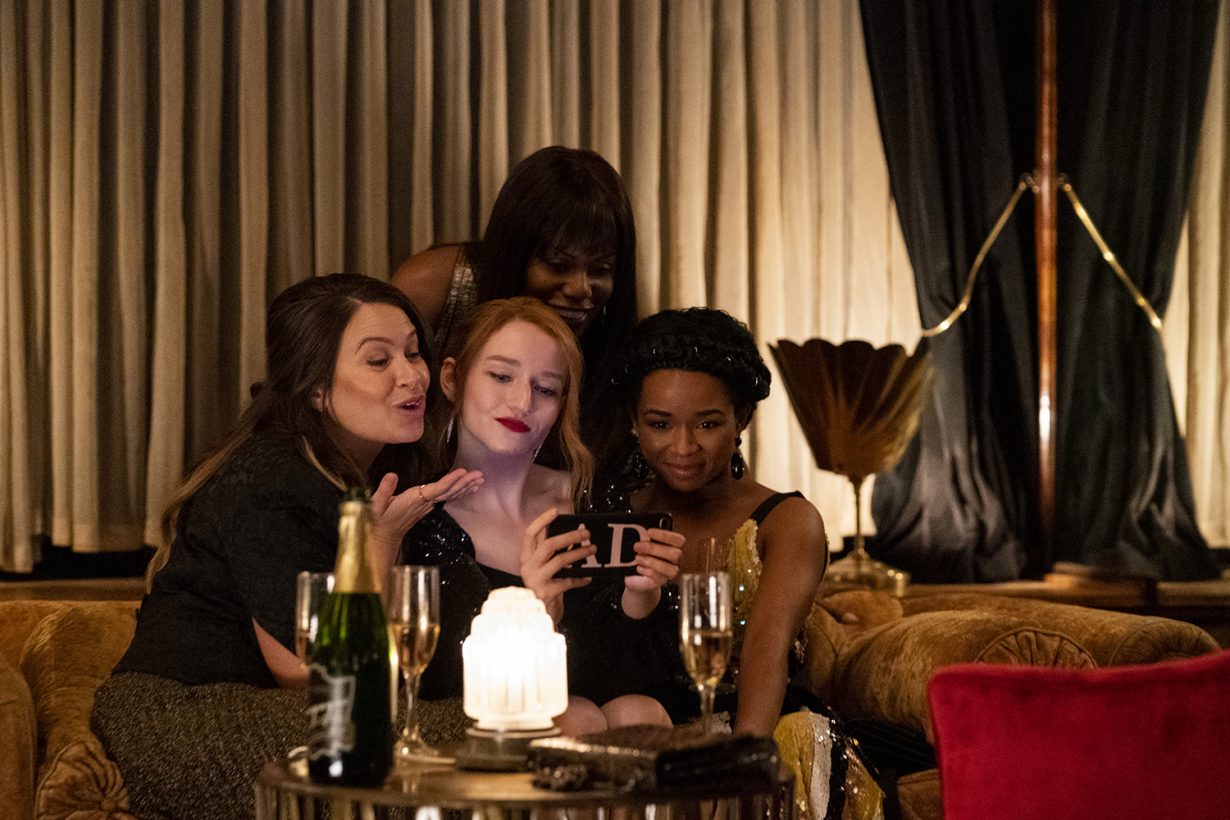 This perfect storm of contemporary personalities is why I'm not going to explain any further who Anna Delvey is, because, frankly if you don't already know you must have been living under the proverbial rock for the last three years (lucky you, to be honest). Suffice it to say, within a few weeks of Pressler's story breaking, the broke 'heiress' was big business. People bought 'fake heiress' slogan T-shirts, Elle Magazine published an Anna Delvey inspired eyeliner tutorial, titled 'How to get a summer scammer look, without actually scamming anyone', and media organisations fell over themselves to consider the deeper meanings of so-called 'grifter season'. Jia Tolentino cited Sorokin's case in a New Yorker piece on the subject, suggesting 'grifter season comes irregularly, but it comes often in America, which is built around mythologies of profit and reinvention and spectacular ascent.' Tolentino also referenced Elizabeth Holmes' failed biotech company Theranos and Billy McFarland's infamous Fyre Festival; yet again, Delvey found herself in illustrious company, this time the central character in a contemporary re-telling of a fable about the American Dream.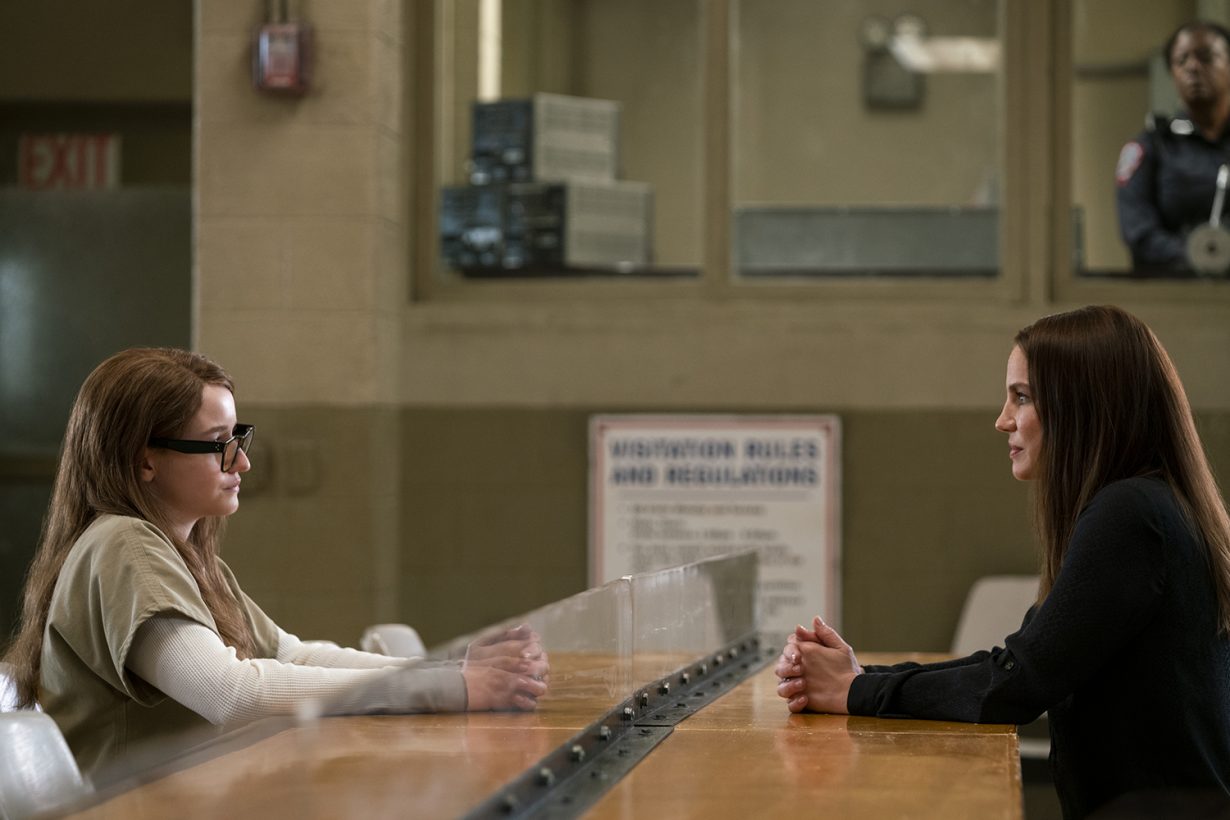 It's worth keeping in mind the trash fire that was Fyre Festival while watching Inventing Anna. Not just because the series features Delvey overstaying her welcome at Billy McFarland's live-work loft space, throwing shade on his scheme for what she disparagingly calls 'a party', but also because, behind the scenes, 'the Anna Delvey story' is also the story of a rapid cash-grab and a streaming services bidding war. Eleven days after Pressler published her article, prisoner number 19G0366 signed a Netflix contract for film rights to her story. Two names were typed underneath the signature: 'Anna Delvey aka Anna Sorokin'. As I'm sure she knows well, when a fee of $30,000 is on the line it's good to have your bases covered. This was, as Todd Spodek later stressed, only the 'initial' payment. Over time, payments from Netflix to Sorokin would rise more than tenfold, to $320,000. Yet, this exclusive deal hasn't stopped HBO trying to get in on the action – another Anna Delvey adaptation is apparently in the pipeline, spearheaded by none other than Lena Dunham (who better to tell the story of a disagreeable, omnipresent New York personality, one might say). 'This is the marketplace now,' The Hollywood Reporter's Lacey Rose told the BBC. 'Within hours of articles coming out, you see bidding wars. The space has blown up in recent years and I don't imagine it will slow down any time soon.'
As the spawn of this marketplace, perhaps it is unsurprising that Inventing Anna seems confused about where it stands on the big money question – on whether, to update Gordon Gekko's famously misquoted catchphrase, grift is good. Anna's friend-turned-prosecution-witness Rachel – who, IRL, penned her own viral piece about being conned by Delvey for Vanity Fair – is made out to be an ungrateful money-grabbing narcissist who happily rode on her friend's coat-tails until they unravelled. Okay, fine. But, what about Pressler's own off-screen book deal and undoubtedly multi-figure Netflix contract? Why are Delvey and the journalist portrayed as flawed but striving girlbosses, trying to prove their ambition and talent to the male 'powers that be'? Why is Rachel's Vanity Fair piece portrayed as a bit of bitchiness, and the New York piece as an exemplary work of narrative journalism? Could it have anything to do with that Netflix contract perhaps, and the fact it's an adaptation of Rachel's piece that is supposedly making its way to HBO? At the heart of all grifts, scams and hustles is old-fashioned competition.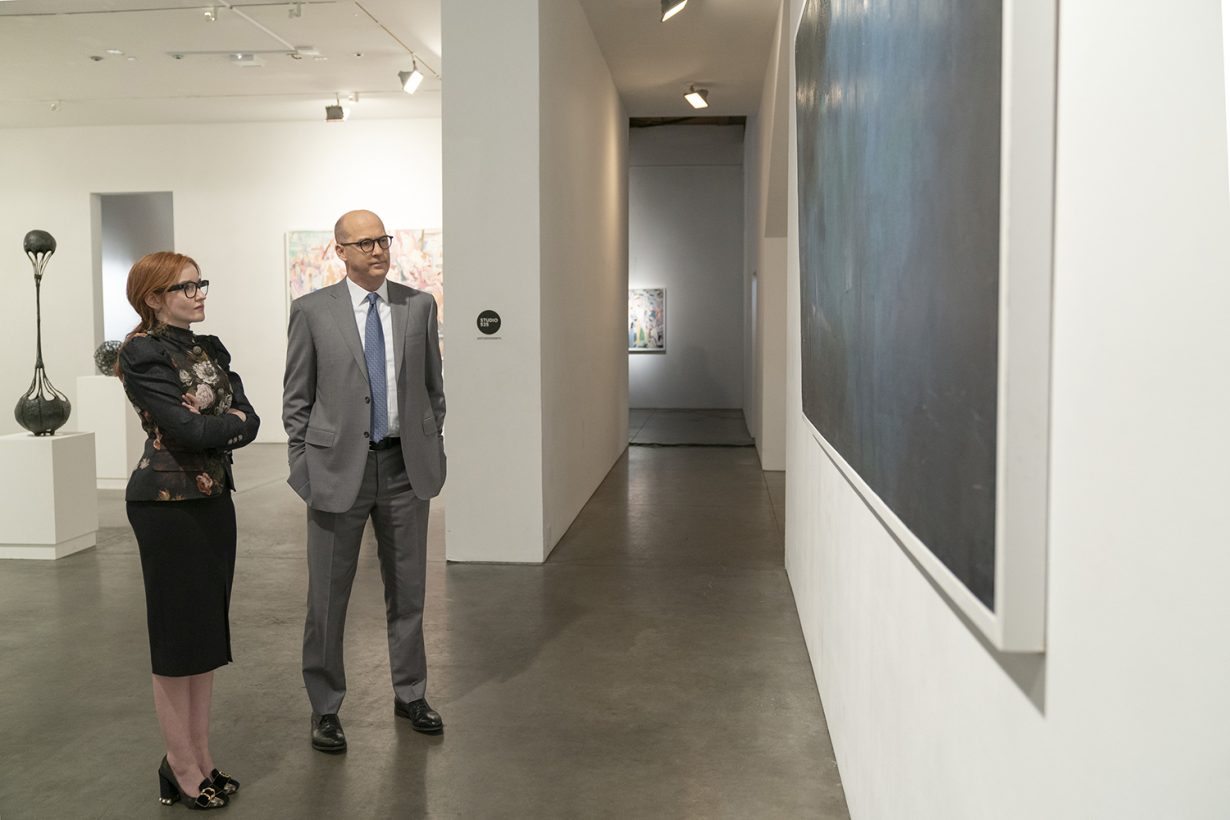 There's a better, nastier series hidden inside Inventing Anna like a lemon pip. It occasionally flashes through in Julia Garner's cold expression and Anna Chlumsky's facial contortions, as ambition and desperation flicker between the two of them in Rikers's visiting room. But this isn't Silence of the Lambs. There are missed opportunities. A tantalising exchange at a gallery between Anna and a lifestyle-brand millionaire about the value of an early Cindy Sherman self-portrait gestures towards a broader take-down of the art market as a fraud, and contemporary art itself as a scam. But it stops short. Instead, Inventing Anna often falls back into basic girlboss sloganeering. Sure, if Anna was a white man, maybe today she would be a successful art collector, running her version of WeWork. Maybe she'd be planning space missions with Elon and Jeff, or fundraising for a presidential run. After all, Damien Hirst made $100 million from a diamond encrusted skull that wouldn't look out of place in Claire's Accessories, and Boris Johnson is the UK's Prime Minister. But, for all this series likes to mention Trump as if we might have missed the 'grifter season' memo, the 'fake it till you make it' premise is never truly challenged. Anna's 'business' might be revealed as a pipe dream, but the validity of striving to be a famous, wealthy entrepreneur is taken as a given. Everyone lies, and everyone wants to be in the club.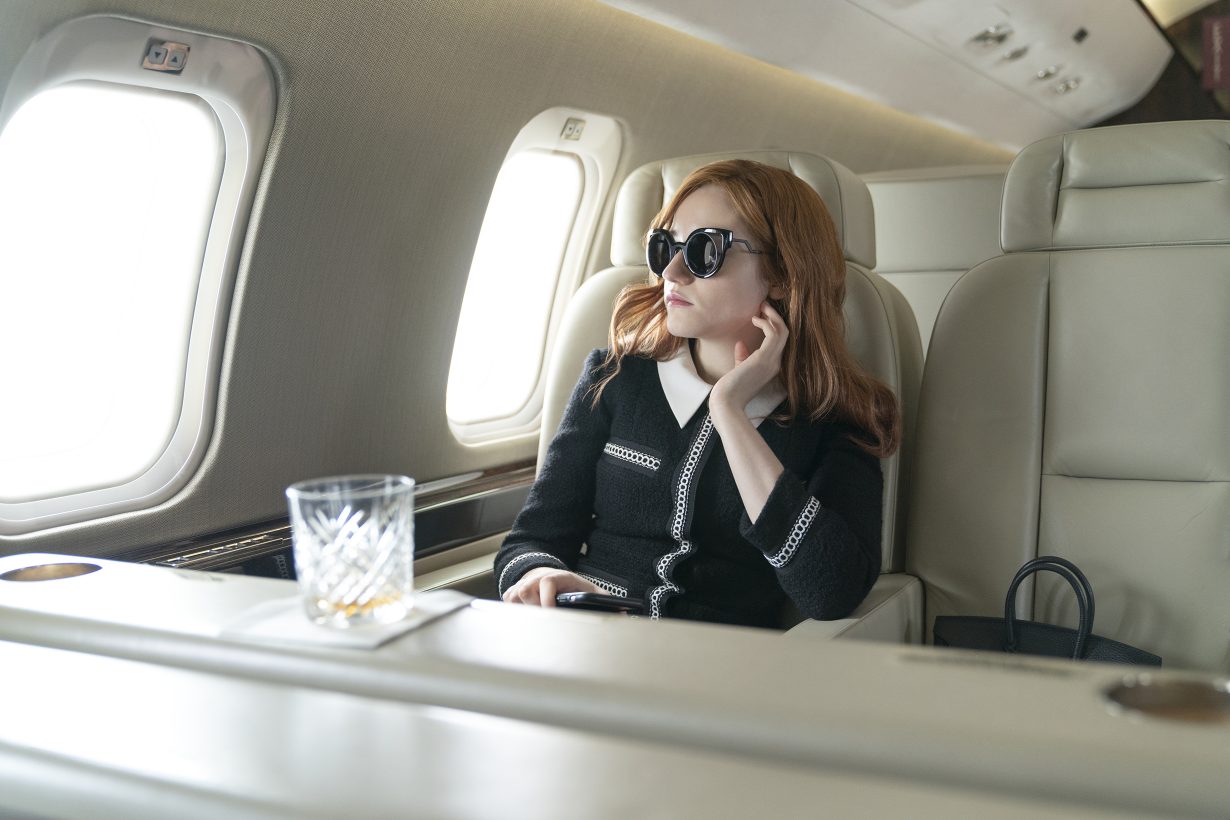 But, perhaps it is the perfect portrayal of the Anna Delvey story, which is, of course, the Jessica Pressler story, and the Vivian Kent story. In Inventing Anna, Vivian despairs at people not 'getting' her Delvey piece, at people making Anna into a punchline or, to use Tolentino's term, a folk-hero. What did she want instead? To write "something about class, social mobility, identity under capitalism, I dunno." A noble aim, or a vague and banal one? To my mind at least, what that "I dunno" glosses over is that it's hard to write a take-down of capitalism when, on a fundamental level, you're enamoured with it. In the end, 'the Anna Delvey story' is just glossy, gossipy entertainment, and this series is at it's best when the money is flowing, things are fun, and death and taxes are out of sight.