Curated by ArtReview and presented by K11 Art Foundation, the group exhibition – reflecting on art as dialogue and collaboration as we emerge from times of isolation – travels to K11's venues in Hong Kong
Following its run at chi K11 art museum in Shanghai this year, Breaking the Waves now travels to K11 HACC from 17 December 2021. An exciting sneak peak of the exhibition is on view until 18 December at K11 MUSEA's Gold Ball: Eisa Jocson's Superwoman KTV, an immersive video installation by Eisa Jocson that reflects on the KTV phenomenon, female affective labour and the struggles of Filipino migrant workers – unpacked through choreography and singing by The Filipino Superwoman Band.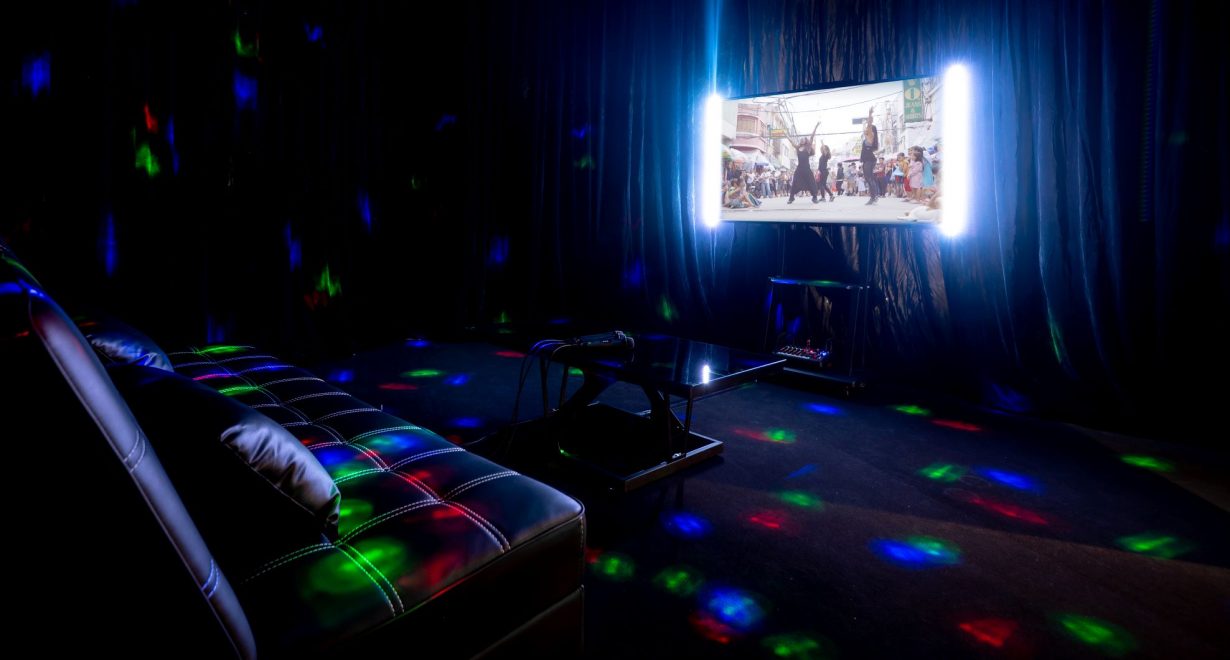 Breaking the Waves brings together the works of 14 highly acclaimed artists and artist collectives from around the world – Larry Achiampong, Yuko Mohri & David Horvitz, Wolfgang Tillmans, Eisa Jocson, Laure Prouvost, Adriano Costa, Jac Leirner, Chim↑Pom, Ho Tzu Nyen & Ripon Chowdhury, Michael Joo, Zheng Bo, Slime Engine – to explore discussion and dialogue as a cornerstone of contemporary art.
The exhibition title, Breaking the Waves, refers both to persistence, as the endlessly repeating climax of waves breaking on a shore, and the act of swimming against the tide, or coming up for air. In the current moment, it also seeks to convey optimism about the latent potentials for renewal as we slowly begin to re-enter a world reshaped following the COVID-19 pandemic.
Through videoworks, sound installations, sculpture, photography and interactive experiences, the show explores and interrogates relationships between humans and nature, conditions of migration and mobility, exploitation and cooperation, the potentials of new technologies and the ways in which artists collaborate or enter into dialogue with the work of their peers, however separated they may be by chronology or geography.
OPENING SOON: Breaking the Waves
Date
17 December – 23 January 2022
Venue
K11 HACC L2, K11 ATELIER King's Road, 728 King's Road, Quarry Bay
Time
11 am – 7 pm; Winter Solstice (21 December), Christmas Eve (24 December) and New Year's Eve (31 December): 11 am – 5 pm
LAST CHANCE TO SEE: Eisa Jocson, Superwoman KTV
Date
3-18 December 2021
Venue
K11 MUSEA 2F, Gold Ball
Time
10 am – 10 pm
About K11 Art Foundation
Founded by Adrian Cheng in 2010, K11 Art Foundation (KAF) is a non-profit organisation in Hong Kong dedicated to fostering the development of Chinese contemporary art. In pursuing our mission, we are committed to supporting artists through KAF's exhibitions, artist residencies, and educational programmes. We also actively establish partnerships with leading art and cultural institutions around the world, collaborating with curators and other industry specialists to create impactful cross-cultural exchange and contribute to the expanding global contemporary art discourse.
Over the years, KAF has collaborated with the Royal Academy of Arts, Serpentine Galleries, and the Institute of Contemporary Arts, London; Centre Pompidou, Palais de Tokyo, and Musée Marmottan Monet, Paris; Fundació Gala-Salvador Dalí, Figueres; the Metropolitan Museum of Art, the New Museum, The Museum of Modern Art, and MoMA PS1, New York; Museum of Contemporary Art, Los Angeles; UCCA Center for Contemporary Art, Beijing; and Videotage, British Council Hong Kong, Design Trust, and Asia Art Archive, Hong Kong, among others. www.k11artfoundation.org