In 800 Meters and a Corridor at GB Agency, Paris, the artist showcases works created in response to the fertiliser store explosion that devastated the city in 2020
Palestinian artist Majd Abdel Hamid adopted his signature medium – cotton thread woven through pillowcases, gauze, scraps of fabric, handkerchiefs and even kitchen utensils – after becoming interested in the parallels between twentieth-century abstraction and the nonfigurative traditions of Islamic art. Besides any cultural symbolism, the laborious process of creating his embroideries brings a performative, durational quality to the works. That they are small, portable and (according to the artist himself) even machine-washable has proved ever more suitable to the unpredictable conditions in which he operates.
In this exhibition he showcases two new series of embroideries created in response to the huge fertiliser store explosion that devastated his adopted hometown of Beirut in the summer of 2020. 800 meters (all works 2022) is titled in recognition of the length of surgical thread required to stitch up wounds on the day of the tragedy. While in hospital, Hamid – himself injured – was struck by the solidarity displayed by his fellow patients: in Beirut, long divided along sectarian and political lines, it had taken an undiscriminating tragedy to bring solidarity to the city. Thread thus became both a literal and figurative cord that bound its denizens together. Here, 800 meters takes the form of workbooks full of notes, punctured with coils of surgical thread wound to resemble calligraphy, as well as delicate embroideries spaced around the gallery walls: typical of these is 800 metres (how long was the thread) V, in which the coloured thread on white background is worked to the point where it resembles scar tissue.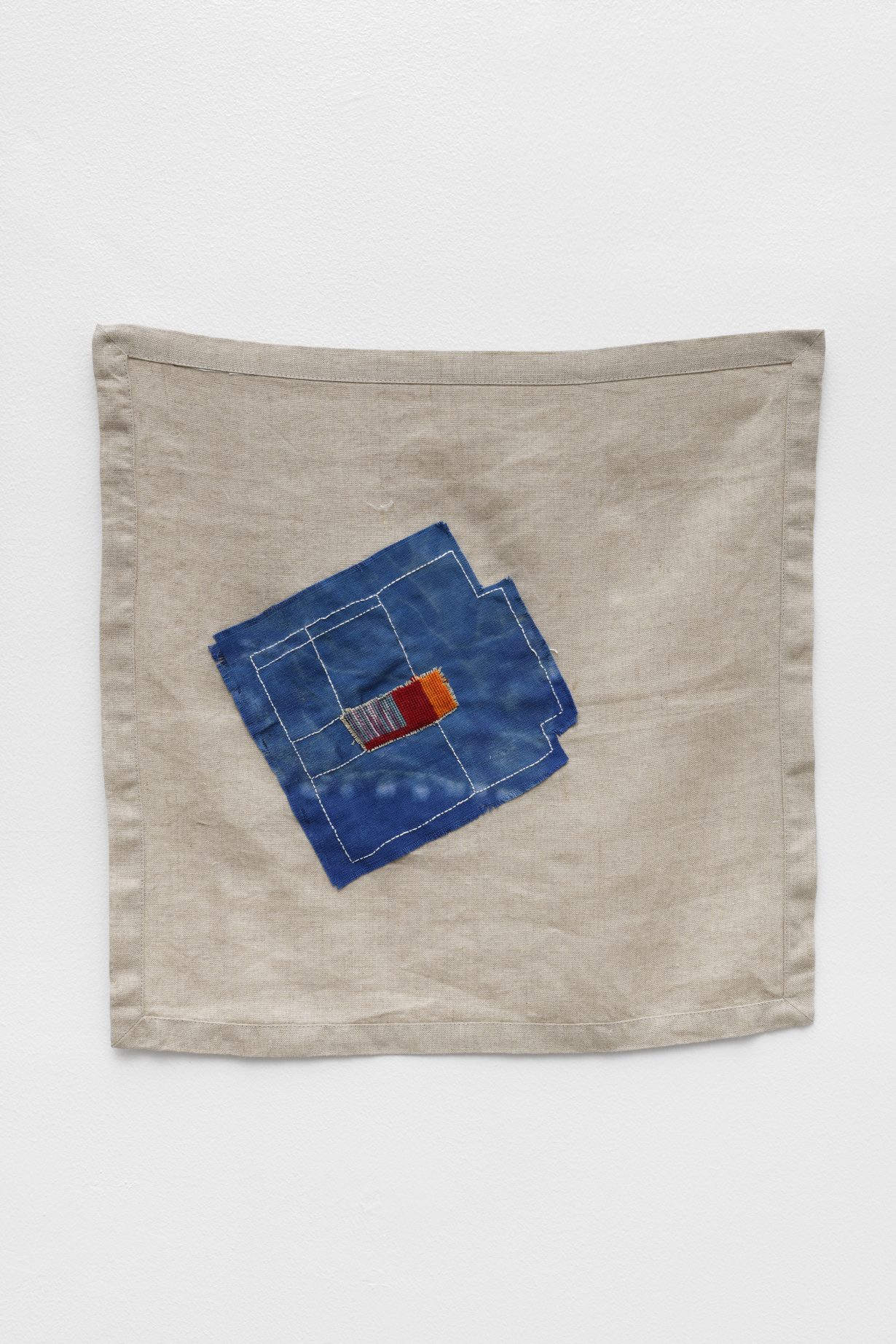 The series Corridor takes a similar approach. This body of work began with Hamid asking Beirut friends to draw diagrams of their apartments, denoting the space in which they felt safest; the risk of flying debris meant that these tended to be windowless corridors, a fact reflected in the tapestries Hamid based on their testimonies. The architectural outlines of the properties are stitched onto mottled indigo fabric, the presumed 'safe spaces' embroidered with dense, coloured thread, again evoking the texture of scarred flesh. In Palestinian tradition, widows dye garments blue, then wash them until the last trace of colour disappears, at which point the grieving cycle ends. Hamid alludes to this in Corridor: the backgrounds, lightly spotted with paler blue or white, suggest that the process of healing is far from complete.
800 Meters and a Corridor at GB Agency, Paris, 15 October – 19 November