Tuning into the body at KW Institute for Contemporary Art, Berlin, for the premiere of the artist's performance REACHING
Waiting to enter Berlin's KW Institute for the premiere of Michele Rizzo's REACHING – presented collaboratively by KW and Julia Stoschek Collection – felt more akin to queuing for a club than a cultural institution. Crowded in the venue's renowned courtyard, wrapped up against Berlin's declining temperatures, the audience suddenly gravitated towards the entrance as a bouncer dressed all in black opened the doors, holding up his hand to stop the eager throng of people from entering all at once. It was a fitting atmosphere, considering that, according to the programme note, the Italian artist/choreographer's work frequently investigates 'rave culture and the significance of the moments and spaces in which it becomes palpable'.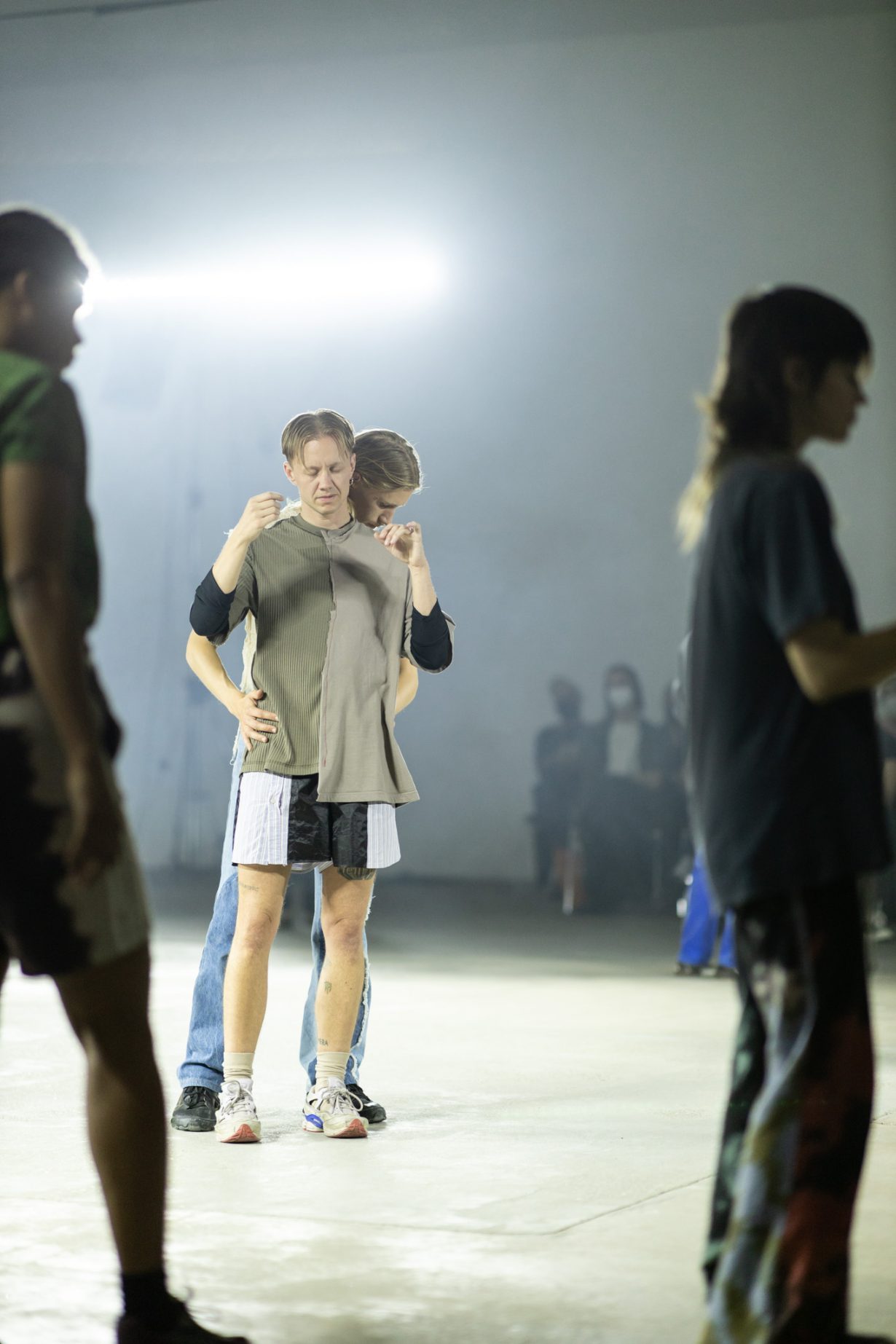 REACHING was no exception. Inside, KW's main exhibition hall was stripped back to its bare essentials. Chairs for the audience lined the periphery of the concrete, industrial room, otherwise furnished only with two bright, white striplights on metal stands. At the centre of the space, two performers gently swayed from side to side, transferring their weight from one foot the other. This simple, recognisable action – one that most people settle on when dancing at a party – was the backbone of REACHING. Dressed in an assortment of sportswear, black leather and PVC garments, twelve other dancers entered the space. After distributing themselves evenly across it, they adopted the same motion. While many had their eyes closed, others approached them, gently laying their hands on their heads, chests and shoulder joints.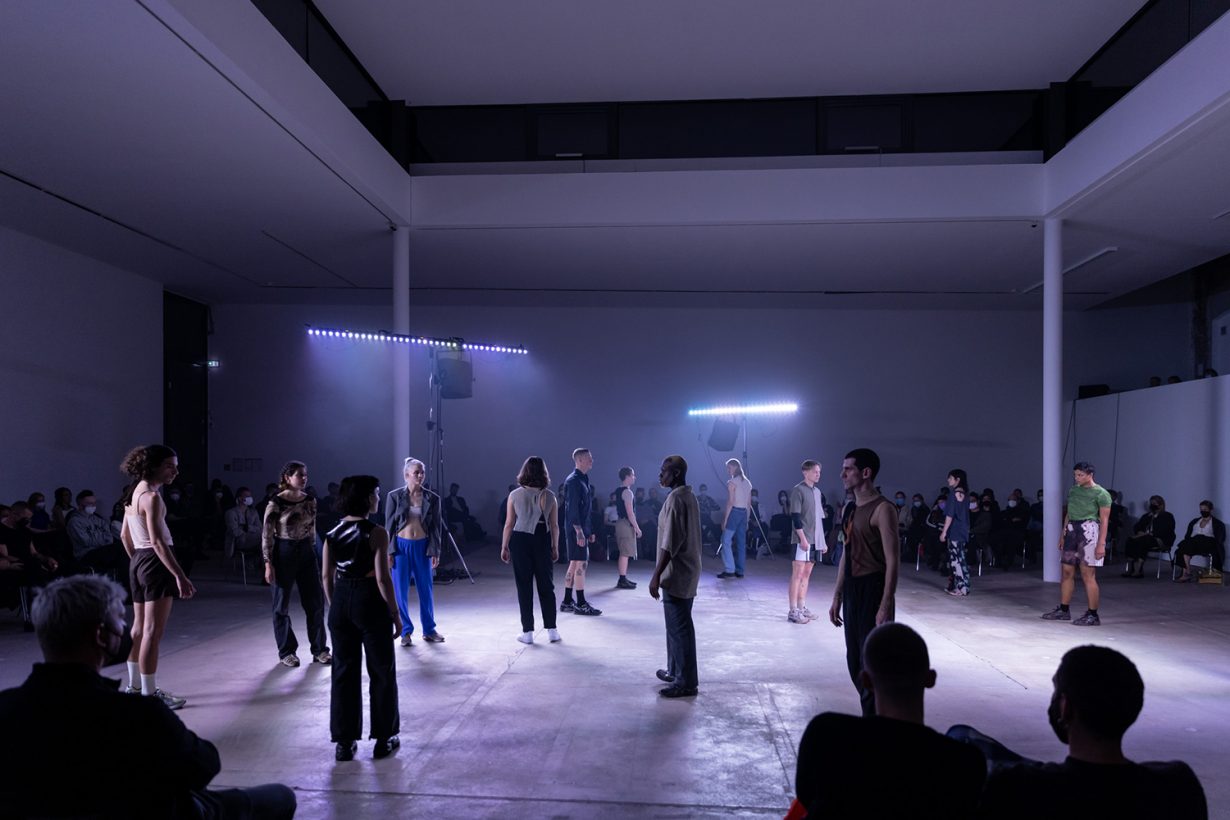 Unlike many encounters at clubs or raves, there was nothing sexual or romantic about these touches. In fact, they were reminiscent of exercises commonly used in somatic and improvisation-based dance practices: there, dancers often use touch to provide physical 'information' and sensations to their partners, bringing awareness to specific areas of their body and offering them an opportunity to 'tune into' their physicality. By including this moment of partnerwork in REACHING, it was almost as if Rizzo sought to recast raving – often stereotyped as deviant, decadent pastime – as a holistic, healing activity. It made sense: I've had many conversations with friends who regard dancing at nightclubs as therapeutic and even spiritual. Berlin's infamous nightclub Berghain, for example, is referred to by many as 'the church'.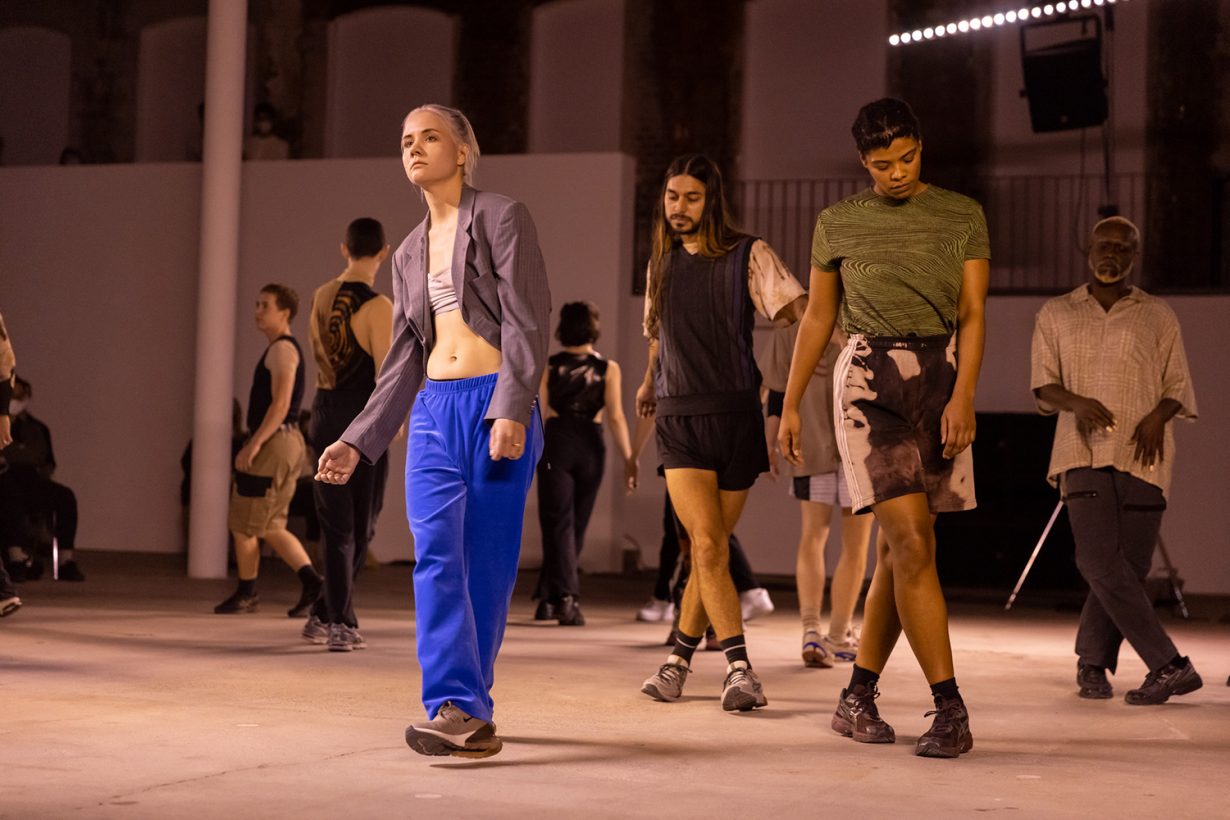 Tuning into one's body is a timely topic in a post-corona world – during lockdown, of course, many were disconnected from the physical realm, spending most of their time sitting stationary behind laptop and television screens – as is tuning in with others. In REACHING, the 14-strong cast were deeply connected to each other. Without the help of clear musical cues, they sensed each other's energy so that they incrementally accelerated the pace of their movements, imperceptibly transitioning from gentle sways into climactic rhythmic stepping patterns. While the bottom halves of their bodies were in complete unison, all the dancers faced different directions, their torsos free to twist and turn however they pleased: some allowed their arms to swing freely while others placed them on their knees. The cast's faces, which had been neutral for the majority of the piece, started to curl into slight smiles as they caught the eyes of their fellow performers. This moment, combined with the fact that my mind continuously switched between viewing the dancers as individuals and as one large interconnected organism, seemed to make a beautiful statement about the ability to maintain identity while still being part of a collective or community.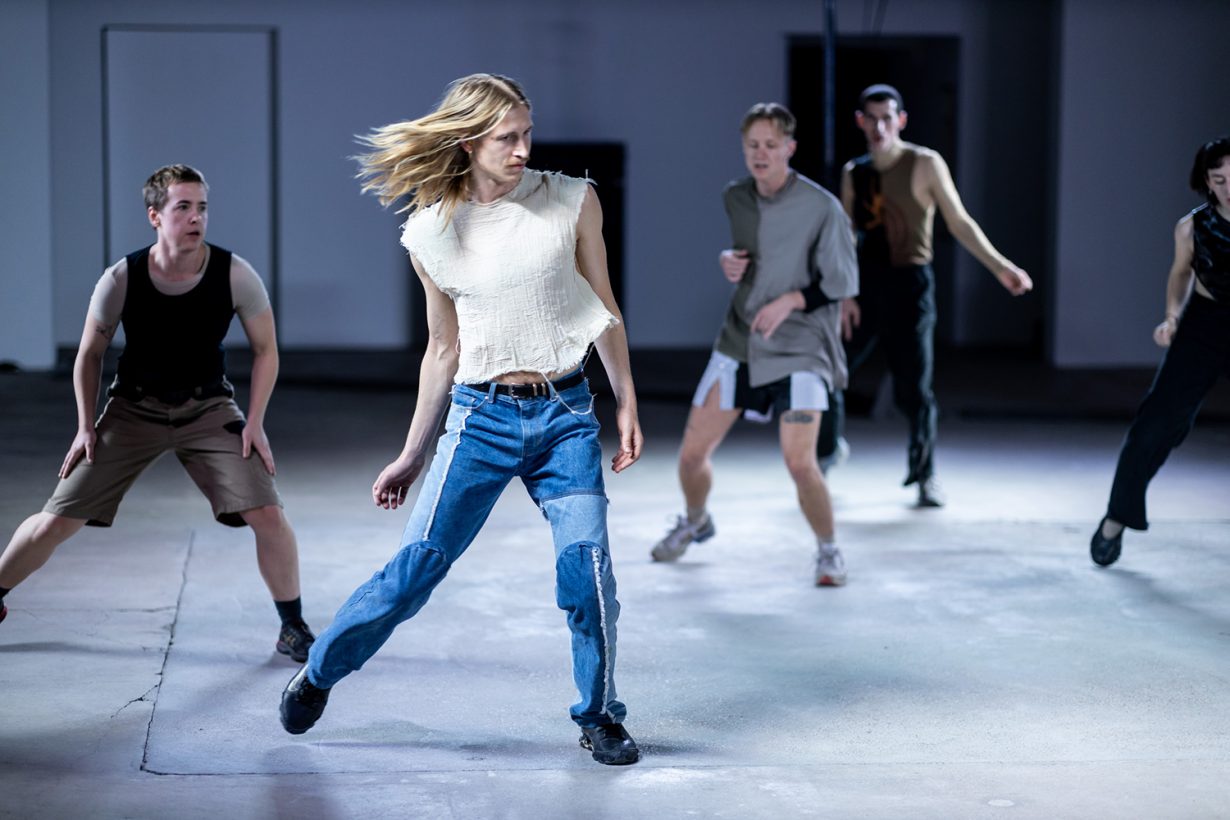 REACHING's onstage community was one I wished I could join. Despite thinking that the things I missed the most during lockdown were bars and restaurants rather than clubs and dancefloors, the combination of Rizzo's simple yet intricate choreography, Billy Bultheel's intense, pounding, electronic score and Theresa Baumgartner's ebbing lighting design – mostly cold-white and stark, at times taking on warmer tones – roused a tight feeling of anticipation and excitement in my chest. It called me to move and expend the energy that had been pent up inside my body, and all of ours, for the past year and a half. Yet it also made me feel a degree of retrospective sorrow. Watching Rizzo's dancers explore their bodies, both individually and as a group, seemed like the most natural, and human, thing in the world. I couldn't help but grieve for all the nights we were kept from this catharsis, especially during a time when we needed it more than ever.
Pause: Michele Rizzo, REACHING, Kunst-Werke, Berlin, 1–3 October 2021