ArtReview Asia Xiàn Chǎng, curated by ArtReview Asia, was a special exhibition of solo artist projects curated by ArtReview Asia for Shanghai's West Bund Art & Design Fair, for its 2016, 2017 and 2018 editions
Originating in the Chinese characters for 'xiàn' and 'Chǎng' – which together mean the scene (of a crime, accident, etc); (on) the spot; (at) the site – the programme featured solo projects by artists from around the world, situated both inside the fair itself and at locations across the West Bund district.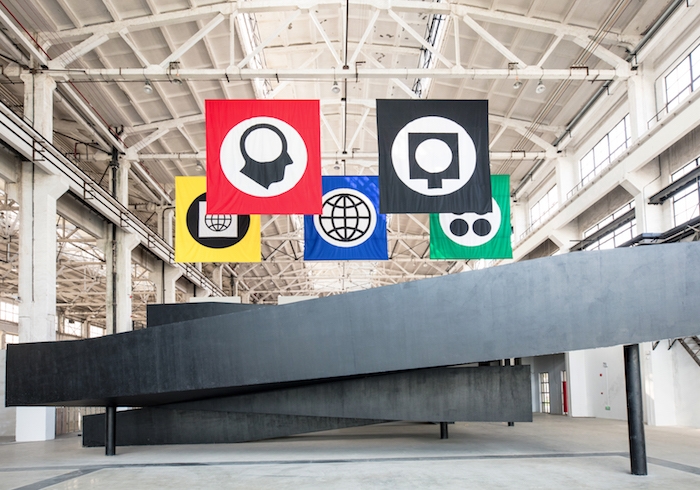 On show at the debut edition in 2016 were deconstructed paintings of Merlin James, a multi-translated rendition of a pop song in an installation by Shanzhai Biennial, a speech-bubble installation by Philippe Parreno, an audiovisual installation by Haroon Mirza, a monumental outdoor sculpture by Sean Scully, a disorienting dry-ice-filled immersive work by Hao Jingfang and Wang Lingjie, and a 38-channel videowork by Qiu Anxiong installed on an old steam train.
The 2016 edition of ArtReview Asia Xiàn Chǎng also featured a specially commissioned largescale textwork by Liam Gillick, on the facade of one of the fair's two sites.
In 2017, 29 invited artists from 16 countries participated, including nine site-specific commissions. Artists showing included Ding Yi, Rirkrit Tiravanija, Wang Wei, Damián Ortega, Damien Hirst, Lynn Chadwick, Sonia Gomes, Robert Zhao, Miriam Cahn and Matt Mullican.
ArtReview Asia Xiàn Chǎng, presented at West Bund Art & Design Fair, Shanghai, between 2016 and 2018