Syrian authorities say they have uncovered the remains of Khaled Al-Asaad, the head of antiquities for the ancient city of Palmyra, killed by the so-called Islamic State group in 2015.
The archeologist was beheaded after he refused to reveal the location of various hidden artefacts. The state-run Syrian Arab News Agency reported that the body is one of three uncovered in the Kahloul area, 10 km east of Palmyra. The remains will be DNA tested to confirm identities.
While Al-Asaad's three sons were able to smuggle thousands of valuable finds out of the area, the 82-year-old refused to leave, reportedly saying: 'I am from Palmyra, and I will stay here even if they kill me.'
At the time of Palmyra's capture, IS circulated a photograph of a man, whom the militants claimed to be Al-Asaad, tied to a pole with a sign labelling him the local 'director of idolatry'. Al-Asaad had worked for more than 50 years excavating and conducting research at the UNESCO World Heritage Site. Further ISIS propaganda included videos of fighters destroying icons and deliberately damaging ruins including the Temple of Bel, the Temple of Baalshamin, and the Arch of Triumph. The vandalism is considered a war crime.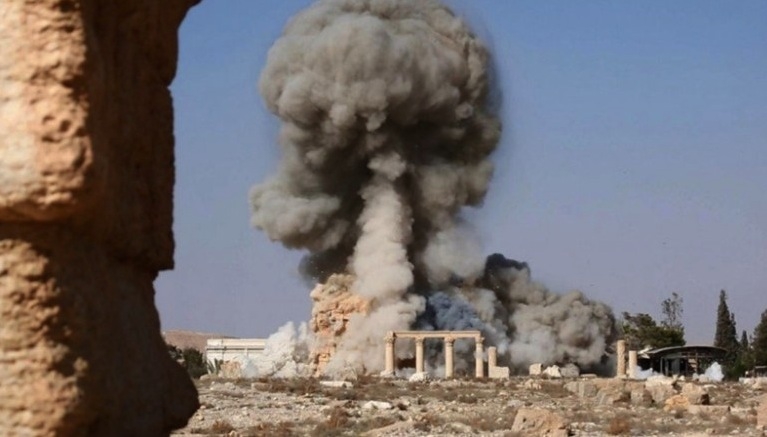 In March 2017 the city was retaken by forces loyal to Syrian dictator Bashar al-Assad, with air cover provided by Russian fighter jets. 
Last year the State Hermitage Museum in Saint Petersburg and the Institute of the History of Material Culture of the Russian Academy of Sciences signed an agreement with Syria's Directorate General of Antiquities and Museums (DGAM) pledging funding and expertise to help rebuild the site.