The English comedian brings his own brand of absurd whimsy and wordplay into the gallery
Simon Munnery's first foray into the art-exhibition business includes a video of the comedian (and now artist) exploring a Venn diagram. The diagram features two sets: comedy and art. It's a response to a 2006 review that described Munnery's standup act as 'the closest that comedy gets to modern art'. The statement was intended as a compliment. In the video (of a later standup show) Munnery uses the critic's assessment to imagine in which of the two categories his work actually sits: "A long way from the middle of the comedy circle – like funny comedy – in fact almost not comedy at all," Munnery explains. "But not art. And even if it became art, it would be shit art, art perilously close to being comedy."
Alongside the video hang a series of paintings also playing with the Venn motif. In one, two sets touch without overlapping. A dot captioned 'my show' lies just inside the 'comedy' circle, where it meets the circle marked 'art'. So here we are.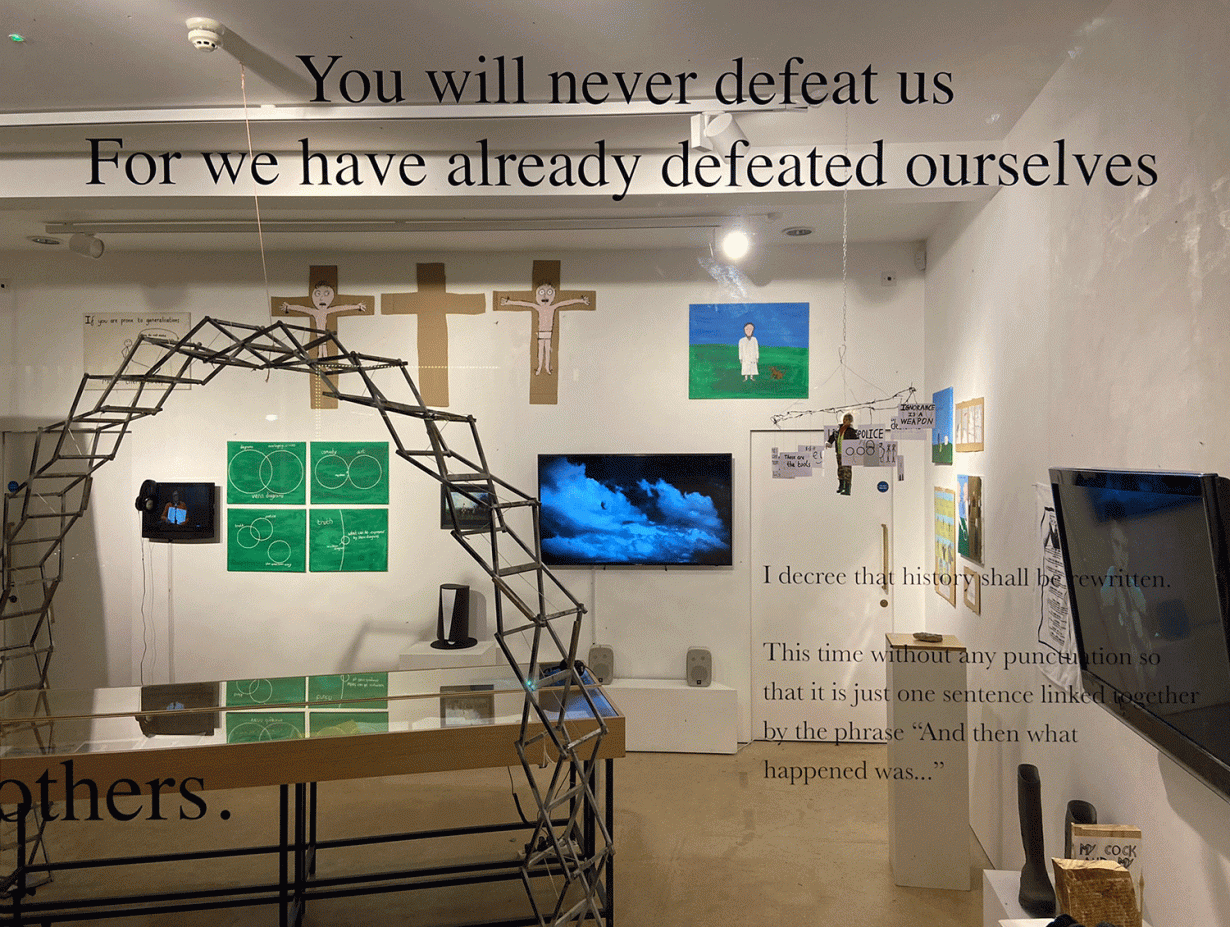 While never becoming a household name like the 1990s comedians he's standing next to in one archive photo (Stewart Lee and Caroline Aherne among them), characters such as the dictatorial egoist The League Against Tedium and student anarchist Alan Parker: Urban Warrior won Munnery avid fans, not least artist Andy Holden, who cocurated this show (along with Munnery himself). His brand of absurd whimsy and wordplay translates well from comedy club to gallery. Some works admittedly come off as one-liners, even if undercut with dark humour: a painting, in which a child says 'Please Daddy, everyone else is going' as she drags her father towards a sign pointing to hell, has the artistic value of a New Yorker cartoon. More persuasive is Monkey Reverie (undated), a series of 11 photographs of (presumably) Munnery in a monkey costume, collaged onto a painted desert landscape so as to appear as if he is approaching the viewer. In the final picture the ape, according to a typewritten caption, 'whips out a banana and offers it to you'. It goes on to ask: 'What would you do? Eat the banana? Run away screaming? Or gently insert the banana in the monkey's back passage?' There is something dreadful in the scenario that, trading on transgression and violence, mines the dark humour of surrealism, or the absurdism present in the work of conceptualist forebears such as Bas Jan Ader or Keith Arnatt.
In another video, Munnery stands in front of a similar desertlike landscape while Bob Dylan's Knockin' on Heaven's Door (1973) plays. Spoofing Dylan's famous film clip for Subterranean Homesick Blues (1965), from inside his trench coat the almost-artist brings out a series of cue cards: 'Knock', 'Knock Who?', 'Knock Knock', 'Who's There?', 'Knock', 'Knock Who?' 'Knock Knock'. It is a work that confounds and annoys and is all the better for doing so. Leaving the joke hanging without a punchline, Munnery enters the territory of art where, at its best, ambiguity and a lack of resolution are rightly privileged.
Simon Munnery: What Am I?, Stroud Valleys Artspace, Stroud, 8 August – 26 September 2020