A slab of pink stands on a shimmering gold base, its surface iced with globules of a glossy blue substance the colour of bubblegum and the look of buttercream. Nearby is a collection of smaller forms, all also brightly daubed like cakey stalagmites. One green mound is covered with blobs of red and gold that at first resemble fruit seeds, then acne spots or mould spores. Round the corner, a squid sprawls in an oily slick of ink, just feet away from a fragrant hill of vegetation punctuated by hybrid creatures: a child with a horse's head; a girl emerging from tree. Aside from the vegetation, all these forms are created from clay. They, and 20 other ceramic sculptures, clusters and displays, are the strange objects making up Strange Clay, an exhibition exploring this most plastic and contradictory of mediums.
As a survey of the strange, it is unsurprising the exhibition often dwells on the uncanny and fantastical. Clay's strangeness is innate – a primordial material that issues from the arth's gooey innards, but which is transformed through fire into the most delicate of vessels. Or as this exhibition makes clear, into deathly sea creatures, pale bundles of guts, hands, ears and lips. Clay is both domestic and organic; mineral deposit, mealtime and myth.
Perhaps this is why many of the exhibits seem to be still 'in the making': Salvatore Arancio's iridescent pillars erupt from dark, volcanic bases; David Zink Yi's squid discharges its ink. Opening the exhibition, Jonathan Baldock's Facecrime (2019) encapsulates this state of transformation with an exemplary playfulness: teetering totemlike towers of ceramic cylinders sprout ears and push out tongues and hands; drooping balloons of coloured glass sag from protuberances, like condoms attached to leaking pipes. The piece feels all in motion and in-between states; both ritualistic and abject. This seems true of Leilah Babirye's work too. Persecuted for her queerness in Uganda, before being granted asylum in the US, Babirye's hand-moulded, masklike ceramic heads are each crowned with New York street detritus – bike tyres and chains, nails and metal tubes – and given a Buganda clan name, creating, in Babirye's words, 'a new queer clan'. What is commonly cast off is reclaimed and elevated; raw materials cooked into splendour.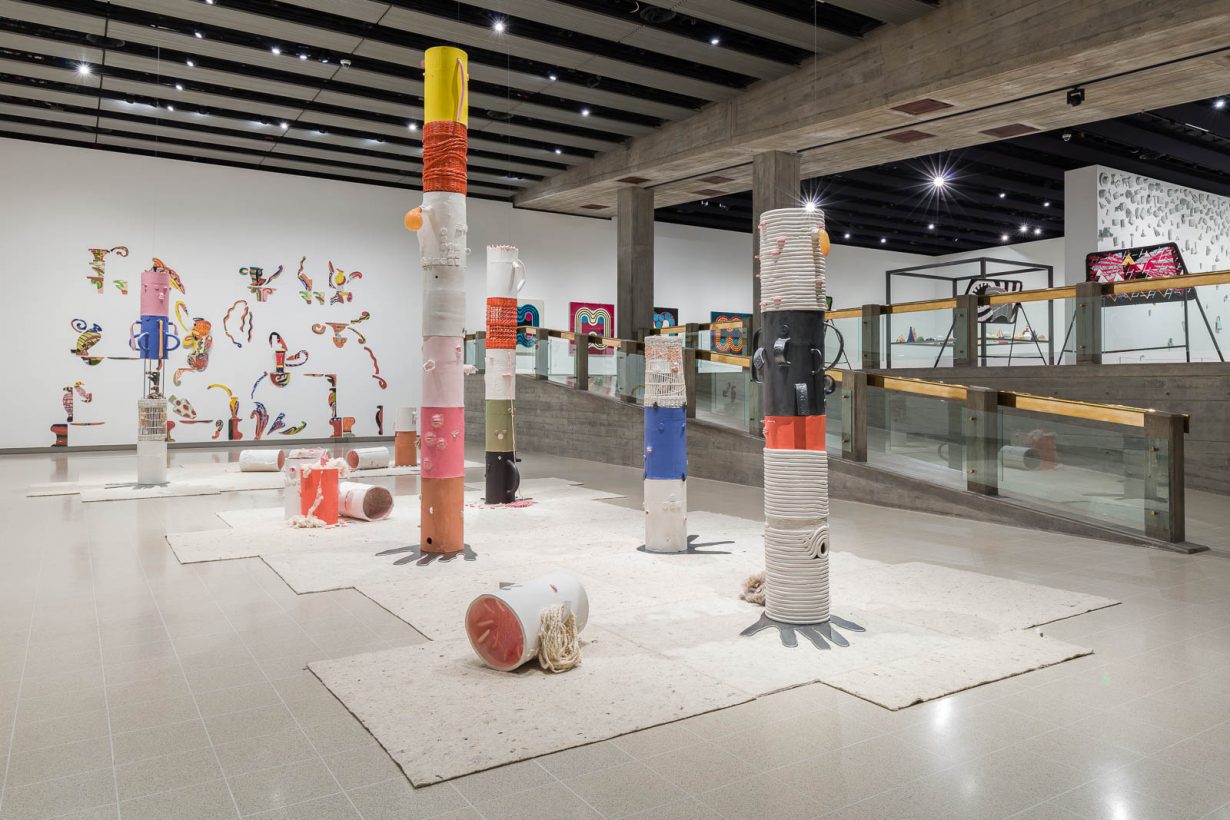 Revelling in the abject and unruly is taken to a carnivalesque extreme in Lindsey Mendick's Till Death Do Us Part (2022), in which domestic scenes are invaded with ceramic vermin. Cockroaches swarm over a porcelain replica of 1990s relationship self-help book Men Are from Mars, Women Are from Venus, and set up a boxing match on a copy of OK! magazine, headbutting on David and Victoria Beckham's faces. Ceramic – that domestic material – is made strange in order to make cohabitation the realm of epic conflict. Here be not tea sets, but monsters.
Yet while the exhibition ostensibly celebrates the contemporary breakdown between high art and craft – the last decade having witnessed ceramics being reclaimed as queer and subversive in much the same manner textiles have been – there still seems to be a degree of equivocation about the medium. Or more precisely, a desire to focus on clay's material properties, rather than contemporary ceramics' position in a commercial art culture that values artworks as luxury products.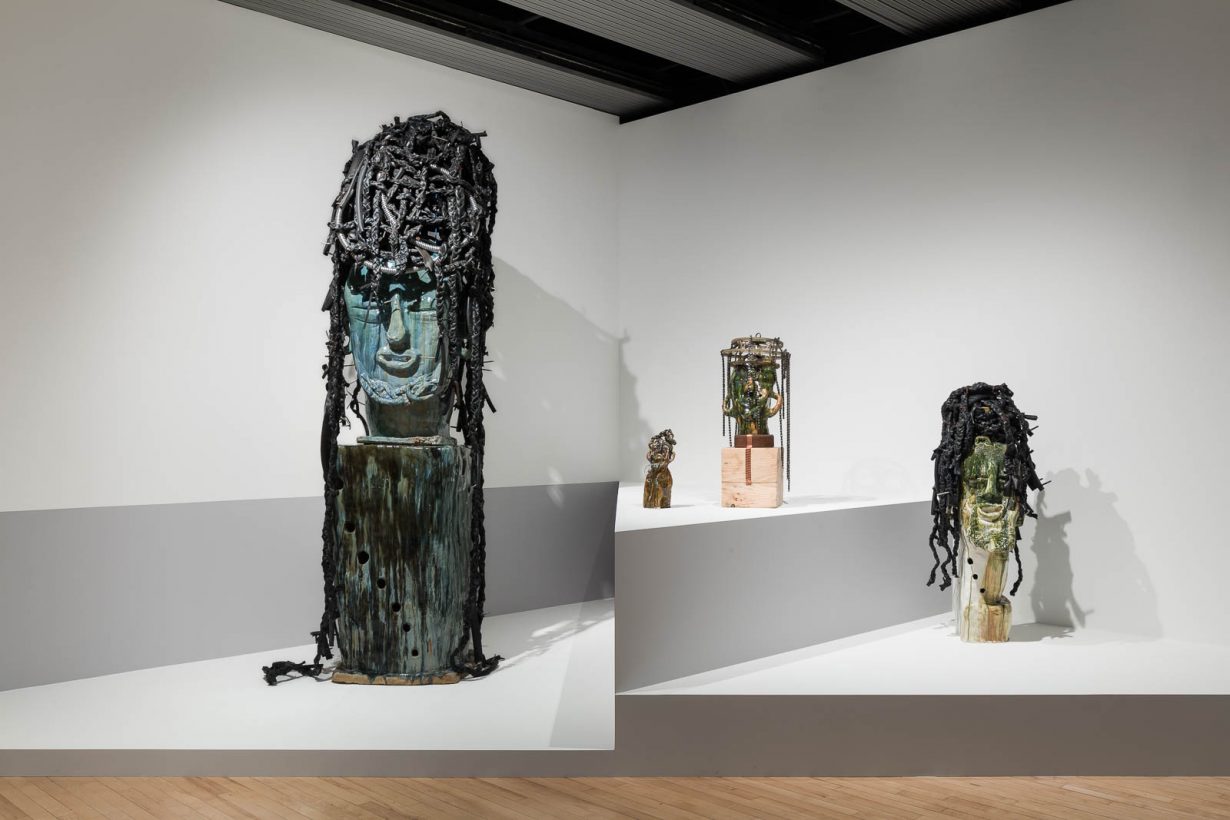 What is undeniable is that the artworld is in the throes of a flirtatious fascination with clay. When Tate Liverpool presented an exhibition exploring ceramics in twentieth-century art in 2004, it was titled A Secret History of Clay. In the years since, however, the secret has got out, and the work of leading ceramic artists such as Ai Weiwei, Lucie Rie, Magdalene Odundo, Takuro Kuwata and Theaster Gates has been exhibited internationally to great acclaim. Indeed, in London alone, Strange Clay follows last year's Clay Sermon, Gates's multivenue exhibition of clay works at the Whitechapel Gallery, Serpentine Galleries and the Victoria & Albert Museum. As the title suggests, Gates's project spun on an appreciation for the material's spiritual dimensions, yet it was also intimately involved with the significance of ceramics in global trade and colonial expansion. Clay stood as a material with entangled connections to wealth and the market. Strange Clay, on the other hand, seems exemplary of much of contemporary art's 'new materialism', in that it dwells on matter's dynamic nature, and how this connects to mysticism and myth, but avoids issues of value, consumption and trade.
As a celebration of clay's strangeness and plasticity, the Hayward's exhibition is a fantastic aesthetic trip. Yet as an intervention in the ongoing broader dialogue between art and craft, what it does not do is reckon with contemporary ceramics' complex relationship to labour, luxury and commerce – the truly slippery stuff with which the artworld seems to find it difficult to get to grips.
Strange Clay: Ceramics in Contemporary Art at Hayward Gallery, London, 25 October – 8 January.