A strange nostalgia infuses the work of the British artist, who combines photography with painting to imbue her subjects with a hazy tactility
In British artist Poppy Jones's photorealist composition Sans Soleil (all works 2023), an immaculate wineglass stands upon a table. The sepia tinge and uneven tones recall a nineteenth- century calotype. Looming behind is the glass's mottled shadow, making the pristine glass look rather blemished or injured in its mirror image. The eerie and paradoxical composition – which contains echoes in its staging of Henri Magritte's 1937 painting of a mirrored man Not to Be Reproduced – disrupts the accuracy of the picture's cosy nostalgia. The work's title (literally meaning 'without sun') could be a reference to Chris Marker's eponymous 1983 essay-film, which questions the possibility of memorising, narrating and documenting reality. Such a hesitance or distrust lurks behind Jones's wistful still lifes.
Walking into the gallery space, one first encounters the seductive clarity of a photographed Conch – its titular subject reminiscent of surrealist photographer Dora Maar's famous shell-hand, which makes one wonder what is hidden within. A tension between display and invisibility persists in Jones's works. In Tulips (Profile) the indigo silhouette of the flowers melts into another shadow on the wall. Like a reversed cyanotype, the photograph reveals the lights blocked by the plant and allows only a vague contour of its likeness. A Book (The Erasers) shows the blank sun-dappled pages of a volume lying open on a table, simultaneously disclosing its interior and refusing the possibility of reading. The treatment is at once honest and futile, as if caught somewhere between a fleeting memory and a foggy dream, its content faded.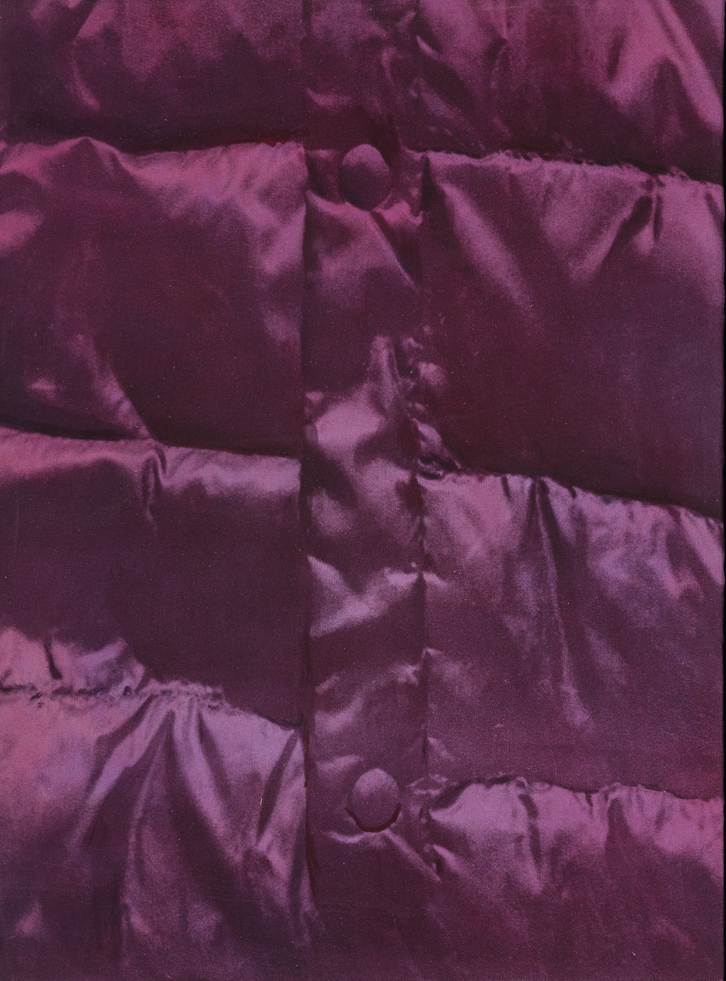 Jones develops her photographs through a lithographic process onto fabric, which are then painted and framed in thick aluminium. The resulting 'objects', as she calls them, combine photographic images with complex haptic qualities, the evident materiality of Jones's still lifes frustrating any desire for documentary transparency. In Day's Close, which depicts a section of wrinkled puffer jacket, the threads of the silken canvas add to the jacket's illusionism, making the image inseparable from the fabric surface (as the most 'wrinkled' image, its canvas is paradoxically the most tightly stretched). In other compositions, the base suede's blotchy stains, finger marks and dust-grabbing textures frequently vie with the painted images applied on top. In their hazy tactility, these paintings give the nostalgic snaps an inviting palpability, turning obscure images into objects of fetishistic allure.
Poppy Jones at The Artist Room, London, 24 March – 22 April