What our thirst for hot saturated pinks says about the times we live in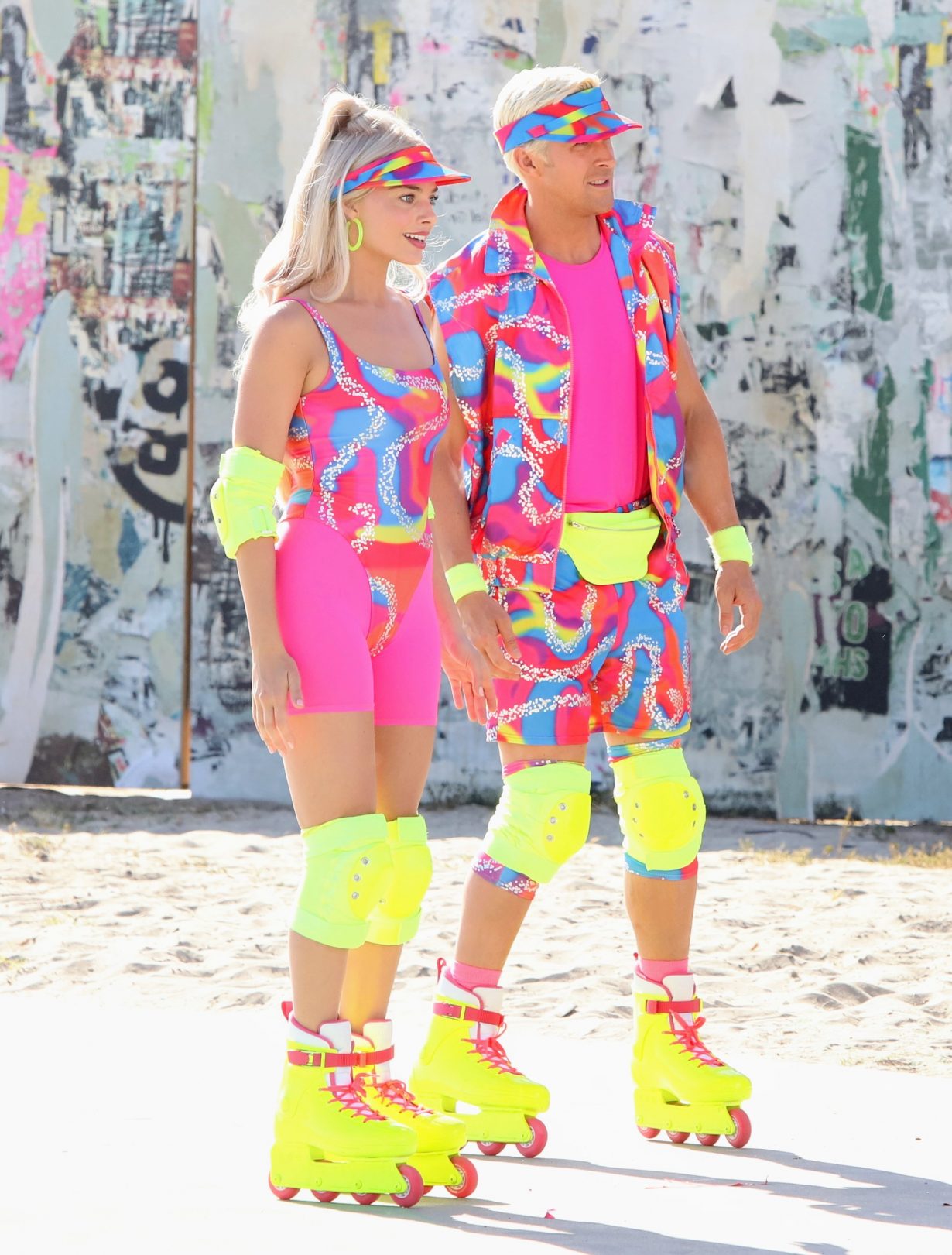 There's no doubt that we're living through the dog days of a hot pink summer. The most talked about fashion statement of these sweat-stained months has been Margot Robbie and Ryan Gosling rollerblading in Venice Beach, outfitted in acid-bright lycra: Hollywood versions of 1994's Hot Skatin' Barbie doll. Costumed by Jacqueline Durran, and directed by Greta Gerwig, the Barbie film they are making is scheduled for release next year. Durran is a designer who is used to her work jumping from screen to street and catwalk. She has costumed films from Atonement (2007, yes, that green dress), to last year's Spencer, which captured (and in part created) the resurgent interest in Princess Diana's wardrobe (just look at the popularity of Instagram accounts such as @ladydirevengelooks). So it's unsurprising that images of Robbie and Gosling in neon have provided the spark necessary to turn a growing obsession with bright saturated pinks into full-on 'Barbiecore'.
While stars such as Nicki Minaj have been embracing the Barbie aesthetic for a long time, the peroxide roots of Barbiecore can be traced back at least to 2019, when voluminous pink dresses dominated the Oscars red carpet. A year earlier, Jodie Comer as the assassin Villanelle in Killing Eve added a darker edge to the bouffant pink dress, subverting the saccharine-sweetness of a frou-frou Molly Goddard number. 2016's ubiquitous 'millennial pink' – labelled 'ironic pink, pink without the sugary prettiness' by The Cut – was a mere dress rehearsal for the hot pinks and fuchsias of Barbiecore. As an industry shift, trend forecasting agency WGSN presaged this move from the dusky tones that were dominating Pinterest boards to the hyperreal tang of Barbiecore back in 2020 when they announced an intense magenta called Orchid Flower as Colour of the Year for 2022.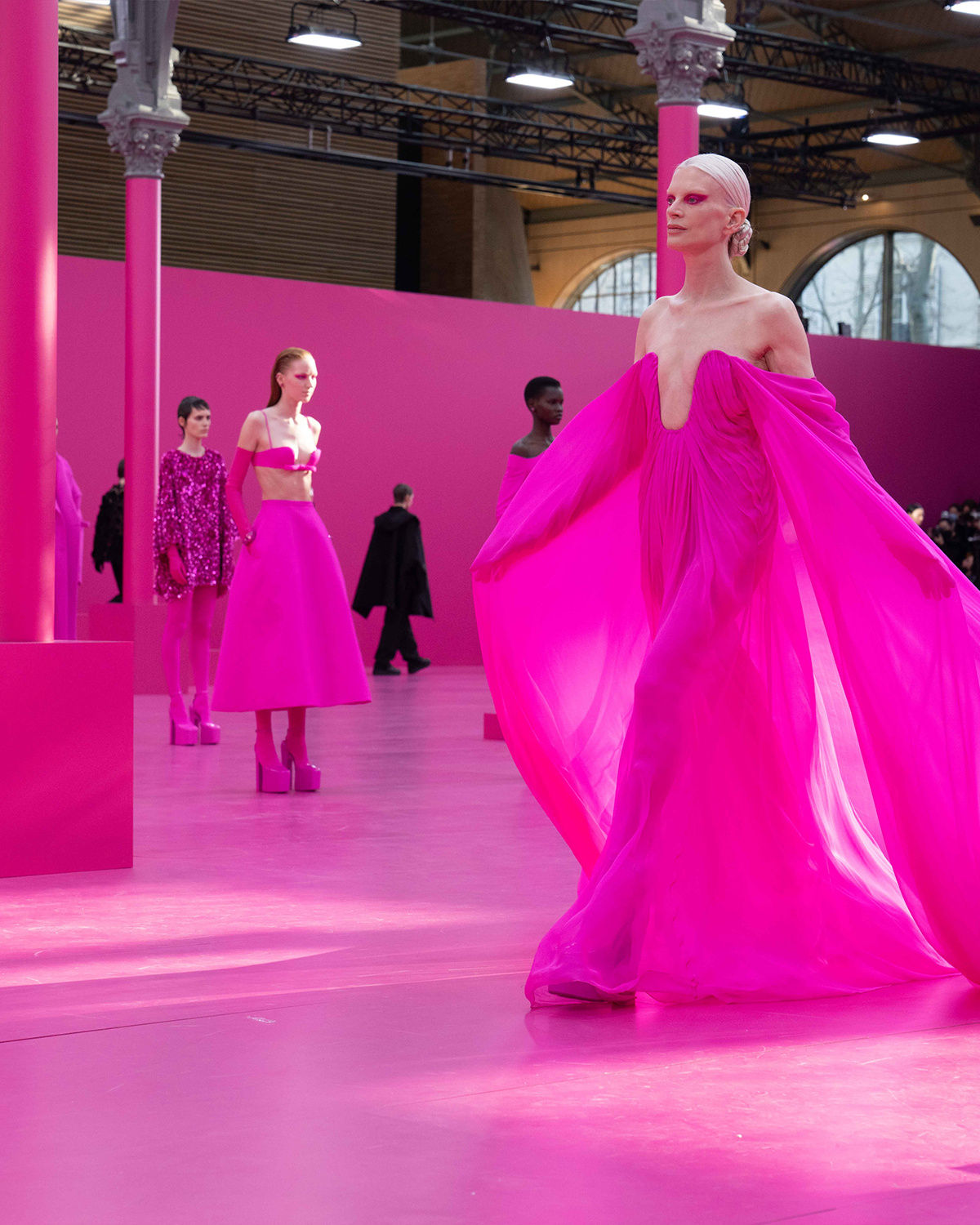 This prediction was crystalised in a collaboration between Pantone and Valentino creative director Pierpaolo Piccioli for the fashion house's autumn/winter 2022 collection, which features little else but electric pink, described as 'a liberation from the need for realism'. With this abdication of reality, Barbiecore also fits this year's trend for 'dopamine dressing': colourful clothes as a psychological happiness boost. Coined by 'fashion psychologist' Dawnn Karen, dopamine dressing relies on the idea that clothing can make us feel good during difficult times. The saturated hues and bold, clashing patterns of these mood-enhancing styles quickly chimed with the attention economy demands of social media where algorithms increasingly shape and dictate aesthetics.
Barbiecore, with its predilection for hot pink bubbly or bodycon ensembles, has been labelled a 'sickeningly-sweet style shift' by Vogue. It is certainly a move away from the wholesome pastoral prairie dresses we've seen in recent years, which were themselves given a kickstart by Jacqueline Durran with her costumes for Greta Gerwig's Little Women (2019). And of course Barbie herself has undergone something of a vibe shift. Mattel's messaging has changed drastically since their claim that Barbie's unrealistic, highly problematic and potentially damaging proportions were simply to make the doll easier to dress, an argument they were still promoting as recently as 2014. Subsequent updates have seen representation expand across the board, from gender-inclusive dolls, to more diversity around size, ethnicity and ability status. Their 'Inspiring Women' series has seen icons from Rosa Parks to Billie Jean King, Helen Keller and Maya Angelou rendered in 11.5 inch plastic.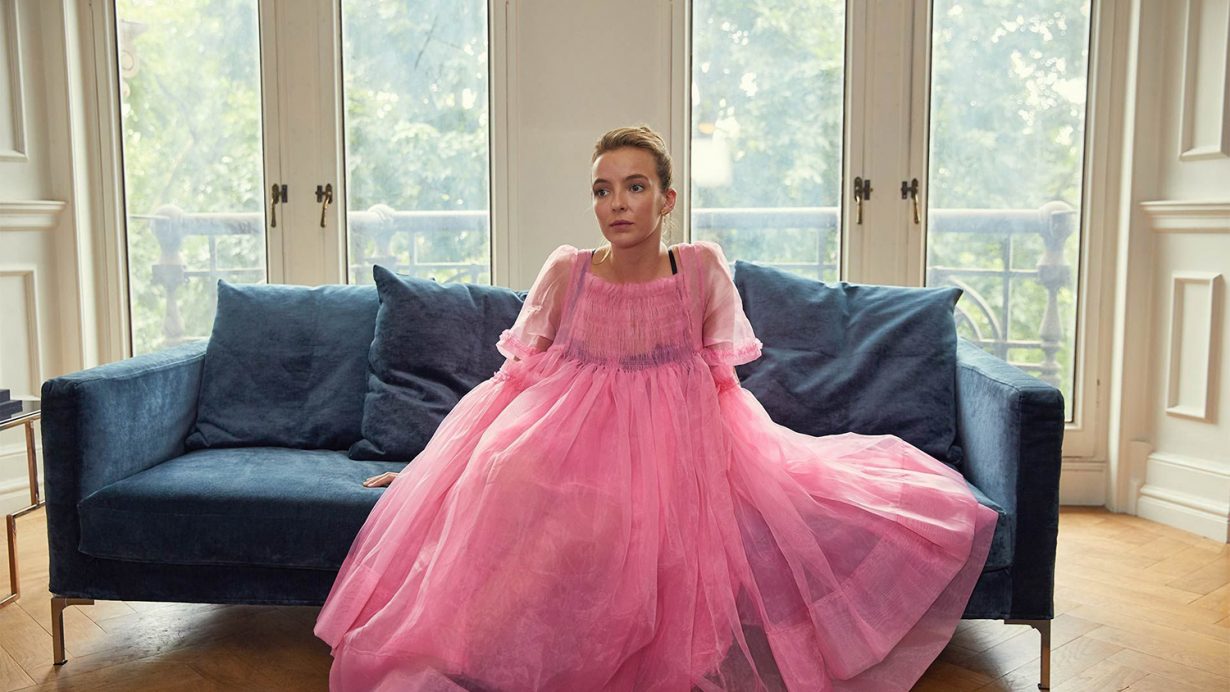 Cynicism about Barbie's rebrand aside, it's worth noting too that the colour pink has always had an enigmatic, shifting set of meanings –  a political history worth reflecting on, as pink has a mercurial ability to confound expectations, to reinvent itself. In her 2012 book, Pink and Blue: Telling the Boys from the Girls in America, dress historian Jo B. Paoletti notes that our contemporary understanding of pink as feminine only became dominant in the mid-twentieth century. After a brief 'unisex' phase, with second-wave feminist parents moving away from pink's associations with traditional femininity, it was back with a vengeance in the 1980s, and the following decade saw children's clothing becoming even more gender colour-specific than it had been in the 1950s.
Others have sought different associations for the colour. The gradual evolution of pink towards a particular brand of traditional femininity was momentarily disrupted by Italian designer Elsa Schiaparelli in the late 1930s, when she developed 'shocking pink'. This was inspired by the luminous hue of the 17.47 carat Tête de Bélier (Ram's Head) Cartier diamond owned by her client Daisy Fellowes – a woman so shocking she was dubbed by the New York Times as 'a Molotov cocktail in a Mainbocher suit'. But by the early 21st century, the unstoppable rise of gender colour-coding was clear (a trend well illustrated in artist Jeong Mee Yoon's The Pink and Blue Project, 2005-, which viscerally documents the cultural construction of gender through consumption).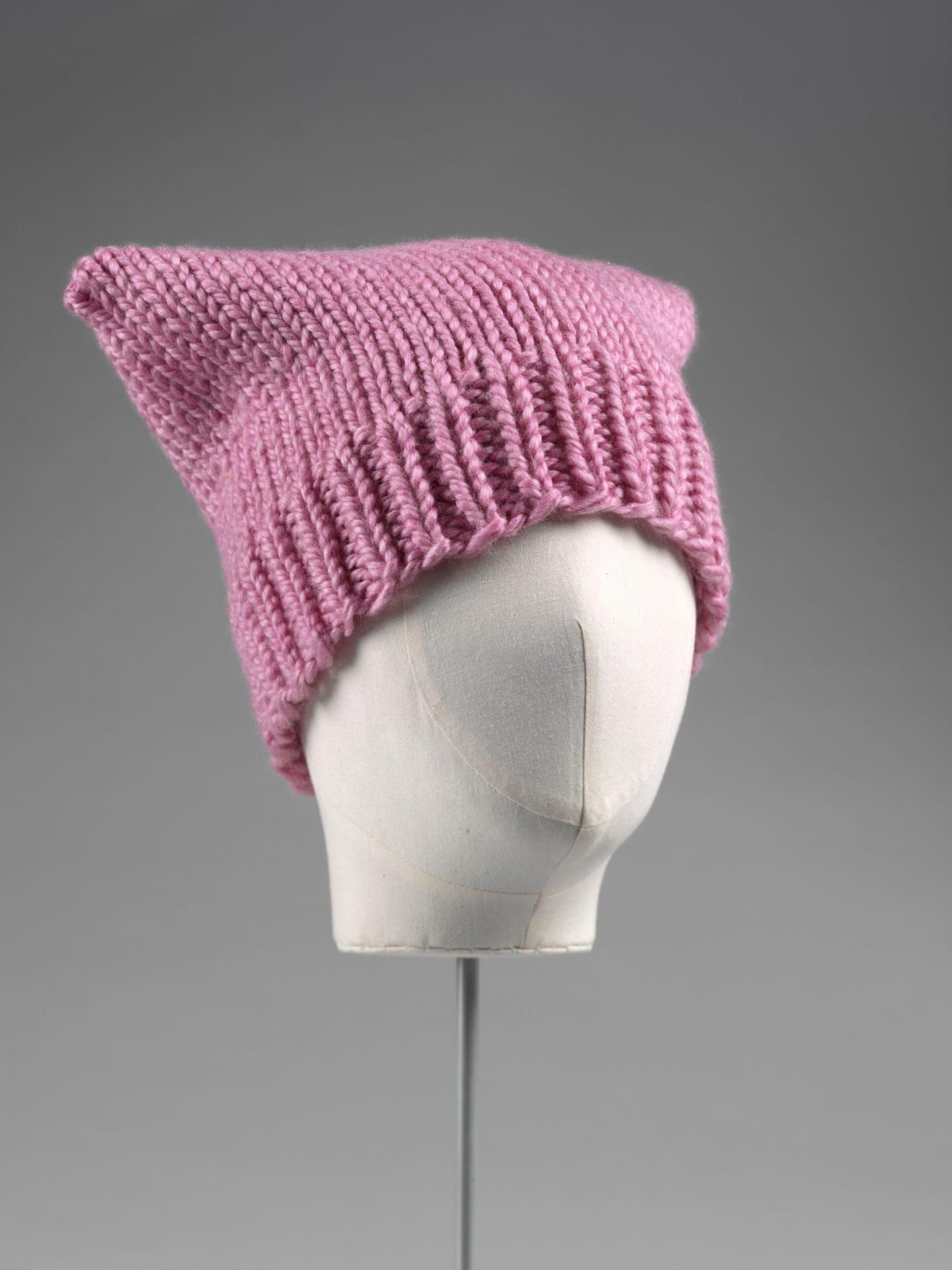 In 2017 it became evident that pink could also be a colour of protest with the home-spun subversion of the knitted Pussyhat worn on the Women's Marches, standing in symbolic opposition to the splenetic red of Donald Trump's factory-made MAGA cap. This was predated by the vibrant pink saris of the Gulabi Gang, who arm themselves with bamboo sticks to fight violence against women in India. Pink was chosen 'to signify womanhood and understated strength.'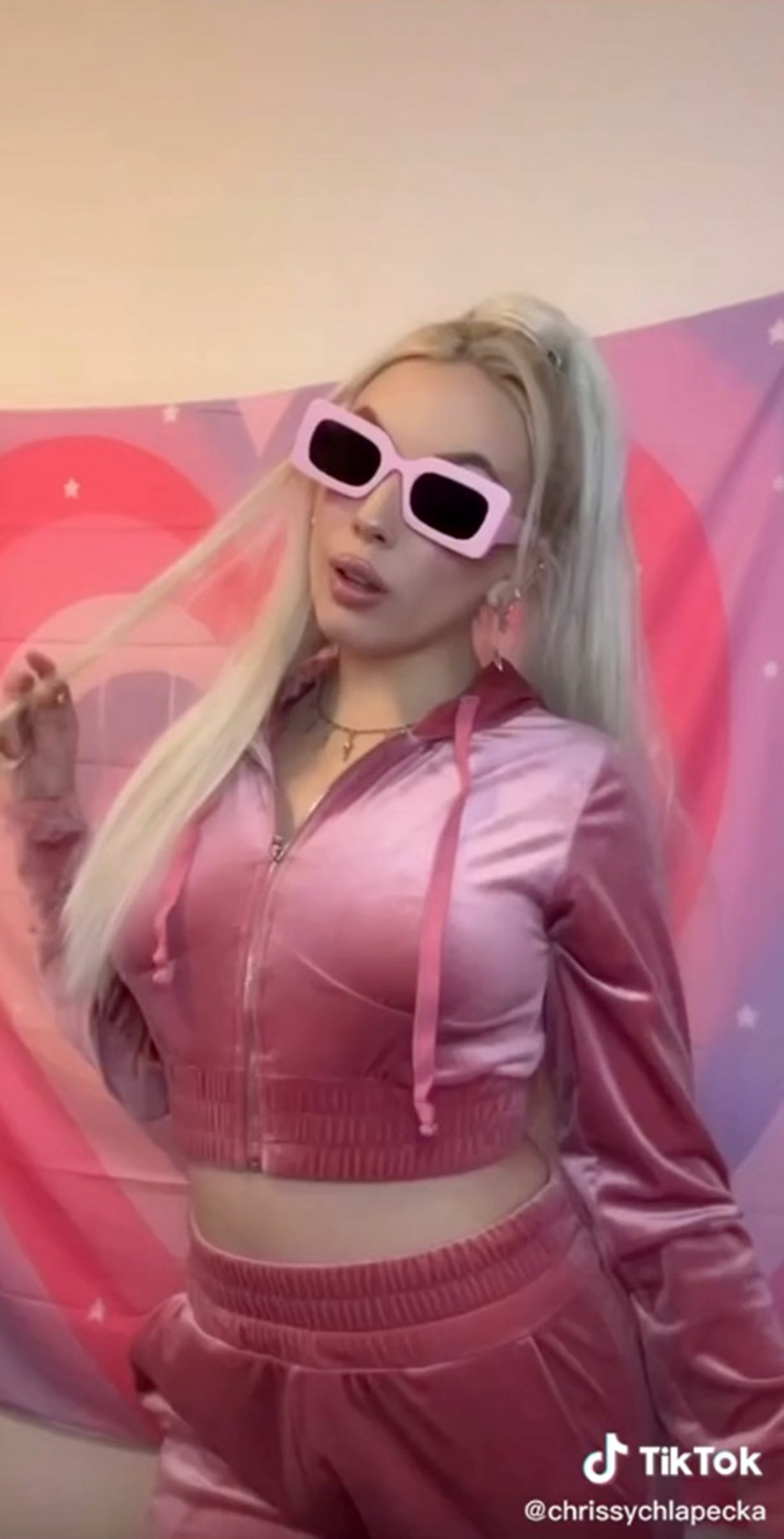 Drawing on this power of pink to subvert expectations, Barbiecore owes some of its current prominence to #BimboTok, the antidote to mid-2010s #girlboss hustle culture. This gender-inclusive movement on TikTok aims to reclaim the term bimbo by embracing hyperfemininity and rejecting capitalism: imagine Marilyn Monroe singing 'Diamonds are a Girl's Best Friend', but diamonds have been replaced with Marxism and acrylic nails. Its proponents find power in expressions of femininity, even citing it as a tool for queer liberation. This in turn ties into the resurgence of interest in Y2K fashion and pop culture, retrospectively reframing the narrative of women like Paris Hilton and Britney Spears who were denied their own agency in the early 2000s.
As we witness a rolling back of reproductive rights around the globe, it's not surprising that there is a growing desire to reshape the aesthetic narrative of women's experience. Barbie isn't even the only film aiming to give a feminist spin to our collective nostalgia for feminine-coded toys (a live-action movie of Polly Pocket – another Mattel franchise – with Lena Dunham and Lily Collins is also in the works). A slew of corporate-backed Hollywood films about plastic dolls may not be the cultural response we expected to a world on fire. But whether it's powered by toy companies or left-leaning TikTokers, Barbiecore's high octane, hot pink brand of glamour might be the dose of unreality we all need.