Kitsch exoticism, colonial depictions and Greek mythology – the Czech artist's paintings are rife with cultural appropriation
This is a tricky show to stage at a moment when discussions about cultural appropriation, conducted with varying degrees of sense and stupidity, burn intensely. Nine figurative paintings by white Czech artist Vojtěch Kovařík, in which some of the dark-skinned subjects are posed naked or seminaked in a lush landscape while others have the bluish pallor of Vladimir Tretchikoff's epitome of kitsch exoticism, Chinese Girl (1952), seems then an open goal for criticism.
The figure in Persephone and the Beginning of Summer (all works 2021), for example, is reminiscent of some early colonial depictions of Brazilian indigenous groups or the problematic Tahiti paintings of Paul Gauguin. Squatting, the topless subject has dark straight hair and reddish-brown skin and is shown sat on a beach eating fruit. More positively, the scrubby landscape and flat paint handling also recall the work of Tarsila do Amaral (though Kovařík mixes his acrylic paint with actual sand to enhance the grainy texture). Yet the title suggests Greek mythology as its reference point. Similarly discombobulated references occur in Aphrodite With a Swan (two metres high, as are the majority of these works), in which the Greek goddess of love is shown not with the pallid translucent white skin and delicateness of, say, Botticelli's fifteenth-century rendition, but dark-skinned and well-built. Move through the show and a potpourri of classical and modernist references from European culture and beyond come into play. It is telling that Kovařík originally trained as a ceramicist and sculptor, because the nude boxers of Pankration (triptych) are composed with a seductive repetitiveness, in a celebration of strength that suggests Soviet social realist architectural reliefs. There's a sculptural quality too in (composition of ) Fading Amazones. The smooth marbled skin of the two reclining figures resembles a Henry Moore but have the faces of Easter Island statues, while the work's title summons both the warrior females of the ancients and Brazil's most famous natural asset (the androgenous subjects hold each other against the backdrop of lush vegetation).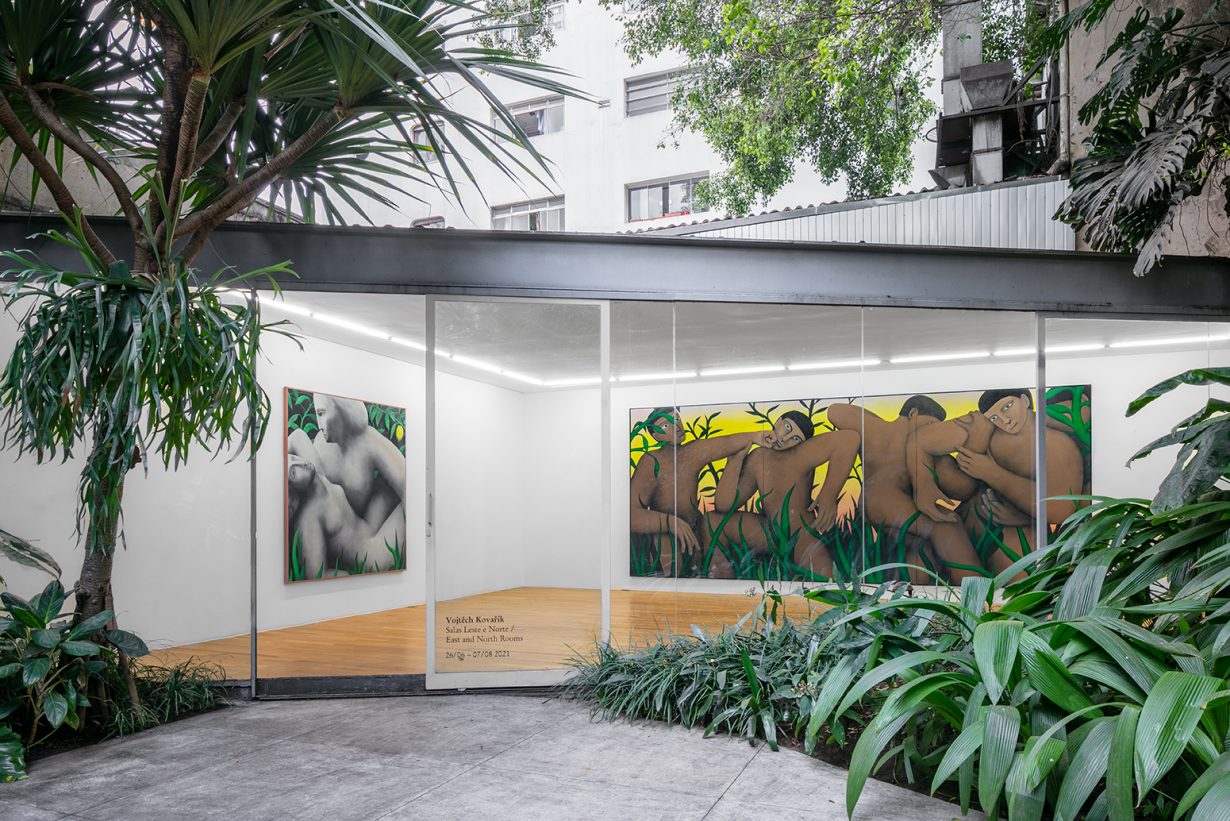 Kovařík seduces the viewer with bold lines and exuberant palette, before grabbing our attention with moments of unexpected detail (the ear-shaped mask in Tiresias' Ear, for example). Moreover, there is a complexity here that marks this work as a cut above the faux-naive or surrealist-inflected figuration that has become fashionable of late: by painting the founding figures of European culture as Black, Kovařík is offering a provocation. Your opinion on the work will depend on whether or not you conclude that for painting to engage effectively in dialogue with its own history, the vast repository of global culture, good and bad, your own and others, must be fair game for reference.
Vojtěch Kovařík: In the Thickets of Unexplored Places, Mendes Wood DM, São Paulo, 27 June – 31 July 2021