The Suns of Half Sleep at Matthew Brown Gallery, Los Angeles stretches one's perceptual faculties to something close to breakdown or defeat
It's impossible for any art to exist outside of, or beyond, language – even work as wilfully tight-lipped as the pastel paintings of Danish artist Tomas Leth. The verbose press release for his exhibition The Suns of Half Sleep discloses, early on, that Leth's work is 'inspired by nocturnal walks through Copenhagen'. It's an image that, once summoned, I could not shake, and which insistently guided my experience of Leth's absorbing artworks.
Could I have arrived at a similar image prompted only by the work? Maybe, maybe not. Leth's sombre paintings, done in encrusted layers of velvety dry and oil pastel, both on paper and on canvas, are not exactly devoid of light, but they are hard to fix with one's sight in the way that squinting into the darkness is hard. I found myself taking off my glasses, putting them back on, peering from the side, close up, far away. They provide a workout for the eyes, stretching one's perceptual faculties if not to their limits then to something close to breakdown or defeat. In a cultural moment that is excessively enamoured with narrative, direct literal reference and the machine-legibility of large language models, Leth's pictures feel refreshingly unavailable.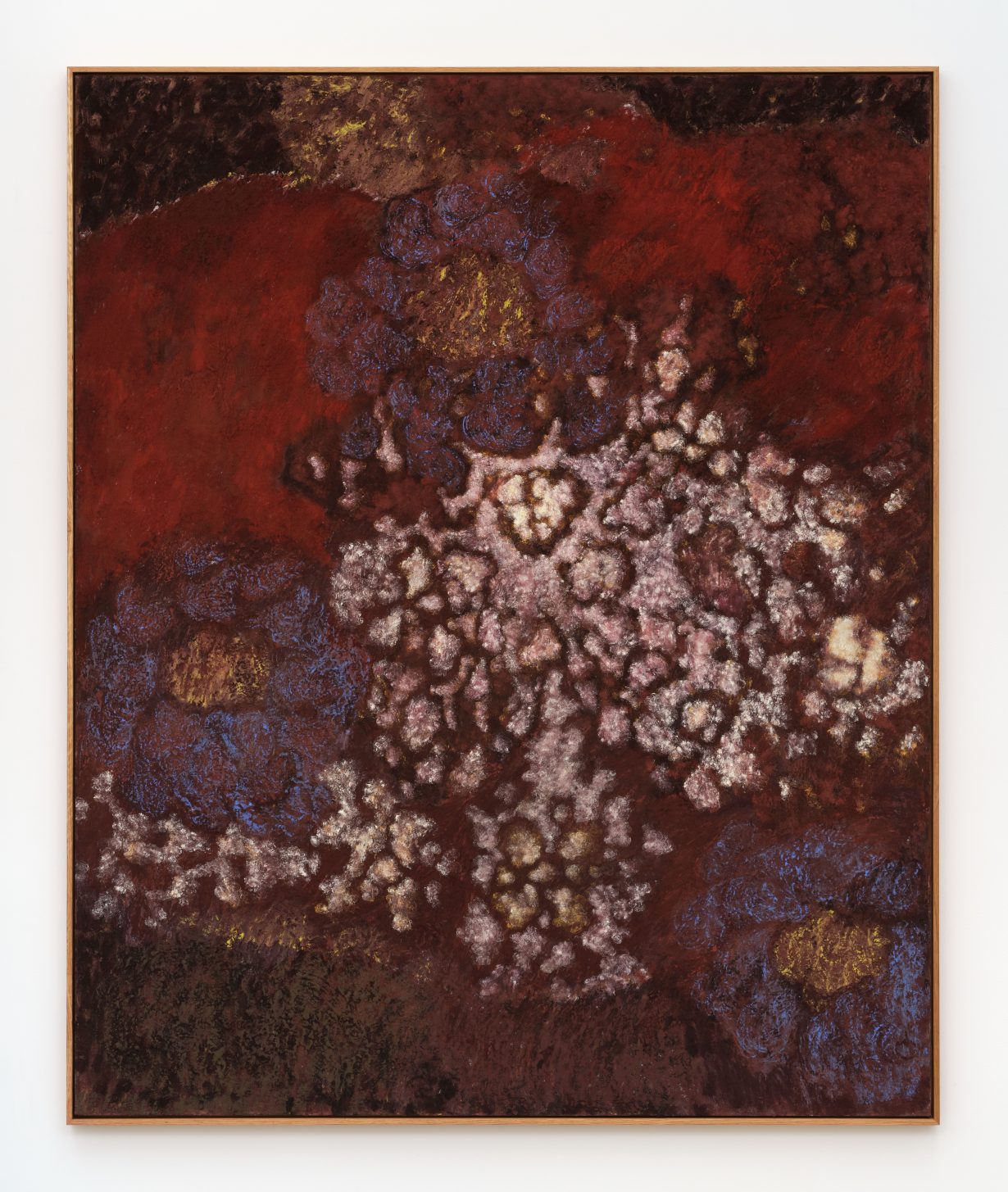 What, then, is actually in them? An initial appraisal suggests flowers, an impression that certain paintings encourage and that others lambast as simplistic and trite. One small painting – fingre af voks (2023) – really does seem to depict giant mauve poppies with identifiable stems and stamens, set against chartreuse foliage, but then destabilises that reading through its sickly title, which translates as 'fingers of wax'. If not flowers, then, maybe other organic forms: lichens, jellyfish, corals, microscopic cells, fungi, algal blooms, skin rashes, rust. What we end up with is not a taxonomy, precisely, but a dispersed constellation of subjects that share certain ways of being in the world: they grow and spread, often slowly, often emerging on or over another object, often to their host's detriment.
Language (or images invoked by language) seems an insufficient means of apprehending and communicating these paintings. The work is not successful because it looks a bit like certain things, but by and through its affinity with those things. The best examples in the exhibition, such as the large Immer (Always, 2023), seem still to be growing even as we look at them, our eyes adjusting to the subtle shifts in tone and texture across the canvas. As such, Leth's process of making the painting is analogous not only to our process of perceiving it but also, one imagines, to the manner of his own struggling and inadequate nocturnal perception.
The Suns of Half Sleep at Matthew Brown Gallery, Los Angeles, through 28 October